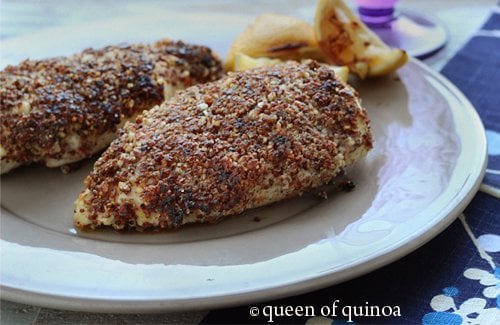 When I set out to make this recipe I had one thing in mind: healthy fried chicken. You know, the kind of chicken that is crispy on the outside and melt-in-your-mouth juicy on the inside? That chicken that's dropped in a vat of oil and is so not healthy for you? Yeah, that's the kind of chicken I had on my mind.
But this recipe took me in a different direction, which happens quite often, and I have to say this is so much better than fried chicken. Plus it's naturally gluten free!
So let's start with the meat. The chicken we used was from a local farm and was organic, no-water added, free-range chicken. That price tag might be a shock, but trust me, spending money on organic, free-range chicken is totally worth it. It's juicy, tender and like no other chicken you've ever tasted.
Then we get to the amazing gluten-free crust. With a layer of coarse grain mustard to hold it in place, the chicken is topped with a mixture of fresh ground almond meal and red quinoa. And this baked chicken might just be the healthiest crispy chicken you've ever had.
So you must be dying to get the recipe right? Hop on over to the Easy Eats blog and whip some of this delicious chicken up for dinner!
---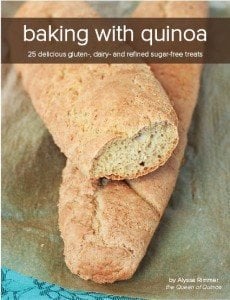 Coming soon: Baking with Quinoa
Featuring 25 mouthwatering recipes – all free from gluten, dairy & refined sugar - Baking with Quinoa will show you just how easy it is to make healthy & nutritious baked goods.
Sign up now to get 20% off!