Are you noticing a trend? I'm like seriously obsessed with peanut butter lately.
I think it's because peanut butter (like my beloved almond butter) is a quick, easy snack that is packed with protein and healthy fats, and fuels you up pre- or post-workout. I almost always turn to nut butters for a snack, whether slathered on a rice cake topped with fruit, or made into raw snack bites, nut butter always hits the spot.
What great about these No-Bake Peanut Butter Power Bars is they're a) no-bake, meaning they're a cinch to throw together, b) loaded with nutrients and superfoods, and c) amazingly delicious!
You know those raw protein bars that cost nearly $2.00 a bar? Well with this recipe, you can have a 12 bar stock of those healthy treats on-hand all the time. Plus, you'll be saving a bunch of money! What's better than that?
I'm sure you're dying for the recipe now, so hop on over the Balanced Platter and check it out! And remember, these No-Bake Peanut Butter Power Bars are full of superfoods and super healthy – nuts, seeds, peanut butter, chia and of course, quinoa!
This post was shared on: Thank Goodness It's Quinoa
---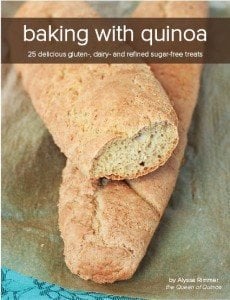 Available Now!! Baking with Quinoa
Featuring 25 mouthwatering recipes – all free from gluten, dairy & refined sugar – Baking with Quinoa will show you just how easy it is to make healthy & nutritious baked goods.
---