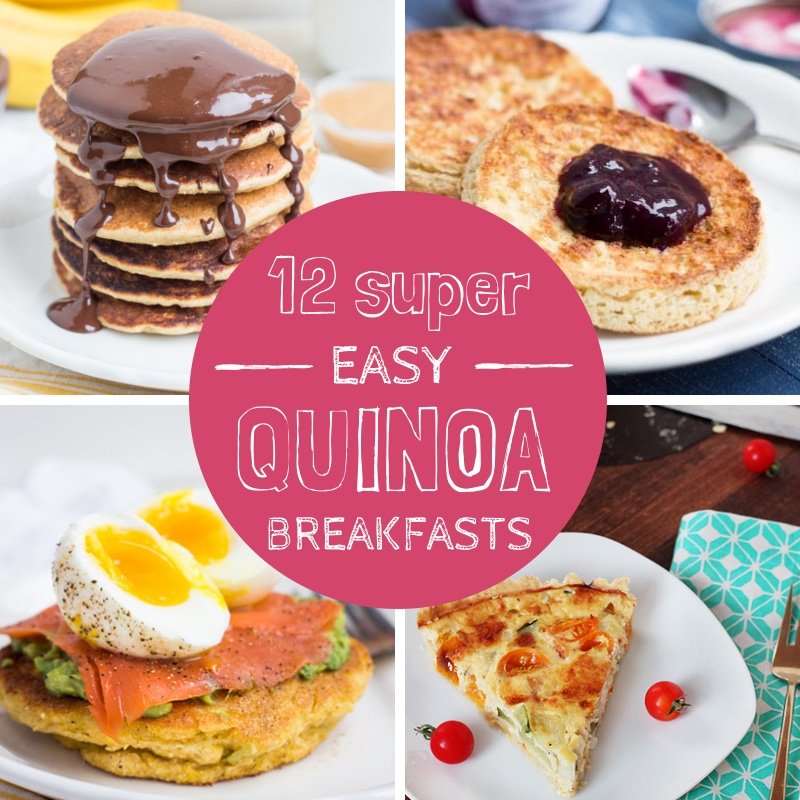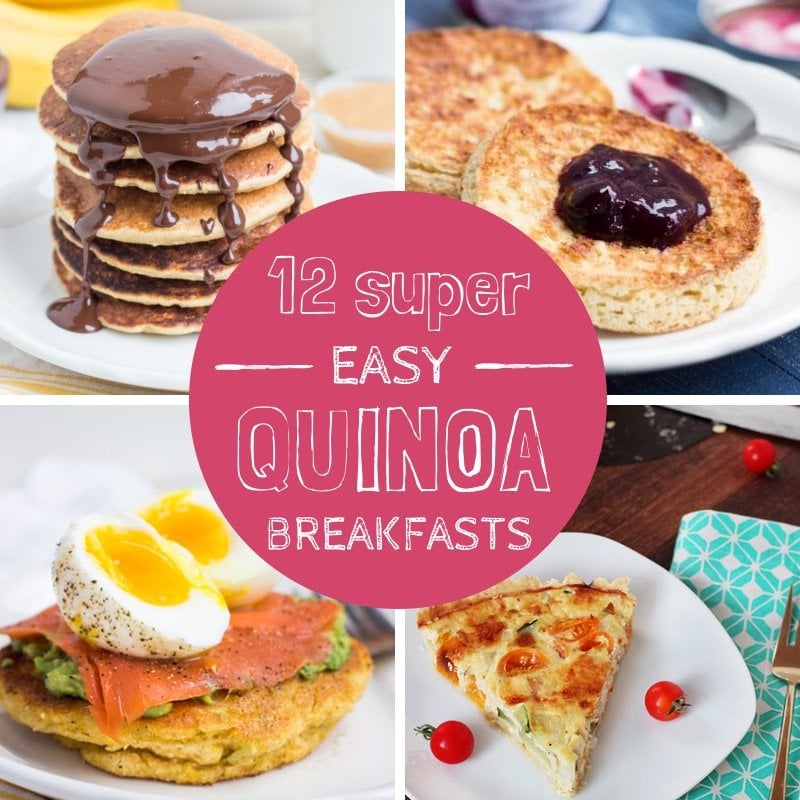 In our house, Easter brunch is kind of tradition. We all chip in and make our favorite thing, so we end up having a ginormous table filled with fantastic breakfast items. And while I know that brunch tends to mean a blend of breakfast and lunch, in my family, we always go the breakfast route. Always.
So today, I'm pulling together my twelve favorite quinoa breakfast recipes that are completely brunch worthy. And I totally wish that I could be eating every single one of these recipes right now. Maybe not all at once, but I would completely content with one of each of these on my plate. It would be the most spectacular brunch ever.
1) Savory Cornmeal Cakes with Smoked Salmon & Poached Eggs
This is the ultimate brunch item because not only are they pancakes, but they're savory pancakes with glorious toppings, making them perfect for either breakfast or lunch. Plus, you've got to have eggs at Easter, right?
2) Gluten-Free Zucchini & Goat Cheese Tart
Quiche is another wonderful option to serve at brunch. A quiche can be made ahead of time (which saves you prep time) and can also serve a large crowd. The crust in this recipe is loaded with healthy ingredients and the goat cheese makes it ultra creamy!
What would breakfast be without some pancakes? This is my absolute favorite recipe; it's loaded with flavor, but only has a few simple ingredients. Plus, it's made in a blender…what's easier than that?
4) Sweet Potato & Pineapple Quinoa Waffles
And brunch without waffles is no brunch at all. While these waffles might seem like a semi-odd combination, the sweet potato and pineapple actually going hand-in-hand. They're crispy on the outside, but soft and sweet and the inside. Perfect for Easter brunch!
5) Gluten-Free English Muffins
What's great about english muffins is that they pretty much go with everything. Serving eggs? English muffins are perfect dipping vessel. Someone just want toast and jam? Have english muffins and they'll be thrilled.
I have my two favorite muffin recipes on this list; first are these lemon poppy seed muffins and second are the ones I've listed next. Let's first chat about these muffins first. Whenever I think of Spring, these are the muffins I want in front of me. They're bright and happy, and would be the perfect addition to your Easter brunch.
My second favorite muffins are these Banana Bread Muffins. I think it's because I love everything banana flavored, but also because they're super healthy at the same time. They're easy to whip up, are the perfect grab-and-go treat, and who wouldn't want to have a muffin on their plate at Easter?
8) Lemon Blueberry Coffee Cake
Coffee cake is the sweet version of quiche. Well not literally, but it's a dish that you can make ahead of time and will serve a crowd. What I love about this particular recipe is that fabulous crunch topping, which, instead of using butter and brown sugar, it full of crispy brown rice cereal and coconut sugar. A healthy, yet indulgent treat.
Who doesn't love a quick sweet bread at brunch. Whether you're waiting around while the rest of the food is prepared (hello…bread basket!), or just want a slice of something sweet on the side of your plate, this zucchini bread is it. And since we're finally reaching springtime weather, this recipe will be sure to put a smile on all your guests' faces.
I've always loved popovers. We used to have them for dinner when I was a kind instead of dinner rolls, but I recently discovered the wonderfulness of popovers for breakfast. Not only are they a superb vessel for jams and fruit spreads, but they're also spectacular served with scrambled eggs or dipped in a runny egg yolk.
11) Mango & Overnight Quinoa Flakes Parfait
If you have a person in your family who isn't the biggest fan of baked goods, pasteries or eggs, this recipe is for them. An overnight quinoa flake parfait could not be easier to make (it literally takes 5 minutes to prepare), but looks elegant, refined and tastes spectacular.
12) Chocolate Chia & Quinoa Pudding
Chia pudding has quickly become another favorite breakfast of mine. Not only is it loaded with superfoods, but it actually tastes like chocolate pudding! And truthfully, who wouldn't want to eat chocolate pudding for breakfast? I know I would 🙂
Happy brunching to you, and I hope this list gave you inspiration for the holiday ahead!