It's that time of year again! Tomorrow will mark the start of 2014, and while looking ahead is always exciting, I love taking a moment to reflect on where we've gone together over the past year.
It's always so much fun looking back and seeing which recipes you all really enjoyed. The results weren't too surprising (because they're my favorites too!), but I will say, you are readers after my own heart – cookie, burger and pizza lovers!
And now…drum roll please…let's take a look at the 10 best quinoa recipes of 2013:
10. Best Gluten-Free Pizza Crust
I'm really happy this one made the list, because this is one of the recipes I continue to come back to time and time again. I'm a huge pizza lover and it took me a while to perfect this crust, but oh let me tell you, it's delicious. It's thin, crispy and chewy all at the same time. Holds up to all sorts of toppings and you'll never even know it's gluten-free.
Like this recipe? You should try my Gluten-Free Multigrain Pizza Crust (it's also starch-free)!
9. Dark Chocolate Quinoa Cookies
There had to be something chocolate in the top 10, right? You know I'm in love with chocolate, and that I also love baking cookies…so I'm thrilled to see you agree! These chocolate cookies are rich in flavor, nice and thin, but not too crispy. They still have a slight chew to them, and the quinoa lends a nice little crunch with each bite.
Like this recipe? You should try my Chocolate-Peanut Butter Brownie Cookies!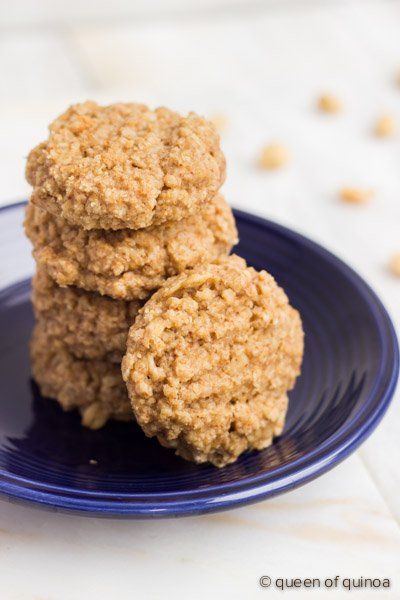 8. Peanut Butter Oat & Quinoa Cookies
Another cookie recipe! We've got a sweet tooth around here, don't we? These cookies are also one of my favorites because they're packed with peanut butter flavor, but don't have all that sugar that traditional peanut butter cookies have. We used oats and quinoa in this recipe to pack in the nutrients – these might even be healthy enough to eat for breakfast!
Like this recipe? You should my Insanely Healthy Oatmeal Cookies!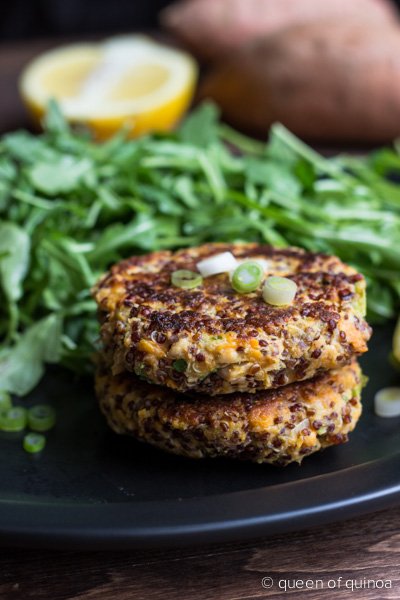 7. Sweet Potato Salmon Cakes
My mom is going to happy with you!! This is by far her most favorite recipe on the site – she makes it all the time – and now that I'm thinking about it…maybe it made #7 because of her ;). These cakes are super easy to make, are packed with nutrients, freeze beautifully, and are seriously delicious. They're moist and hold up wonderfully whether pan-fried or baked. Definitely in my top 10 also!
Like this recipe? You should try my Zucchini Salmon Cakes with Lemon Dill Pesto!
6. No-Bake Peanut Butter Power Bars
This recipe actually surprised me. It was a guest post for the Balanced Platter and was something I whipped up on a whim. These bars make a great pre- or post-workout snack – they're loaded with protein, healthy fats, fiber and vitamins.
Like this recipe? You should try my Crispy Gluten-Free Granola Bars with Quinoa!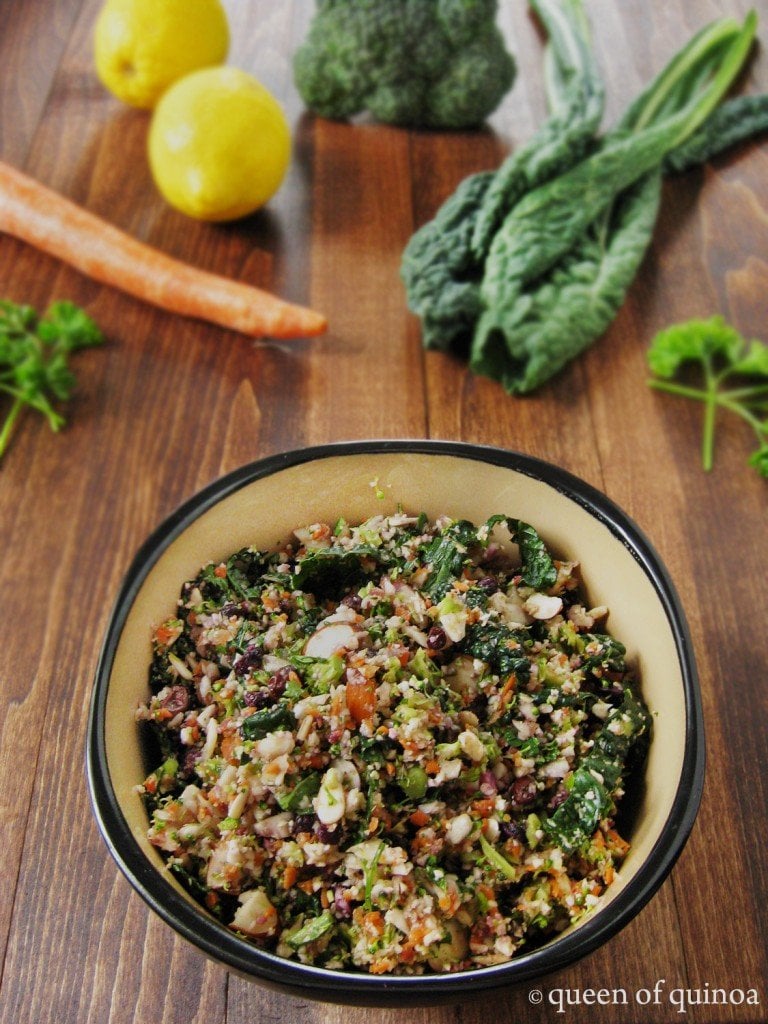 5. Detox Salad
Coming out at #5 is this Detox Salad – woah! Now, this recipe is from 2012 and still gets lots of traffic. It's a healthy, antioxidant packed salad that happens to help cleanse the system. Think it might just be that the time of year to break this one back out!
Like this recipe? You should try my Massaged Kale Salad with Honey-Chipotle Vinaigrette!
4. Gluten-Free English Muffins
I was thrilled to see this English muffin recipe made it into the top 4. Out of any recipe on my site, this is the one I have made the most. It's super easy to throw together, can be adapted fairly easily with different flours and I've successfully made it without muffin rings multiple times. I just love how versatile this recipe is – whether you're toasting it for breakfast, making a sandwich for lunch, or using it to hold your burger at dinner, this recipe is always a hit.
Like this recipe? You should try my Gluten-Free English Muffin Bread!
3. Tropical Quinoa Lettuce Wraps
These lettuce wraps are a must-try! They're loaded with flavor and make the perfect light meal (especially during the summer). Fresh mango has to be one of my favorite foods on earth, and combining that with lime, cilantro, grilled chicken and hot sauce? Oh baby!
Like this recipe? You should try my Creamy Coconut Chicken Salad!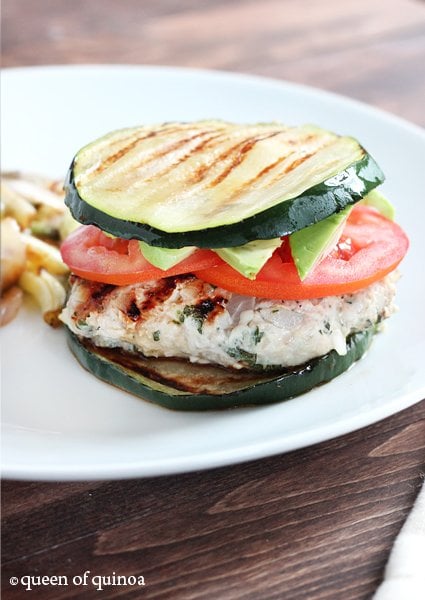 2. Herbed Turkey Burgers with Zucchini Buns
This recipe is popular because not only is it tasty and healthy, but it also went viral on Pinterest. It is by far the most-pinned recipe on my site and has been pined over 47,000 times!! Craziness. But it warms my heart, because this is also one of my favorite recipes on the site. It's super healthy, make a great summertime meal, and is so easy to make gluten-free. No bun needed!
Like this recipe? You should try my Cilantro-Quinoa Turkey Burgers with Garlicky Kale!
1. Healthy "Reese's" Quinoa Crispy Treats
Chocolate, peanut butter and quinoa? I knew it would be a hit, but I was surprised it was the most popular recipe of the whole year! You sure do love your healthy treats, don't you? Good, me too! These treats are made with only 5 ingredients – quinoa crispies, peanut butter, honey, chocolate and a pinch of salt. So easy, and oh so tasty!
Like this recipe? You should try my Peppermint Patty Rice Crispy Treats!
And with that….we're moving into a new year. A year that will be full of new, healthy, quinoa-packed recipes! I'll be excited to see what the picks are for next year.
I'd love to hear from you: what type of recipes would you like to see in 2014?
Happy New Year!
I'm so grateful for each and every one of you. I can't wait to continue to grow, share and create with you. 2014 is going to be amazing 🙂
xo Alyssa
share what you make
Tag #simplyquinoa on Instagram with your creations! We love sharing what you make with the community. We can't wait to see!

follow on instagram