Usually I'm totally a last minute holiday shopper, but this year I'm vowing to get my act together a little bit earlier and get my shopping list done well before Christmas actually arrives. Seeing that it's December and all, I'm thinking that means I should probably start now.
One of the questions I get asked most frequently, especially in my videos, is where I get some of my kitchen supplies and what supplies I recommend people have to help make healthy cooking easier and more enjoyable. Whether you're looking for ideas to add to your wish list, want to help someone in your life start cooking more healthfully, or just want a fun kitchen-inspired gift, I've got you covered.
I've rounded up some my absolute favorite tools, accessories, cookbooks and appliances for the healthy cook in your life (and yes, that could be you!!). Let's get shopping!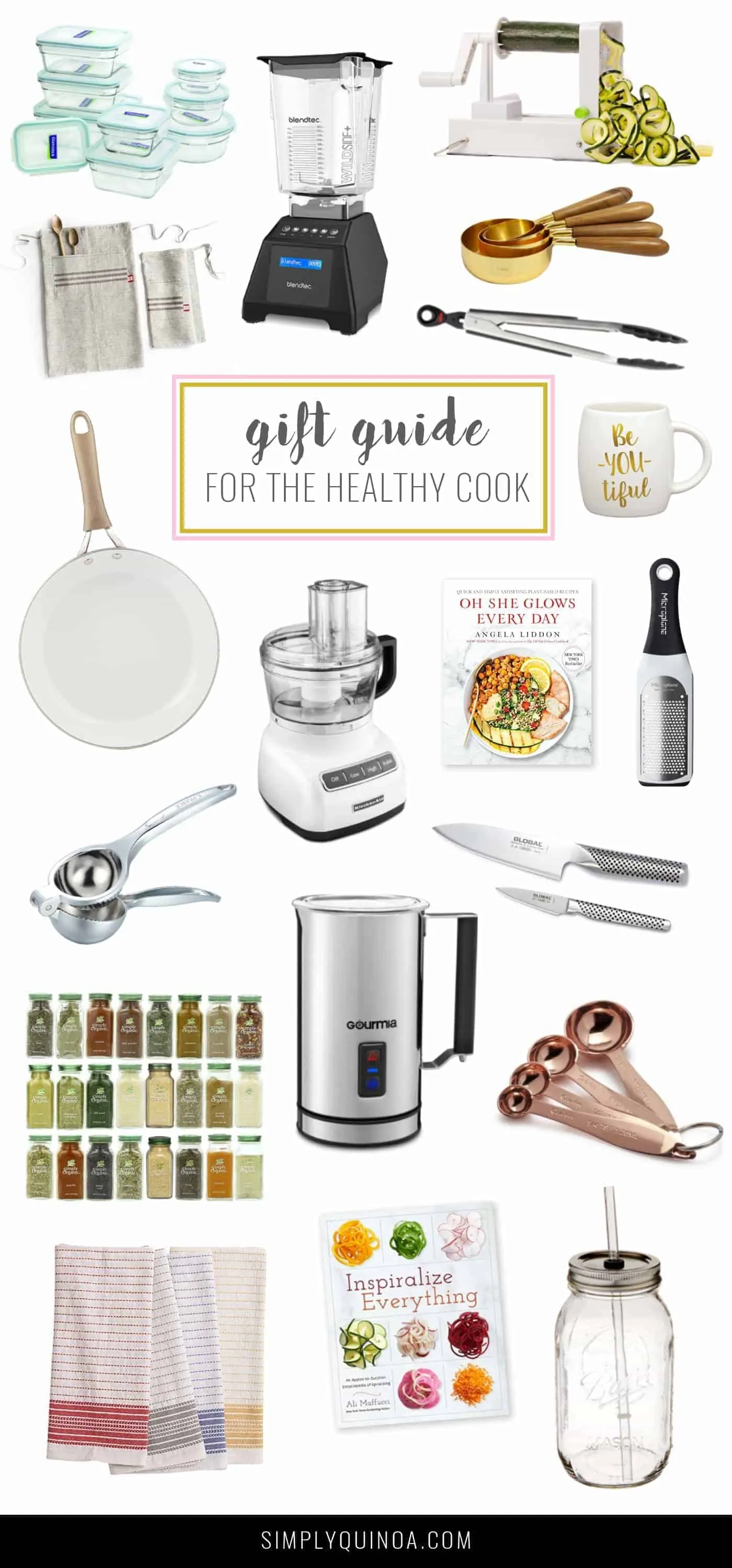 Glass Container Set // $26
Even though gifting someone a tupperware set might not seem that exciting, I assure you this is an awesome gift! I have this set and absolutely love it. Not only are the containers oven safe, but they are also freezer safe, the seal is amazing and they're perfect for meal prep or storing leftovers.
BlendTec Classic Blender // $379
A good blender is a must-have in my opinion. There are lots of great options out there, but I have a BlendTec and love it. They are an investment, but these blenders have great warranties and make the perfect gift!
Inspiralizer // $50
This is hands-down my favorite kitchen tool. It makes healthy eating so easy and really fun. And the amount of vegetables you can use is incredible!
Gold Measuring Cups // $32
Whether you're a baker or not, these adorable measuring cups will look great in any kitchen and make a great stocking stuffer or secret santa present!
Handmade Linen Kitchen Aprons // $46
How cute are these aprons!? I'm actually not an apron wearer because I've never found one I like. Usually aprons are too froofy for me, but these ones are chic and stylish. Of course, I'm also loving that they're homemade 🙂
Kitchen Tongs // $10
If you've watched any of my What I Eat in a Day videos, you know that I use these tongs all the time. Whether it's tossing big salads together or any of my zucchini noodle dishes, these are a must-have. Makes a great stocking stuffer too!
Be-YOU-tiful Mug // $16.50
I love sipping my morning lattes and nightly cups of tea out of inspiration mugs. This one is perfect for a bestie, mom or again, secret santa!
Ceramic Fry Pan Set // $25
If you've been searching for new cook/fry pans, look no further! These ceramic pans are so great. They're non-stick, but they're also non-toxic unlike many other options out there. They're also oven and dishwasher safe. This 2-pack has the perfect two size options too: 8″ and 10″!
KitchenAid 7-Cup Food Processor // $95
I couldn't live without my food processor. I use it all the time, for making things like nut butter, energy bites, burgers and so much more. I have the larger version of this, but I trust in the quality of the brand and actually think this would be a better size.
Oh She Glows Every Day // $15
If you're following a plant-based diet or know someone who is, this cookbook is a must. And actually even if you aren't vegan, Angela's recipes are incredible! This is her second cookbook and there are over 100 recipes that are quick, easy and healthy.
Microplane Grater // $12
It surprises me how much I use this tool. I use it to grate garlic for stir fries and dressing, ginger for curries, and cashews for my imitation parmesan 😉 This is a cheap tool that would make a great stocking stuffer!
Stainless Citrus Squeezer // $15
We use this all the time! I love making lemon dressings, warm lemon water in the mornings and lime juice for my seltzer. This one is stainless steel so you don't have to worry about paint peeling and getting into your food.
Organic Spice Set // $150
Every healthy cook needs a spice cabinet filled with high-quality spices. I'm a HUGE fan of Simply Organic and love the idea of gifting someone this set. It comes with 24 of their most popular spices, almost all of which I use regularly in my own cooking.
Stainless Milk Frother // $30
I love me a good matcha latte in the morning and making it extra fancy by adding in some steamed almond milk. If you have a coffee or latte drinker in your life, I think they would love this little appliance!
Global Knife Set // $130
I have these knives and LOVE them. They're on the pricey side, but totally worth it. Not only are they super chic, but the handles are particularly perfect for women's hands. They're small, easy to hold and the knives are extremely high quality.
Copper Measuring Spoons // $20
Just like the measuring cups, I believe every healthy cook needs a quality pair of measuring spoons. It helps you portion control and whip up healthy treats (like my quinoa blondies) and these copper ones are pretty darn cute!
Organic Cotton Kitchen Towels // $51
I love the simple design of these towels! As someone whose kitchen towel collection is totally mismatched and stained, I could use a set of these. Plus, I adore that they're made from organic cotton!
Inspiralized Everything Cookbook // $13
To go with your spiralizer, you must have this cookbook. It's written by one of my dear friends and the recipes are incredible! My favorites so far are the beet noodle & falafel bowls as well as the crab-less crab cakes!
Glass Smoothie To-Go Cup // $13.50
When you're on the go/super busy, especially in the morning, it can be tough to get in a healthy breakfast. I love taking smoothies with me on the go and this is the perfect container. Glass (so it's safe!), easy to clean and totally practical.
Hope you enjoyed today's gift guide! I have a few more coming, so stay tuned!
xo Alyssa
Want to see more styles I love?
Follow my board on Pinterest!