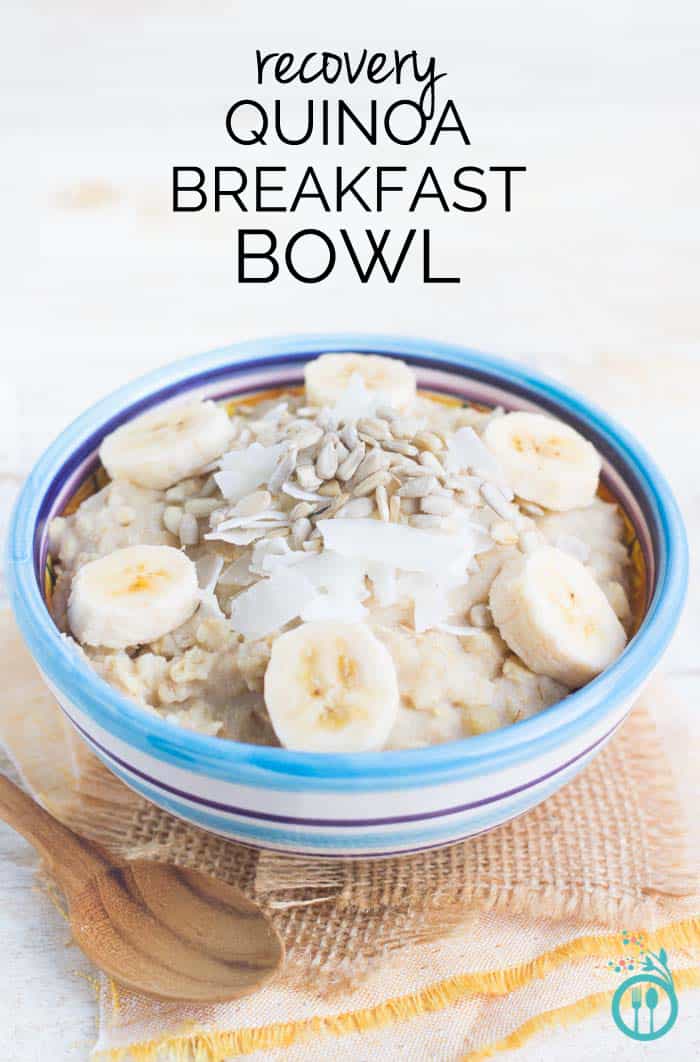 Happy New Year!!
Today I'm welcoming 2015 with a headache, a cup of hot lemon water and this recovery quinoa breakfast bowl. I always tend to send off the year with a few too many glasses of champagne, and since I don't drink that often, my body definitely feels it in the morning.
And as much as I know that a green juice or smoothie would probably be the best option for my morning meal, my stomach is craving something a little more comforting.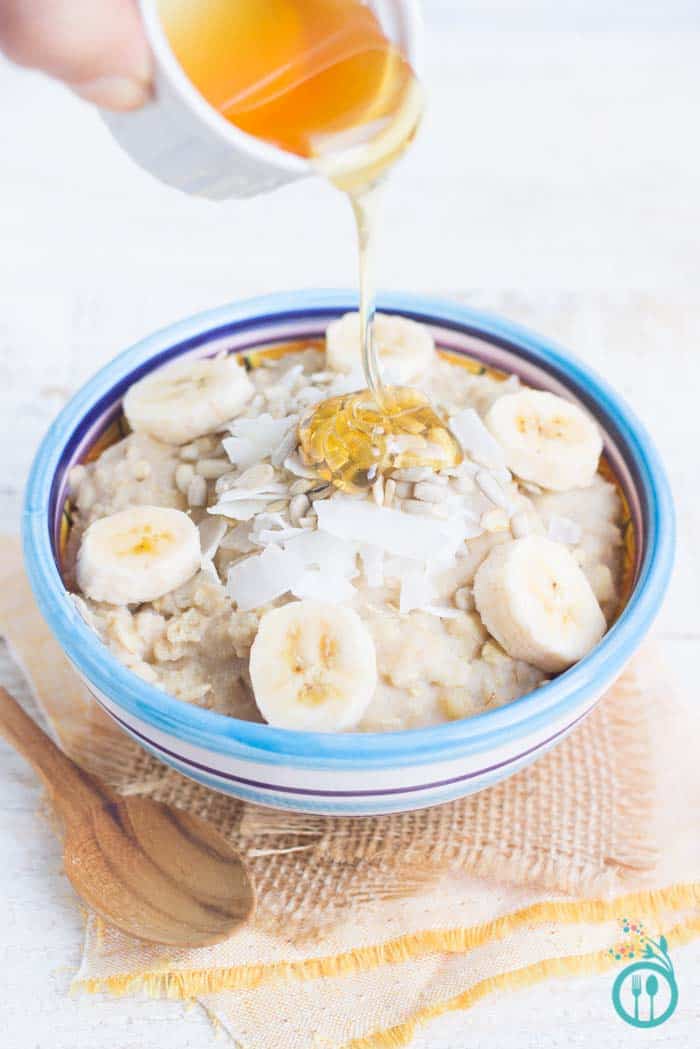 When I was in college and I'd wake up feeling like this, my girlfriends and I would always pile into a car and drive to pick up coffee and bagels. A large iced coffee with skim milk and Splenda, plus a plain bagel with lite veggie cream cheese was my meal of choice.
Looking back, I'm not sure why we felt like this would bring us back to life after a long night of partying. I realize now that I'd end up just feeling worse after eating it and would spend the rest of the day snuggled on the couch watching chick flicks.
Now I wouldn't step foot near that type of meal. First, it would make me feel like crud because I'm intolerant to gluten, but second, I know that a dairy and caffeine heavy meal is the last thing your body needs to get rid of those toxins.
It's amazing how much I have learned about healthy eating just from listening to my body!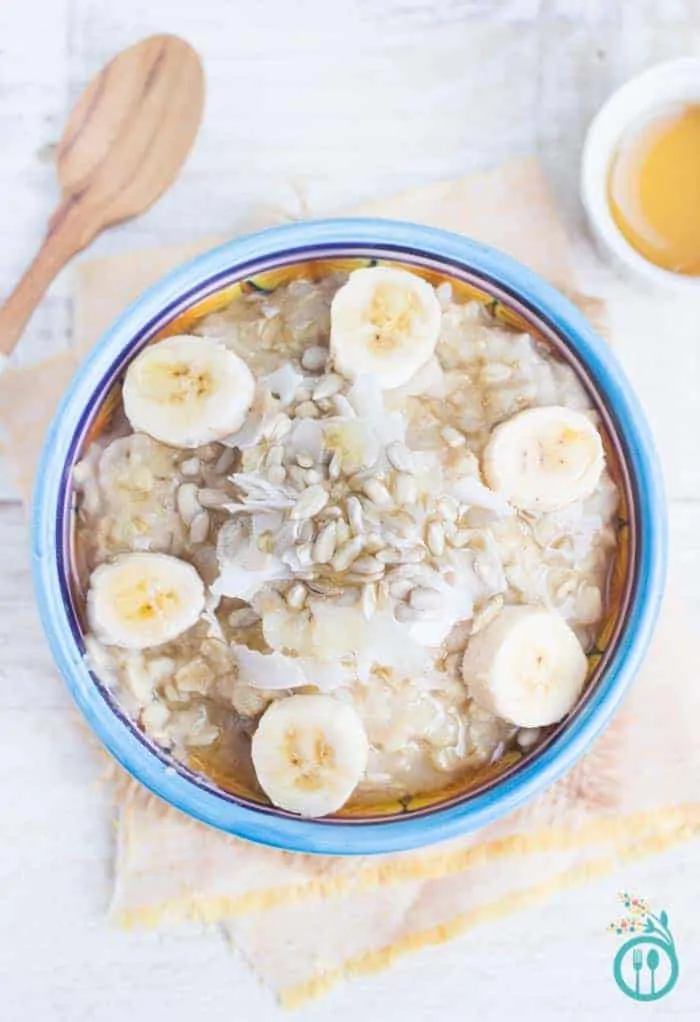 When I'm looking for a breakfast that is comforting and nourishing, I always turn to hot cereal.
Quinoa breakfast bowls are my favorite because you can spice them up any which way you please – adding different ingredients depending upon what your body is looking for that morning.
Like today when my body needs to eliminate toxins and heal from a *slight* hangover, I can pack my bowl full of ingredients that will send me on my way to recovery.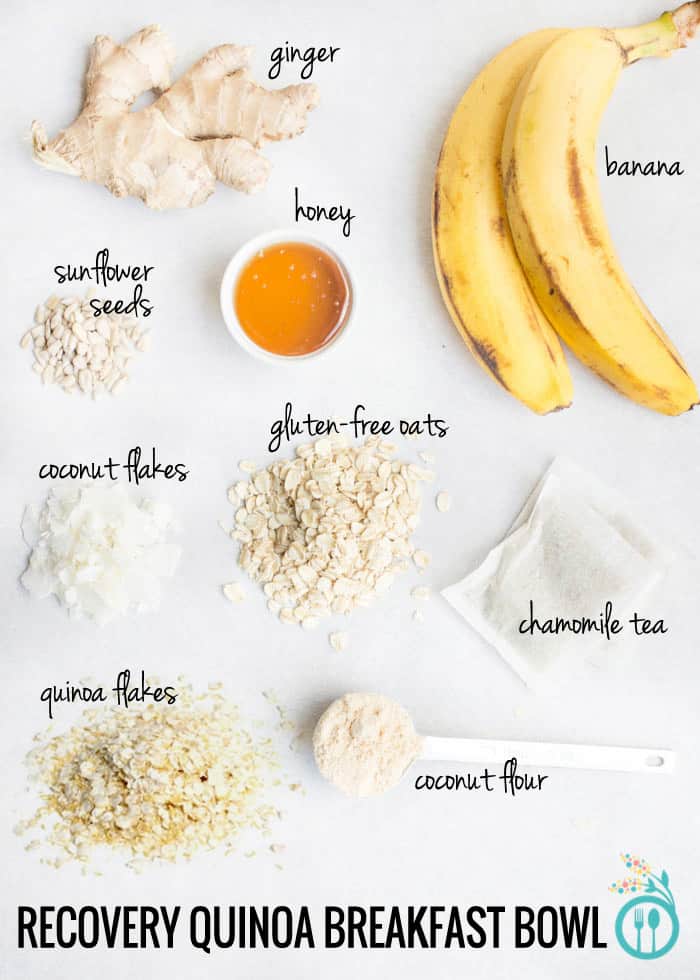 In this breakfast bowl, we have five main hangover-curing stars. Each one helps in its own way – whether that's soothing your throbbing head or ridding your body of toxins.
Chamomile: Chamomile tea has long been used as a calming agent, but it also can help soothe your belly and your throbbing headache. We use it as our liquid base for this recipe.
Ginger: Didn't your mother ever tell you to drink ginger ale when you had an upset stomach? She's spot on with that recommendation (although we use it more naturally in this recipe) because ginger will help to soothe nausea by easing inflammation in your digestive system.
Banana: Even though you are drinking liquids when you're consuming alcoholic beverages, alcohol itself is very dehydrating. And the more dehydrated your body gets, the more potassium you lose, which will leave you feeling tired, cranky and even crampy from time to time. Bananas are extremely high in potassium and will help alleviate these symptoms.
Quinoa: Oh, quinoa! It's just the perfect superfood. Having quinoa for breakfast after a long night of drinking is the perfect hangover cure because it contains all nine essential amino acids, is loaded with other hard-to-get vitamins, and healthy carbs. Just one bowl will get you back into fighting shape in no time!
Honey: Last week I chatted a little about the health benefits of honey and here we have it again! Honey is high in toxin-battling antioxidants, but since alcohol depletes your brain of sugars, honey also contains fructose which is the perfect replacement.
And aside from all these tasty ingredients, I threw in a few more fabulous superfoods that would help you gracefully recover and feel better in no time.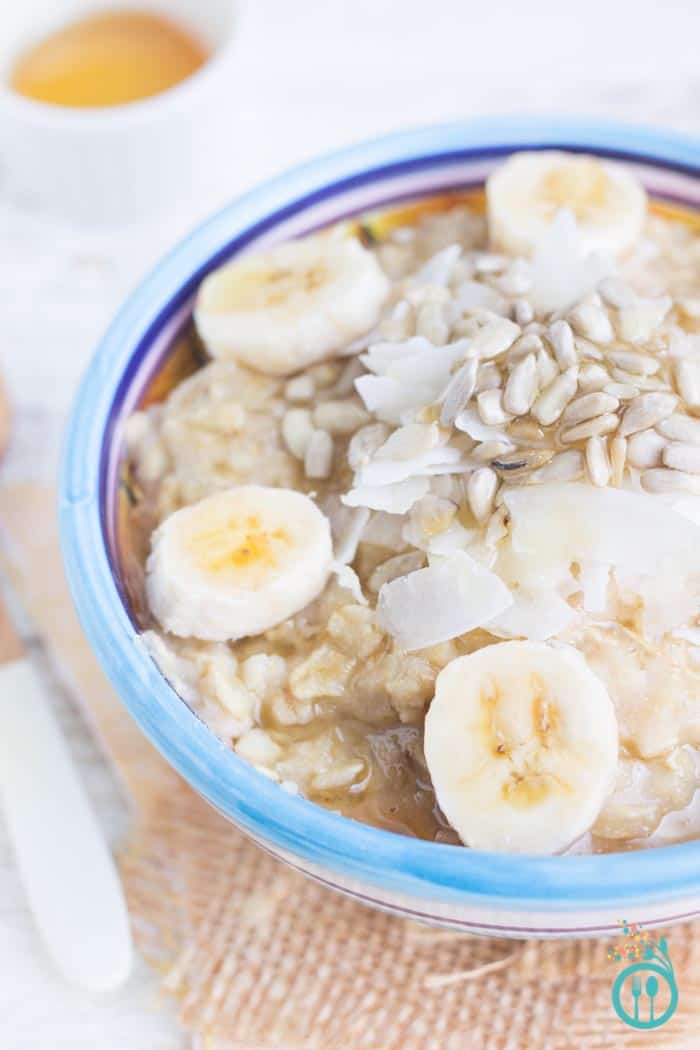 Oh and the best part about this recipe, aside from the good-for-you ingredients?
It's only takes 5 minutes to make! 
So yes, you can roll out of bed, stumble into your kitchen and whip up this healing breakfast bowl all before you're even fully awake. Or have someone else make it for you while you're splayed out on the couch (thanks, Matt!!) 🙂
5-Minute Recovery Quinoa Breakfast Bowl
In this breakfast bowl, we have five main hangover-curing stars. Each one helps in its own way - whether that's soothing your throbbing head or ridding your body of toxins.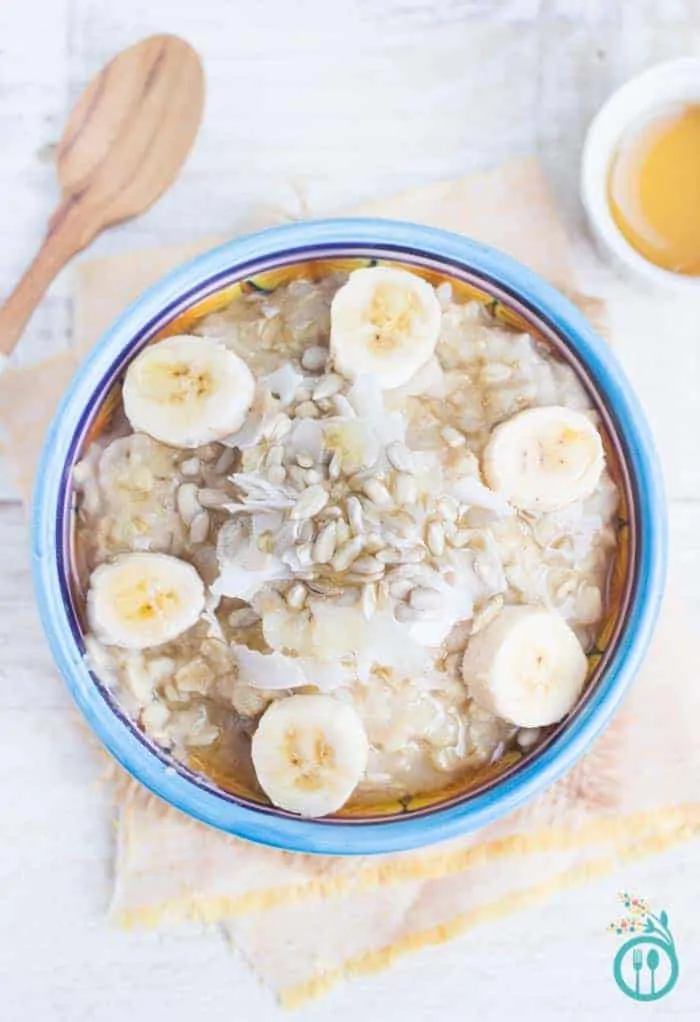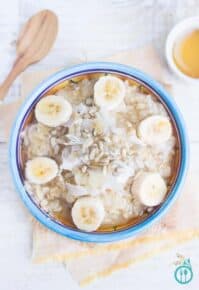 Ingredients
for the breakfast bowl:
1 1/2

cups

water

1/4

cup

oats

1/4

cup

quinoa flakes

1

small banana

part reserved for topping

1

tablespoon

coconut flour

1/4 - 1/2

teaspoon

freshly grated ginger

1

tablespoon

honey
Instructions
Add water and chamomile tea bags into a small sauce pan. Bring water to a boil, stir tea bags a few times, then remove from heat and let the tea steep for 3 - 4 minutes.

While tea is steeping, mash 2/3 of the banana in a small bowl and set aside.

Bring water back to a boil, add oats, quinoa flakes, mashed banana and coconut flour and stir to combine. Cook until the porridge reaches your desired consistency, 1 - 2 minutes. Stir in ginger and honey, and transfer mixture to a bowl.

Garnish with toppings and enjoy!
Notes
This breakfast bowl is easily doubled or tripled, etc., just multiply your ingredients accordingly!
Nutrition
Calories:
529
kcal
|
Carbohydrates:
99
g
|
Protein:
10
g
|
Fat:
12
g
|
Saturated Fat:
4
g
|
Sodium:
41
mg
|
Potassium:
560
mg
|
Fiber:
10
g
|
Sugar:
51
g
|
Vitamin A:
75
IU
|
Vitamin C:
10.2
mg
|
Calcium:
22
mg
|
Iron:
2.8
mg
Filed Under: