When most of you first stumble upon this site, you're just starting to learn how to cook with quinoa. It might not be an ingredient that you use super frequently, but you've tried a few, simple recipes and are starting to enjoy it.
What happens when you want to move beyond the salad or stir fry?
Well, today we're going to talk about a few unique ways to use quinoa to give you even more recipe inspiration!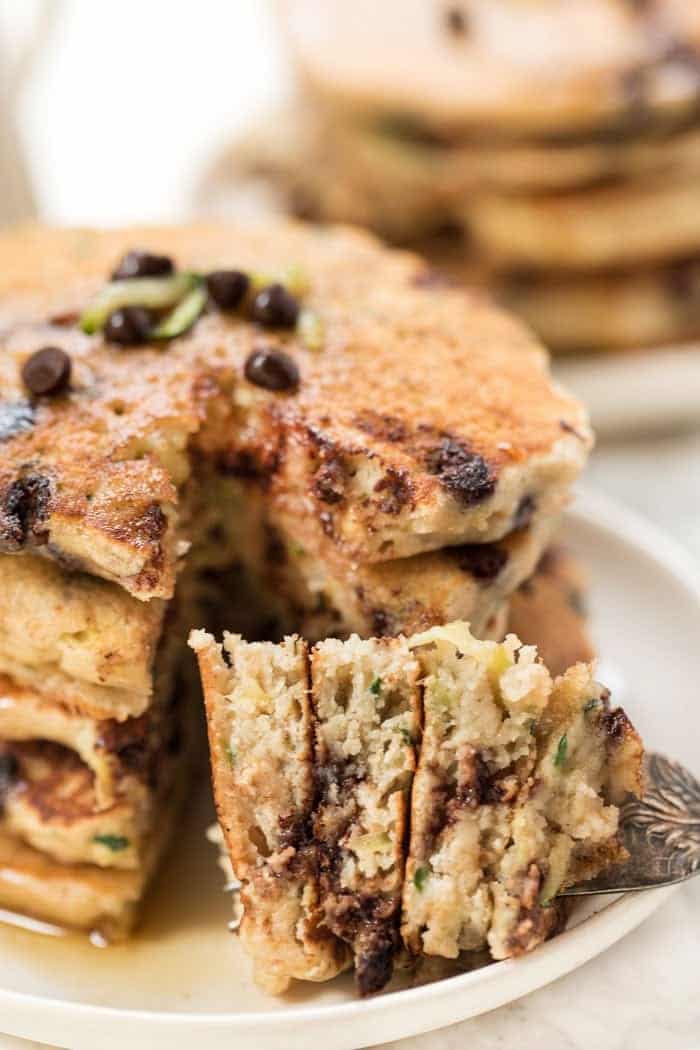 5 New Ways to Use Quinoa
Trust me, I was in the same boat as you a few years ago. I really loved quinoa, but kept using it the same way over and over again. Night after night it was a different variation of quinoa stir-fry. While super tasty, it got old after a while. So I started to push myself outside of my comfort zone – trying new things, and learning how incredibly versatile quinoa really is.
In today's post, I'm sharing 5 new ways to use quinoa that go beyond just your normal stir-fry or salad.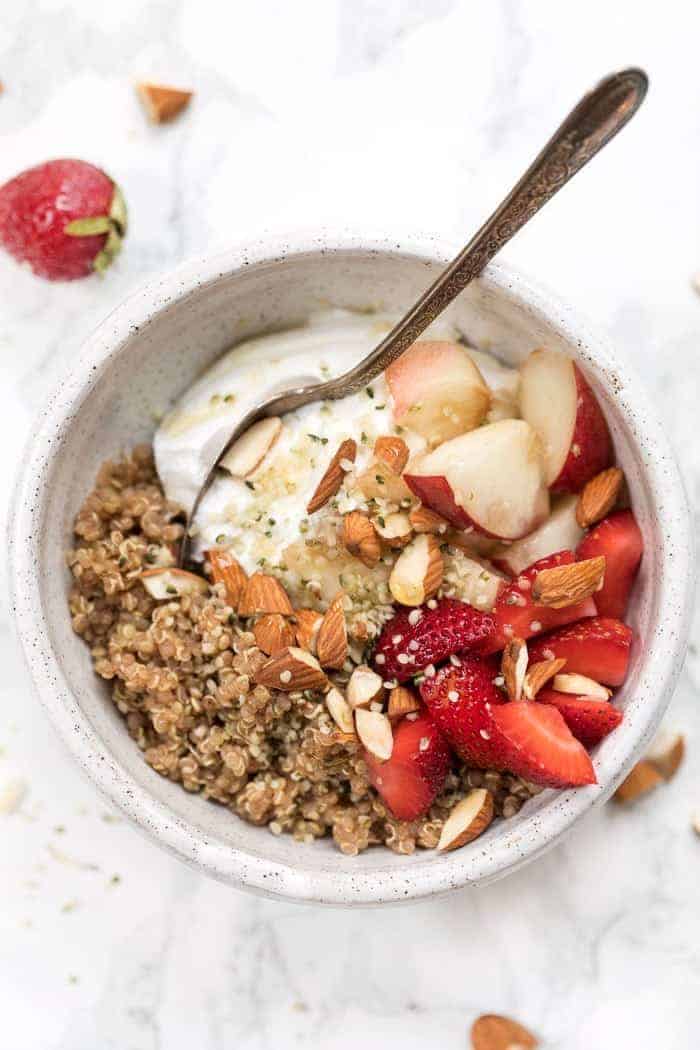 1. Breakfast Cereal
Quinoa makes the perfect breakfast. It's superfood qualities help fuel the day and leave you feeling full and satisfied. Yes, there are tons of quinoa breakfast recipes out there, but when I'm talking about breakfast cereal, I don't just mean cooking quinoa in some water and adding fruit like you would to oatmeal. When I make hot quinoa cereal for breakfast, I turn it into something more like a Cream of Wheat.
You see, when you lightly toast the quinoa seeds and then grind them in a spice grinder, you have something that resembles grits – but nutty, protein-rich, loaded with fiber and gluten-free.
At home, I'm usually just making breakfast for myself since Matt and I are on different schedules, so here's what I do:
Toast 1/4 cup whole white quinoa in a dry saucepan for 2 minutes, until lightly browned and fragrant. Transfer the seeds to a spice grinder and grind them until fine (a little coarser than a flour). Add the quinoa meal and 1 cup water to a saucepan (I sometimes will use coconut milk or juice here as well), bring to a boil, reduce and simmer for 1 minute until the cereal has thickened. Add whatever spices you like – cinnamon or cocoa powder are my favorites – and your desired sweetener and enjoy!
See? Easy-peasy and super healthy!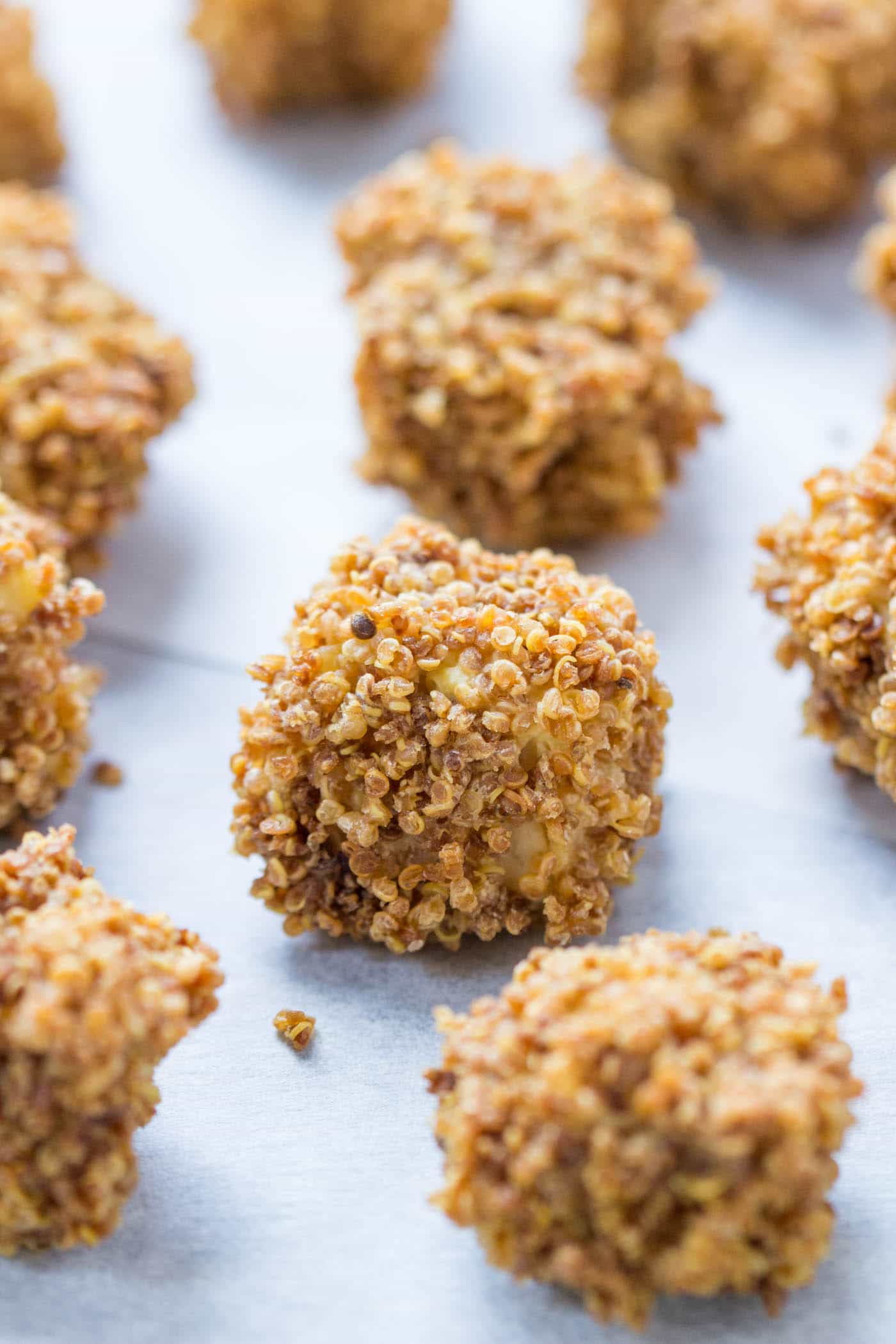 2. Breading / Coating / Crust
Because quinoa is small (even when cooked), it makes a great coating or breading for baked dishes. I have yet to try it fried, but I love adding cooked quinoa to things like baked chicken or fish. I use it almost like a crust.
Rather than using breadcrumbs (which, if you're buying gluten-free, are hideously expensive), coating your meat in quinoa not only provides great texture but also added nutrients. And it's really easy!
Here is one of my favorite quinoa-crusted recipes: Almond & Quinoa Crusted Chicken and Honey Almond Crusted Salmon.
3. As a Binder
This is one of my favorite applications for quinoa. I use quinoa as a binder in recipes all the time – especially burgers. It helps hold things together like breadcrumbs will, but I find it keeps them moist and delicious rather than drying them out.
I have yet to find an exact ratio of substituting quinoa for breadcrumbs in a recipe, but I do have many different recipes that use this method of binding. Here are some of my favorites:

4. Thicken Smoothies & Soups
Have you heard of adding oats to smoothies before so it thickens them up? If you haven't, you're in for a treat here. For me, what makes the perfect smoothie is the texture – it needs to be thick and creamy (and ideally I'd be able to eat it with a spoon). That exact texture can be a little tough if I don't feel like adding a frozen banana or avocado (both of which help makes smoothies nice and thick). So I've devised a way to not only get that perfectly creamy texture, but all boost the nutritional content of my smoothies as well. Just add some quinoa!
All I do is add 1/4 cup of cooked quinoa to my morning smoothie, blend it up like normal and the consistency is perfect every time.
And what's even better, is I've had great success doing the same thing with soups. Like my smoothies, I also love my soups to be thick and creamy. By adding cooked quinoa (or even cooking the quinoa in the soup itself) and then blending it afterwards, I'm guaranteed to have that perfect soup texture I so desperately crave each winter.
Here are some of my favorite soup and smoothie recipes:

5. Crunchy Goodness
Finally, my fifth new way to use quinoa is for adding crunch to a dish. This is one of the easiest ways to use quinoa because it doesn't involve any cooking!
That's right, I eat whole, raw quinoa.
Think you're going to break a tooth? Guess again!
My favorite way to use raw quinoa is in granolas, especially this Peanut Butter-Banana Quinoa Granola. Sometimes I find granolas lack that crunch that I love in my morning breakfast cereal, and adding quinoa does it. It softens slightly when it's baked, but it delivers a powerful crunch that takes the granola to a whole new level.
And like I've mentioned in the other parts, adding quinoa also means that we're getting more protein, fiber and nutrients in our recipe. I'd say it's a win-win
Now a question for you…
What new and fun ways do you use quinoa? Let me know in the comments below!
share what you make
Tag #simplyquinoa on Instagram with your creations! We love sharing what you make with the community. We can't wait to see!

follow on instagram