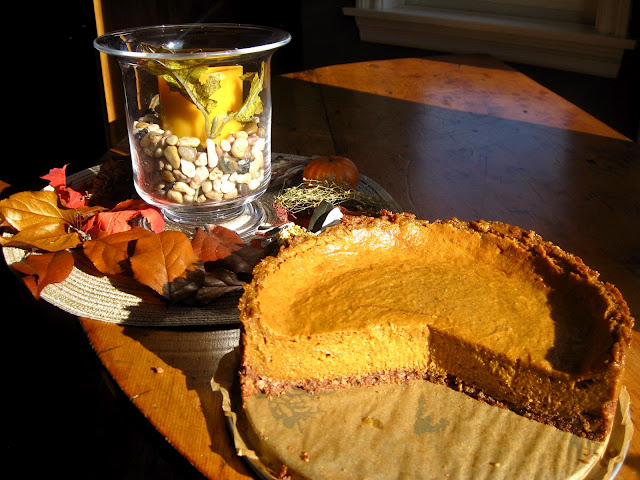 Sharing the gluten-free love with my family with this vegan pumpkin pie.
We had a fantastic Thanksgiving. As worried as I was about the menu, fearing that I wouldn't be able to eat most of my family's dishes, I was stuffed by the end of the day. We had lots of gluten-free and dairy-free options to choose from, lucky me!
Thanksgiving is one of my favorite holidays. It's a day spent eating food, enjoying the company of friends and family, and thinking about the things that make your life complete. It's important to take this time to take a step back and look at yourself in a mirror. It's a time to cherish those close to you, to truly discover what makes you happy, and to be grateful for what you have. Give thanks to those things that bring you joy and peace, and that make you feel special.
I am thankful for my family, my friends, and for Matt. I'm thankful that I am healthy and happy. I am thankful that I have a job in this terrible economy. I am thankful that I have an apartment that is warm and cozy and that feels like home. I am thankful that I have this blog where I can write and share my passion. I am thankful for you, my lovely readers, that follow my kitchen escapades and enjoy cooking gluten-free just as much as I do. I am thankful for me and the person that I am.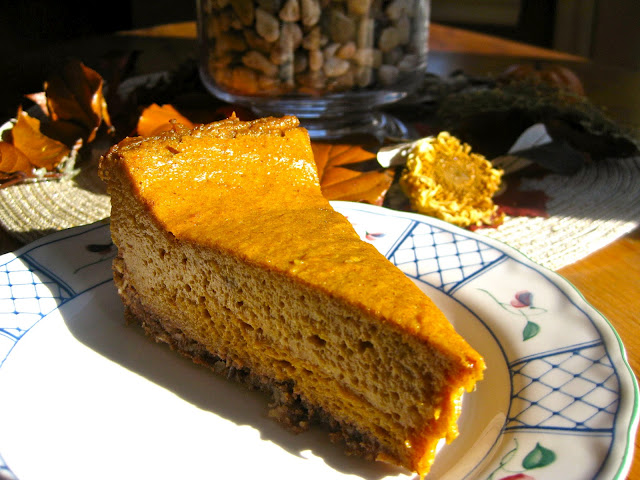 The perfect slice of pie to end the perfect meal.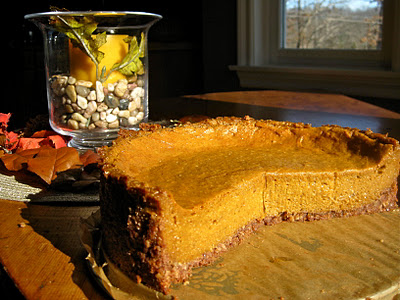 The pie is like a pumpkin custard with a crunchy coconut crust. Delicious.
As always, I turned to Gluten-free Goddess for my Thanksgiving inspiration. I knew she would have what I was looking for, a vegan pumpkin pie. Nestled in her Thanksgiving Tips and Recipes, I found this amazing recipe for my favorite Thanksgiving treat.
A perfect slice of pumpkin pie is pretty much as good as it gets. Slightly warmed in the oven, the first bite of the smooth filling and flakey crust is pure heaven. My mom's pumpkin pie is the best. I used to love watching her in the kitchen, rolling out her dough, pinching the edges with her fingers, forming the perfect crust, waiting to be filled with her amazing pumpkin filling. Sadly her yummy recipe is backed with gluten and dairy. I had to find an alternative that could hold a candle to hers. Gluten-free Goddess to the rescue!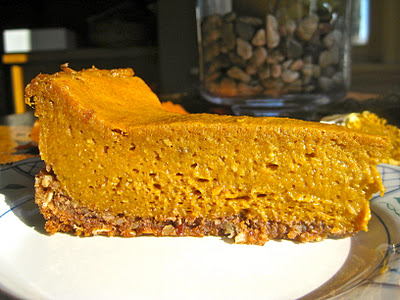 A piece of my gluten-free Thanksgiving
What makes Karina's recipe so great is the crust. It's not your traditional pie crust which is laden with butter. It's not rich, flakey and light. This crust is more like a cheesecake crust. Crunchy. Sugary. Buttery. Coconutty. Delicious.
The best part is the Coconut-Pecan Crust on this gorgeous pumpkin pie
The filling is like a pumpkin custard. Creamy and sweet, laced with molasses and maple syrup. It's thick and rich. The secret ingredient is what gives the pie its body. Cashews. Yes, you read that right, cashews. Cashew cream to be more precise.
Karina is brilliant with her use of healthy ingredients to make classic recipes even better. Her understanding of how the addition and subtraction of certain ingredients affect flavor, texture, look and even feel, is unparalleled. It's like she was born to cook and bake gluten-free and share her knowledge with our community. It astounds me each time I pull one of her baked goods out of my oven and take a bite. Absolute bliss.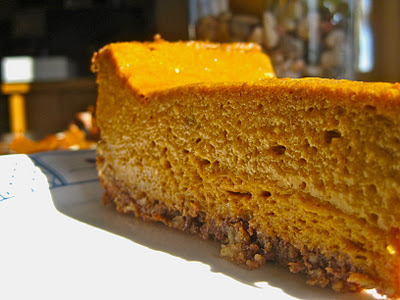 Gluten-free Pumpkin Pie courtesy of Gluten-Free Goddess
Karina's Vegan Pumpkin Pie with Praline and Coconut-Pecan Crust
Next time around I may use less molasses and a different type of milk (probably almond), but overall this will be pretty hard to beat. A new tradition has been born.
A gluten-free Thanksgiving.