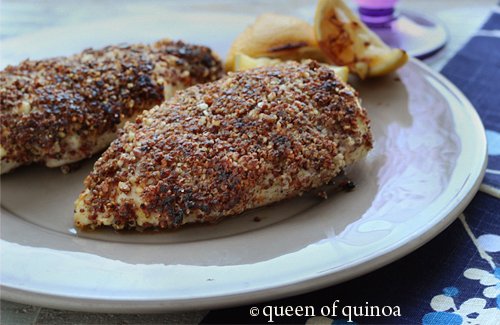 When I set out to make this recipe I had one thing in mind: healthy fried chicken. You know, the kind of chicken that is crispy on the outside and melt-in-your-mouth juicy on the inside? That chicken that's dropped in a vat of oil and is so not healthy for you? Yeah, that's the kind of chicken I had on my mind.
But this recipe took me in a different direction, which happens quite often, and I have to say this is so much better than fried chicken. Plus it's naturally gluten free!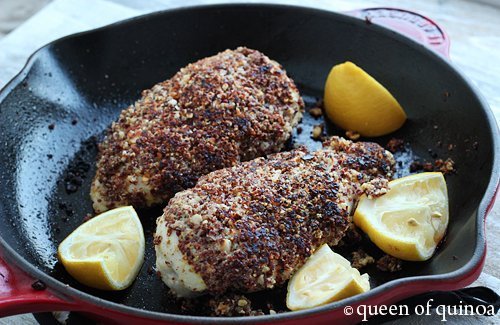 I started with the meat. I'm not a big meat eater, but when I do eat meat, I make sure it's organic, free-range and preferably from a local farm. Luckily, living in Vermont there are plenty of options, so we can check that off the list!
Next was thinking about the coating. I wanted something that would crisp up, but still be healthy and not need to be fried. I chose almond-quinoa crusted chicken because I was sure the texture would be what I was looking for and the recipe would be simple to prepare and easy to bake (again, making it a healthy choice).
With a layer of coarse grain mustard to hold it in place, this chicken is topped with a mixture of fresh ground almond meal and red quinoa, and let me tell you, it bakes to perfection. In fact, it might just be the healthiest "fried" chicken wannabe you've ever had.
To finish off the meal, we served our chicken with sautéed kale and red onions, tossed in lemon juice. To say Matt and I were both happy campers is an understatement.
Almond & Quinoa Crusted Chicken for Easy Eats
this is so much better than fried chicken. Plus it's naturally gluten free!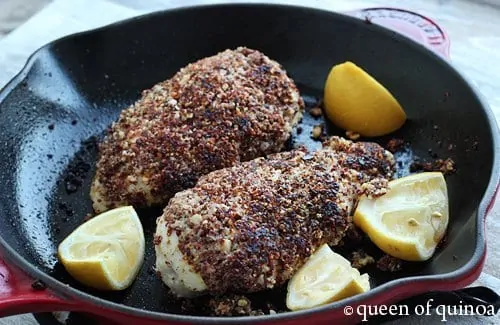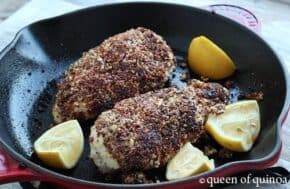 Instructions
Preheat the oven to 400 degrees F. Heat the oil in a large oven-safe skillet over medium high heat.

Meanwhile, grind the almonds in a spice grinder or food processor until you have a coarse meal (not a paste) and combine it with the quinoa, salt and red pepper flakes in a shallow baking dish.

Coat the top of each chicken breast with 1 tablespoon of mustard. Place the chicken, mustard side down, into the baking dish to coat with the almond-quinoa mixture.

Add the chicken, crust side down, to the skillet and sear for 3 - 5 minutes until nicely browned.

Flip the chicken breast and transfer the skillet to the oven and bake through, about 10 - 15 minutes.

Remove the chicken from the oven and place on a cutting board. Let rest for 5 minutes and serve.
Nutrition
Calories:
477
kcal
|
Carbohydrates:
14
g
|
Protein:
54
g
|
Fat:
22
g
|
Saturated Fat:
2
g
|
Cholesterol:
144
mg
|
Sodium:
806
mg
|
Potassium:
1097
mg
|
Fiber:
5
g
|
Sugar:
2
g
|
Vitamin A:
215
IU
|
Vitamin C:
31.4
mg
|
Calcium:
81
mg
|
Iron:
2.4
mg
Filed Under:
---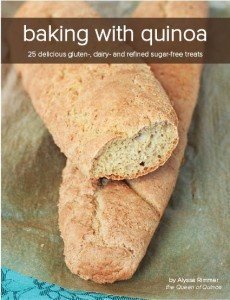 Coming soon: Baking with Quinoa
Featuring 25 mouthwatering recipes – all free from gluten, dairy & refined sugar – Baking with Quinoa will show you just how easy it is to make healthy & nutritious baked goods.
Sign up now to get 20% off!