A detoxifying beet noodle salad made with spiralized raw beets and crispy apples, dressed in a simple lemon, dijon and maple vinaigrette.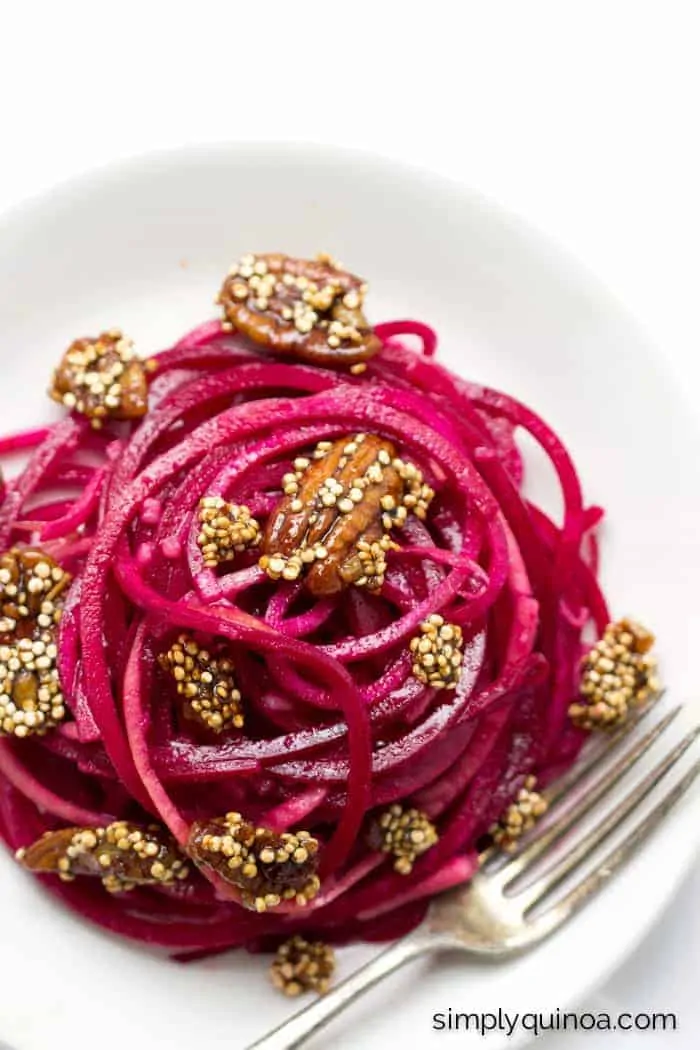 My first beet of the season!
Beet has always been one of my favorite root vegetables, but truth be told, I don't bother to cook it much. For one, it basically takes FOR-ever to cook. Second, it a pain in the butt to peel. And third, it stains the heck out of your counters, plates, cutting boards, and hands. (<– no one likes walking around with pink hands)
So I either buy the pre-cooked ones from Trader Joes or load up my carton at the Whole Foods hot bar. Or I just don't eat them.
But beets are amazing in so many ways. They're in season right now, are incredibly nutritious, are filled with vitamins and minerals AND they taste delicious.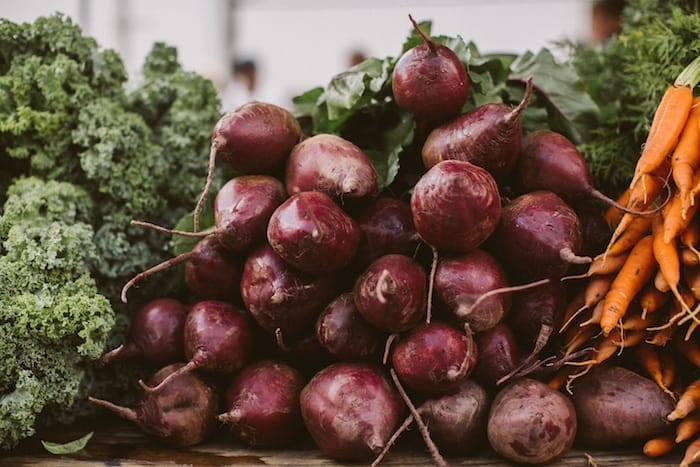 Beets are a natural detoxifier, are packed with antioxidants and are also anti-inflammatory. Oh, and beets are also part of the chenopod family  – as is chard, spinach, and QUINOA! So basically beets and quinoa are cousins. Naturally making them a great pairing.
One thing that is most stunning about beets is their color. The pigments inside beets are called betalains which function both as antioxidants and anti-inflammatory molecules. But they've also been shown to support the internal detoxification process of our bodies – binding to toxins, then neutralizing them and makes them water-soluble (which means we excrete them through the urine).
What's interesting about these betalains though is that they have been shown to be less effective (or potent I guess you could say) the longer food has been cooked. This is certainly not ideal with food like beets because they take a really long time to cook – usually at least 30 minutes to steam and 60+ minutes to roast.
So how do we keep all those amazing nutrients inside? Eat our beets raw!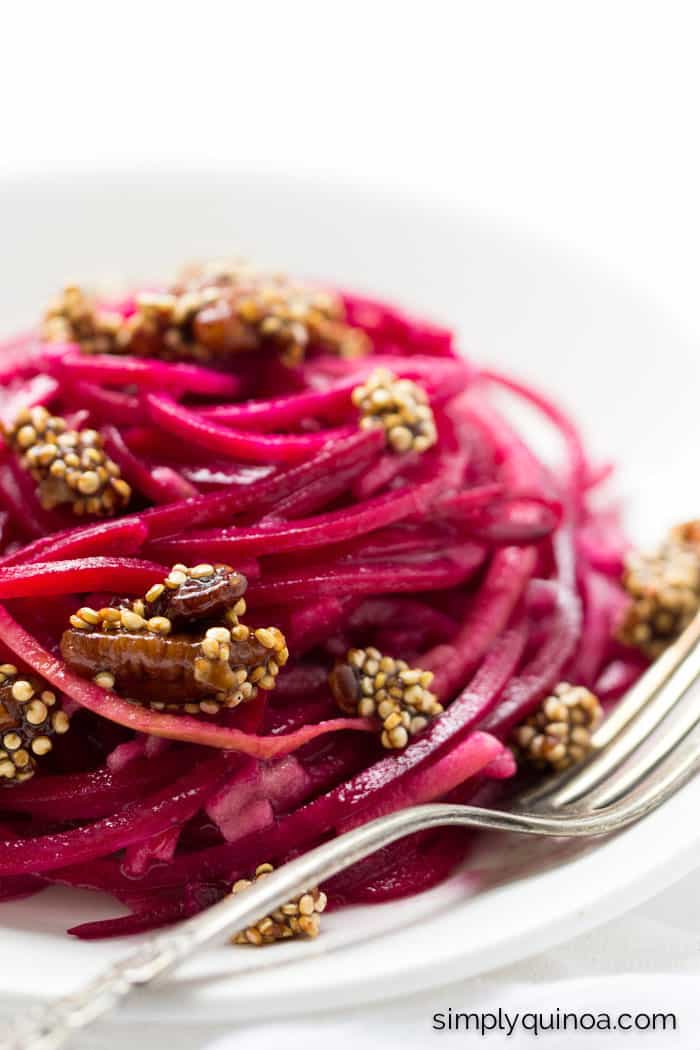 Which is exactly what we're doing today with this apple and beet noodle salad.
Until I discovered spiralizing, there is no way you would have found me eating a beet raw. But now that I know you can turn them into noodles, the idea of eating them raw is much more appealing. That might not make total sense, but as we dive into this recipe I think you'll start to see why.
First, though, we need to talk about spiralizers.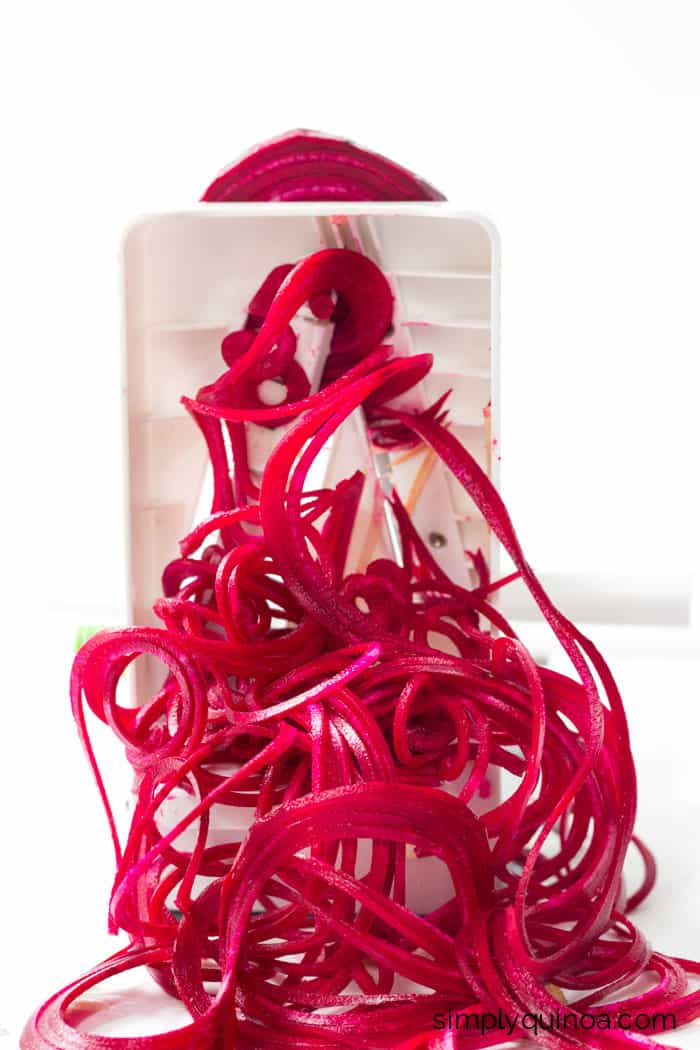 Since spiralizing has become kind of mainstream, more and more products seem to be popping up that claim they can turn veggies into noodles. But here's the thing: most of us fell in love with spiralizing because of zucchini noodles and zucchinis are probably one of the softest, easiest vegetables to spiralize. But what about when we look at things like beets? Or butternut squash? Or sweet potatoes? Most of those machines would never be able to handle a hard vegetable like that. And so even if you're brand new to spiralizing, your range will be pretty limited and you'll have this large contraption in your kitchen that has only one purpose.
Now I bet you know where I'm going with this…
I found the one and only machine that can spiralize everything AND does it better than any of the other products on the market.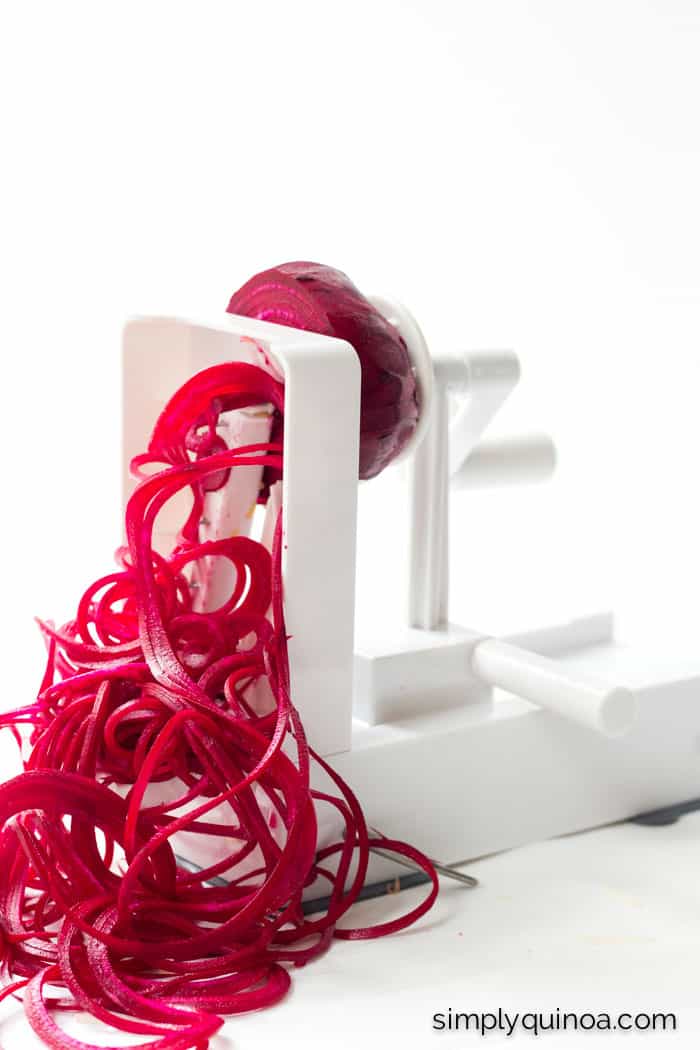 You know my girl Ali from Inspiralized.com that I've talked about on SQ before? Well, this lovely little lady was sick and tired of not being able to make beautiful noodles out of any kind of veggie that she wanted. So rather than getting frustrated and annoyed (which I'm sure she did plenty of actually), she created her own product!
And let me just tell you the Inspiralizer is amazing. It helped me see a whole new side to spiralized vegetables that I never even knew existed. With the Inspiralizer, I can make amazing dishes from practically any veggie I want! (although you should look at Ali's list to see what can and cannot be spiralized)
First up it was beets! I was amazed at the ease at which the Inspiralizer could handle the beets. It took only a few seconds, it didn't jiggle around on the counter and the result was long, gorgeous purple noodles!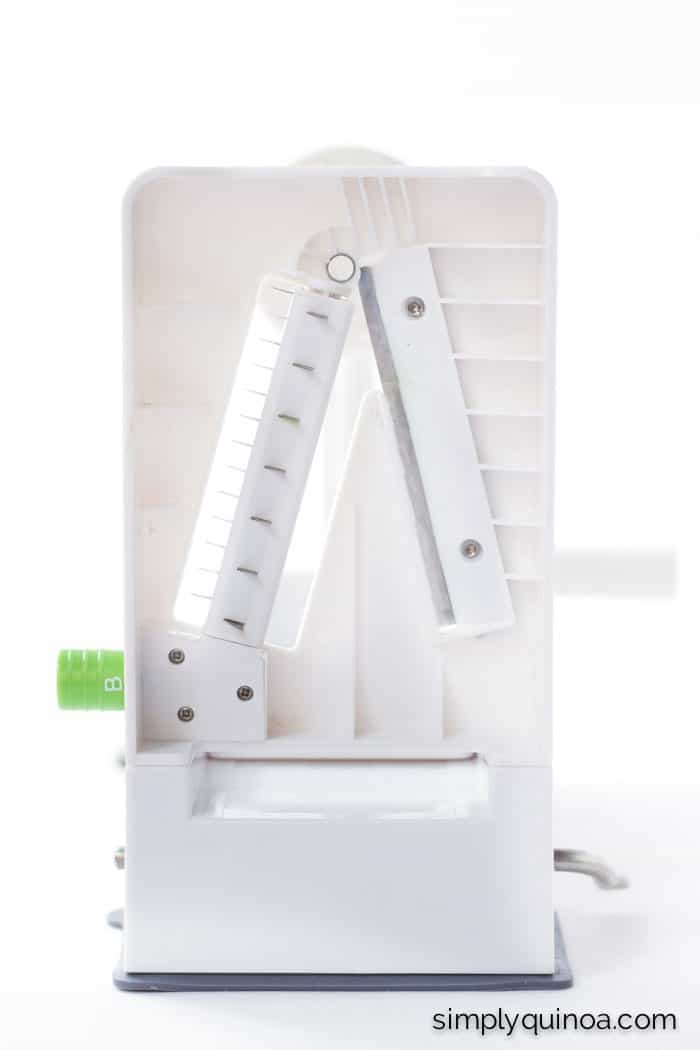 The Inspiralizer vs. Paderno
Even though the Inspiralizer looks a little bit like the popular Paderno model (which is the one I had previously), it's worlds ahead. Here are 7 reasons why I love the Inspiralizer more than the Paderno:
1. The size.
The Inspiralizer is a LOT less bulky than the Paderno. It's sleek, thin and doesn't have any extra plastic bulk. It easily fits in cabinets and takes up almost no room at all.
2. The counter clamps.
Probably one of my favorite features of the entire machine is the counter clamps. These secure the Inspiralizer to the counter and it literally does. not. move. This makes the Inspiralizer ideal for cutting through hard veggies like squash, beets, rutabaga, and celeriac.
3. The blade options.
Rather than just three blade options, the Inspiralizer has four! You can make wide ribbon noodles, fettuccine pasta, linguine noodles, and classic spaghetti.
4. The Noodle Twister.
You no longer have to worry about changing out blades using that slide-in method. You also don't have to worry about the ones you're not using fall out and get lost. The Inspiralizer has the "Noodle Twister" which is a small green knob that lets you move between the four different blades easily. The blades are also labeled really clearly, so you know exactly what you're using on each different setting.
5. The back-stop.
This is such a simple feature, but it's amazing! There is a small little stopped on the back of the Inspiralizer which keeps the handle from falling out or sliding around too much. This makes storage an absolute breeze!
6. The safety cover.
Those little blades are sharp! That's why I love that the Inspiralizer includes a safety cover that lets you cover the pointy blades when the machine isn't being used. Don't have to worry about stopping yourself when you reach for it in storage or littles ones getting cut if it's left on the counter during meal prep.
7. The BPA-free plastic.
Finally, I love that Inpiralizer uses BPA-free plastic. No nasty chemicals seeping your food; it's toxic-free and safe!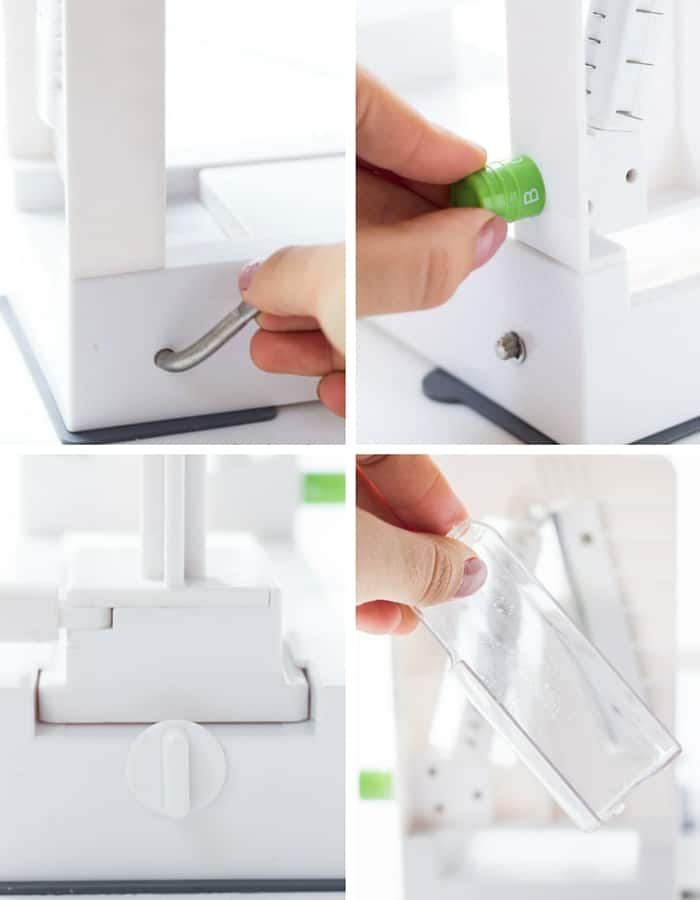 And honestly, those are just my favorite features. There are so many amazing things about this machine that I know you are just going to adore. Want one for yourself? You can pick one up right here!
So onward with our beet noodle salad!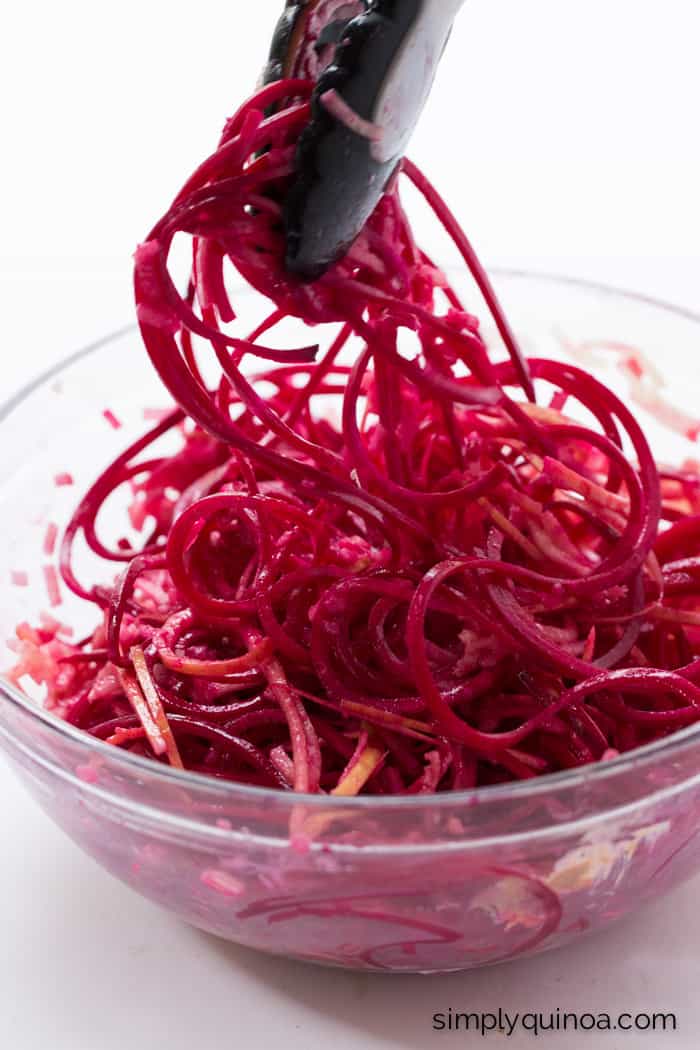 Not only did The Inspiralizer cut right through the beets, but since I also added in some apple, it worked wonders on that as well. This salad is a simple, raw salad that is packed with a surprising amount of flavor. I combined the beets with the apples for some added sweetness, but honestly, I could have gone 100% beets and beet totally happy.
And we partially have the dressing to thank for that. An easy blend of olive oil, lemon juice, dijon mustard, and maple syrup, it was the perfect blend of sweet and tangy. The lemon and oil also helped the "marinate" the beets, so the longer they sat the more flavorful and soft they became. (I actually let mine sit overnight and loved it!)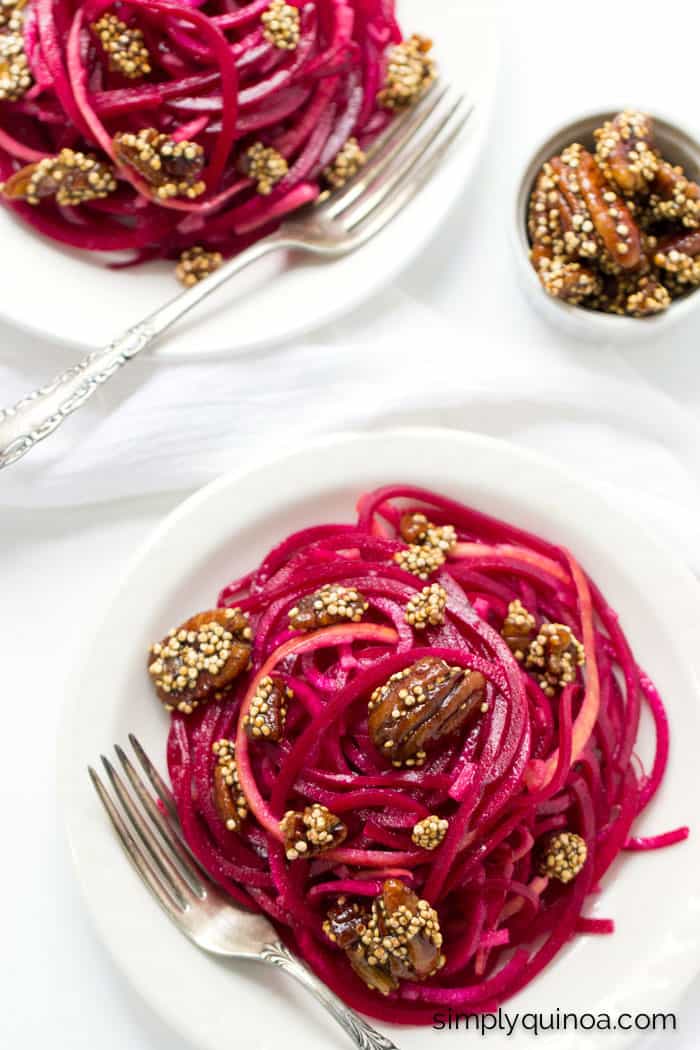 From there, I topped this salad with my candied pecans and quinoa. It added a nice crunch without overwhelming the simple flavors of the salad. It would also be delightful with goat cheese if that's your thing.
Either way, this salad is a must-make. It's so easy, it's full of nutrients, it will help rid your body of toxins AND it tastes good. That's a pretty hard combo to find!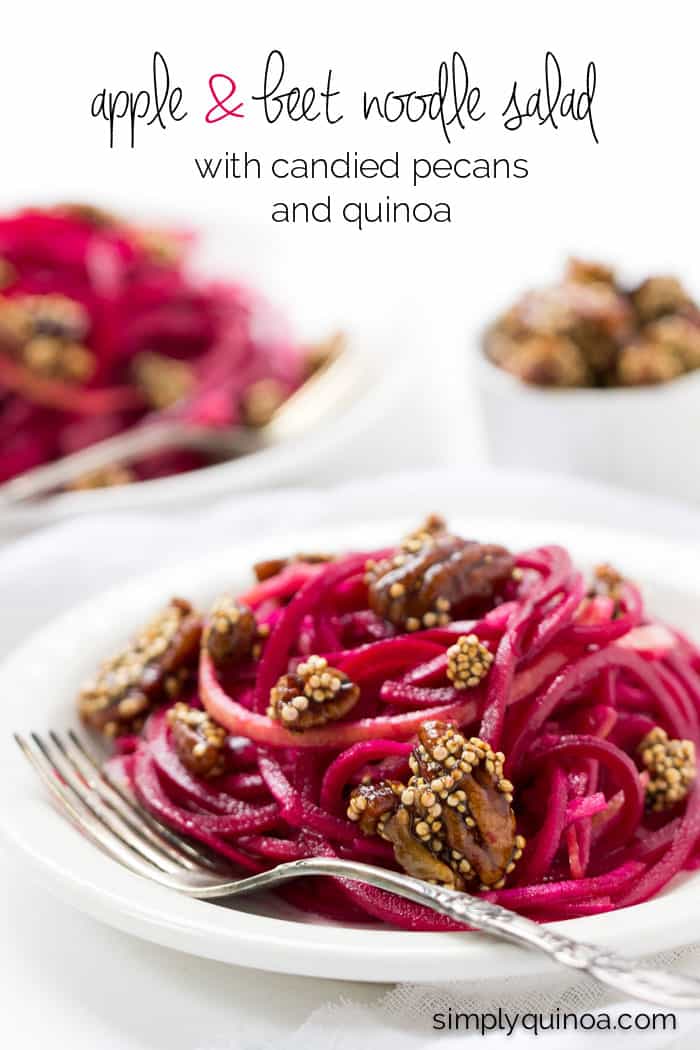 More Deliciously Detoxifying Recipes to try:
Apple + Beet Noodle Salad with Candied Quinoa
This salad is a must-make. It's so easy, it's full of nutrients, it will help rid your body of toxins AND it tastes good.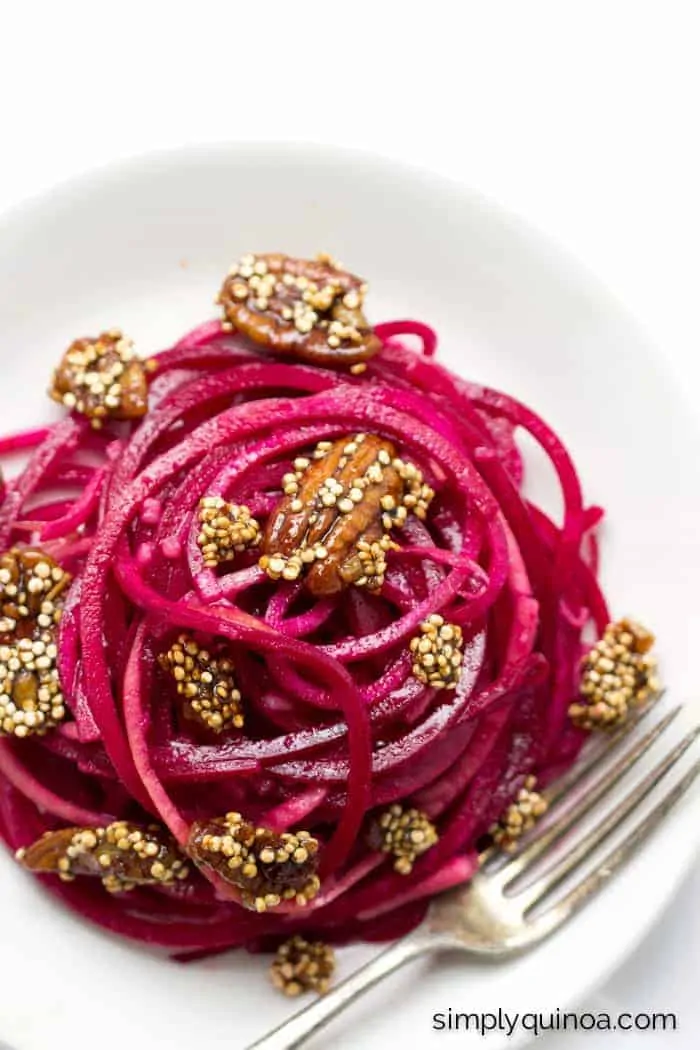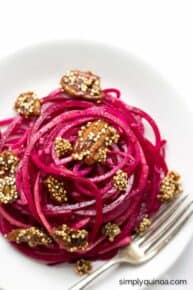 Ingredients
1

medium beet

1

large apple

preferably a crispy variety

2

tablespoons

olive oil

2

tablespoons

lemon juice

1

tablespoon

dijon

2

teaspoons

maple syrup

Salt + pepper to taste

1/2

cup

candied pecans + quinoa
Instructions
Slice the ends off the beet so it's flat on both ends and peel it. Set the Inspiralizer to Blade D and spiralize the beet. Cut the noodles into spaghetti length (if desired).

Place the apple (short end on the center corer of the Inspiralizer) and run it through the machine. Add both noodles to a large bowl.

Whisk together the remaining ingredients (minus candied nuts) and pour over noodles. Toss with tongs until evenly coated. Refrigerate for at least 30 minutes.

When ready to serve, transfer noodles to plates and garnish with candied nuts.
Nutrition
Calories:
366
kcal
|
Carbohydrates:
34
g
|
Protein:
2
g
|
Fat:
25
g
|
Saturated Fat:
2
g
|
Sodium:
374
mg
|
Potassium:
230
mg
|
Fiber:
4
g
|
Sugar:
26
g
|
Vitamin A:
50
IU
|
Vitamin C:
12
mg
|
Calcium:
39
mg
|
Iron:
0.9
mg
Filed Under: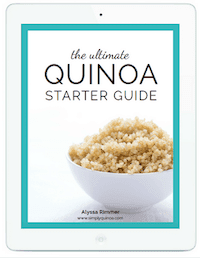 New to cooking quinoa? Grab your FREE Quinoa Starter Guide!
Become part of the Simply Quinoa community and receive weekly emails with exclusive content that I only share in email, as well as my in-depth guide to starting your quinoa journey.