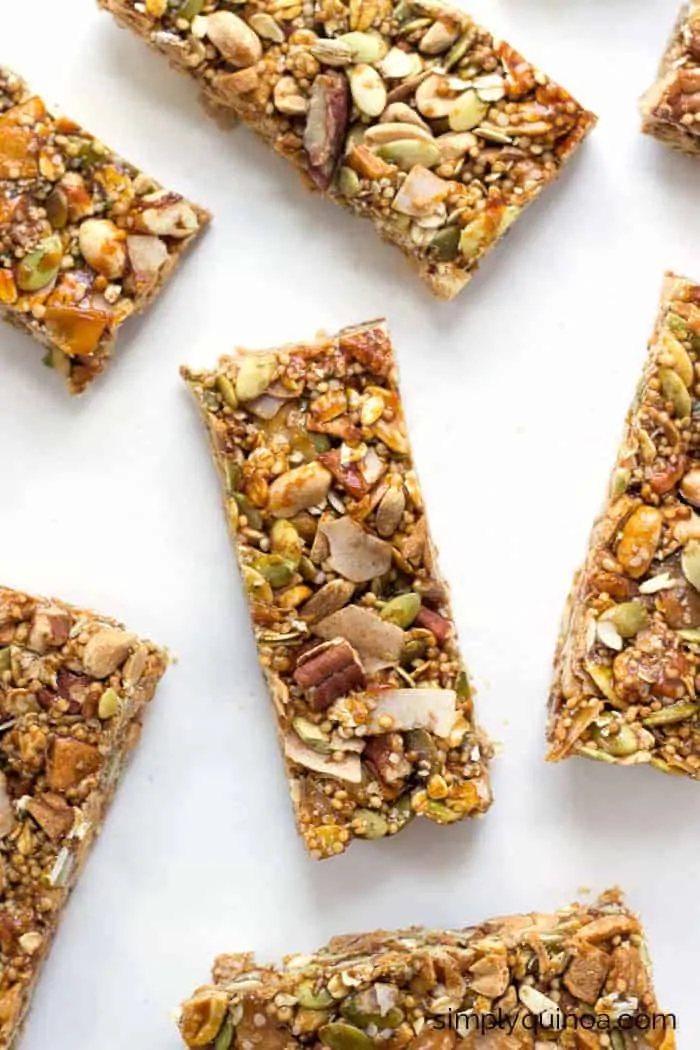 As you may already know, I'm a big snacker. I find myself constantly reaching for small nibbles throughout the day and even though I'm usually choosing nutrient-dense foods, still all those snacks add up. And sometimes, they even end up giving me a tummy ache.
If you're also a constant snacker and experience the same things as I do, it's probably because we're not reaching for the right foods. When it comes to a hearty snack, we need to make sure that it is nutritionally balanced, meaning it has a good ratio of fats > carbs > protein.
Let's take my favorite snack for example: an apple.
Apples are awesome because they're high in fiber, vitamins and minerals, but they don't have protein and they don't have fats. So my body ends up burning that fuel more quickly and I'm hungry again.
That's one of the reasons I'm excited to share these new quinoa granola bars with you.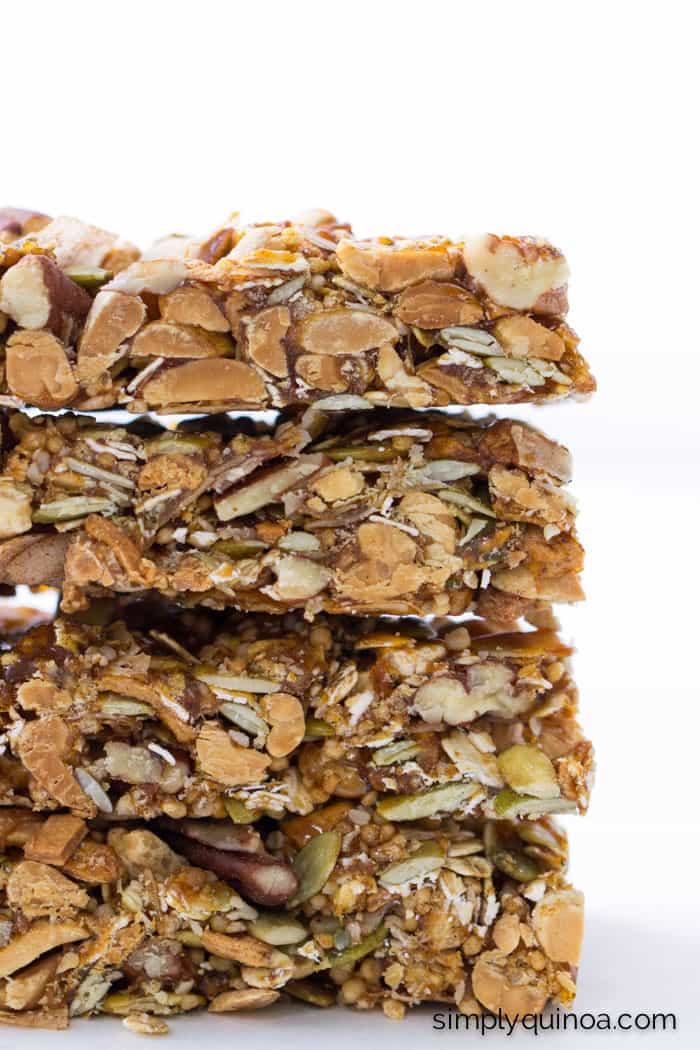 Not only are they packed with complex carbohydrates, but they've also got tons of healthy fats, fiber and protein.
I promise, one of these bars and your hunger will stay at bay.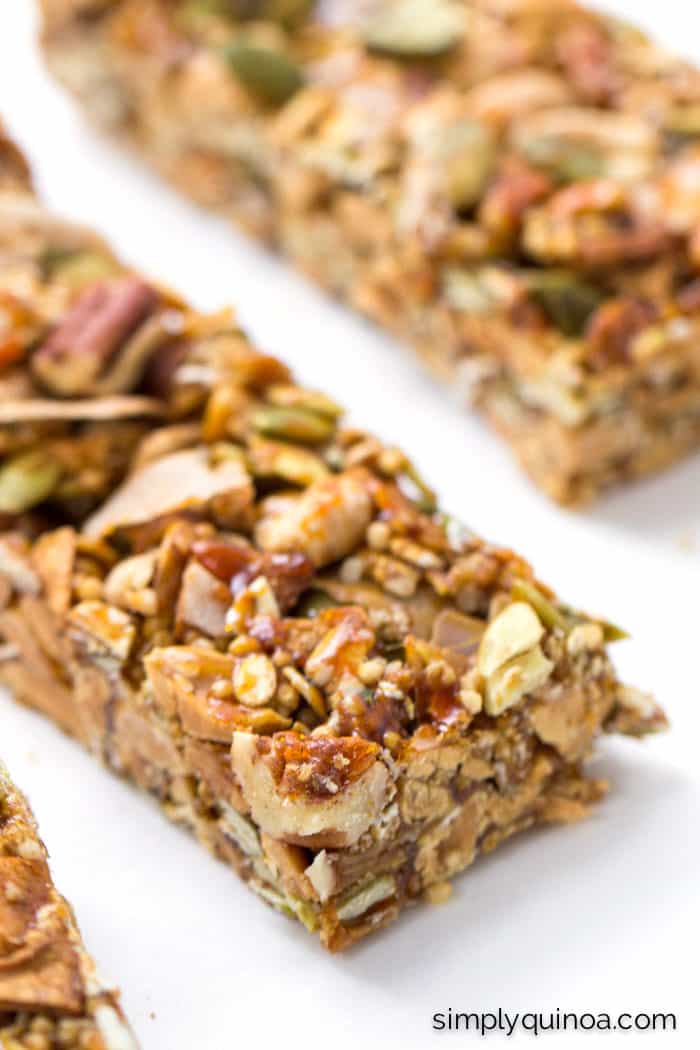 What I really love about these granola bars is that they're no-bake, but rather than being soft and chewy like many no-bake granola bars, these are super crunchy.
How? By caramelizing honey.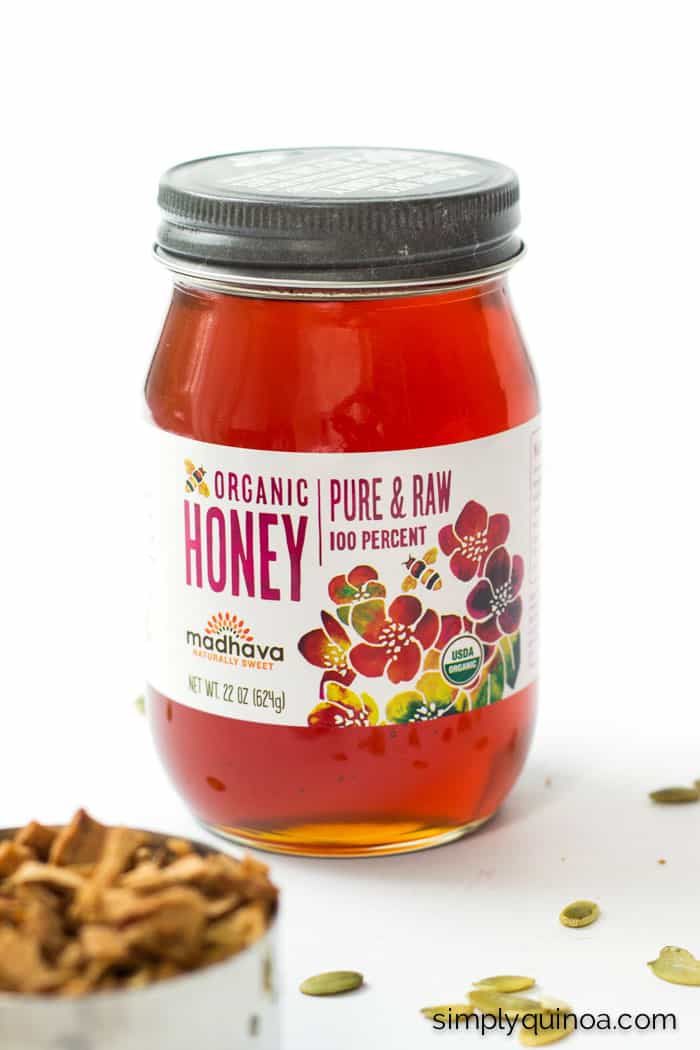 I started with a jar of Madhava's Raw Honey which I absolutely adore.
Unlike other raw honeys, this one is liquid at room temp, making it much easier to work with, but it's still got also those awesome minerals and antioxidants. It also has a somewhat mild flavor, with faint caramel undertones which goes perfectly with the other ingredients in these bars.
But we'll get to those in a moment, first: caramelizing honey.
To caramelize honey, you simple heat it on the stove until it starts to bubble and thicken. Since honey is already a liquid, you don't need to add any extra water. You honestly just let it bubble away and then pour it over your ingredients. Just like caramel, it will stick to everything, but harden nicely so the granola bars are really crunchy.
The other ingredients in these bars are simple, yet distinctly fall-inspired since I can't seem to shake my autumn obsession. Just a simple blend of nuts, seeds, coconut, dried apples, oats and quinoa crispies. Oh and cinnamon. You can't forget the cinnamon.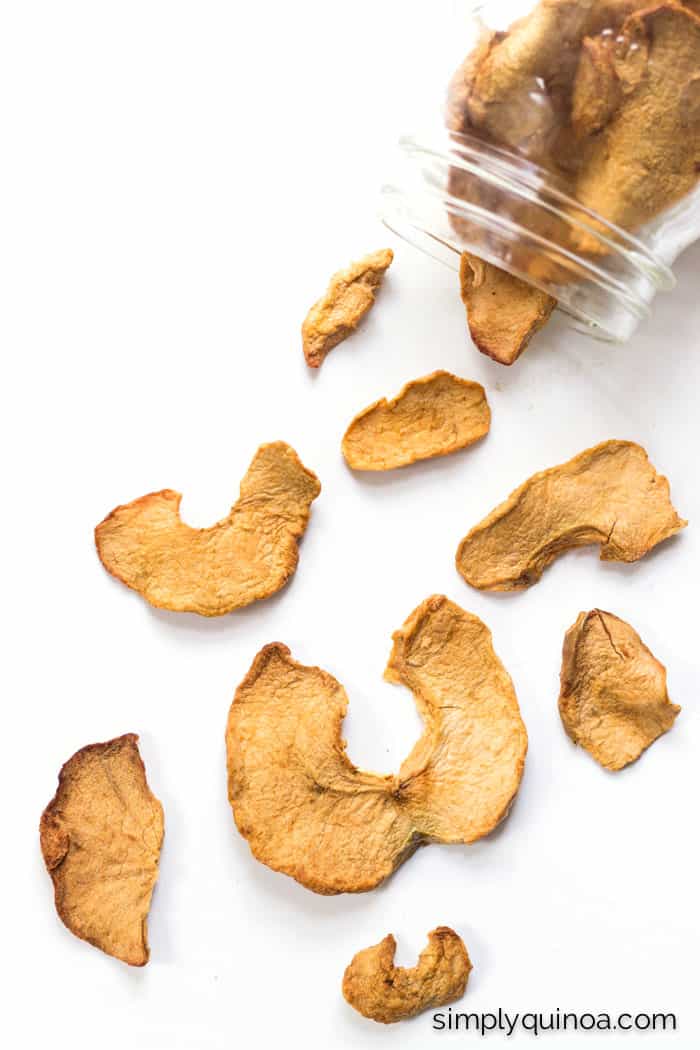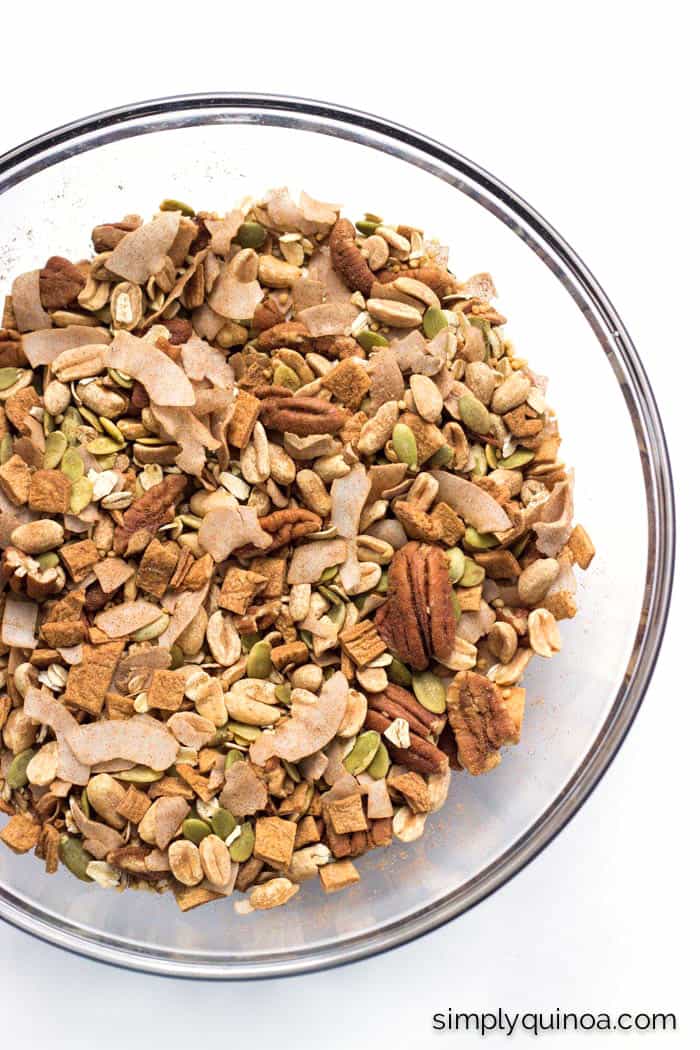 For our nuts/seeds we have: pumpkin seeds, pecans, peanuts and hemp hearts (which are optional but add a nice amount of protein). Then I chopped up some dried apple rings and used coconut flakes for even more texture.
The apple, oats and quinoa crispies bring the fiber and complex carbs, but also add help make the bars a bit more hearty.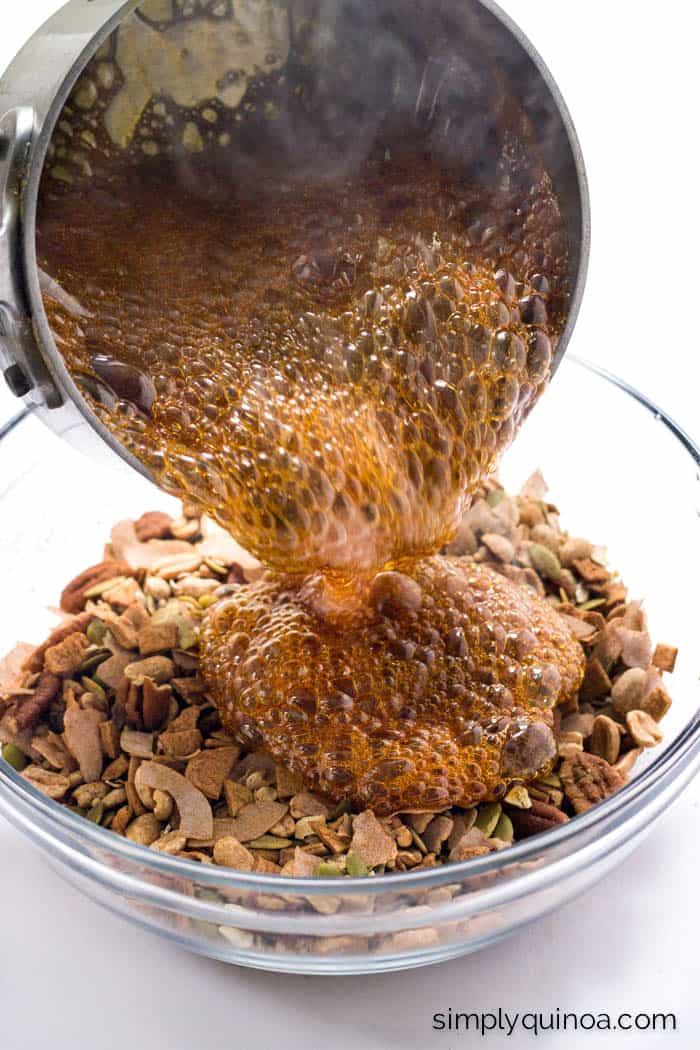 So once you've mixed all your ingredients together in a large bowl, you pour the honey caramel over it and stir QUICKLY. You've got to move fast here because the caramel starts to harden almost instantly.
Once mixed, transfer it to a parchment lined baking pan (it's important that it's lined!!) and press the bars down to flatten. Then you just let them cool for about 30 minutes, cut them into bars and you're done.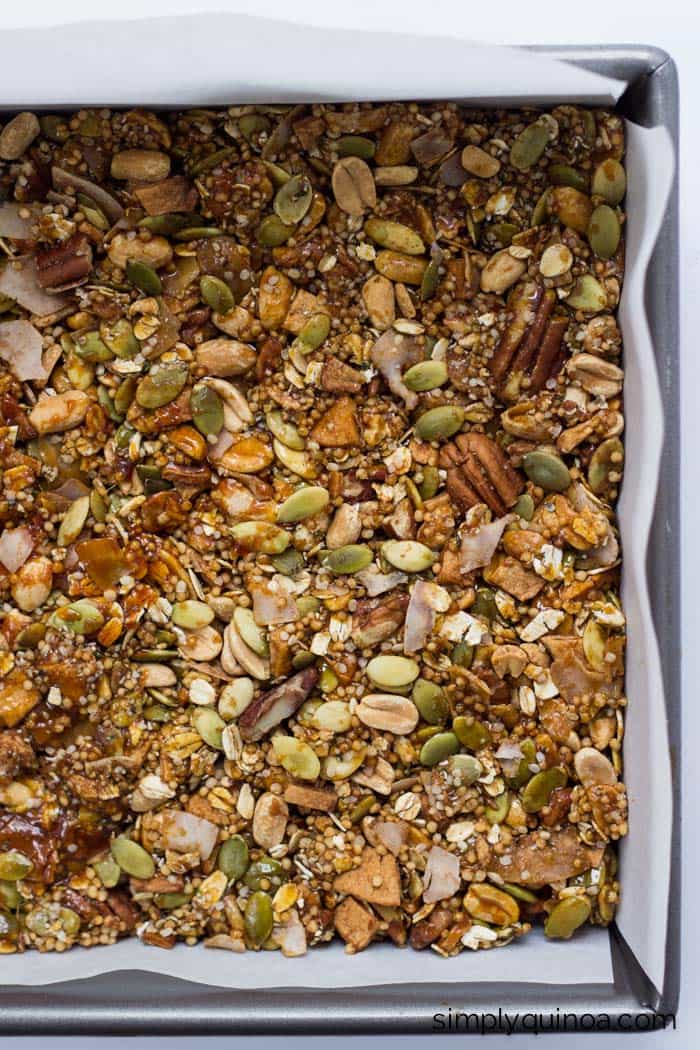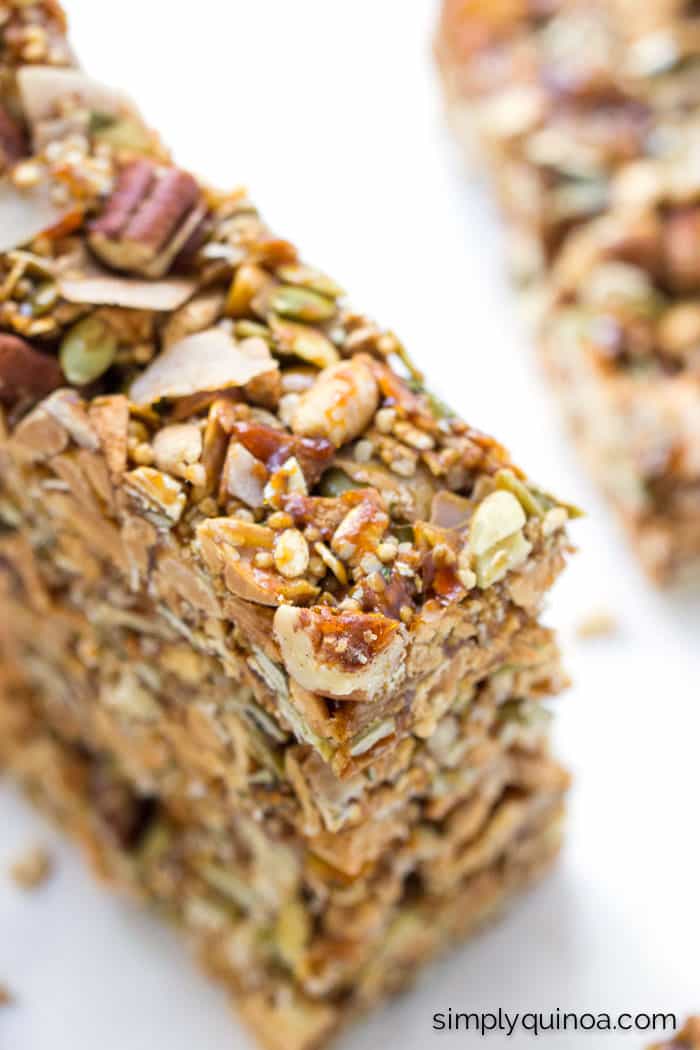 They remind me of KIND bars, but with a healthier twist. They're lower in sugar, higher in protein and use completely natural ingredients. The only sweetener is honey!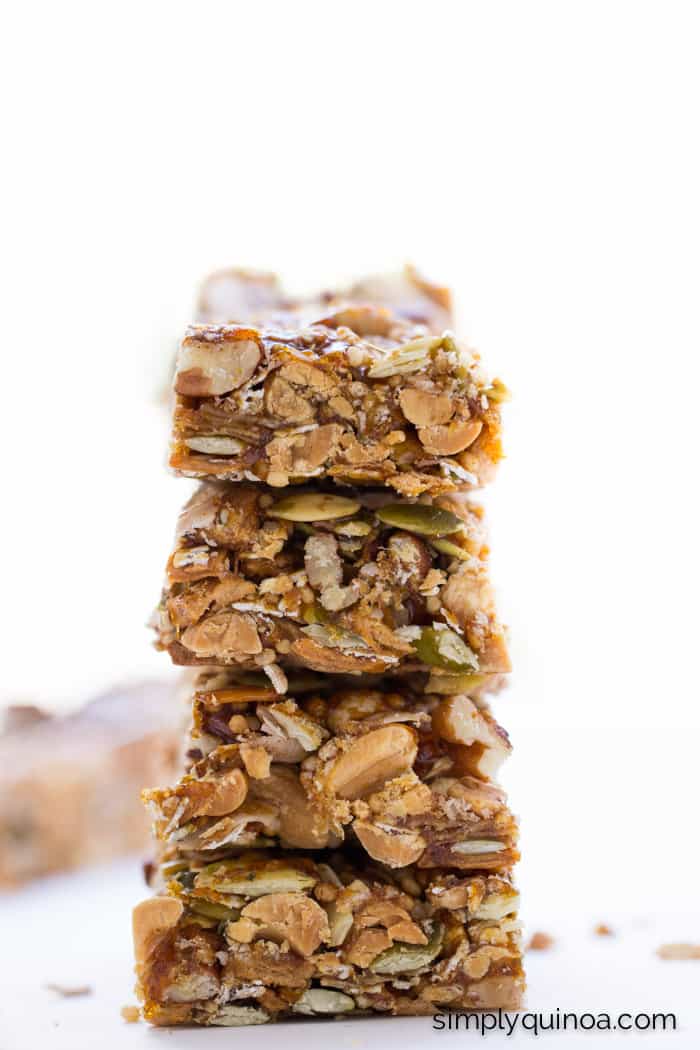 These make for a pretty delightful little snack. Plus, since they're crunchy you don't have to worry about keeping them refrigerated.
Just pop one into your purse and you're good to go!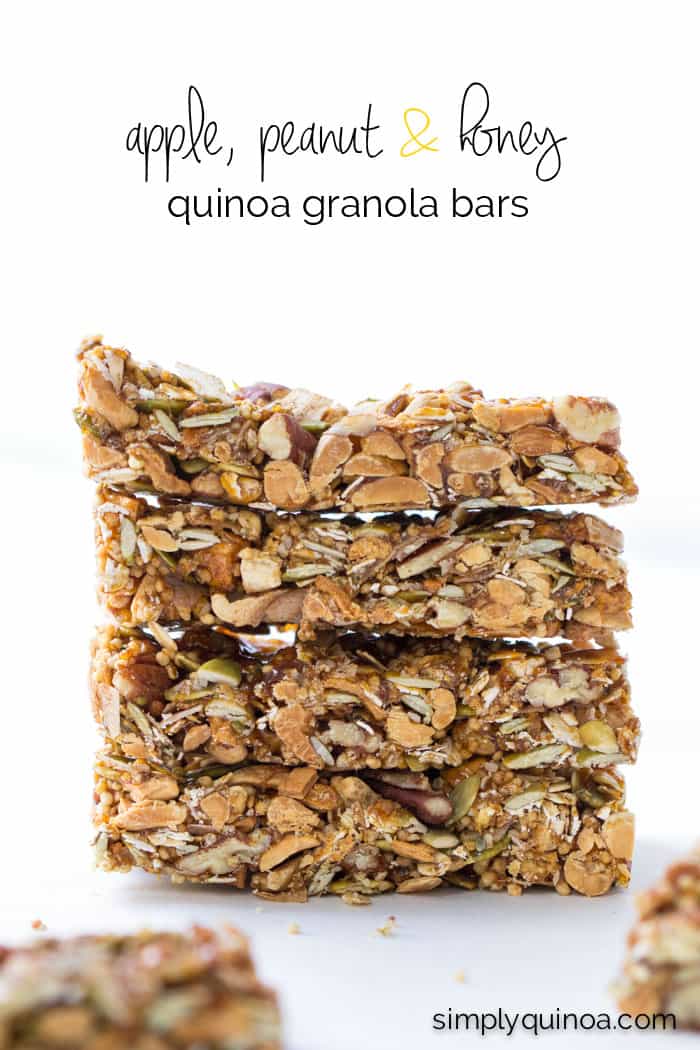 Apple, Peanut + Honey Quinoa Granola Bars
These Apple Peanut and Honey Quinoa Granola Bars make for a pretty delightful little snack. Plus, since they're crunchy you don't have to worry about keeping them refrigerated.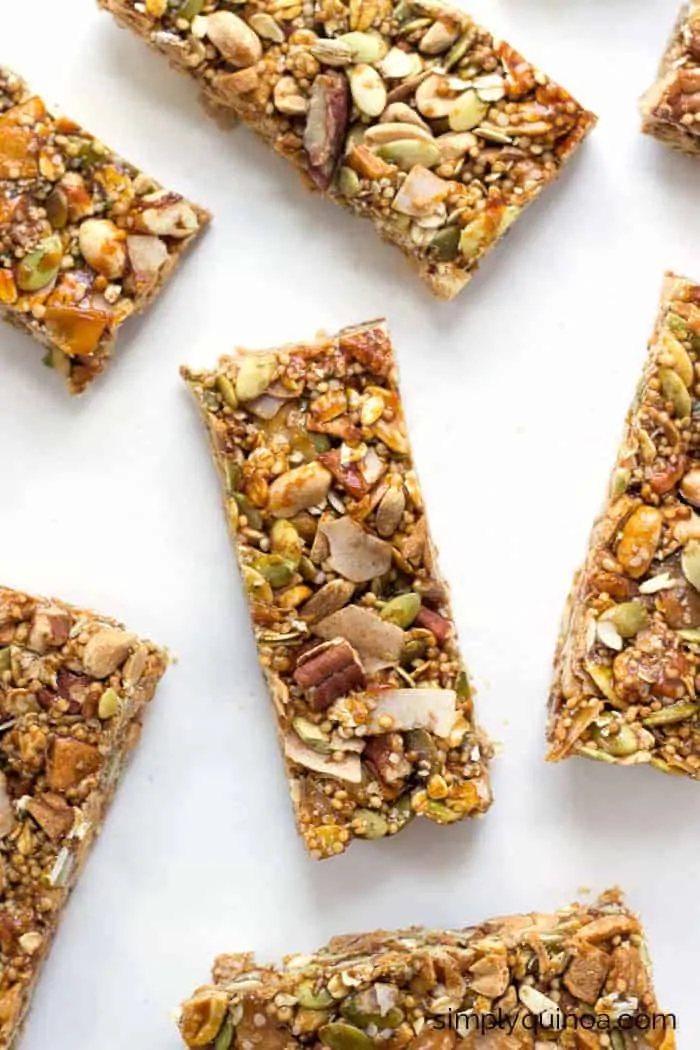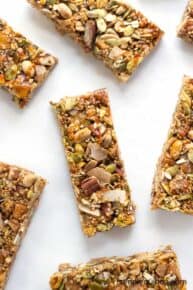 Instructions
Line an 8 x 8 baking dish with parchment paper. Set aside.

Mix together the nuts, seeds, oats, quinoa crispies, apples, coconut, hemp seeds and cinnamon. Toss with your hands until combined and set aside.

Pour honey into a small saucepan. Heat over medium-high heat until the honey begins to boil, then reduce heat slightly and let it simmer for 4 - 5 minutes (or until it reaches 240ºF), stirring occasionally. Keep a close eye on it because the mixture will bubble a lot and you don't want it to spill over the sides of the pan!

Pour the honey caramel the granola bar mixture and QUICKLY stir the mixture until it is evenly coated with the sauce. It hardens really fast so you definitely need to go fast. Then again QUICKLY transfer the mixture to the baking dish, and press it down firmly into the pan (you can use the bottom of a glass to really compact it).

Let the bars cool for 30 minutes or until they reach room temperature. Or refrigerate them if you want them done even sooner. Lift the parchment from the baking pan and transfer it to a cutting board. Cut the bars into whatever shape you'd like.

Store them at room temperature or in the fridge in a sealed container. I also wrapped mine individually in plastic wrap so they were even more portable!
Nutrition
Calories:
175
kcal
|
Carbohydrates:
18
g
|
Protein:
4
g
|
Fat:
10
g
|
Saturated Fat:
3
g
|
Sodium:
9
mg
|
Potassium:
141
mg
|
Fiber:
3
g
|
Sugar:
13
g
|
Vitamin A:
15
IU
|
Vitamin C:
0.2
mg
|
Calcium:
24
mg
|
Iron:
1.4
mg
Filed Under:
This post was sponsored on behalf of Madhava Sweeteners. Thank you so much for supporting the brands that I love; it helps makes SQ possible!