Autumn Hummus Breakfast Toasts
Brought to you in partnership with Sabra
Four simple breakfast toasts that are perfect for the fall! We're using hummus as our base then topping them with four incredible autumn flavor ideas!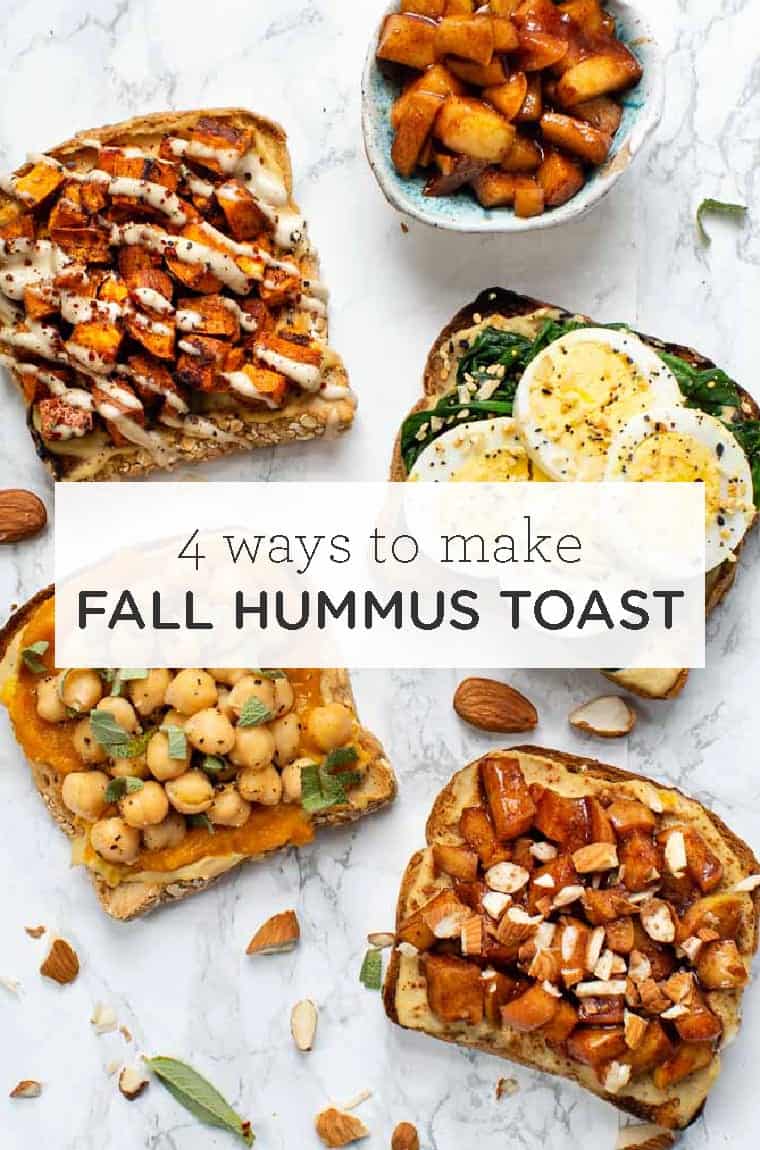 Shove over smoothie bowls, I've got a new breakfast obsession: TOAST. Being abroad, away from my blender, my powders, my greens, I've been eating a lot more toast. It's on almost every menu here and I've been loving every minute of it!
Almost always the toasts are topped with mashed avocado. But here's my thing with that: as much as I adore avocado – and like I realllllly like it – there are only so many things you can top it with. It gets a little snoozy after a while.
So I decided that I wanted to create some new breakfasts toasts that didn't use avocado, but that were still healthy, easy to make and delicious. Enter today's post: a collection of four different breakfast toast ideas that utilize fall ingredients, are both sweet and savory, and taste absolutely incredible!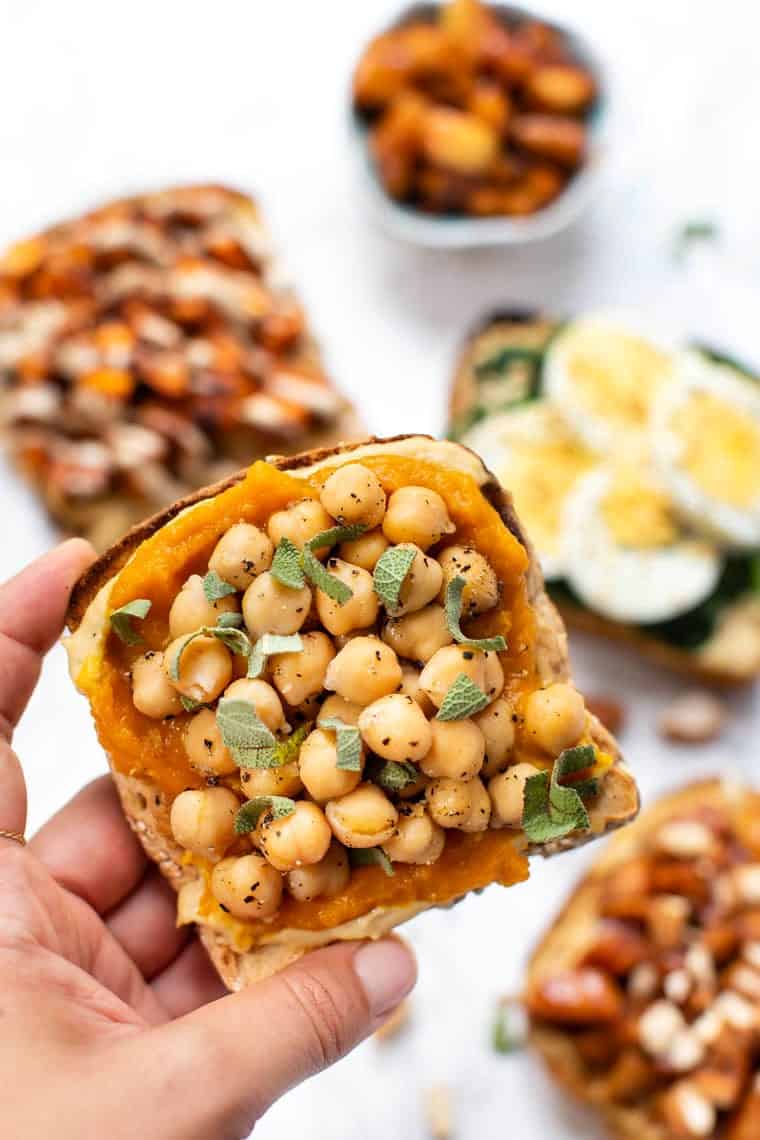 Healthy Savory Breakfast Toast Ideas
I know not everyone is a sweets-for-breakfast kinda person. I'm dating one of them. And there are a few other quirks that he has that can make breakfast a little difficult. For starters, it's gotta be salty. Second, he's not a big fan of avocado.
So what's a girl to do? Make him some healthy breakfast toast!
I've discovered that jazzy breakfast toasts are one of the easiest ways for me to make him a quick and easy savory breakfast recipe that is also healthy! While he does love my avocado toast, he's actually much more of a fan of hummus toast. So lately that's what we've been doing. Hummus, as we know, is high in protein and fiber, it also goes with all types of flavors and it's the perfect vehicle for toppings.
I love using hummus as the base of my toast because it's not overpowering, you do also get that protein hit and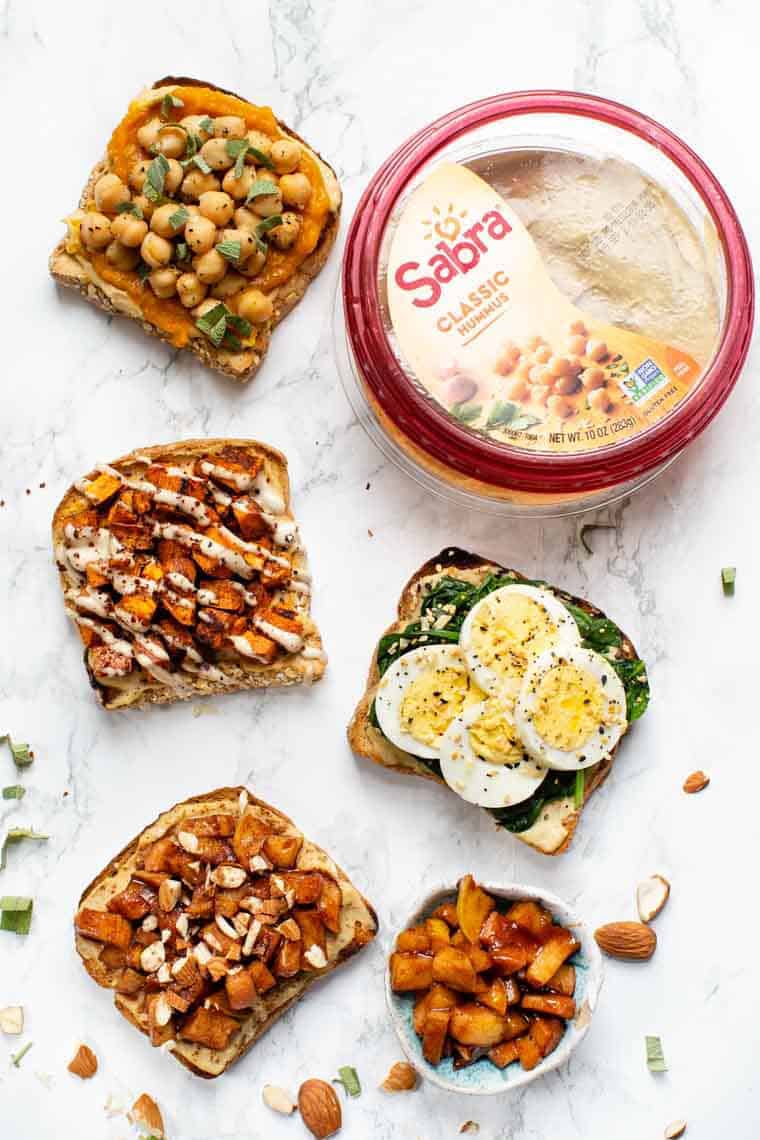 Fall Healthy Breakfast Toasts
Since hummus is such a versatile ingredient, truly the topping options are endless. You can go with sweet, you can go with savory, you can go with fruit, you can go with veggies. So to help you narrow it down a bit, I want to give you a few specific – and totally fall-inspired – breakfast toast recipes to try.
Our four breakfast toasts are…
Stewed Cinnamon Apples
Pumpkin & Sage with Chickpeas
Everything Bagel Spinach & Egg
Smoky Roasted Sweet Potato with Tahini
For all these recipes, we're using Sabra's Classic Hummus as the base. I've used this hummus a million times before to make breakfast toasts and it's still my favorite. It's versatile, it's effortless and it goes well with pretty much everything!
1. Stewed Cinnamon Apples Toast
---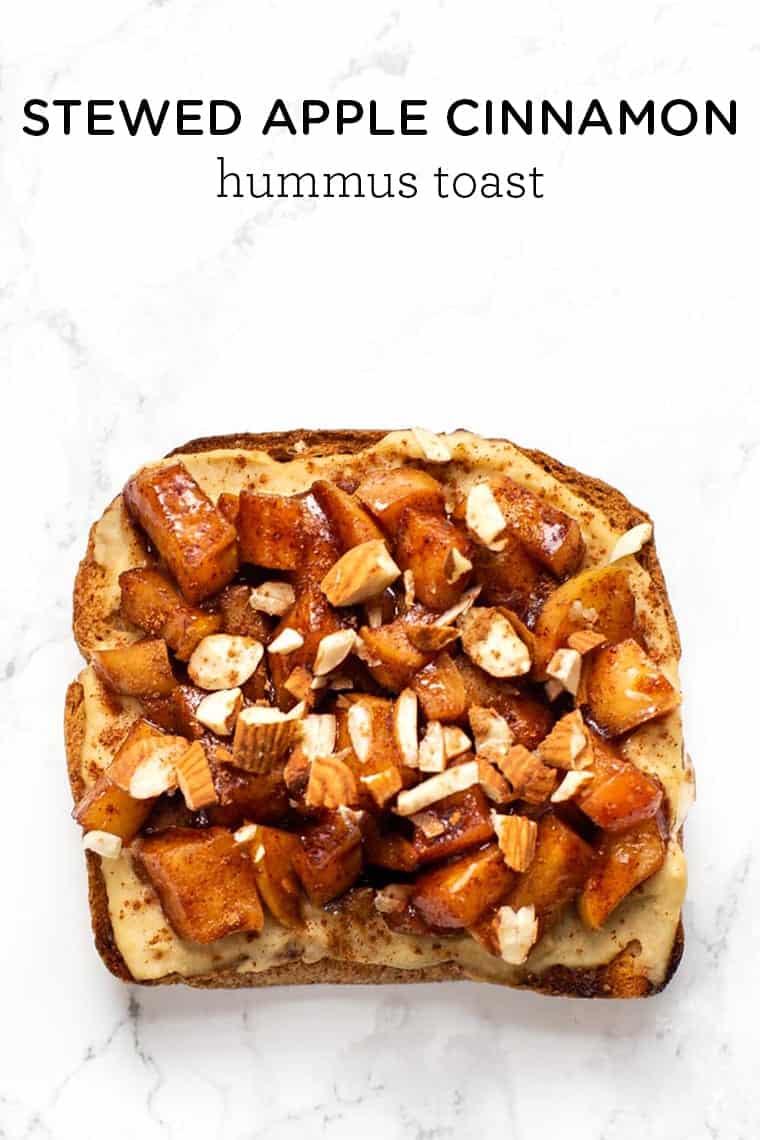 1 slice gluten-free bread, toasted
2 tablespoons classic hummus
1 apple
splash of water
1 tablespoon maple syrup
1 teaspoon cinnamon
chopped almonds to garnish (optional)
Chop the apples and add them to a pan. Add a splash of water and cook on medium until the apples have started to soften. Stir in maple syrup and cinnamon, cooking another 1 minute or so. Slather the toast with hummus. Top with the apples and sprinkle with chopped almonds.
2. Pumpkin & Sage with Chickpeas Toast
---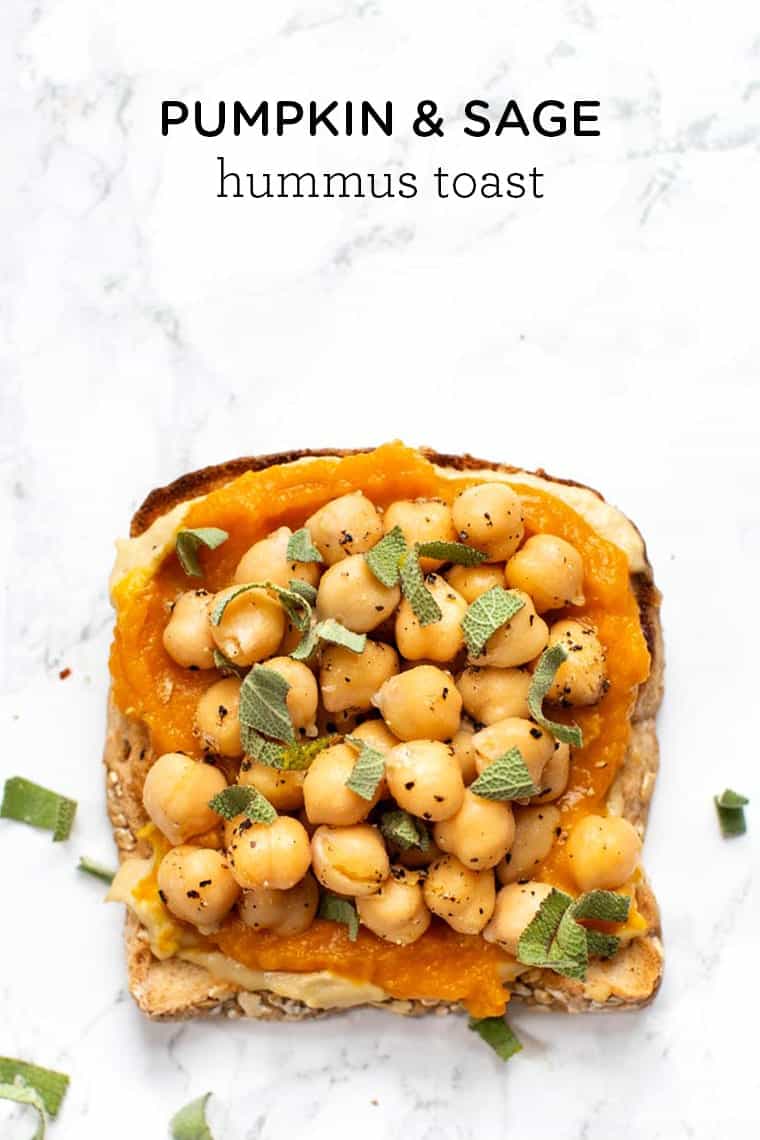 1 slice gluten-free bread, toasted
2 tablespoons classic hummus
2 tablespoons pumpkin puree
1/2 cup chickpeas
salt & pepper to taste
1 tablespoon chopped fresh sage to garnish
Slather the bread with hummus. Top with pumpkin puree and swirl into the hummus. Toss the chickpeas with salt and pepper then place them on top of the toast. Sprinkle with chopped sage and enjoy!
3. Everything Bagel Spinach & Egg Toast
---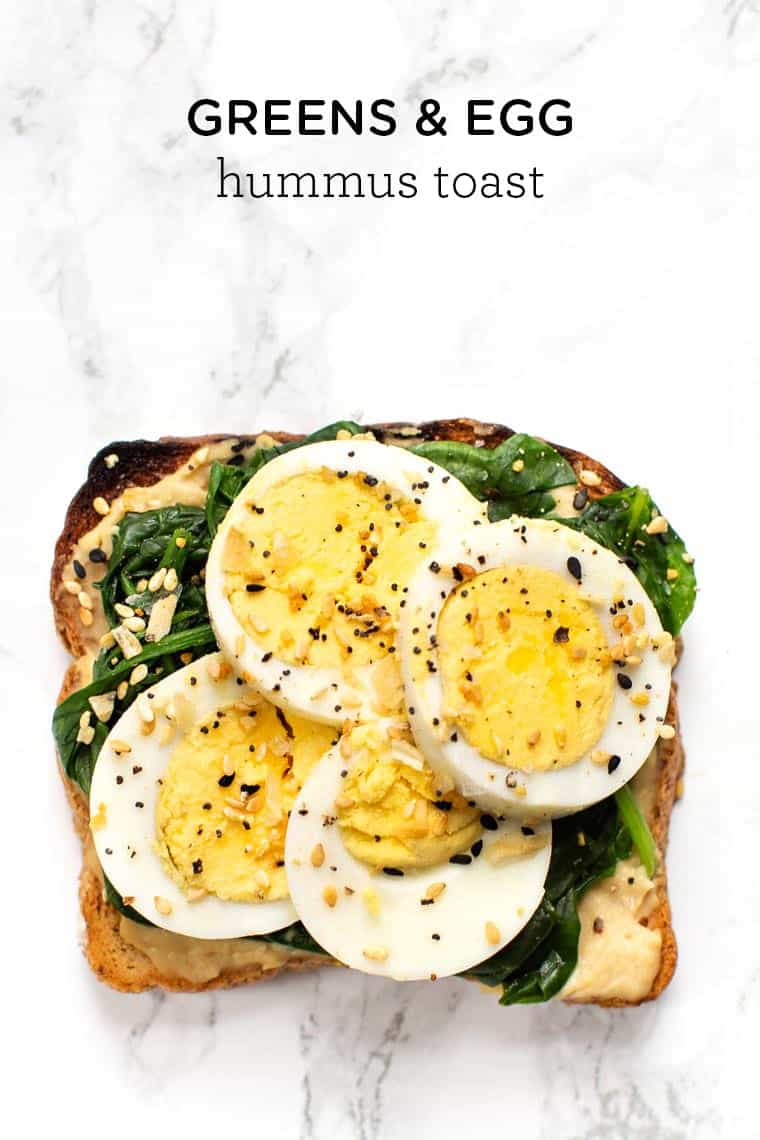 1 slice gluten-free bread, toasted
2 tablespoons classic hummus
1 cup spinach
a hard-boiled egg
1 teaspoon everything bagel seasoning
Add the spinach to a pan and cook on low heat until wilted. Add a splash of water if needed. Slather the bread with hummus. Top with the steamed spinach. Slice the egg and place that on top then finish it off with the everything bagel seasoning.
4. Smoky Roasted Sweet Potato Toast
---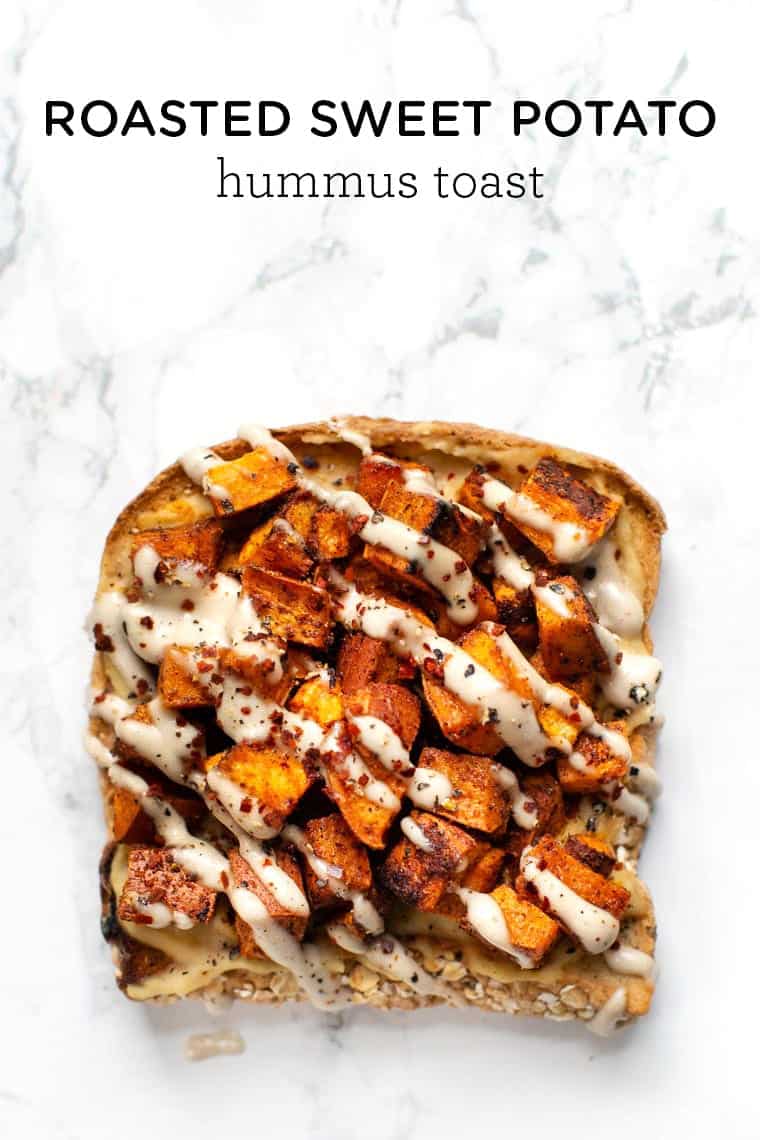 1 slice gluten-free bread, toasted
2 tablespoons classic hummus
1 cup diced sweet potato
1/2 tablespoon olive oil
1 teaspoon smoked paprika
1/2 teaspoon garlic powder
salt & pepper to taste
1 – 2 tablespoons tahini
Preheat the oven to 425ºF. Add the sweet potatoes to a pan and drizzle with olive oil, paprika, salt, and pepper. Toss to combine. Roast until soft about 15 – 20 minutes. Once the sweet potatoes are cooked, slather the toast with hummus. Top the toast with sweet potatoes and drizzle with tahini and fresh pepper.
Do you love breakfast toasts?
We'd love to hear from you! Let us know what some of your favorite breakfast toast toppings are! We love seeing your creativity, so don't hold back ????
share what you make
Tag #simplyquinoa on Instagram with your creations! We love sharing what you make with the community. We can't wait to see!

follow on instagram