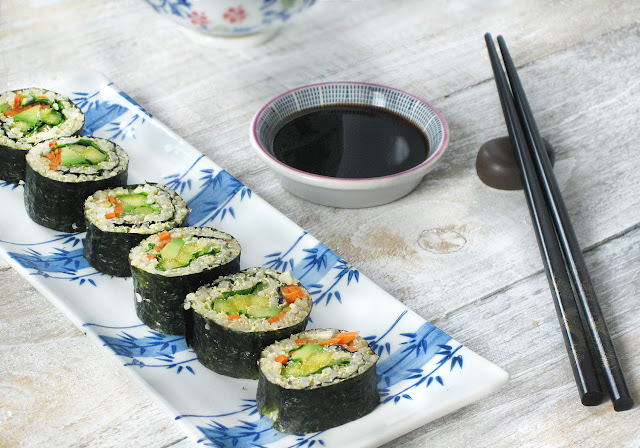 A new way to enjoy Vegetarian Rolls.
I'm living the life. Although I woke up at 4:15 this morning, right now I'm sitting in a chaise lounge, soaking up the sun, in the Windy City. My Vitamin D deprived skin couldn't be happier, it's singing out for joy. Oh how I've missed the sunshine and warm weather!
I could seriously get used to this.
If you read my last post, then you know that I'm not here just to sunbathe. Tomorrow is the Nourished Food Blogger Conference! Yes, it's finally here. The weekend I've been counting down to for the past three months. I can't believe it! It's hard to contain my excitement.

I figured since I'll be away all weekend, I should leave you with an awesome recipe. This one might just be my most favorite one yet.
As the Queen of Quinoa, I'm always on the look out for new and creative ways to use quinoa. Since I'm totally obsessed with this fabulous seed, I never need an excuse to make it. With quinoa's superpower health benefits, amazing versatility, and overall awesomeness, I pretty much have it every single day – breakfast, lunch or dinner.
When I stumbled upon My New Roots, I was blown away. Her photos are stunning. Her recipes are mouth-watering. Her knowledge and passion are inspiring. Truly, it's a fabulous site.
Much to my delight, as I was scrolling through her posts, I found her recipe for Quinoa Spring Sushi + DIY Pickled Ginger. It looked too good to pass up. I immediately sent it to Mr. Henderson, he was on board, so it was decided. We were having quinoa sushi for dinner.
We used the recipe from My New Roots as inspiration, but decided we wanted to use ingredients that we love. We chose a mixture of flavors and textures and decided to go meatless. We stuck with healthy, organic ingredients and simply used gluten-free soy sauce as our side (mixed with wasabi of course).
The result was amazing. It was like sushi I had never had before. The quinoa was lighter than rice. The textures of our vegetables were perfect. The best part? The recipe made enough for us to have lunch leftovers the next day. It was two days of delicious quinoa. Mmm…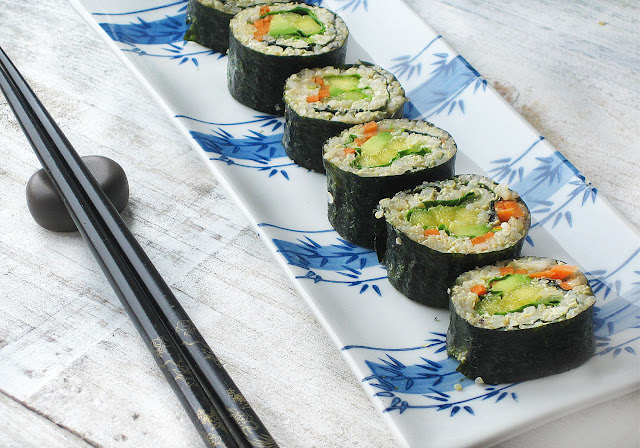 Avocado & Mango Quinoa Sushi
A lot of people think that making sushi is hard. I was one of those people until I got a sushi making kit. I tested it one night and discovered sushi is actually crazy easy to make! You just lay all the ingredients out and roll it on up. Quick and simple.