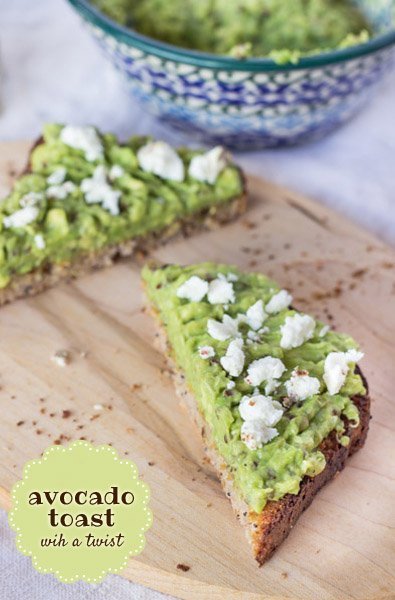 Today wer're talking about avocado. Why? Because I love it. Especially when it's mixed with quinoa and citrus and smeared on a piece of toasted bread. That my friends is what I call, and what many of my fellow bloggers have deemed, avocado toast.
Only one of the best, most delectable, nutritious, amazing things ever.
To me, there's almost nothing better than slicing into a perfectly ripe avocado. Your knife slides easily through the thick green skin, and when you crack it open, you're greeted with the color of the tropics. The bright green flesh almost smiles up at you, because you know what's about the ensue.
You're destined for a meal of greatness.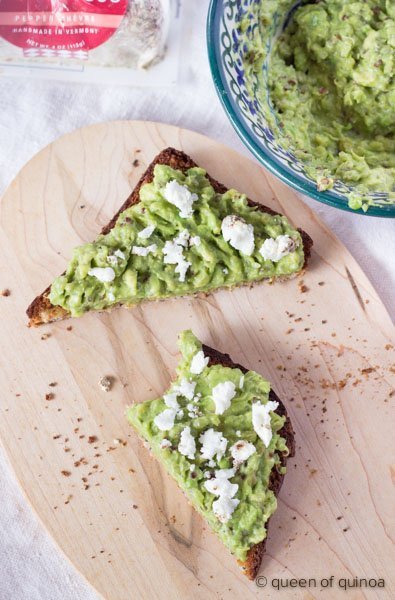 I've loved avocado ever since I was a baby. My parents spoon fed me avocado puree as soon as I could start eating solid foods, and it's been a staple of my diet ever since. I seriously would eat avocado on everything.
And I've come to find out, I'm not the only one. It seems like everyone is just as in love with avocados as I am. For good reason too. These babies pack a serious nutritional punch. They're loaded with healthy fats and other vitamins and are considered a superfood by many nutritionists. Not the mention, they taste amazing!
There's even a cookbook coming out all about avocados.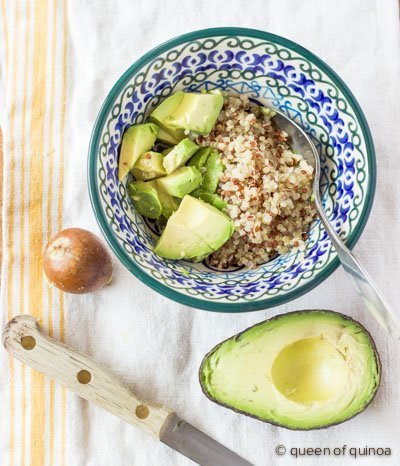 I posted on Facebook the other day a simple phrase, "I'm obsessed with avocados". The post exploded. Over a hundred likes, tons of comments, everyone sharing why they love avocados and how they like to eat them. Some people eat an entire avocado every single day.
And who could blame them, right?
Avocados are an amazingly delicious and easy food. They gel with other flavors, provide structure and substance to a meal, add little pops of color, but can easily stand on their own. Like with avocado toast.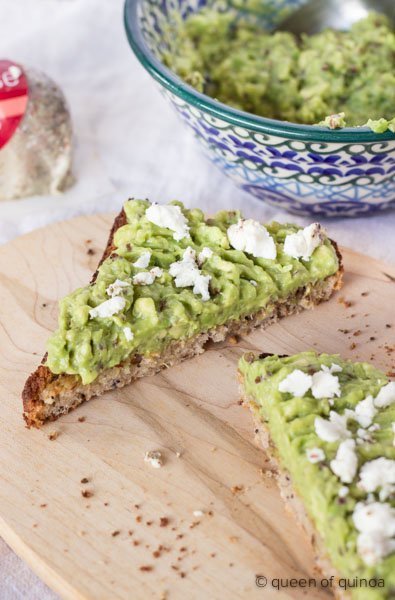 I first started eating avocado toast before it was cool thing to do. It was a casual lunch at home or a weekend snack, sometimes even my breakfast, and I didn't think anything of it. Then everyone started sharing their recipes for avocado toast. I mean really, how many ways can you actually eat avocado toast? Turns out, quite a few.
So I was determined to come up with  my own recipe. Not because I wanted to follow the trend and jump on the band wagon, but because I love sharing recipes with you that I eat on a daily basis. Of course, I wish I could eat chocolate waffles every day, but that's just not in the cards for me. I try to be mindful and healthy in each of my meal choices, which is why more often than not, you can find me eating avocado.
What better way to share my own avocado toast recipe than to mix it with quinoa? Not one, but two of my favorite ingredients! And let's face it, avocado and quinoa were a match made in heaven.
Today I'm sharing my avocado toast with a twist. It's avocado with a twist of quinoa.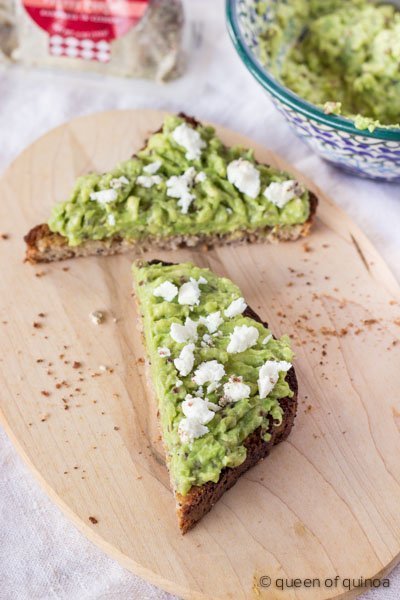 Avocado Toast with a Twist
What better way to share my own avocado toast recipe than to mix it with quinoa? Not one, but two of my favorite ingredients!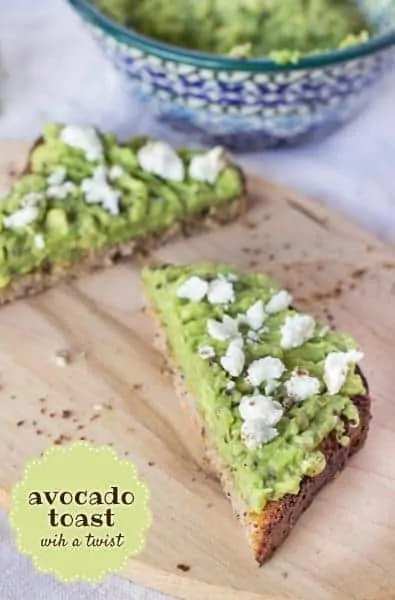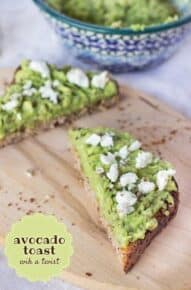 Ingredients
1

large avocado

1/2

cup

cooked quinoa

1

teaspoon

lime juice

Salt & pepper to taste

4

slices

of bread

toasted (gluten-free optional)

Goat cheese to garnish

optional
Instructions
Slice the avocado in half, remove the pit and scoop it into a bowl. Add the quinoa, lime juice and mash it all together until smooth. Season with salt and pepper to taste.

Divide the avocado spread on the four pieces of toast.

Spread evenly, top with goat cheese and serve.
Notes
gluten-free | dairy-free (optional) | vegan (optional)
Nutrition
Serving:
1
g
|
Calories:
184
kcal
|
Carbohydrates:
23
g
|
Protein:
4
g
|
Fat:
8
g
|
Saturated Fat:
1
g
|
Sodium:
223
mg
|
Potassium:
334
mg
|
Fiber:
5
g
|
Sugar:
2
g
|
Vitamin A:
75
IU
|
Vitamin C:
5.4
mg
|
Calcium:
49
mg
|
Iron:
1.6
mg
Filed Under: