These easy vegetarian falafel bowls are served with roasted beet noodles, a cucumber-tomato salad, and simple baked falafel patties. Healthy and delicious!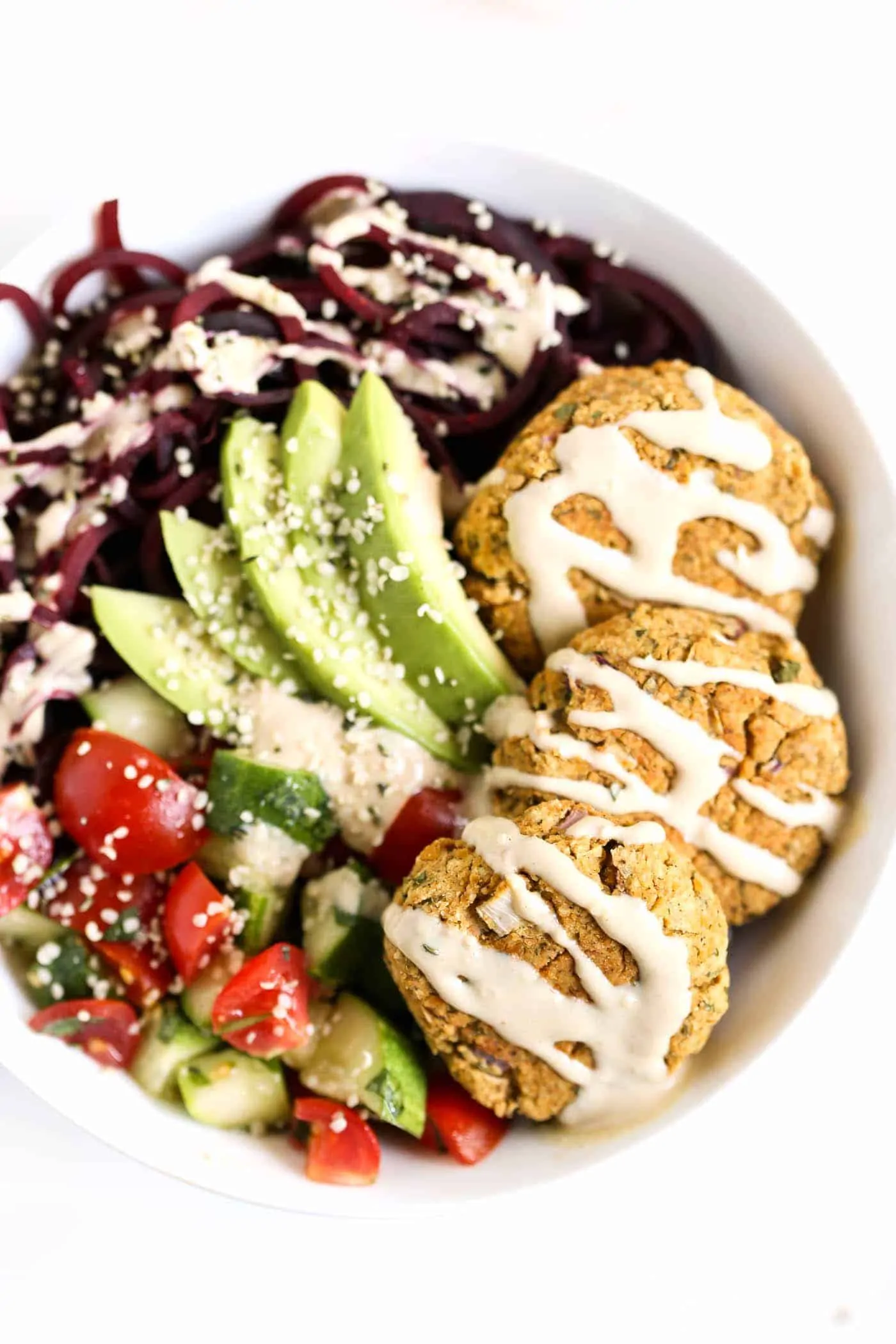 In the last few years, I've pretty much stopped cooking from cookbooks completely. I think it's because I'm always testing recipes for the blog, that I just don't make the time for any other types of meals, but I have to say, sometimes it's nice to follow directions and be told what to do. This recipe is a prime example; everything that I could want in a dinner and super easy to make.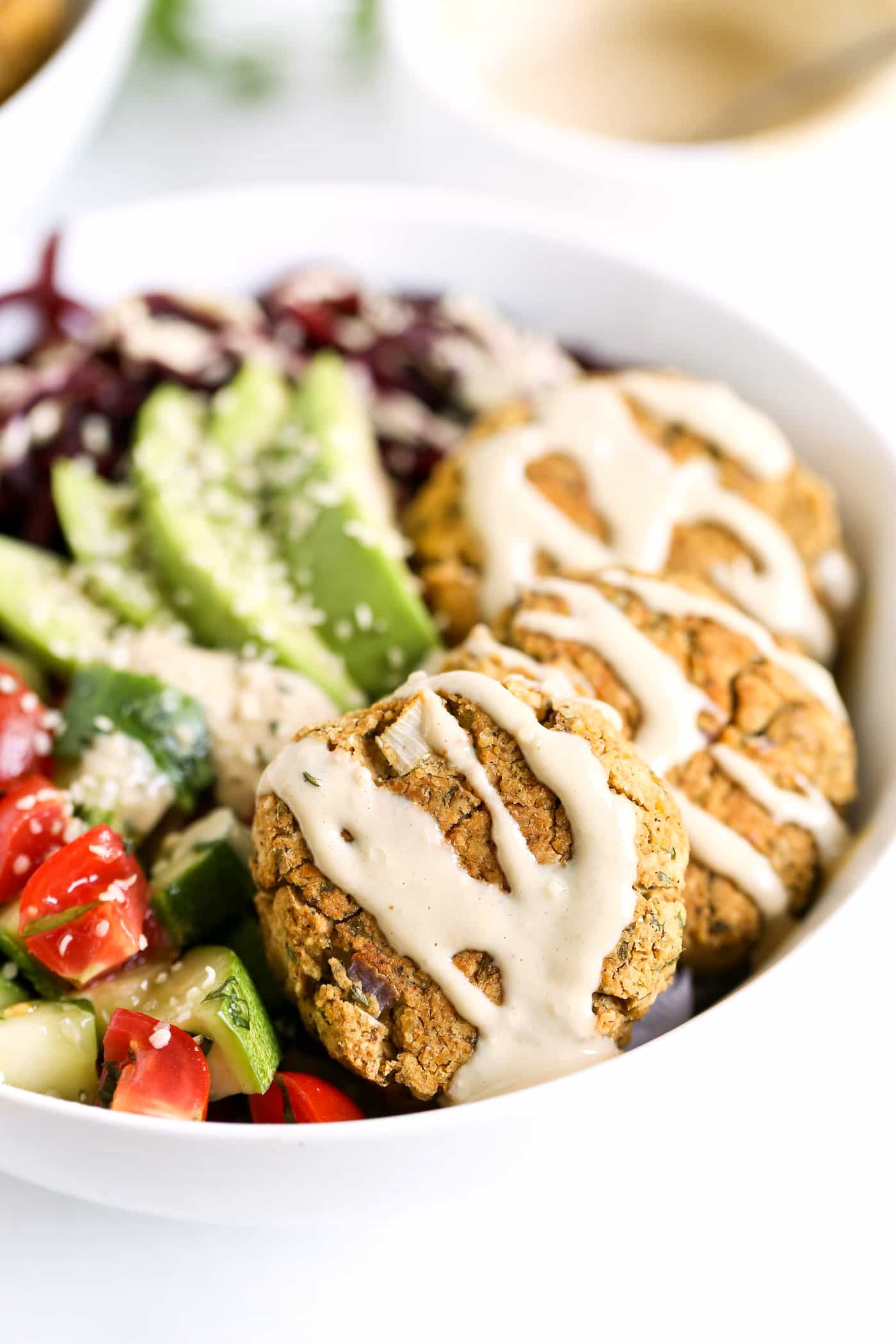 Today I am so excited to be sharing these beet noodle falafel bowls from my dear friend Ali's new cookbook, Inspiralized Everything. You guys know how much I love spiralizing and much of my inspiration comes from Ali.
If you don't know her already (you should, she's awesome!), Ali runs the blog Inspiralized.com is an NYT best-selling author AND she has her own product. She's a busy girl, but she's become one of my best blogging friends and I am seriously so thankful to have her in my life.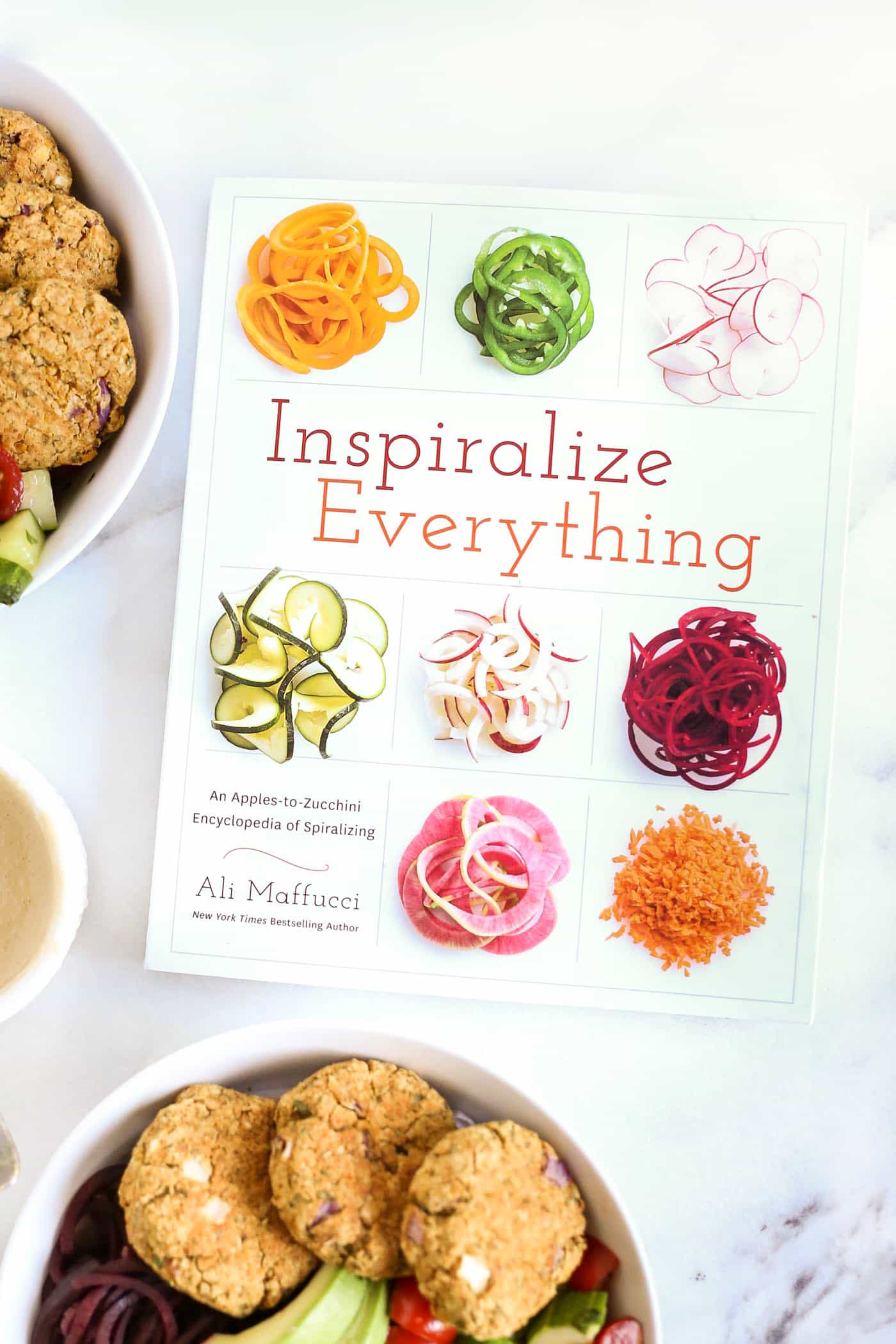 Aside from being a kick-ass girl boss, Ali is also insanely creative in the kitchen. I believe she was one of the big reasons spiralizing really took off — her recipes are so delicious and she is always pushing the envelope with what you can do when it comes to spiralized vegetables.
Her new cookbook is no exception; it's full of mouth-watering recipes and it was actually hard for me to choose which to share with you first. What I love about this cookbook is that she has organized it by vegetable/fruit type, so if you have zucchini on hand, you can flip to that chapter and see all the zucchini recipes; beets? same thing! She has 21 different chapters and over 100 brand new recipes. If you haven't taken the leap into spiralizing yet, this book will show you just how simple, flavorful and healthy it can be.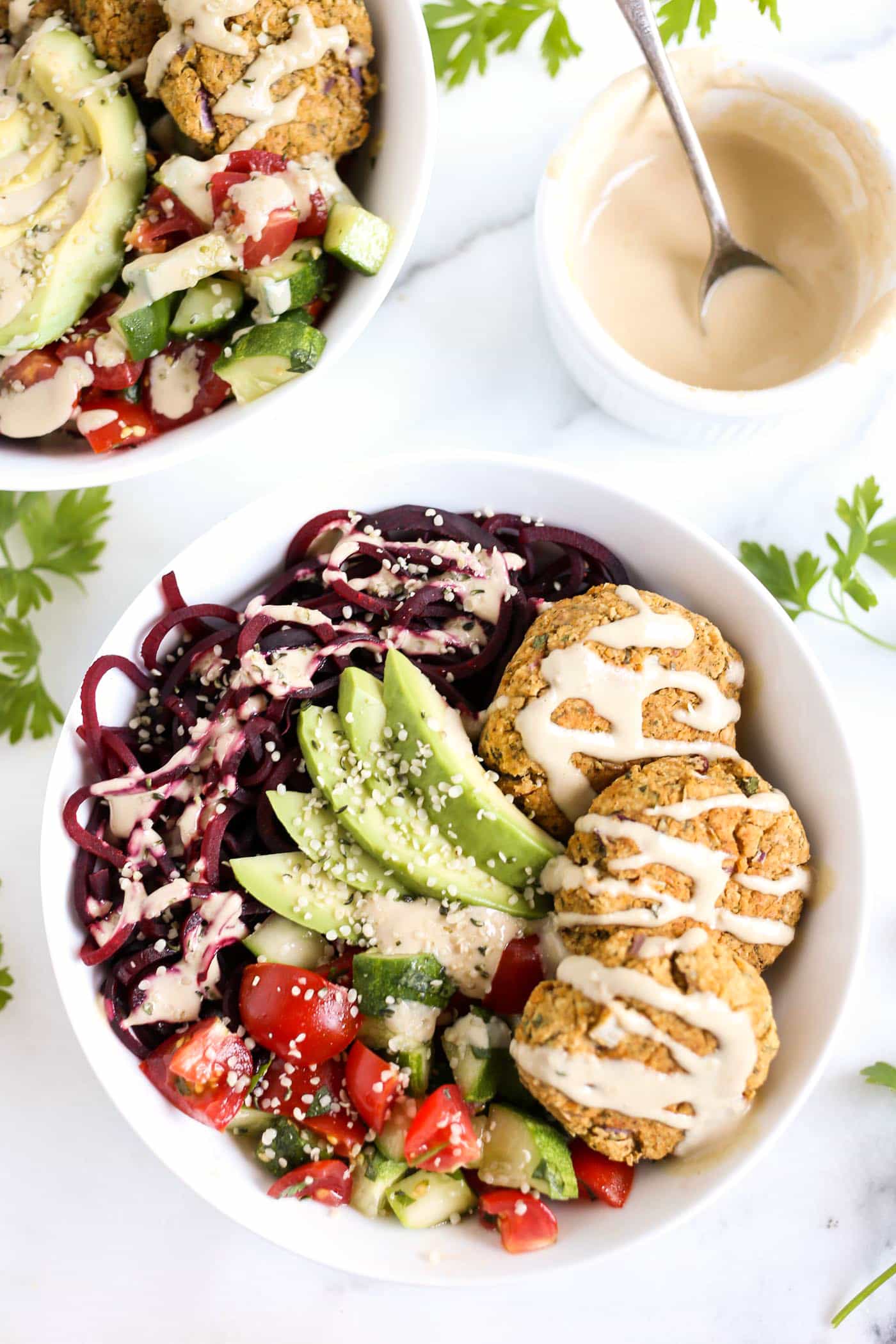 So now for the recipe, I chose: beet noodle falafel bowls with a simple tahini dressing.
I mean…just look at that bowl of goodness, how insane does that look? We've got homemade falafel, tender roasted beet noodles, a crunchy cucumber-tomato salad and a dreamy tahini sauce to finish it all off. It couldn't be a more perfect meal.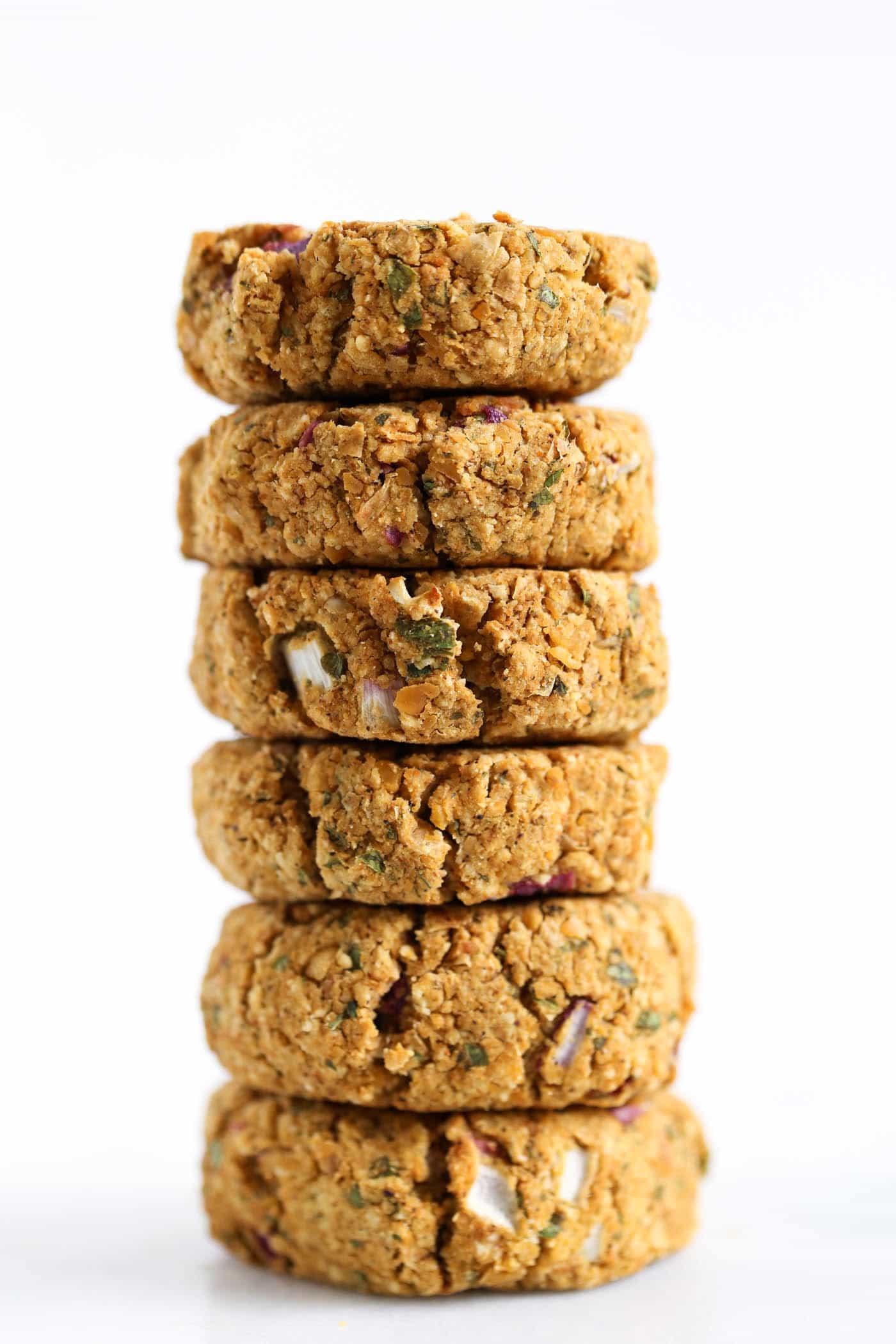 We're starting the recipe by making the falafel. If you've been hesitant to make falafel at home, don't be! It's seriously so easy and the version that we have here is actually baked instead of fried, so not only is it healthier, but you also don't have to worry about oil splattering all over your kitchen and burning your hands.
This baked falafel is a combination of parsley, garlic, a generous amount of spices and lots of lemon. It has a nice tang that is rounded out with warm spices and a pop of brightness from the parsley.
Then we just add in chickpeas, almond flour and chopped onions, form them into patties and bake away. Crazy simple!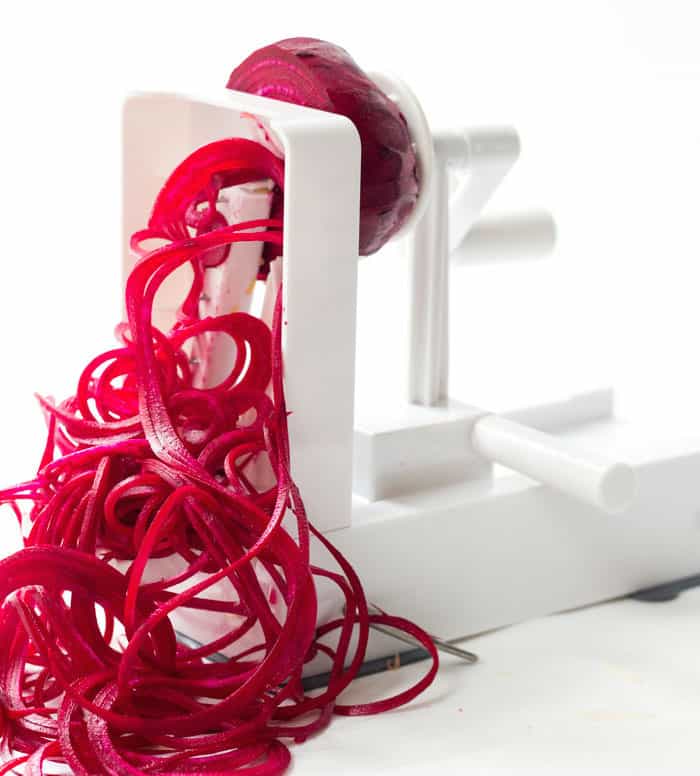 While the falafel is cooking, you'll have time to prep the rest of the recipe. Just spiralize your beets, whip up the cucumber-tomato salad, and then just toss the beet noodles into the oven for the last 15 minutes of baking.
One quick thing I want to mention: beets can be a tough vegetable to spiralize since they're hard. I have found that there is only one countertop spiralizer that gives you those gorgeous long noodles that you want: the Inspiralizer. You guys have heard be talk about this tool over and over again, but I just want to reiterate. If you're looking for a spiralizer, you should get this one. 100%, no question.
Ali designed it herself after testing a bajillion other spiralizers and so it has everything that they all don't. No worrying about losing blades, no rattling around on the counter, and you can get through even the toughest of veggies (butternut squash noodles anyone?).
AND the Inspiralizer is also on Amazon, so if you're an Amazon Prime member, you can order it today and get FREE two-day shipping! Seriously, this tool is a game-changer.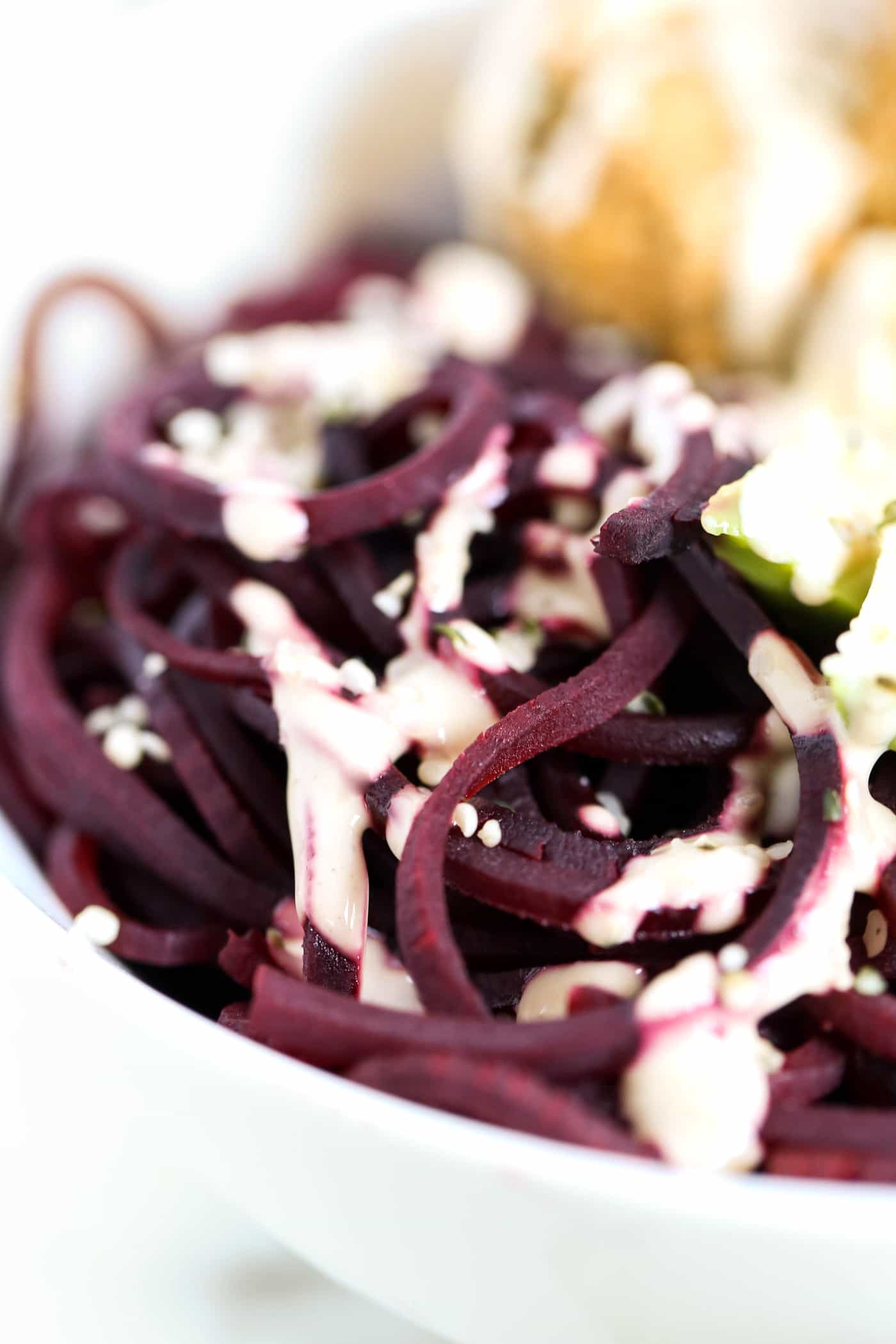 Back to the recipe…
I always end up making changes when I cook from cookbooks, but this time I only made one teeny tiny change and that was to swap the honey in the dressing for maple syrup. I'm sure honey would be delicious, but I was feeling the maple flavor, and it was yum, yum, yum.
I'm gonna put this dressing on everything.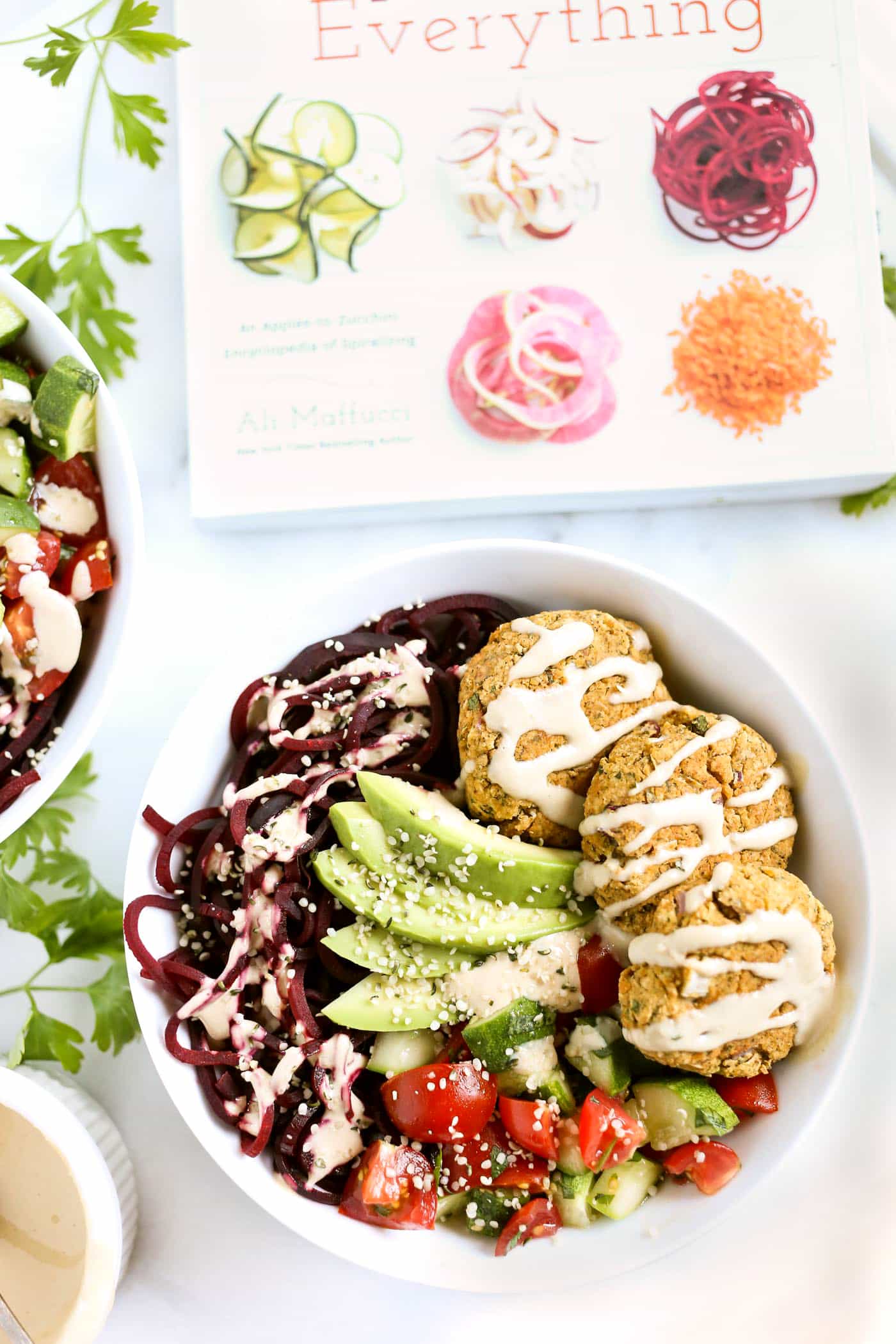 And that's it. One of the easiest dinner recipes ever! Makes awesome leftovers, can be served warm or cold, it's vegan and GF, and it's tastes bomb.
Now I just have to figure out what I'm making next from this book 🙂 I'm thinking either the crabless crab cakes, the pear and apple sangria OR the butternut squash noodles with almond ricotta and coconut bacon. Seriously you guys, this whole book has me drooling!
To pick up your copy of Inspiralize Everything, you can pick one up anywhere books are sold or you can grab one online from Amazon, Barnes + Noble, Indiebound or even as a digital version. I know you'll love it just as much as I do!

More Recipes to Use Your Spiralizer for:
Beet Noodle Falafel Bowls
Homemade falafel, tender roasted beet noodles, a crunchy cucumber-tomato salad and a dreamy tahini sauce to finish it all off. It couldn't be a more perfect meal.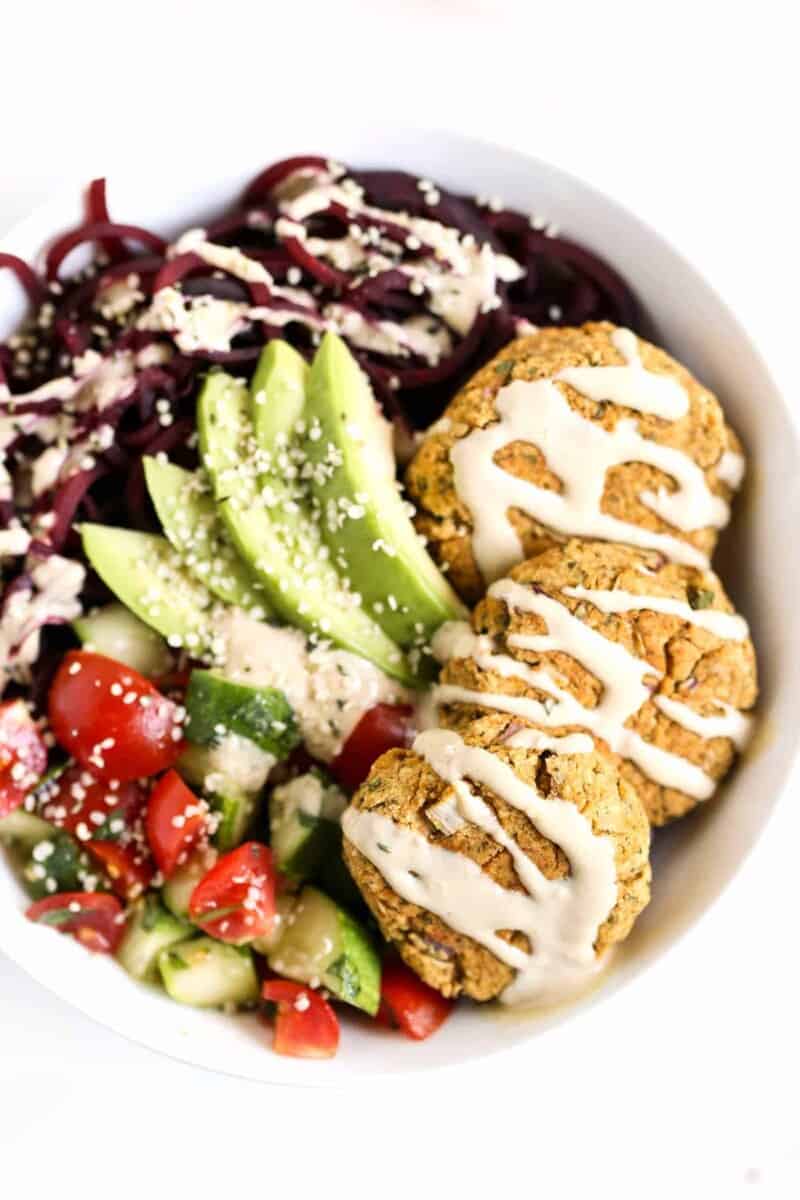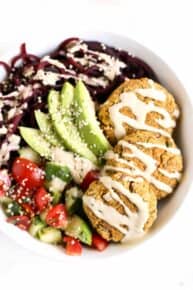 Ingredients
for the falafel:

3

tablespoons

chopped fresh parsley

2

garlic cloves

minced

1

teaspoon

lemon zest

Juice of 1 large lemon

1 1/4

teaspoons

ground cumin

1

teaspoon

ground coriander

1/4

teaspoon

chili powder

Salt + pepper to taste

1/4

cup

almond flour

or chickpea flour for nut allergies

1/4

cup

diced red onion

2

large beets

peeled + spiralized

for the cucumber-tomato salad:

1/2

cup

cherry tomatoes

quartered

1/2

cup

cucumber

diced

1

tablespoon

fresh cilantro

chopped

1

teaspoon

olive oil

Salt + pepper to taste

for the tahini dressing:

2

tablespoons

tahini

1

tablespoon

fresh lemon juice

1

teaspoon

maple syrup

or honey

1/3

teaspoon

garlic powder

1

tablespoon

olive oil

or water

Salt + pepper to taste
Instructions
Preheat the oven to 375ºF. Line two baking sheets with parchment paper.

Make the falafel. In a food processor, combine the parsley, garlic, lemon zest, lemon juice, cumin, coriander, chili powder, salt and pepper. Pulse to completely combine, about 30 seconds. Add the chickpeas and pulse until incorporated but still chunky.

Transfer the mixture to a medium bowl and add the almond flour and onion. Mix again to form a dough. Using your hands, form the mixture into eight balls and place them on one of the prepared baking sheets. Press down with a spatula to flatten them into patties, cupping to keep them compact. Refrigerate for 15 minutes to firm up.

Transfer the baking sheet to the oven and bake for 35 to 40 minutes or until the patties are firm and browned, flipping once halfway through.

Trim the beet noodles and spread them on the second baking sheet, spacing them apart, and roast with the falafel for 15 minutes or until al dente.

Meanwhile, in a small bowl, combine the tomato, cucumber, cilantro and olive oil. Season with salt and pepper.

Make the tahini dressing. Place all ingredients for the dressing in a small bowl (or food processor) and mix to combine. Add 1 to 2 tablespoons of water as needed to thin. Taste and adjust seasonings to your preferences.

Divide the beet noodles among four bowls and top each with two falafel patties and a spoonful of the tomato salad. Drizzle with tahini dressing and serve.

Optional: sprinkle with hemp seeds and sliced avocaod
Nutrition
Calories:
345
kcal
|
Carbohydrates:
43
g
|
Protein:
13
g
|
Fat:
15
g
|
Saturated Fat:
1
g
|
Sodium:
268
mg
|
Potassium:
619
mg
|
Fiber:
11
g
|
Sugar:
11
g
|
Vitamin A:
425
IU
|
Vitamin C:
30.1
mg
|
Calcium:
104
mg
|
Iron:
4.9
mg
Filed Under: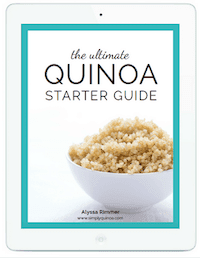 New to cooking quinoa? Grab your FREE Quinoa Starter Guide!
Become part of the Simply Quinoa community and receive weekly emails with exclusive content that I only share in email, as well as my in-depth guide to starting your quinoa journey.
Want more spiralized recipes?
Follow my board on Pinterest!