Here are the 10 best items at Whole Foods Market that are affordable, versatile and best of all healthy. This post also shares what to buy and what to skip!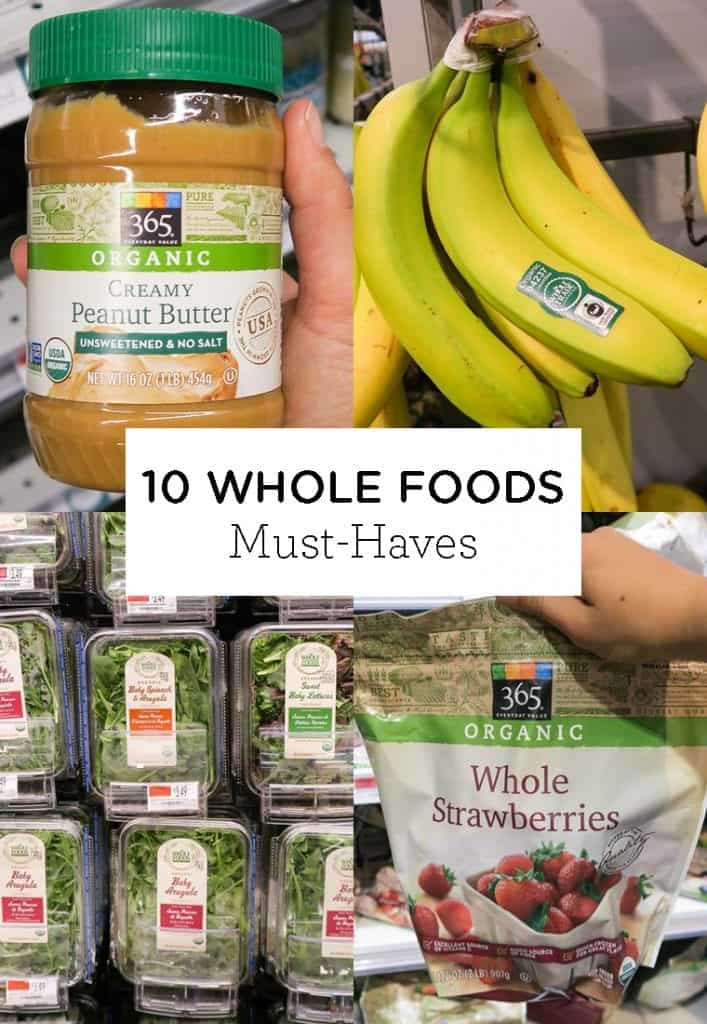 I feel like there are a million posts out there that talk about what to buy at places like Trader Joes and Aldi, but what if you're like me and don't actually shop at those places? That's where the idea of this post came from.
I'm a Whole Foods shopper through and through. I actually never go into Trader Joes because here in NYC it's an absolute nightmare. Whole Foods also always carries the items I like, surprisingly has some affordable prices and the shopping experience (to me) is just so much more enjoyable.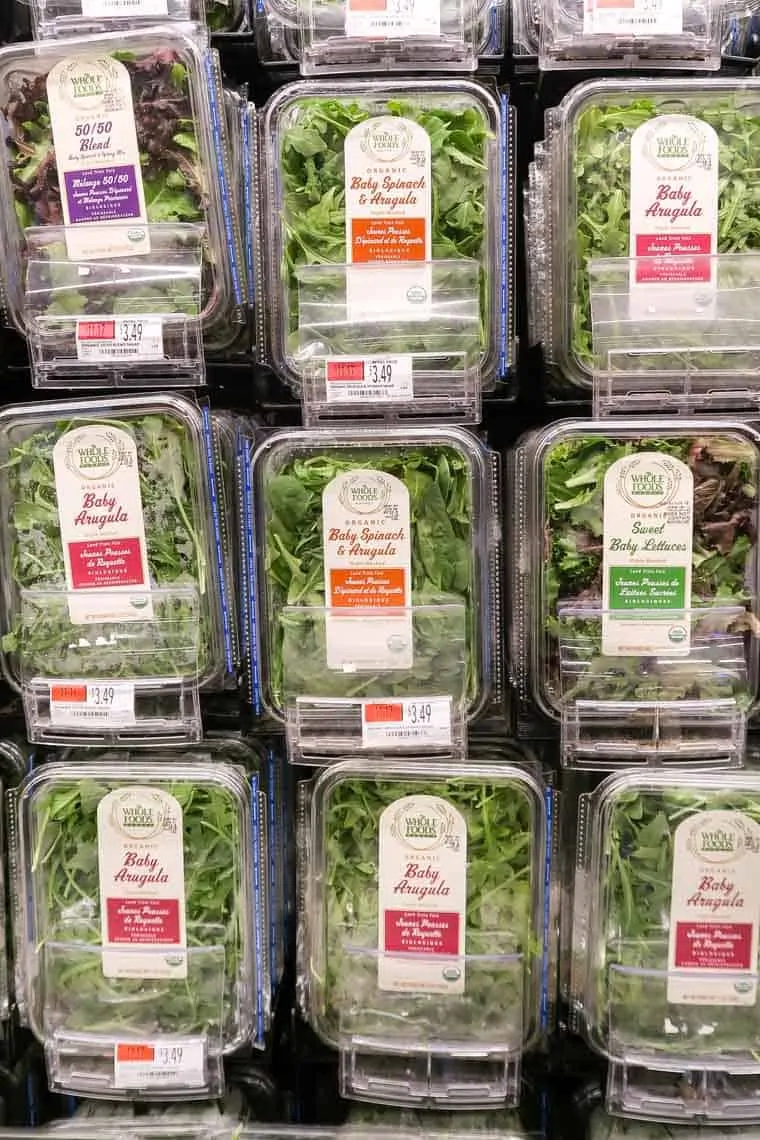 The 10 Best Items at Whole Foods
So today I'm going to share the 10 best items to buy at Whole Foods. If you read my Staple Grocery List, you'll recognize a lot of these items. What I love about them is that I can mix these ingredients lots of different ways (from morning smoothies to dinner) and they're also affordable.
1. spinach/greens
If you've ever walked into a Whole Foods you probably know about the "greens wall". That's always where I start. I pick up a big tub of spinach for my smoothies and usually one or two types of other greens. And always (ALWAYS!) organic.  These greens are also typically the Whole Foods 365 brand which means they're on the more affordable side.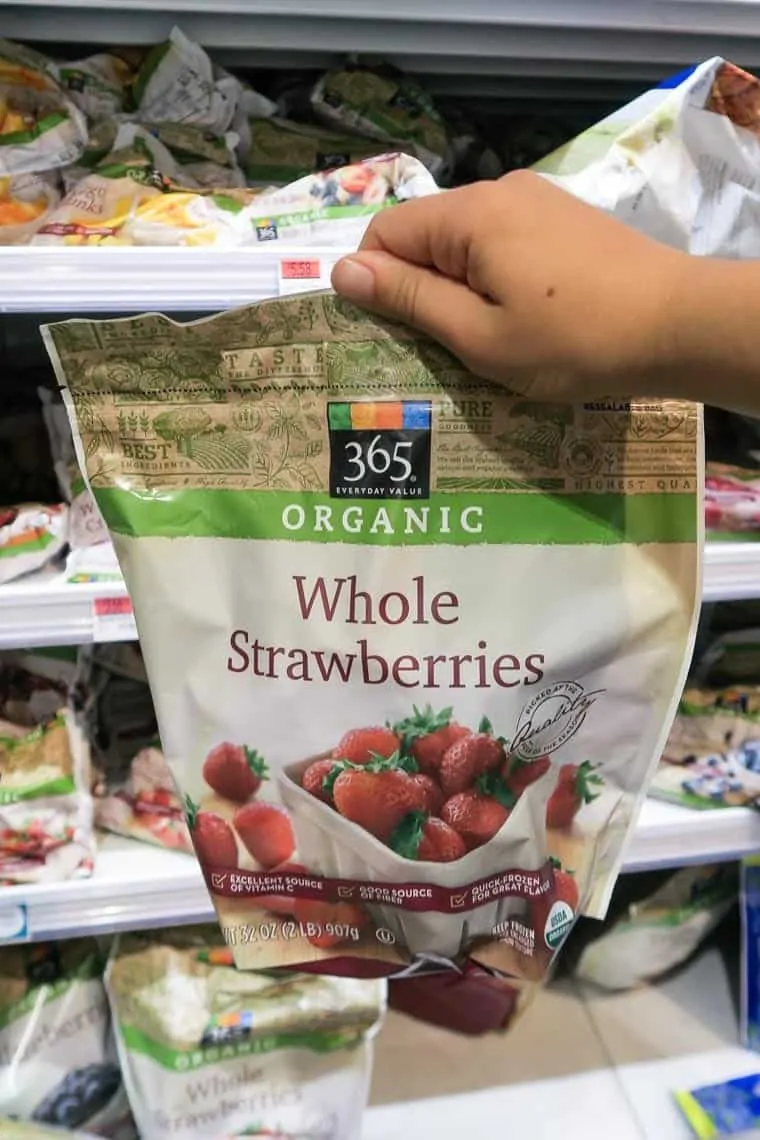 2. frozen fruit
You know I'm a BIG smoothie lover and the only place I really ever buy my frozen fruit is Whole Foods. There are a few reasons why their frozen fruit is so good:
they have a huge variety
there are lots of organic options
they're affordable
I keep frozen fruit on rotation in my freezer. We're always buying berries, but sometimes I'll switch things up and pick up cherries, peaches, mango, pineapple. Just to keep things interesting and varied. These are 1000% one of the best items at Whole Foods!
3. frozen cauliflower
My other secret to the perfect smoothie? Frozen cauliflower. I know it sounds weird, but trust me it's amazing! Frozen cauliflower not only adds fiber to your smoothie (making it more filling), but it also helps you get the most luxurious, creamy texture. The other benefit? You'll find that you add less fruit, and therefore reducing the amount of sugar you're using. And don't worry, you can't taste it at all!
Now the Whole Foods 365 one is the best. Why? Because it's organic, but also pre-steamed. That means it's easier on your digestive system and will create less bloat. So next time you're there, you MUST pick some of this up!
4. beans
One of my favorite sources of plant-based protein is beans. And while I know that making them in your InstantPot is easy, I still buy canned beans to keep on hand when I'm short on time. The reason why the canned ones are one of the best items at Whole Foods is that they have a huge selection of organic, everything is in a BPA-free can and they're only $.99!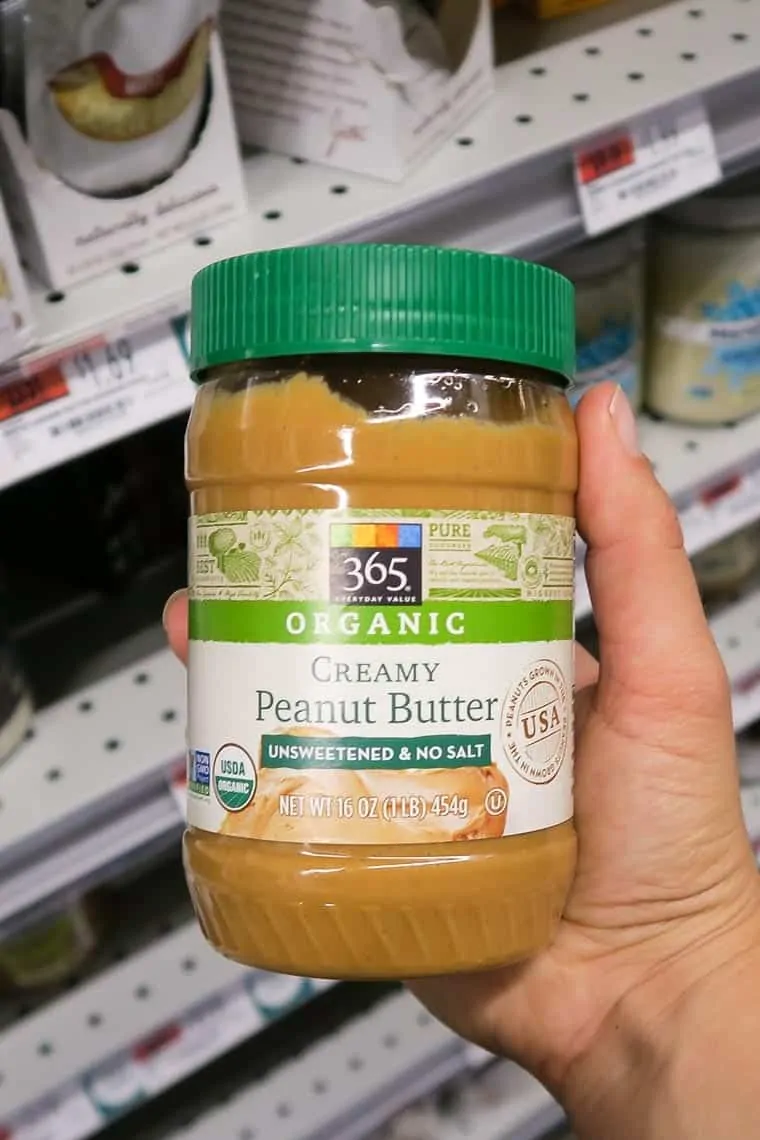 5. nut butter
Nut butter is one of those things that I eat every single day. I don't eat the same one every day, but I definitely have some type of nut butter whether it's on my smoothie bowl, on a piece of toast or as a quick snack. But it can also be expensive. That's why I like to pick up the Whole Foods 365. They have an organic version of the more common nut butter (peanut, almond, cashew, tahini) and they're delicious! Just make sure that you check the labels before you buy – some of their nut butters are blended with palm oil.
6. organic bananas
You can't go wrong with bananas! They're one of the things I like to keep on hand for smoothies, baking, and late-night treats (No Bake Snickers Banana Bites anyone?!). I buy mine at Whole Foods because their organic variety is also fair trade and inexpensive. Bananas are a staple for a lot of people, so next time you're there, pick some up!

7. tofu
Tofu for me is not necessarily a staple, but it is something I use fairly frequently in my diet. What I like about the tofu from Whole Foods is a) it's price, but also it's organic. I realized when I was shopping that their 365 brand (pictured above) isn't non-GMO, so I have since switched to buying the other brands they carry. Either way though, they still have a ton of options to choose from!
8. almond milk
Another staple in our fridge is almond milk. I use almond milk a lot in my baking and Matt uses it in his smoothies. We go through a gallon at least once per week and I love that Whole Foods has such a wide variety. They have their own brand but also have pretty much every other brand on the market. So you have flavor options, you have brand options, you have ingredient options. It's the best!
9. eggs
Eggs are on my best items at Whole Foods list because of the options. If you're someone who wants to have the highest quality eggs possible, they have an option for you. If you're not as particular about the type of eggs you buy, they have an option for you too. I know some people don't think eggs are healthy, but I personally do and enjoy them as part of my diet. Whether it's making my favorite Healthy Chocolate Chip Banana Bread or making some hard boiled ones to have for snacks. I just adore having eggs on hand at all times!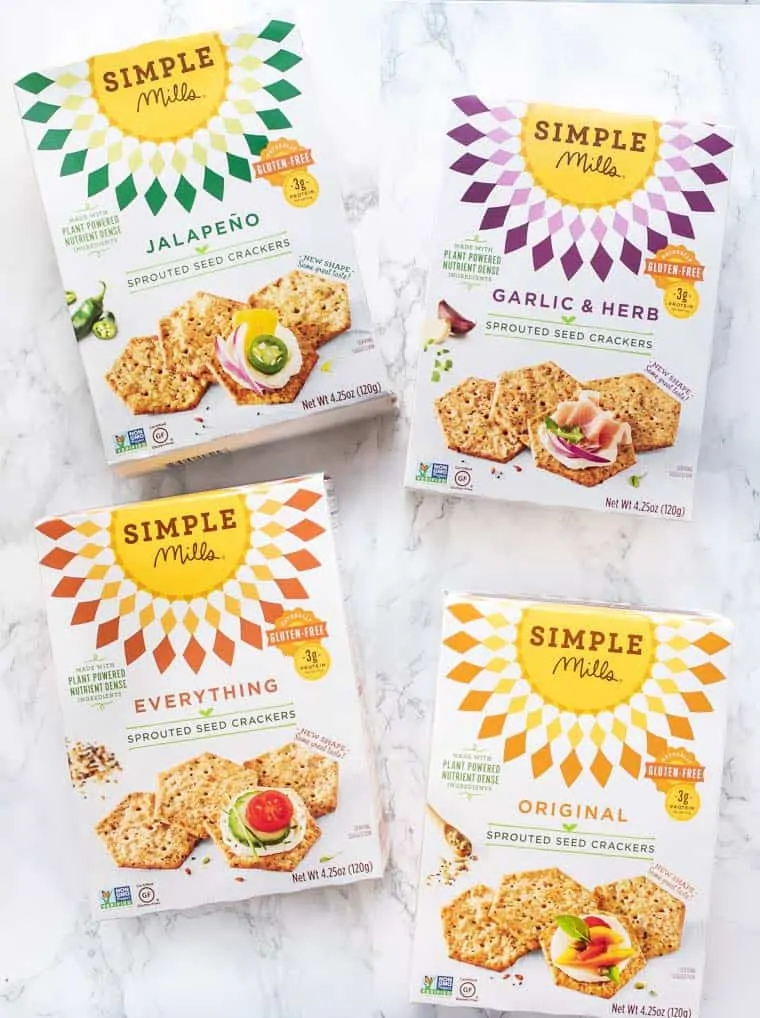 10. snacks
Is there anything better than the snack aisle at the grocery store? Arguably it could be the ice cream aisle, but snacks for me are king. Unfortunately, at most grocery stores, this aisle is wildly unhealthy. At Whole Foods though? It's full of incredible snacks that are also made with good ingredients. Not to mention there are also exclusive items that can only be found at Whole Foods. Probably my most common go-tos are Simple Mills crackers, Siete Chips, Quinn pretzels, and crispy chickpea snacks.
What about you?
I'd love to know what some of your favorite Whole Foods items are! Drop a comment down below and let me know your favorite thing to buy!