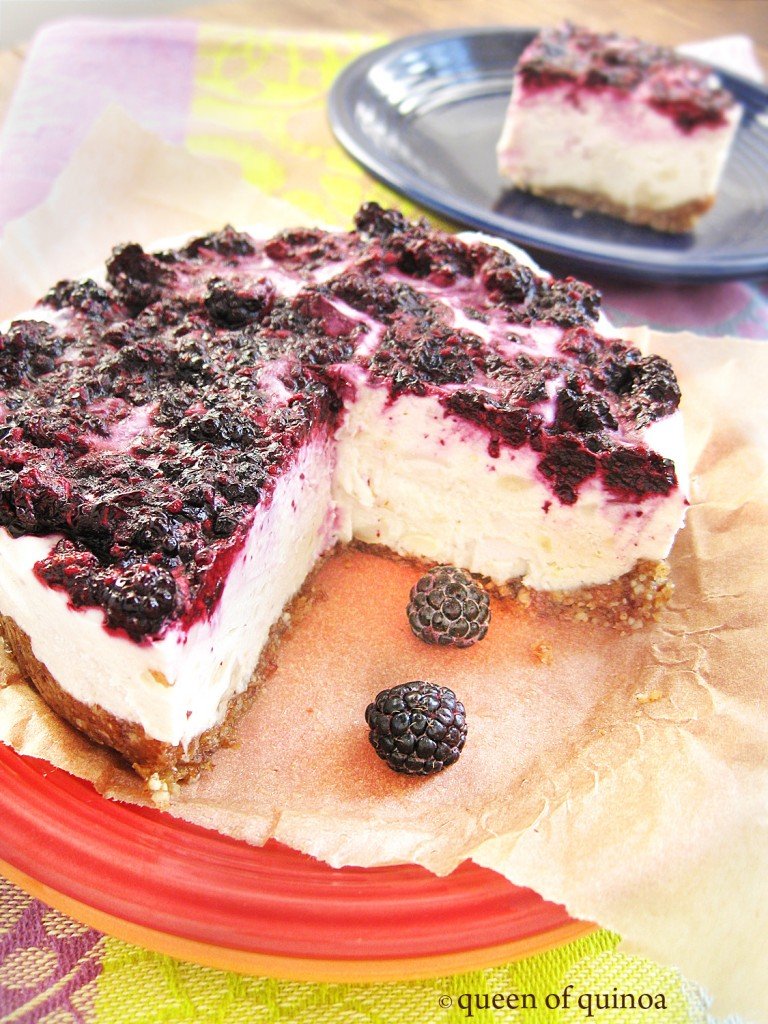 Cheesecake. What do you say about cheesecake that hasn't been said before? It's an utterly fabulous dessert of course, one that is best enjoyed in small bites in my personal opinion. Little tastes of heaven. Creamy, rich, and decadent.
For many, cheesecake is intimidating. I'm not sure why, maybe it's the time or the water bath, but lots of people shy away from making cheesecake. I have to admit, I'm one of them. Still to this day I haven't made a traditional cheesecake, and I most likely never will.
But I've come to terms with that. I've found alternatives.
Dairy-free, refined sugar-free, gluten-free alternatives.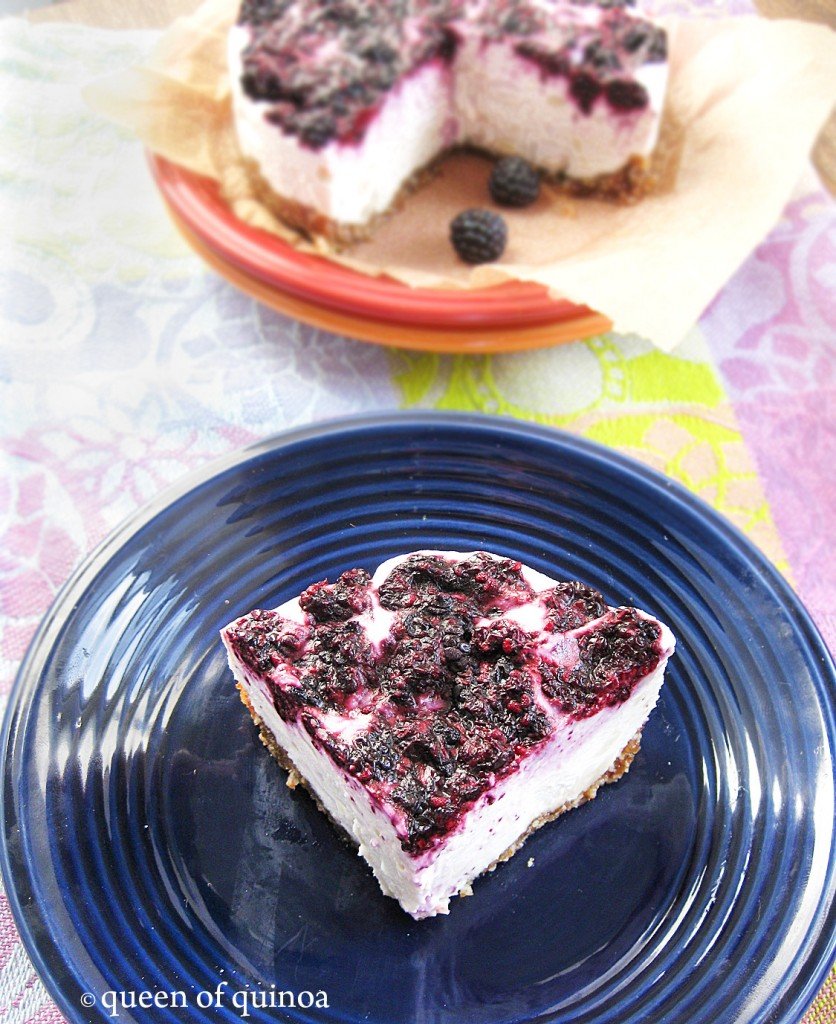 I always assumed that everyone loved cheesecake. It's an American classic, right? Whether you're a New York, Philadelphia or Chicago style cheesecake fan, we all love ourselves a piece of this luscious dessert. It's perfect for celebrations and holidays (like the 4th of July…hint, hint) and it is enjoyed by all.
But assumptions can be wrong. We took a little poll on my Facebook page (make sure to join us on over there!) yesterday to see what my readers would rather see, a cheesecake or a granola bar. I was shocked at the results. I was expecting a landslide victory for the cheesecake, but surprisingly it was close. Like very close. Like one vote away close.
But cheesecake won fair and square.
I can totally understand why some folks avoid cheesecake. It's rich, filling, high calorie and has a very distinct taste and texture. Many of us associate cheesecake with being unhealthy.
But this time it's different. This one is special. This one is healthy. This one is dairy-free, refined sugar-free, raw and gluten-free. This one is delicious.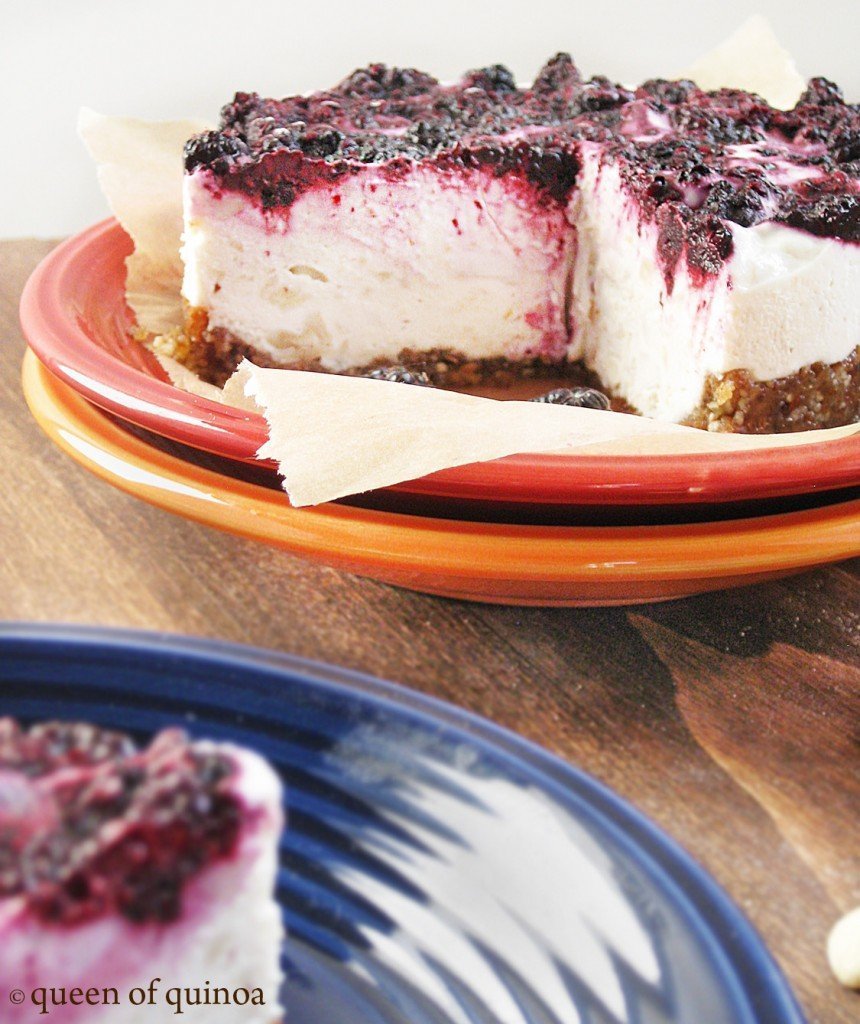 When I set out to make this cheesecake, I wanted it to be something out of the ordinary. Unique. Memorable. I wanted it to have some sass, a pop of color, bright and fun, perfect for the 4th of July celebration I will be having with my family in Maine.
As you might be able to tell, I'm all about seasonal produce lately and this includes with my desserts. I'm integrating the sweet, luscious berries that are all over our markets whenever possible. Sadly, strawberry season is over (I picked 3 times this year!), so we moved on to our smaller berry friends.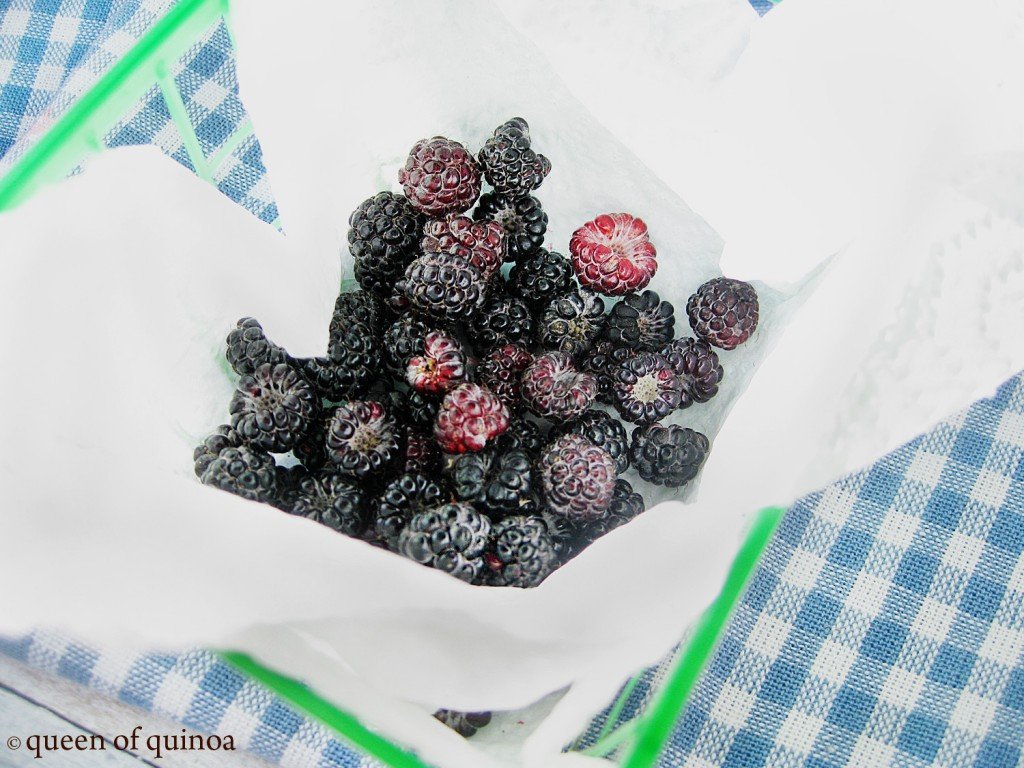 For this recipe, it's black raspberries. Don't get these confused with regular blackberries, because they're in a league of their own. You rarely see them in the stores, or even in Farmer's Markets, but they are abundant in the wild (espcially if you look carefully).
Much to my delight, this summer I discovered something wonderful. My back yard is surrounded by black raspberry bushes! The prickers are fierce, my legs are scratched, my arms and back are covered in bug bites, but trust me it was totally worth it.
This cheesecake is amazing.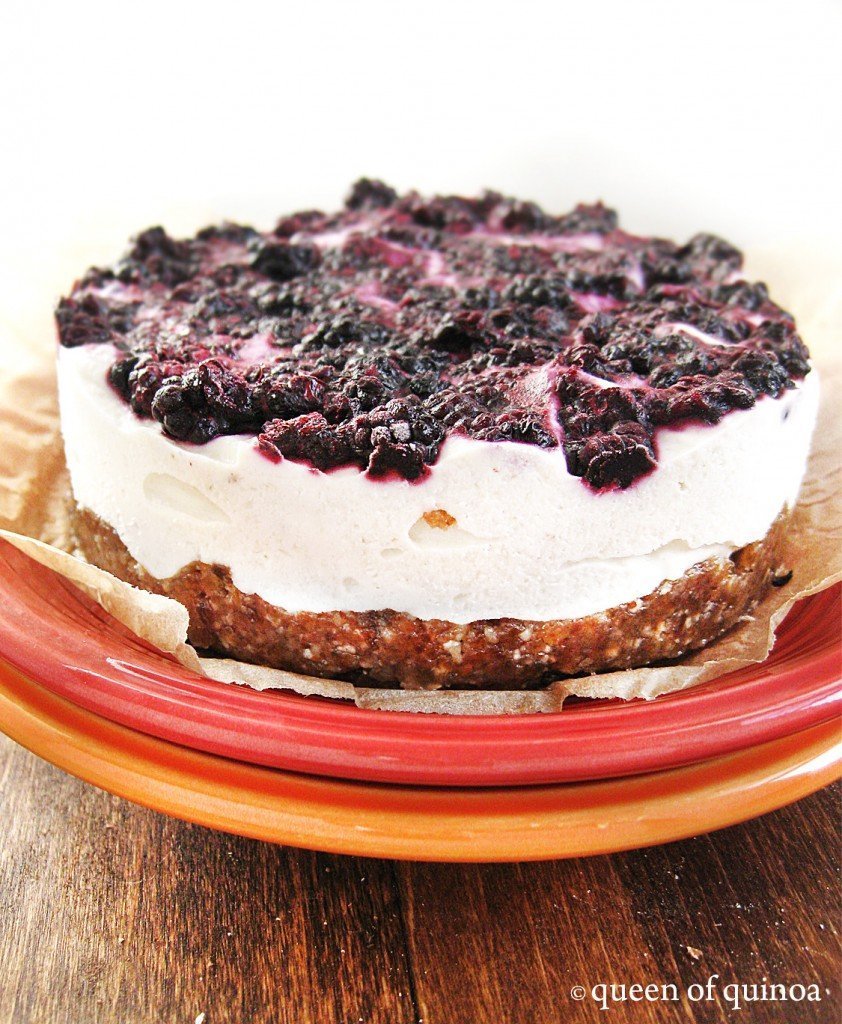 But it's different too. It's my gluten-free, dairy-free, refined sugar-free alternative. And honestly, as a cheesecake lovin' gal, this one is better. Way better.
Black Raspberry Mini "Cheesecake"
Black Raspberry Cheesecake is the most rich and decadent dessert that you'll taste all summer long. This creamy gluten free cheesecake contains a crushed-pecan crust, a velvety vanilla filling, and a tangy berry topping!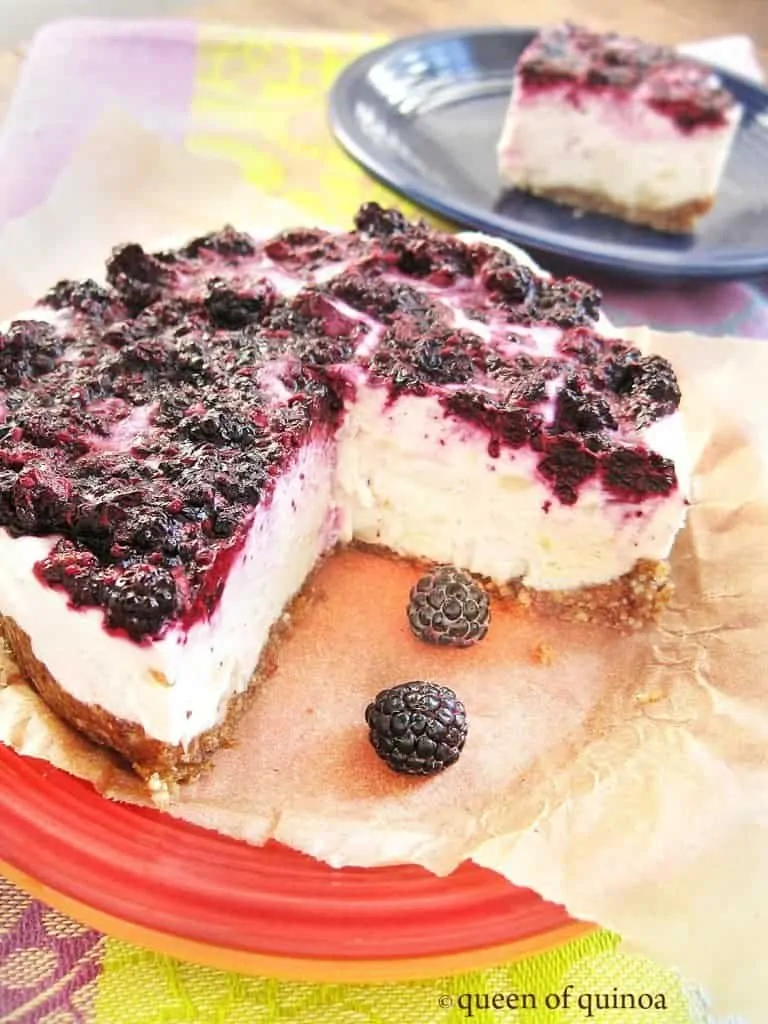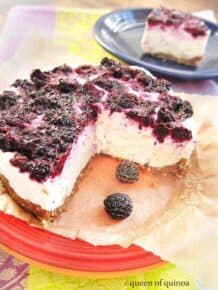 Ingredients
1/4

cup

pecans

dash of salt

3/4

cups

cashews

soaked for 4+ hours

1/4

cup

meat of one thai young coconut

1

tablespoon

coconut butter

2

tablespoons

coconut oil

melted

2

tablespoons

coconut water

Juice of 1/2 lime

2

tablespoons

raw honey

2

pinches

of salt

one for the crust, one for the filling

2

tablespoon

smashed black raspberries
Instructions
Line the bottom of a 4" spring form pan with parchment paper.

In a food processor, combine the pecans, dates and a dash of the salt and process until a dough forms, about 1 minute.

Press the dough into the bottom of the spring form pan and place it in the freezer for at least 2 hours.

To assemble the filling, place the remaining ingredients in a blender and blend on high until smooth.

Scoop the filling into the frozen dough and smooth over with the back of a spoon.

Spread the smashed berries on top of the filling and place the cake back in the freezer for another 2 hours, until the cake is hard.

Slice with a sharp knife, placed in warm water and serve chilled.

Enjoy!
Notes
The filling was a bit hard to blend in my blender. I had to keep turning it off and stirring it with a spatula to keep it moving in the blender.
gluten-free | dairy-free | refined sugar-free | soy-free | raw
Nutrition
Calories:
734
kcal
|
Carbohydrates:
67
g
|
Protein:
11
g
|
Fat:
51
g
|
Saturated Fat:
20
g
|
Sodium:
318
mg
|
Potassium:
716
mg
|
Fiber:
8
g
|
Sugar:
46
g
|
Vitamin A:
55
IU
|
Vitamin C:
8.7
mg
|
Calcium:
55
mg
|
Iron:
4.5
mg
Filed Under:
Get your daily dose of the Queen of Quinoa!
Hangout with me on Google+
Like me on Facebook
Follow me on Twitter
Pin with me on Pinterest
This post is shared on: Wellness Weekend, Slightly Indulgent Tuesdays