A simple fruit smoothie recipe that's packed with summer produce! This watermelon smoothie is perfect for breakfast + is loaded with nutritious ingredients!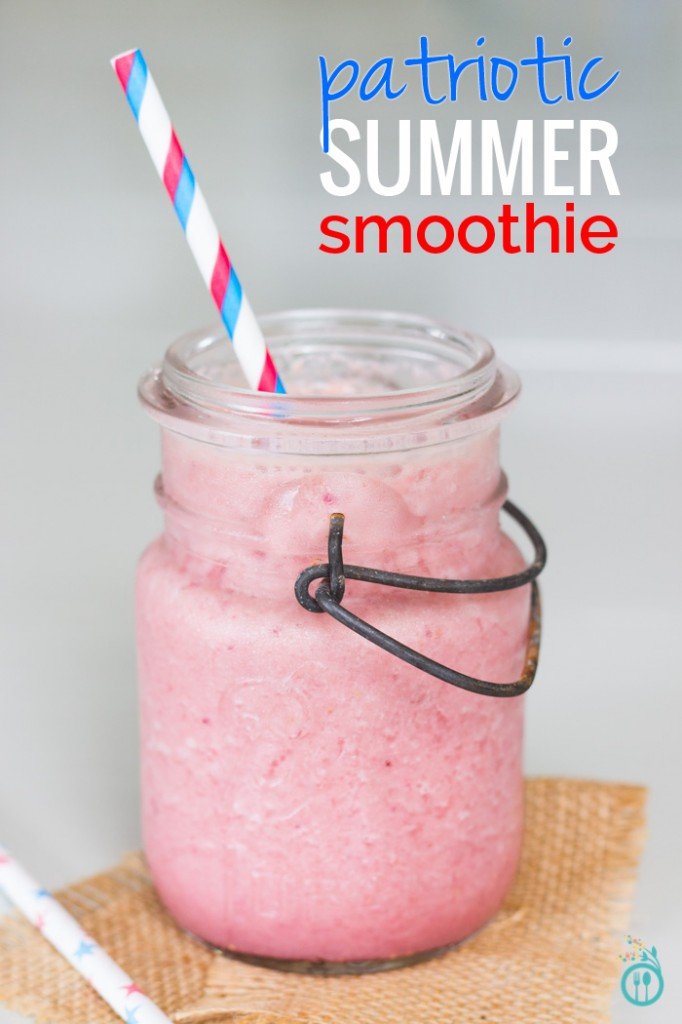 I'm realizing as I'm writing this that I haven't shared a new smoothie recipe with you in ages. It's crazy because I usually share the things I eat on a daily basis, like new salads, lunches, and breakfasts, but for some reason I've skipped the smoothies lately.
I drink smoothies on an almost daily basis and I'm sharing one of my new favorites with you today. It's the perfect summer drink.
I'm calling it the Red, White and Blue smoothie because, although it doesn't look like a technicolored glass of fruit, the main ingredients are just that. Plus, it's almost 4th of July, so we should probably celebrate with something patriotic, no?
For me, what makes the perfect smoothie is the texture. I know it's kind of a weird thing to say, but I really don't like smoothies that are thin and watery. When I drink a smoothie, I want it to be thick and creamy, so much so that I can eat it with a spoon.
A spoon-worthy smoothie is perfection in my eyes. The trick to getting a spoon-worthy smoothie is to use ultra-creamy ingredients as your base. My two staples are frozen banana and avocado.
On top of the base, it helps to have a few ingredients that help give the smoothie some substance. I like to add chia seeds to my smoothies because they're so gelatinous (and good for you!), if you let it sit for just two or three minutes after blending, it turns into this thick glass of yumminess.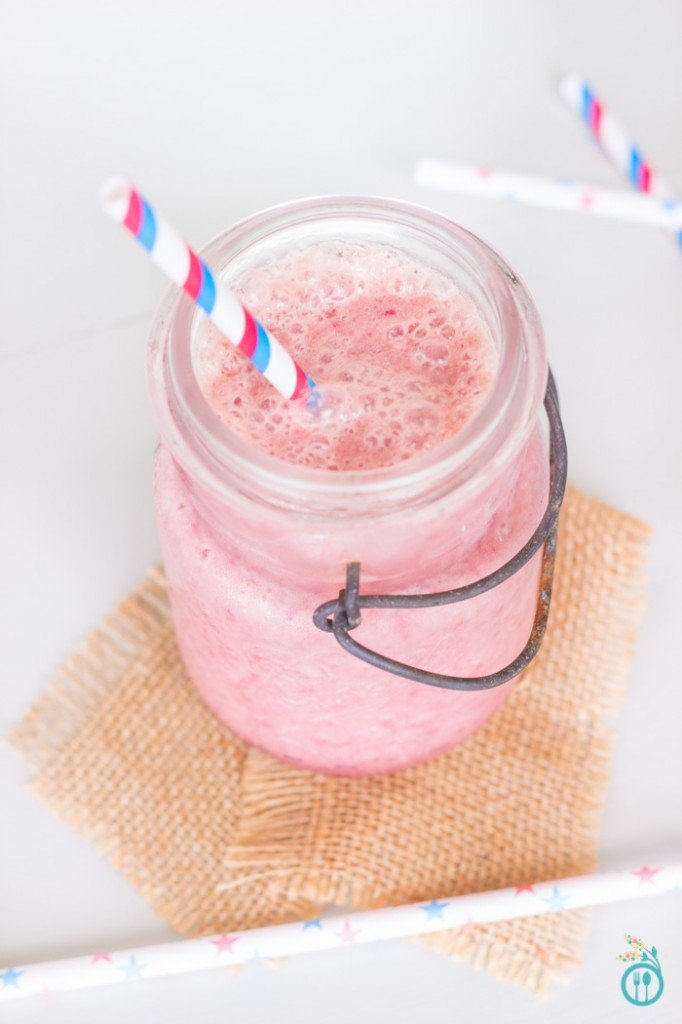 My other favorite ingredient to add to smoothies to make them nice and thick is quinoa. Another tip that may sound a little strange given what's traditionally made with it, but we break the rules were. We ad quinoa to everything. And adding quinoa to your smoothies will:
Make them thicker
Make them more filling
Add more protein
Add other essential vitamins and nutrients you wouldn't otherwise get
And it doesn't add any flavor
With this particular smoothie, I wanted something that was fruit-based but also super summery and light. Fresh berries and watermelon pretty much scream summer to me and you're always bound to find them in my fridge, so that's the direction we went.
The red? Fresh watermelon.
The white? Frozen banana.
The blue? Fresh blueberries.
And everything else? Almond milk, avocado, chia seeds, hemp hearts, ginger and quinoa. Just check out these fabulous ingredients!
Psst…not sure where to find all of these ingredients? Here are links to my favorite brands (and you'll even get a few discounts!):
And seriously. Now it's time to get off those buns and make yourself some sweet summer smoothies. And who knows…if you're feeling adventurous perhaps you'll even whip these babies up next Friday to celebrate the 4th!
More Healthy Smoothie Recipes To Try:
Blueberry, Banana & Watermelon Smoothie
This simple watermelon smoothie is the ultimate summer drink. Sweet, packed with fiber and antioxidants, healthy fats and protein for a complete breakfast!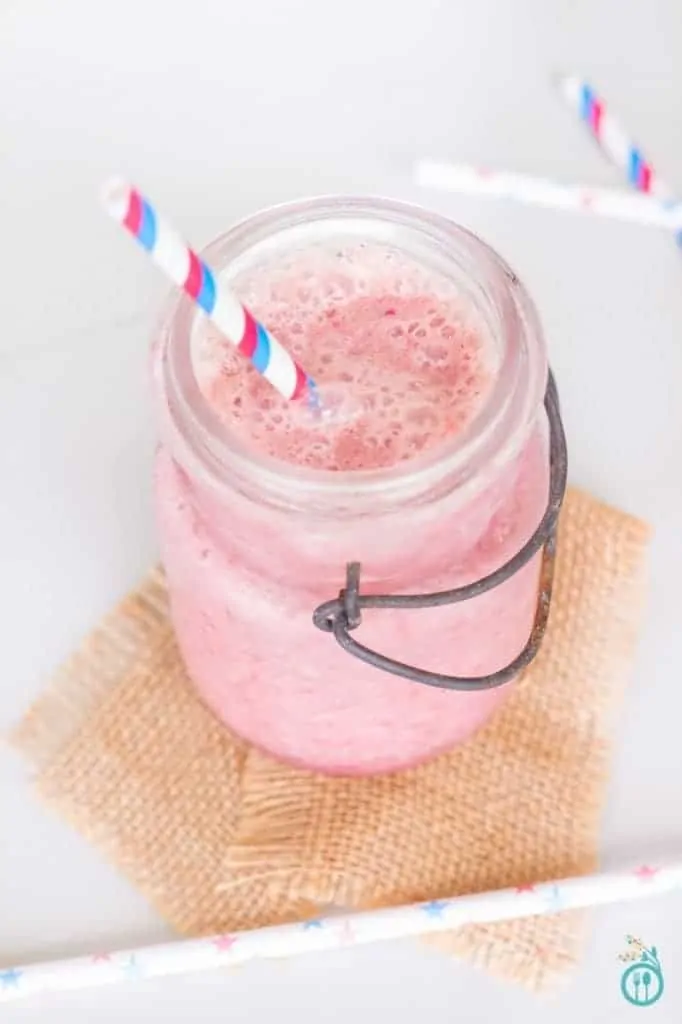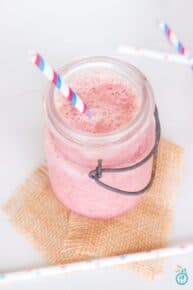 Ingredients
1

frozen banana

1

cup

fresh watermelon

1

cup

fresh blueberries

1

avocado

1 1/2

cups

unsweetened almond milk

2

tablespoons

chia seeds

1

″ piece fresh ginger

2

tablespoons

hemp hearts

Ice as needed
Instructions
Add all ingredients into a blender in the order listed. Blend on high until smooth and creamy.

Transfer to glasses and serve immediately. Enjoy!
Nutrition
Calories:
422
kcal
|
Carbohydrates:
45
g
|
Protein:
9
g
|
Fat:
25
g
|
Saturated Fat:
2
g
|
Sodium:
254
mg
|
Potassium:
889
mg
|
Fiber:
16
g
|
Sugar:
20
g
|
Vitamin A:
735
IU
|
Vitamin C:
28.5
mg
|
Calcium:
339
mg
|
Iron:
4.1
mg