A vegetarian spin on buffalo chicken pizza, these healthy buffalo chickpea, and quinoa flatbreads are flavorful, light, protein-packed and take less than 10 minutes to make.
I'm back in New York after being in Vermont for a few weeks and it feels amazing. I honestly didn't think I would ever get to this point, and it's taken me nearly three years to get here, but I have come to love and appreciate living here. Granted, I don't live the typical "New York lifestyle" since I work from home and can make my own schedule, but it finally feels like home.
Before I moved to New York, I was working full-time for a marketing company and would have to go into the office every day. I know many of you are in the same boat, so shifting this post to the recipe at hand, today we're talking about lunch.
For me, lunch always seemed to be the most challenging meal to put together. I'd either take leftovers (my fave was my Sweet Potato & Black Bean Quinoa Chili) or would just throw a bunch of random things together and call it a meal. I definitely wasn't eating the most balanced meals, and many times I found I actually wasn't eating enough.
So today I'm going to show you how to make a well-rounded, protein-packed, plant-powered lunch in less than 10 minutes.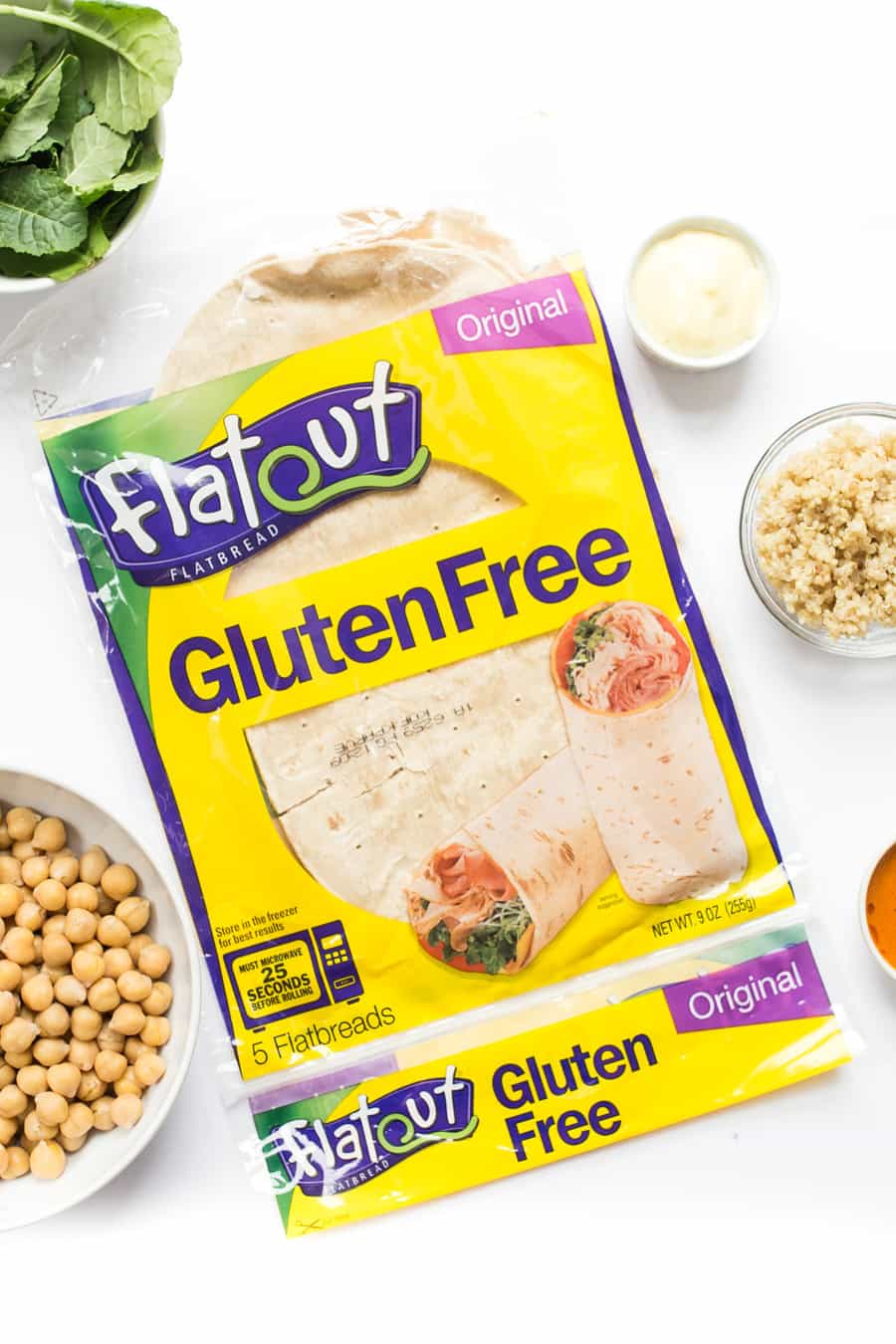 We're making buffalo chickpea and quinoa flatbreads, which are a healthy twist on pizza, using this delicious gluten-free flatbread from Flatout as our base. They're made with a blend of gluten-free grains and starches and contain just 120 calories and 2g of protein per flatbread. And they toast up beautifully, giving us the perfect makeshift pizza crust.
You can choose to either toast the whole thing as is, but I found it much easier to eat when I cut the flatbreads into three equal pieces. Then you can just pop all three in your toaster oven while you're whipping up the chickpeas. Assemble when the timer goes off and lunch is done.
10 minutes or less, heck yea!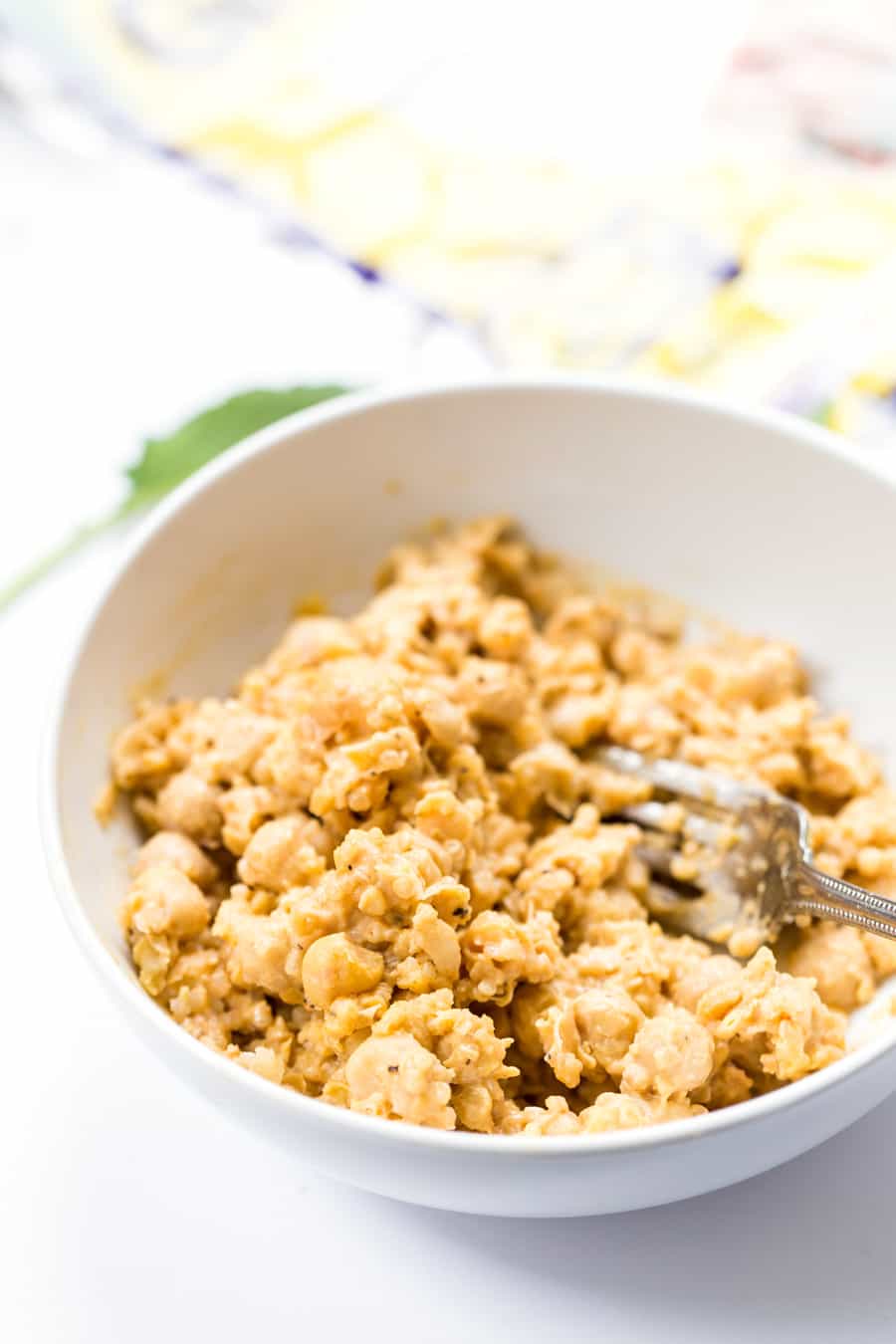 Our buffalo chickpea and quinoa topping? Oh, man is this good. And guys, it's SO easy.
All we have to do is drain and rinse a can of chickpeas, then mash them up with a fork, add in our quinoa and buffalo-mayo mixture, and stir it all together. It will remind you of a cross between a tuna salad and a chicken salad (just without any of the meat, duh).
It's creamy, spicy, flavorful and is the perfect topping for our flatbreads.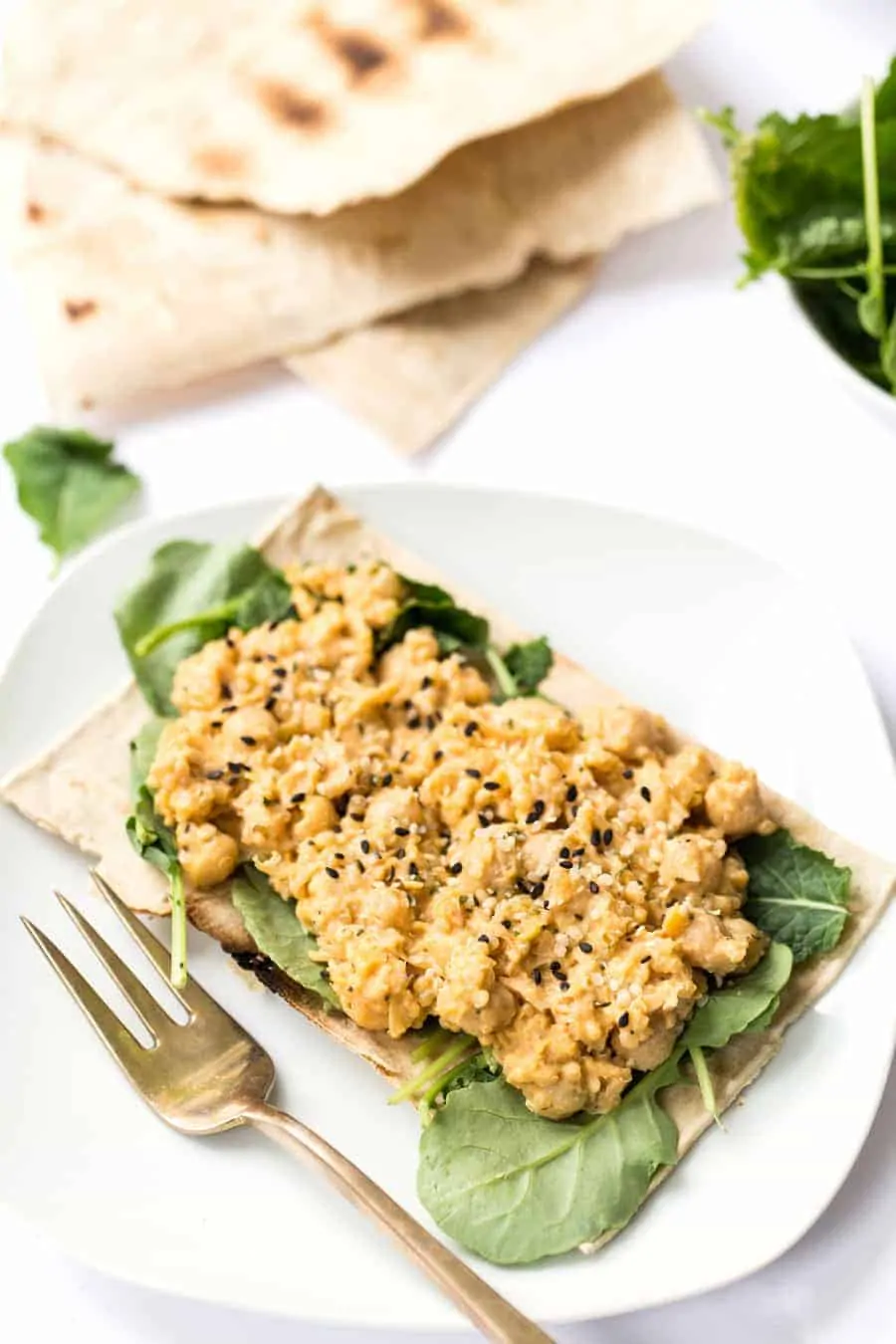 And did I mention pizza? Yep, it will feel like you're eating a crispy, thin-crust pizza for lunch!
These chickpea and quinoa flatbreads are the perfect recipe to lighten things up, while still giving you a good balance of macros (carbs, protein, fat), which will help you stay full, satisfied and fueled all through the afternoon.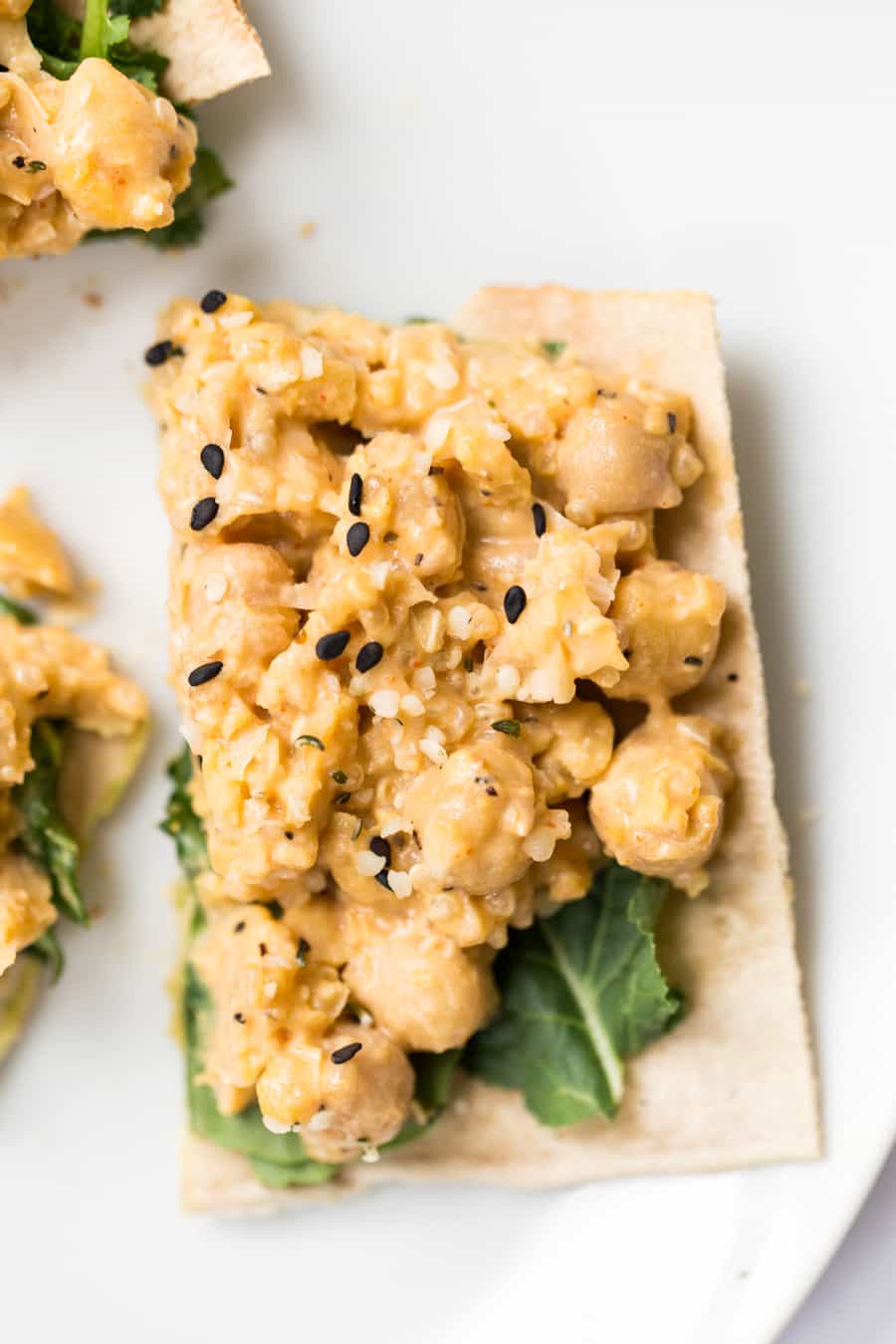 Another thing you'll love about these flatbreads? You can totally meal prep them. Here's how:
Toast your flatbreads and store them in a plastic bag on the counter
Make your smashed chickpea & quinoa salad and store in the fridge for up to 4 days
Rinse, wash and chop (if necessary) your greens for easy assembly
Then when you're headed to work you can just slap it all together and off you go!
Oh and one final thing to note: in terms of serving size, I definitely recommend that you eat an entire flatbread and top each flatbread with at least 1/4 cup of both greens and the bean mixture. If that doesn't feel like enough food, add some avocado on top!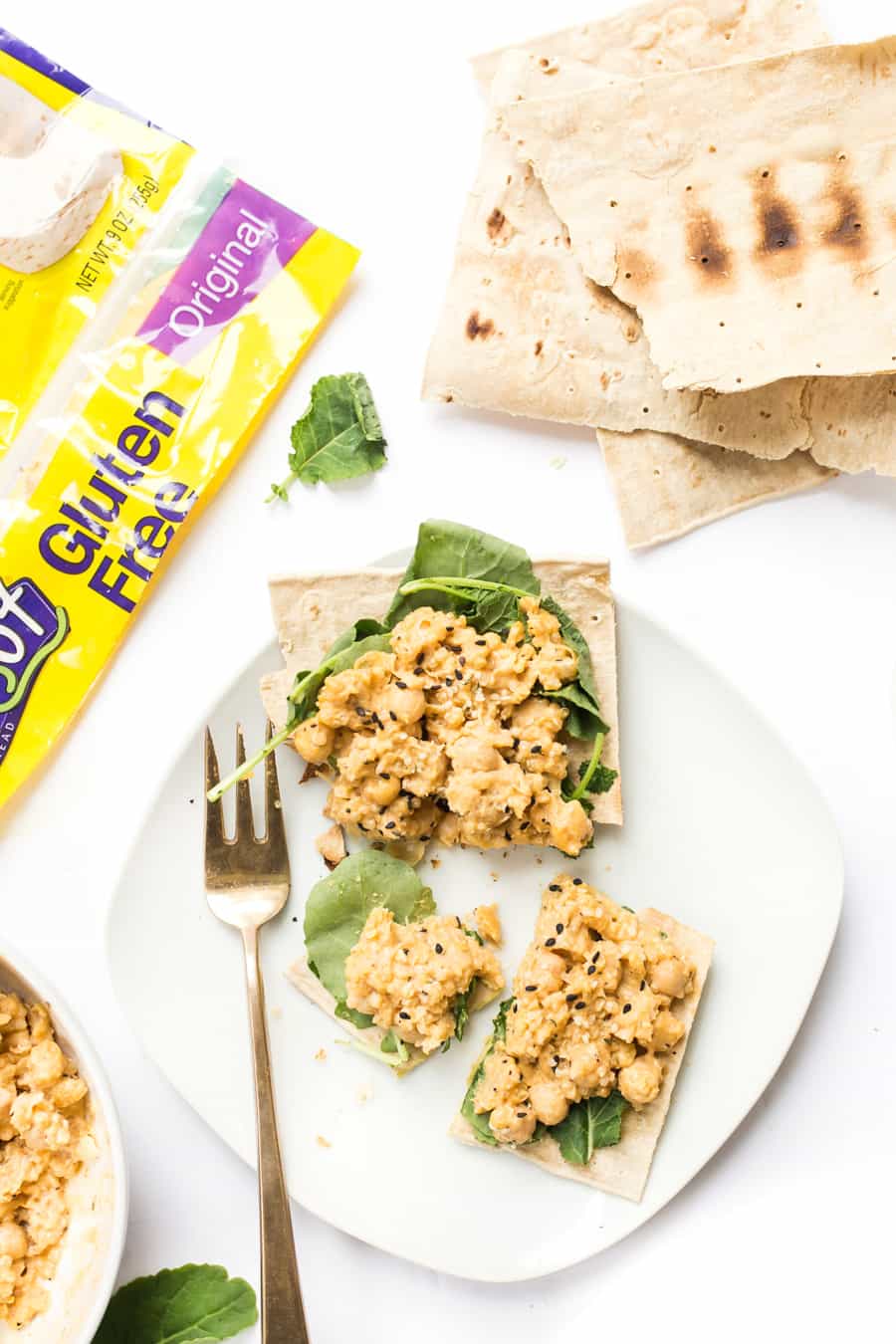 More Lunch Recipes to Try:
Buffalo Chickpea & Quinoa Flatbreads
A vegetarian spin on buffalo chicken pizza, these healthy buffalo chickpea and quinoa flatbreads are flavorful, light, protein-packed and take less than 10 minutes to make.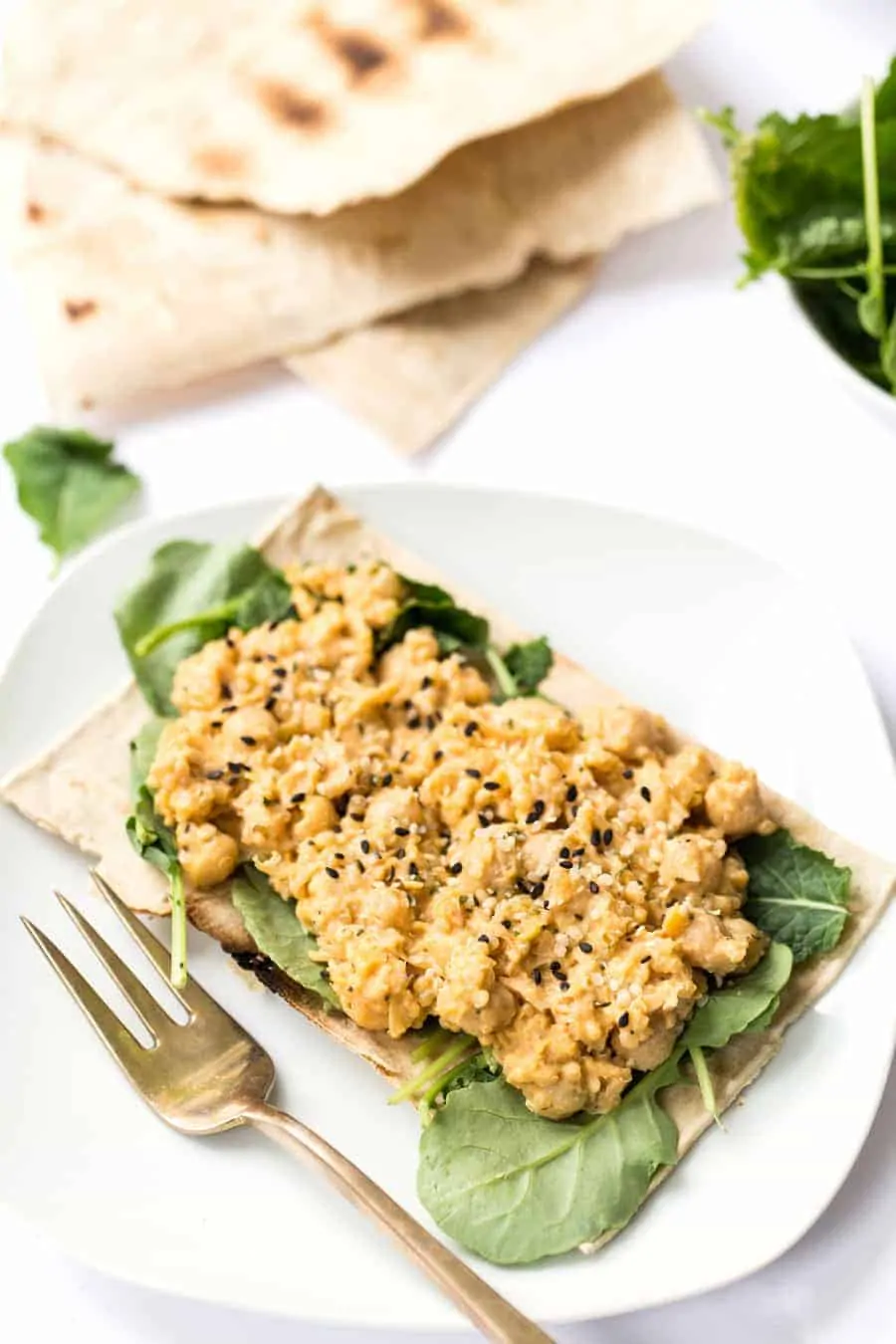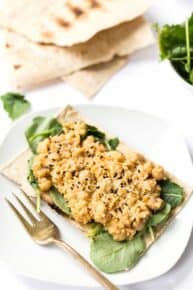 Instructions
Slice the flatbreads into three equal pieces. Toast in the toaster oven until golden brown and crispy, about 3 - 4 minutes.

While the flatbreads are toasting, add your chickpeas to a large bowl. Smash with a fork until nearly smooth. Add quinoa, mayo, buffalo sauce, salt and pepper, and stir to combine.

When ready to serve, lay greens onto each flatbread piece, followed by chickpea mixture. Garnish with a touch more salt and pepper if desired and enjoy!
Nutrition
Calories:
300
kcal
|
Carbohydrates:
39
g
|
Protein:
9
g
|
Fat:
11
g
|
Cholesterol:
6
mg
|
Sodium:
974
mg
|
Potassium:
276
mg
|
Fiber:
7
g
|
Sugar:
2
g
|
Vitamin A:
400
IU
|
Vitamin C:
6.2
mg
|
Calcium:
91
mg
|
Iron:
2.3
mg
Filed Under:
This recipe is brought to you in partnership with Flatout Bread. As always, all opinions are my own. I only share companies I love and trust, so thank you for continuing to support Simply Quinoa!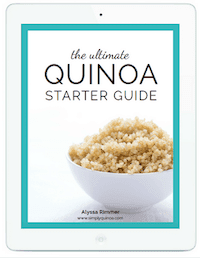 New to cooking quinoa? Grab your FREE Quinoa Starter Guide!
Become part of the Simply Quinoa community and receive weekly emails with exclusive content that I only share in email, as well as my in-depth guide to starting your quinoa journey.
Want more quinoa dinner recipes?
Follow my board on Pinterest!