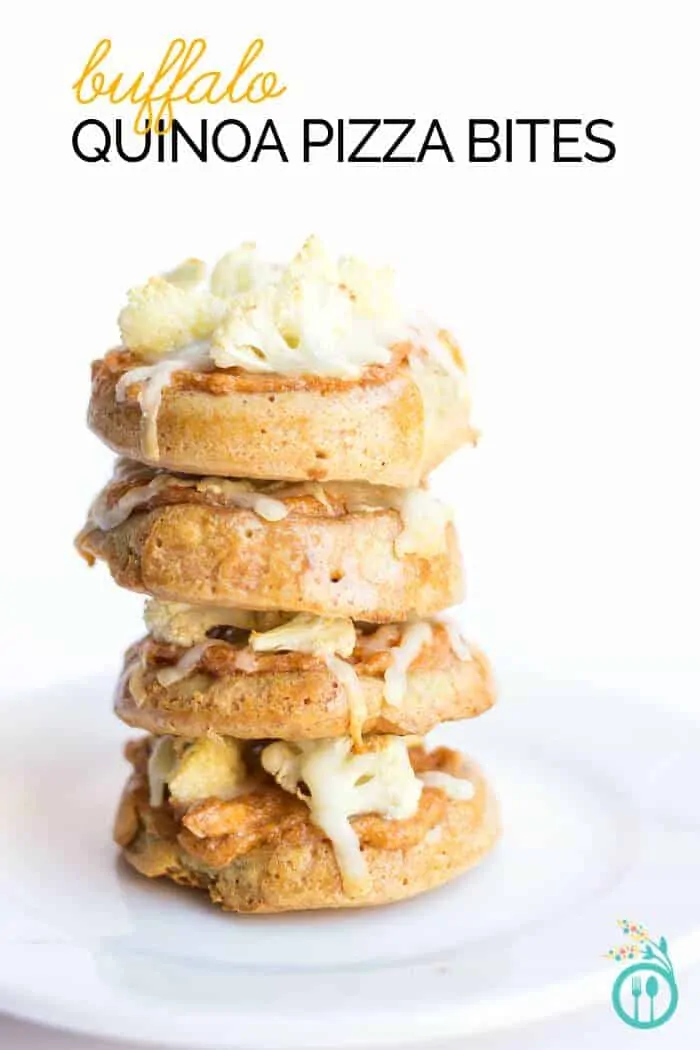 Living in NYC has it's challenges when you're gluten-free. For one, we have amazing bagels. And second, our pizza is awesome.
Practically every street you walk down you are surrounded by the smells of these delightful eats. Although I can't personally vouch for the bagels, nor have I found a suitable gluten-free alternative, we are lucky enough to have some pretty great gluten-free pizza.
But like many of the specialty items in this city, the pizza tends to be on the expensive side and doesn't offer much in the way of variety. I'm certainly glad that I am even able to order pizza at a restaurant, but marinara gets boring after a while.
Especially when you're taunted by all the options that everyone else gets to enjoy.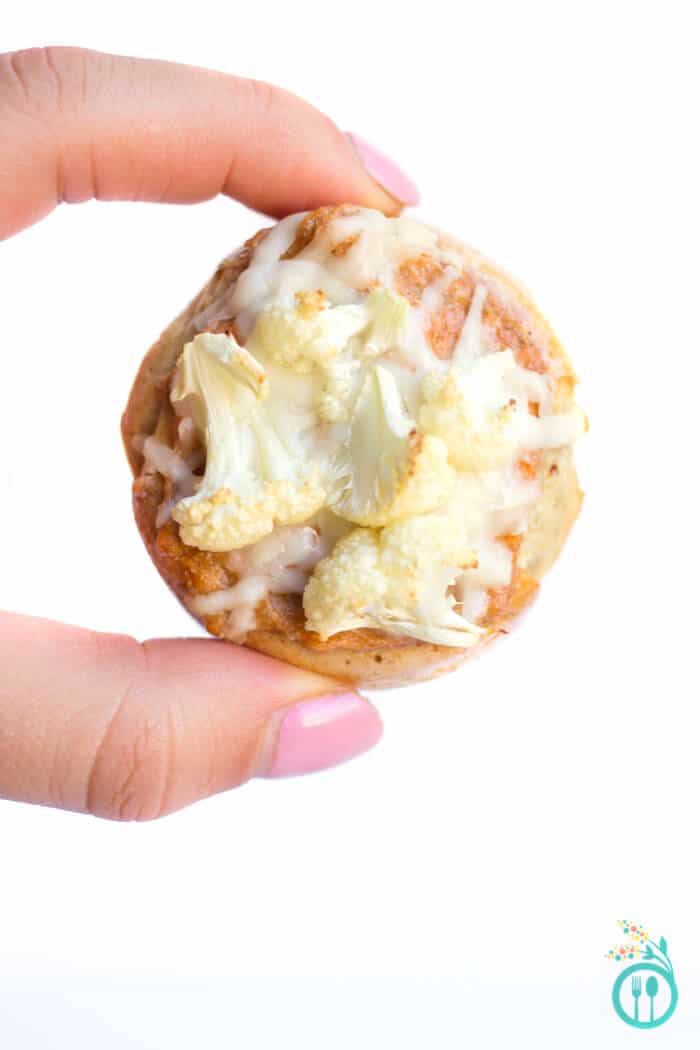 Ever since posting my quinoa pizza crust recipe a few weeks ago, I've been dreaming of different flavor options. We've done a meat-lovers for Matt and I've had a veggie loaded one, but it was this buffalo version that kept creeping up in my mind.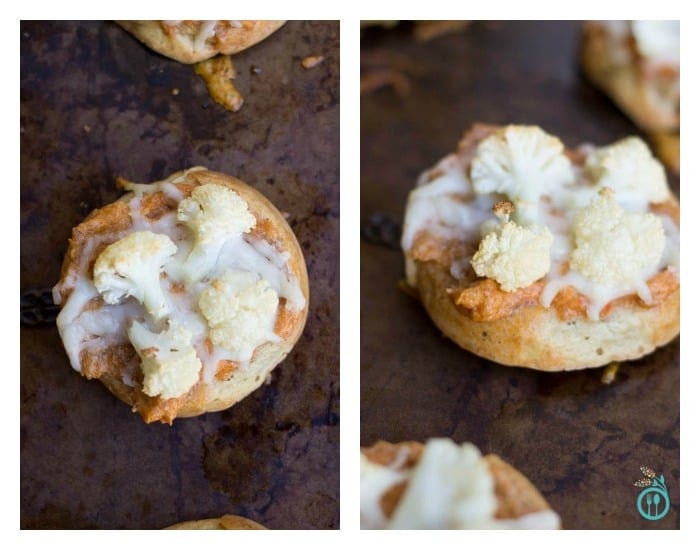 Buffalo chicken pizza holds a special place in my heart.
There's this pizza place near where we went to college; a late night hangout for kids walking home from the bars. The line would be a mile long, but Matt would make us stop every single time so he could get two slices of buffalo chicken pizza ("buff chick" as he likes to call it). He could only ever finish one.
Still, almost five years later, he's still got a soft spot for a good slice of buff chick pizza. Which means I've got a soft spot for it too.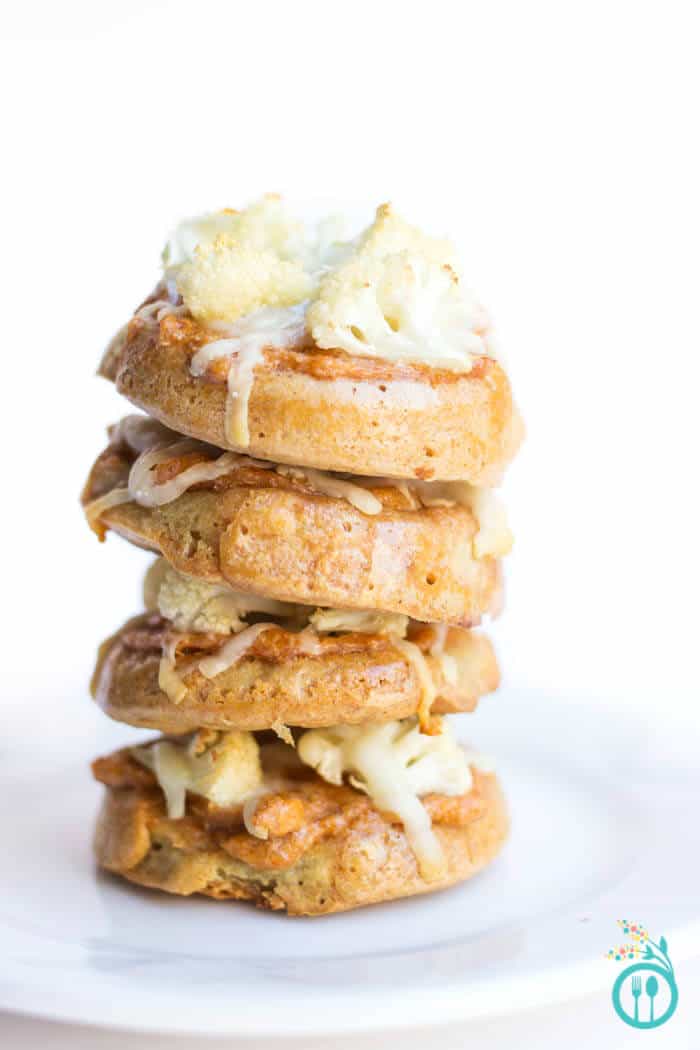 So when I was thinking up quinoa pizza variations, I knew a buffalo version was in our future.
I'm not a big meat eater, so I wanted to make one that tasted like the real thing but was vegetarian (and easily adaptable to be vegan). I knew many of you would appreciate that also!
I started with the crust, which was a no brainer since this is my newest quinoa obsession. But rather than turning this into a pizza, I figured this time of year, with the Super Bowl just around the corner, it would be so much more fun to make these into bites.
Yes! Quinoa pizza bites.
Okay, if it wasn't official before, it is now. I'm full on pizza obsessed.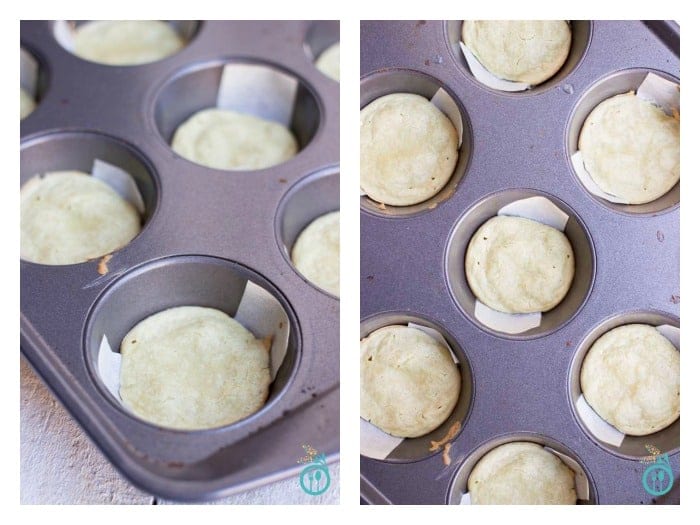 To make these mini pizzas, I used a muffin tin that I lined with a stip of parchment paper (thanks to my lovely lady Ali from Inspiralized for the idea!) and baked them as normal. One batch of pizza dough made a little more than 12 pizzas. Perfect.
Moving onto the sauce, that's where I felt like I was going to be challenged. Again, I used one of Ali's recent recipes for inspiration, but went in my own direction since I wanted to make sure that it held the right consistency for the pizza.
I wanted it to be hefty and give the pizza some more substance, but not be loaded with the junk that the traditional sauce was.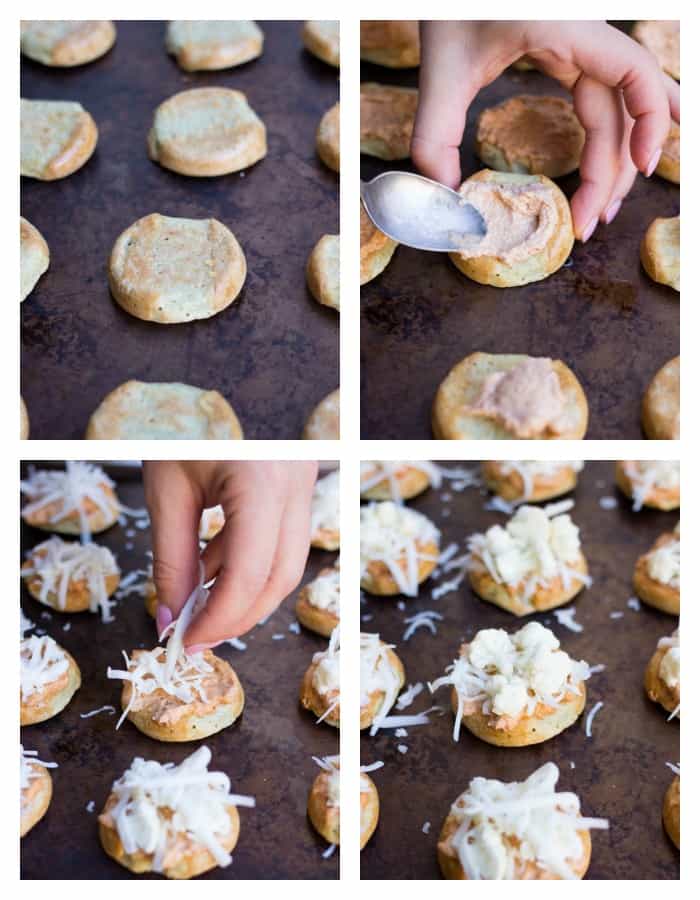 I started with a base of cashews (you know how I love my cashew sauces), then just added some cayenne pepper sauce and a little chia so it was thick and spreadable, and went with it. To my surprise it tasted like real buffalo sauce – score!
Then for the topping. Since I wasn't doing chicken I wanted a veggie that would still make the pizza feel substantial without overpowering the buffalo flavor. I've seen buffalo cauliflower recipes floating around on Pinterest, shared as an alternative to buffalo wings, and it was exactly what I was looking for.
I put a quick layer of goat cheese down on top of the sauce, then chopped up the cauliflower into super small pieces and sprinkled them on top of the pizzas. These babies just needed to be baked until the cheese was melty and they were done.
And let me tell you, they are scrumptious!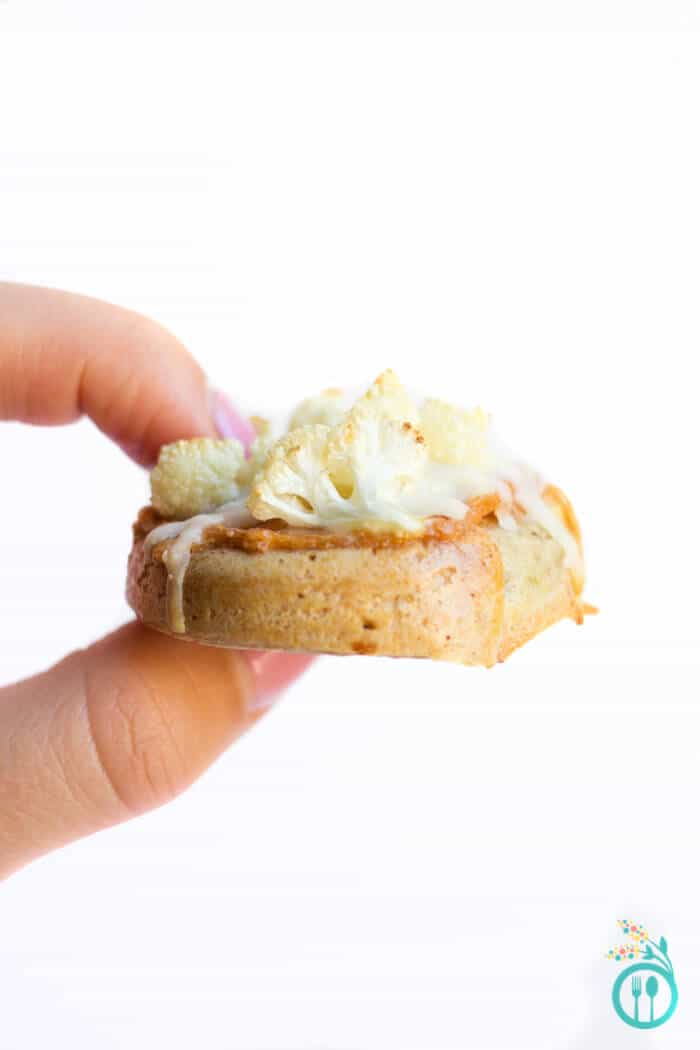 The crust is thin and crispy, with a mellow flavor and a nice chew. The sauce is creamy and ultra buffalo-y. The cheese is just totally necessary (I use goat gouda, but vegan cheese will also work). And the cauliflower acted just like chicken would – tender and juicy with the ever so subtle hint of buffalo.
It was everything I dreamed it would be. And since this was my first buffalo pizza in five years, you better believe I did a happy dance all around my kitchen! Then proceeded to eat almost the entire tray, realizing with two left that I needed to save some for Matt.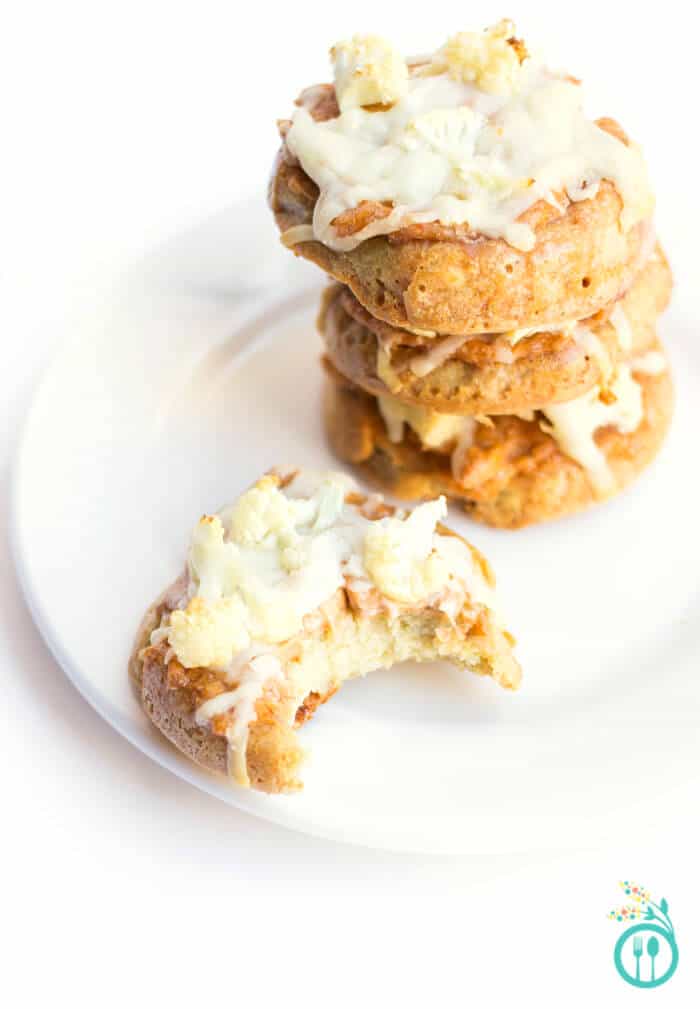 Oops! Guess that just means I'll have to make them again tomorrow 🙂
Share this recipe!
Buffalo Quinoa Pizza Bites
I wanted it to be hefty and give the pizza some more substance, but not be loaded with the junk that the traditional sauce was.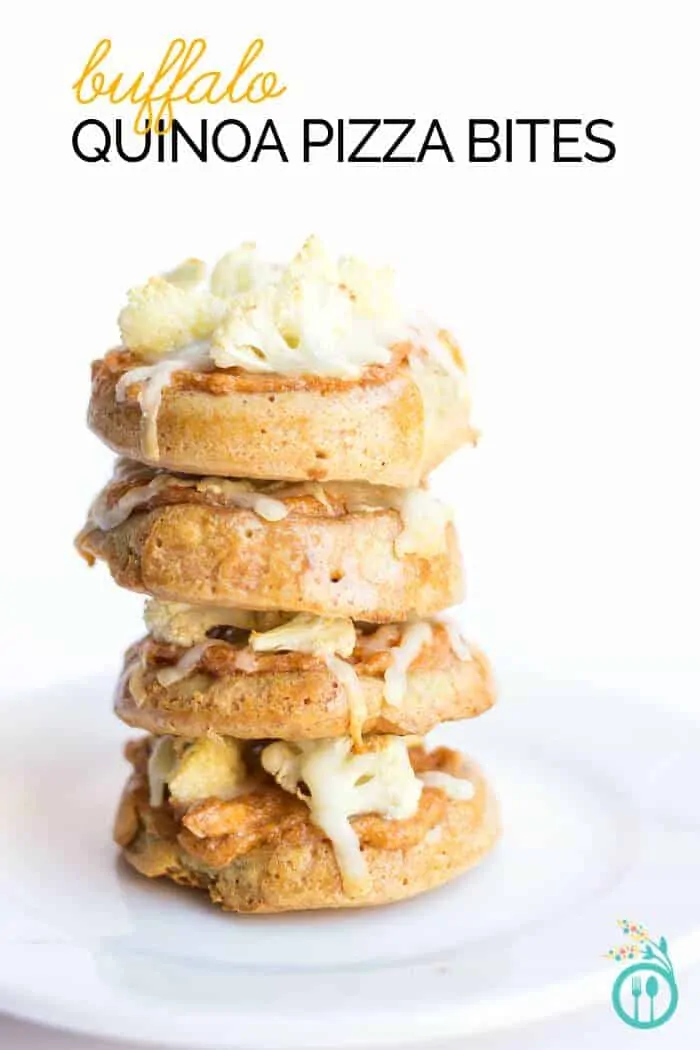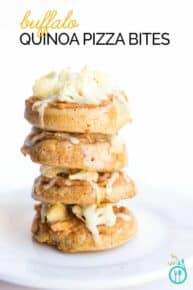 Ingredients
for the sauce:
1/4

cup

raw cashews

1/4

cup

water

1

tablespoon

chia seeds

3

tablespoons

cayenne pepper sauce

I used Frank's

1

garlic clove

1

teaspoon

lemon juice

Salt & pepper to taste



for the toppings:
1

cup

shredded cheese

1

cup

finely chopped cauliflower florets
Instructions
Preheat oven to 425 degrees F. Line a 12-cup muffin tin with strips of parchment paper and drizzle 1/4 teaspoon of oil in the center. Spread around with your finger until evenly coated and set pan aside.

Thoroughly rinse quinoa, then add to a blender. Add remaining crust ingredients and blend on high until smooth and creamy. This should resemble a thick pancake batter.

Pour 1 tablespoon of batter into prepared each muffin tin and bake for 10 minutes. Remove pan, flip crusts onto a baking sheet and return to oven baking for another 5 - 10 minutes until browned and edges are crispy.

While the crust finishes cooking, blend all ingredients in a high powered blender. Transfer to a bowl and let thicken.

Remove baking sheet from oven and top each pizza round with 1 teaspoon of sauce. Add a layer of cheese and then the cauliflower, and bake for 10 - 12 minutes until cheese has melted and started to brown.

Remove, let cool for a few minutes on the pan.

Garnish with herbs, pepper flakes, grated cheese, etc., and serve immediately!
Notes
You might have some sauce left over here. Save it and use it on pasta for your next meal!
Nutrition
Serving:
3
g
|
Calories:
110
kcal
|
Carbohydrates:
8
g
|
Protein:
4
g
|
Fat:
6
g
|
Saturated Fat:
1
g
|
Cholesterol:
7
mg
|
Sodium:
269
mg
|
Potassium:
135
mg
|
Fiber:
1
g
|
Vitamin A:
70
IU
|
Vitamin C:
6.7
mg
|
Calcium:
68
mg
|
Iron:
0.8
mg
Filed Under:
Other Quinoa Pizza Crust recipes you might enjoy:
My Ultimate Quinoa Pizza Crust (yeast-free)
The Best Gluten-Free Pizza (yeasted)
Multigrain Gluten-Free Pizza (yeasted)