Making homemade crackers couldn't be easier. These quinoa crackers are studded with cheezy flavor and kale for a totally nutritious, and delicious, snack!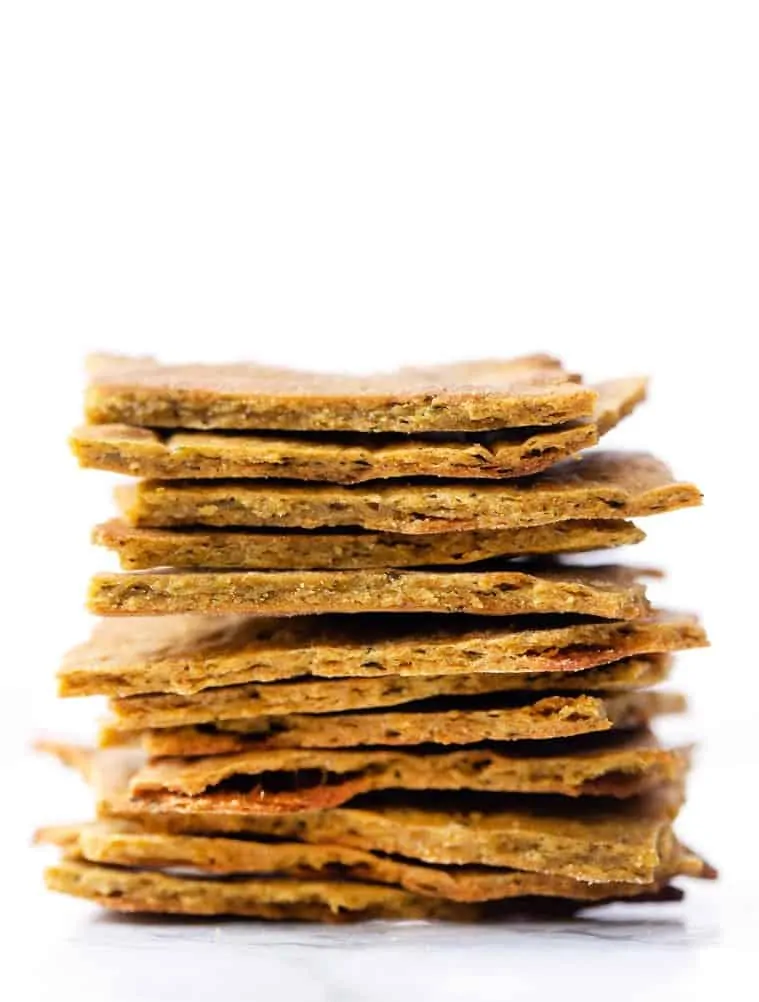 Are you a snacker? I personally have always been a snack person.
My snack attacks usually hit sometime between 3 and 4 pm. I realize I still have a ways until dinner. Lunch has been digested and get I that hunger pang stirring up inside my belly.
Whenever my body goes into a full-blow snack attack, I always find myself searching for something crunchy. Sometimes it's satisfied by an apple, sometimes carrots and hummus will do the trick, but sometimes that single box (or bag) of packaged goodies is calling my name.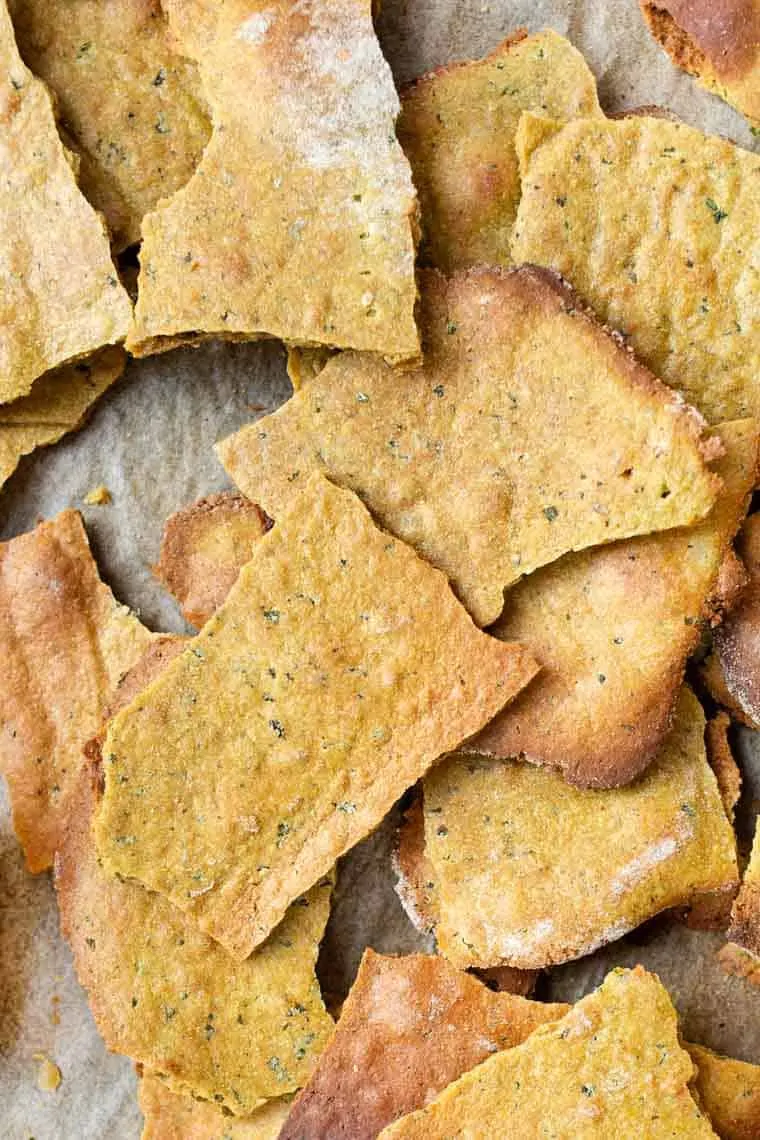 Are Crackers a Healthy Snack?
We try not to keep packaged foods in our house, but sometimes we're feeling the need to have something salty to munch on and know that gluten-free rice crackers or natural tortilla chips will do the trick.
Problem is…with these types of foods once you start, it's hard to stop. Especially when the serving size is like 10 chips. I mean really, who only eats 10 chips!? And those chips (or crackers) are usually fried, don't use high-quality oils and just aren't that nutritious.
So lately I've been on a mission to be more mindful of my snacking habits. Rather than reaching for those not-so-healthy crackers and chips, I made the conscious decision to avoid that aisle at the grocery store and whip up something homemade instead. Which is where the idea for these Kale Quinoa Crackers came into the mix!
They're made with nutritious flours, they're baked (not fried) and they're hearty. So eating just a handful will actually fill you up! These crackers actually do make a healthy snack, which is why I know you're going to love them!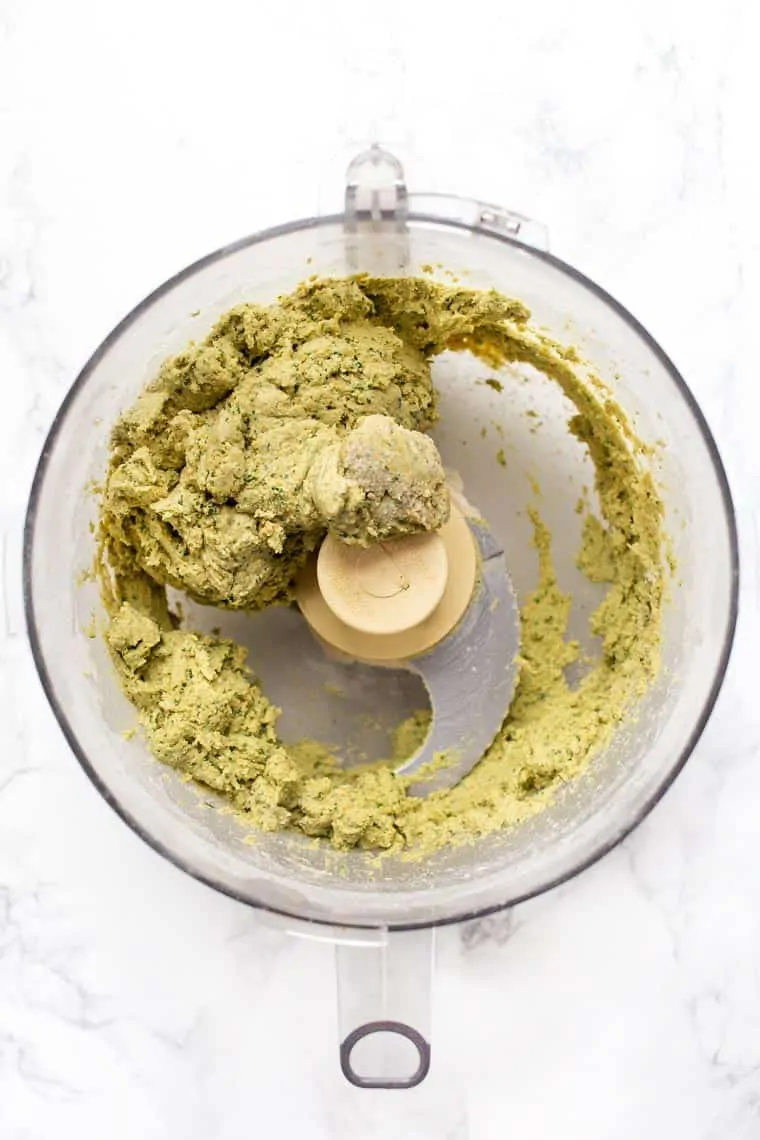 How to Make Quinoa Crackers
For some of you, making your own crackers might feel intimidating. I was right there with you the first time I made them, but I have to tell you, it couldn't be easier.
All we do is whiz everything up in our food processor until it forms a thick dough, then we roll it out between some parchment paper and bake 'em up. It's honestly as simple as that! The hardest part is waiting for them to cool so you can actually eat them!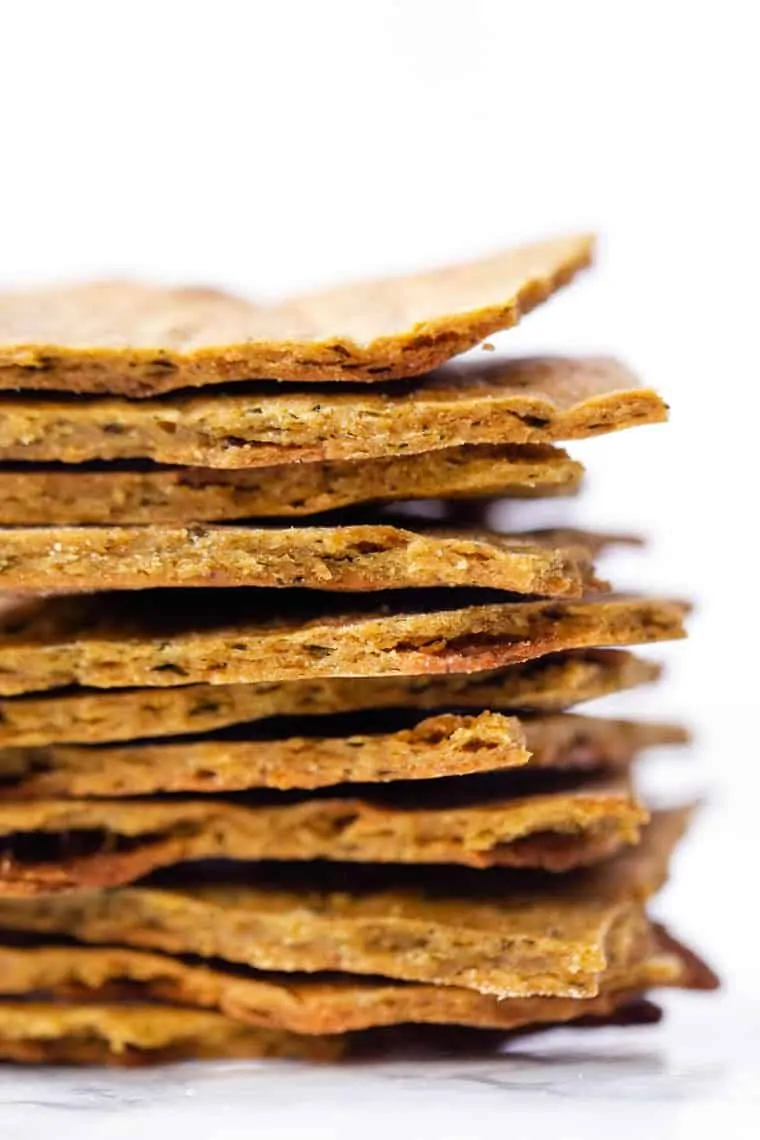 Ingredients for our Quinoa Crackers
Remember when I said I'm trying to make better snacking choices? Well, these quinoa crackers are it. I've packed in a TON of good-for-you ingredients into this recipe and even though they have kale, they still taste banging! Best of all? All you need is a food processor and 1o ingredients.
Some of the highlights include:
Kale
Flaxseed Meal
Quinoa Flour
Olive Oil
And the result?
Crispy quinoa crackers that are gluten-free, have way less fat and more protein than other packaged snacks, and are even studded with dark leafy greens. Not sure if it gets much better.
So, are you ready to dig in? I know I am! Let the guilt-free snacking begin.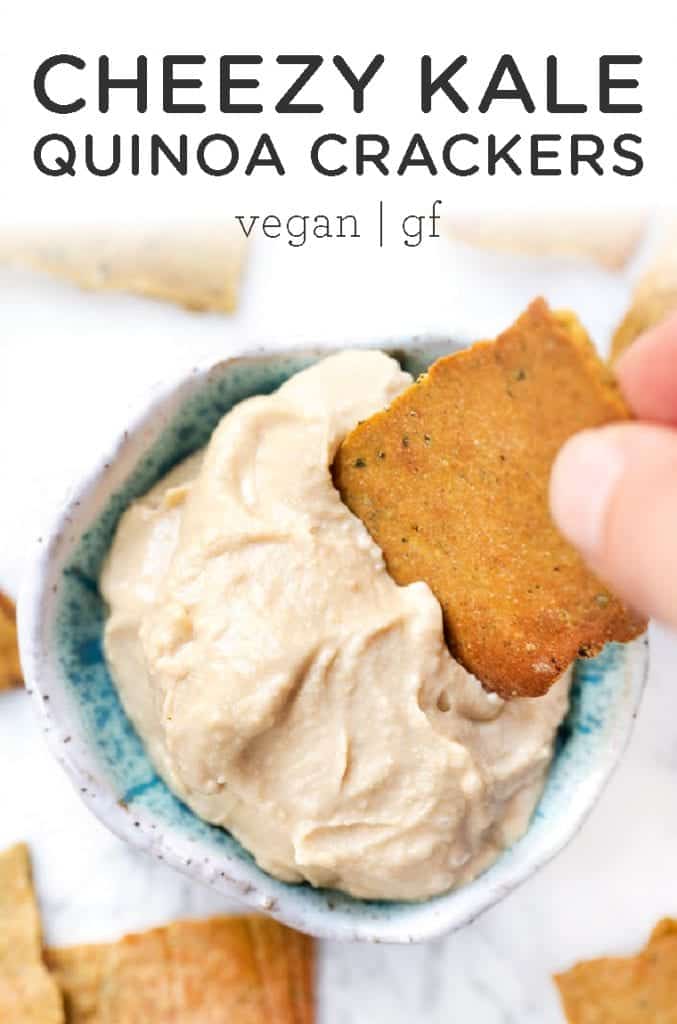 More Homemade Gluten-Free Cracker Recipes:
Cheezy Kale & Quinoa Crackers
Making homemade crackers couldn't be easier. These quinoa crackers are studded with cheezy flavor and kale for a totally nutritious, and delicious, snack!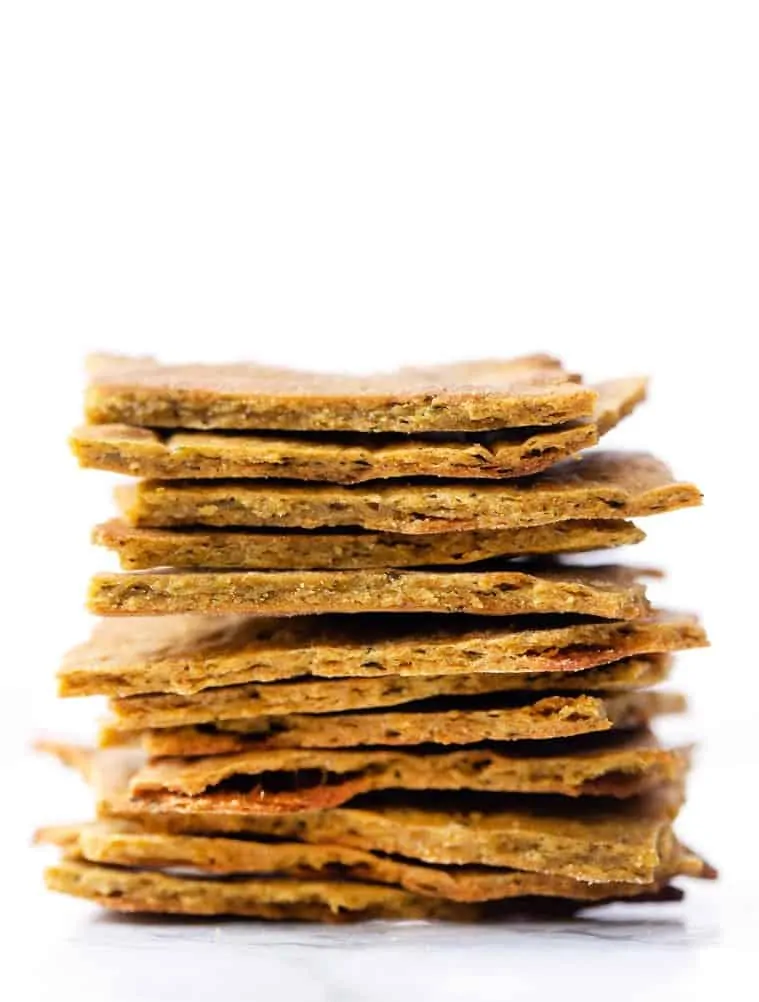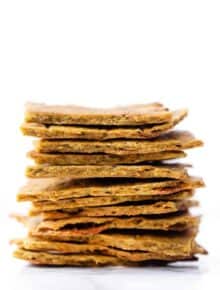 Instructions
Preheat the oven to 450 degrees. Toast your quinoa using the stovetop method. Allow the flour to cool for 5 minutes before adding to a food processor along with the sorghum flour, nutritional yeast, and salt. Pulse until evenly distributed, then pulse in the kale.

With the food processor running, stream in the oil and water until the dough comes together into a ball, about 30 seconds. Remove and form into a ball. Let rest for just a few minutes.

Cut the dough into four pieces. Knead one piece with your hands, place it on a piece of parchment and roll it as thin as you can. You'll probably need to sprinkle the dough with a little flour so that it doesn't stick. Repeat with the other three pieces and transfer the pieces of parchment to baking sheets.

Bake the crackers for 5 - 6 minutes per side, watching closely so they don't burn. Careful when you flip them over too! Turn off the oven and let them sit in the warm oven for 1 - 2 hours so they get super crispy.

Break them into pieces, add them to a bowl and serve them with your favorite dips/spreads.
Nutrition
Serving:
1
cracker
|
Calories:
47
kcal
|
Carbohydrates:
4
g
|
Protein:
1
g
|
Fat:
2
g
|
Sodium:
41
mg
|
Potassium:
36
mg
|
Fiber:
1
g
|
Calcium:
9
mg
|
Iron:
0.5
mg
Filed Under: