We're halfway through quinoa week and I have to say, I'm loving the enthusiasm! We got tons of entries in our first giveaway and I'm hoping to continue the trend with this one.
Today, we're featuring a recipe for quinoa stuffed acorn squash that uses Bob's Red Mill white quinoa. White quinoa (or golden) is the most common form of quinoa and the one that I use most often. White quinoa is fluffier than red quinoa, and goes well with pretty much every cuisine. I haven't found a dish using white quinoa that I didn't fall in love with.
And this recipe is no exception.
I'm a serious squash lover. My two favorites (if you don't count pumpkin, which I guess is technically a squash) are acorn and delicata. If you don't know delicata squash, it's that one that is yellow with green stripes and kind of oblong shaped.
But we're not talking about delicata, we'll save that for another recipe. Today it's all about acorn squash, and quinoa of course!
Acorn squash is just lovely when roasted and even more lovely when stuffed. It has a slightly sweet flavor, and beautifully creamy texture. Often times I'll just roast it with salt and pepper, but I wanted to heighten the sweetness slightly with this recipe (to balance the smokiness of the chicken and quinoa) so I added a touch of coconut sugar and a little coconut oil. It was divine.
For the stuffing ingredients, I went with shredded chicken, sautéed kale and quinoa. Thrown with some salt, pepper and smoked paprika. Each bite was the perfect blend of sweet and savory. It was an autumn party in my mouth. So tasty!
[don't forget to scroll below the recipe and enter the giveaway!!]
Chipotle Chicken & Quinoa Stuffed Acorn Squash
This quinoa stuffed acorn squash is the perfect dinner! It's got shredded chicken, kale and high-protein quinoa!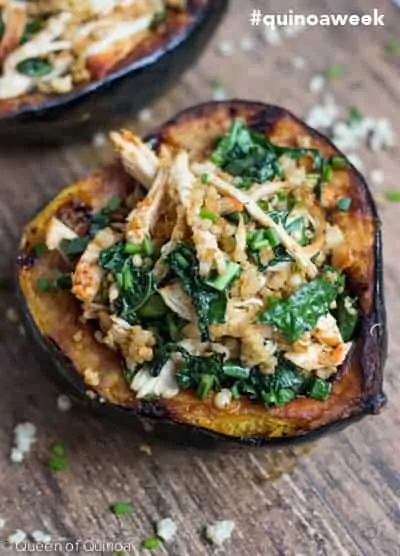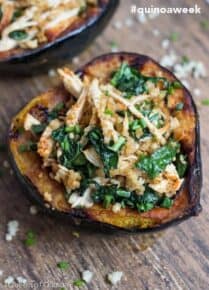 Instructions
Preheat the oven to 400 degrees F.

Rub 1 teaspoon of coconut oil onto each half of the squash. Sprinkle with 1 tablespoon of coconut sugar. Bake until the acorn squash, flesh side up, until tender, about 30 - 40 minutes.

While the squash is cooking, prepare the chicken and quinoa. If you're not using leftover chicken, either grill or pan-sear the chicken as you would normally. For the quinoa, add the quinoa and water to a saucepan and bring to a boil. Cover and reduce to a simmer for 10 - 15 minutes. Remove from the heat, and keep covered for 5 minutes. Fluff with a fork and set aside.

Heat the olive oil in a skillet over medium heat. Add the kale and cook until it's started to wilt, add the chicken and quinoa and toss to combine. Season with spices and remove from the heat.

Remove the squash from the oven, and let cool for a few minutes. Transfer to two plates and stuff with half the chicken-quinoa mixture.

Serve immediately.
Nutrition
Calories:
439
kcal
|
Carbohydrates:
53
g
|
Protein:
23
g
|
Fat:
17
g
|
Saturated Fat:
5
g
|
Cholesterol:
54
mg
|
Sodium:
402
mg
|
Potassium:
1359
mg
|
Fiber:
4
g
|
Sugar:
8
g
|
Vitamin A:
7730
IU
|
Vitamin C:
104.1
mg
|
Calcium:
190
mg
|
Iron:
3.9
mg
Filed Under: