Chocolate Buckwheat Orange Cookies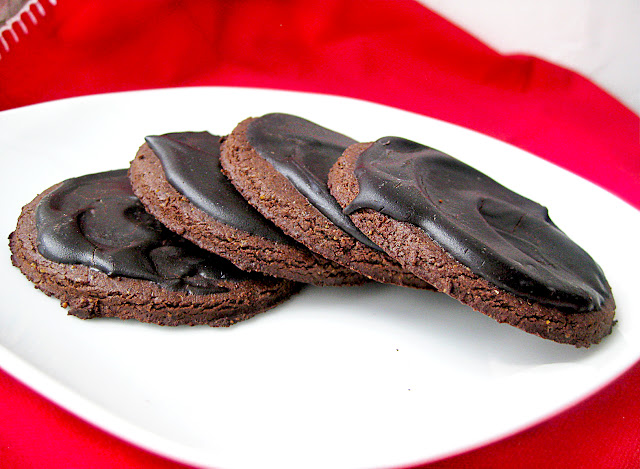 A perfect post-Valentine chocolate treat
Happy belated Valentine's day to all my lovely readers. I hope each and every one of you were able to spend the day doing something you love. No matter what anyone else says, Valentine's Day is as much about giving yourself some love as it is sharing it with others. You deserve to be loved, so I hope you were able to take the time to appreciate yourself.
For me, Valentine's Day was simple and sweet. We had a quiet dinner at home, and just spent the night together – no TV, no music, just us. The man was in charge of dinner and I was in charge of dessert. He made wasabi crusted tuna with a quinoa side (totally yum!) and I made my very first chocolate souffle (turned out okay, but wish we had some ice cream to go along with it). And to top it off, my present to myself was four new pairs of earrings. I mean come on, I deserve it, right?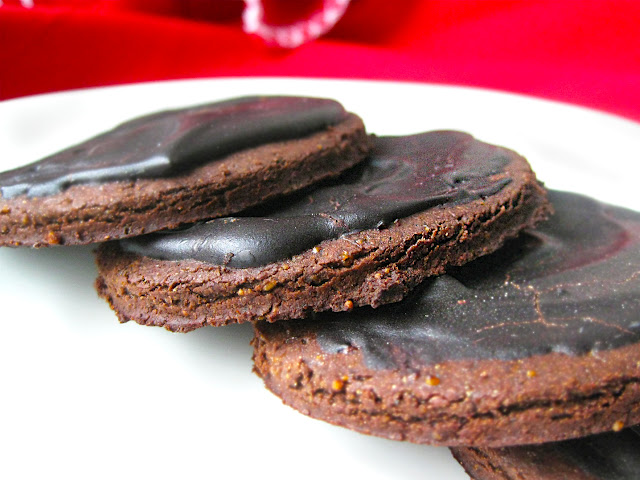 Chocolate and totally delicious.
This recipe may seem like it's a day too late, but I did this on purpose. For many of us, Valentine's Day means chocolate and lots of it. Sweets galore. Decadent, rich, heavy desserts that leave you feeling satisfied but probably full of guilt. Well lovely, the best part of this chocolatey treat is that there will be no guilt. It's chocolate with a healthy twist.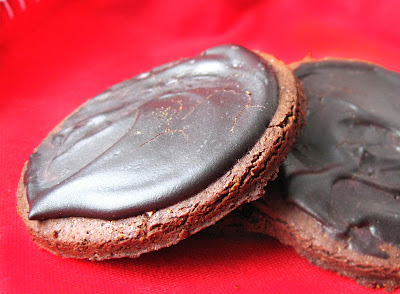 An almost thin mint, but made with orange.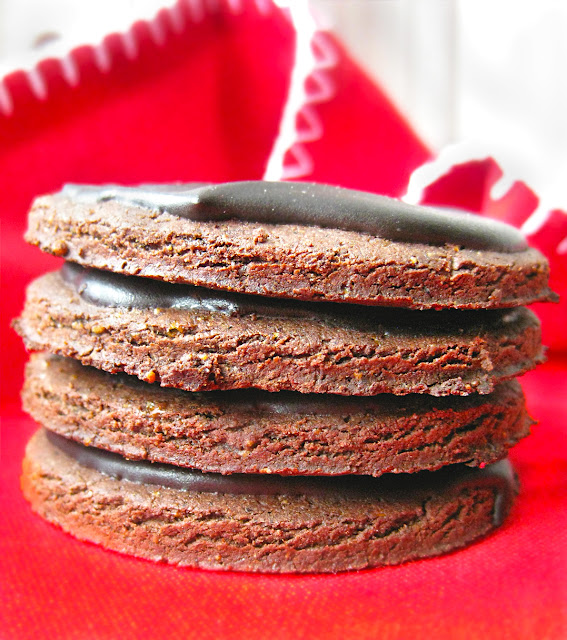 A special cookie you can treat yourself too.
Chocolate Buckwheat Orange Cookies
I found this recipe on Hallie's blog, Daily Bites, and it just looked so delightful I had to try it. I mean buckwheat cookies are one of favorites and the fact that it is dairy-free and refined-sugar free, it fits perfectly with my current diet.
These cookies remind me of thin mints. They have the perfect crisp with each bite and the chocolate frosting is not too sweet. Plus with the little hint of orange, these cookies are really something special. They may in fact be my new favorite.
ingredients (I made half a recipe):
1/2 cup buckwheat flour
1/4 cup unsweetened cocoa powder
1 tablespoon psyllium husks
1/4 teaspoon baking soda
1/4 teaspoon fine sea salt
1/8 cup coconut oil (not melted)
1/8 cup coconut / palm sugar
1/2 large egg yolk
1/8 cup raw honey
4 tablespoon coconut milk
2 teaspoons orange zest
Preheat the oven to 350 degrees F. Line a baking sheet with parchment paper or spray with non-stick olive oil spray (parchment paper is better).
Whisk all your dry ingredients together in a medium bowl and set aside.
With an electric mixer or in a stand mixer fit with the whisk attachment, beat the coconut milk and sugar together until combined. It should be completely combined and a uniform brown color.
Add the egg yolk and honey to the coconut oil and sugar mixture and beat to combine. Add your flour and mix until you have the texture of sand. Add the coconut milk 1 tablespoon at a time, mixing between each addition, until you have a thick dough that forms easily into a ball.
Form the dough into a ball and flatten slightly. Place between two pieces of parchment paper or plastic wrap and roll it out until it's about 1/4″ thick. With your favorite cookie cutter (I used a juice glass), cut out your cookies and place on the baking sheet.
Bake the cookies in the center of the warmed oven for about 8 minutes. Cool them on a wire rack and top with chocolate frosting if you would like.
Chocolate Frosting
2 tablespoons raw carob chips
1 teaspoon coconut oil
2 tablespoons coconut milk (more if needed)
Add all the ingredients to a small sauce pan on medium heat and whisk together until melted. When completely melted, frost your cooled cookies and place them in the refrigerator to let the frosting harden.
Recipe makes about 10 cookies.
share what you make
Tag #simplyquinoa on Instagram with your creations! We love sharing what you make with the community. We can't wait to see!

follow on instagram