Can you even handle that Christmas is less than a week away? I just finished all of my shopping today and now I can just sit back and relax. Bake cookies, drink eggnog, and wrap presents.
Are you ready?
Funny enough, I actually did almost all of my Christmas shopping online this year – rather stress free I'd say. And almost exclusively from Amazon. Amazon is my new obsession, well not that new really, because you can seriously get anything you want on there, and it all ships to you in two days.
Let's take my little pup for example. This is her first Christmas, and let's be honest since dogs are essentially our children, I had to get her presents to open. She needed a new collar (cute, huh?). And since she's a chewer, I had to get her some new toys!
Anyway, I'd share the other gifts I got, but I hope my family actually reads this site, so I'm not going to risk it 🙂
Instead, I think I'll just drown myself (and you) in chocolate and sugary goodies. Forgive me?
I haven't made ice cream since the summer, but when I made these brownie bites the other day, all I wanted was to crumble them up into little pieces and smother them in hot chocolate syrup. Obviously there needed to be an ice cream underneath.
Ice cream sundaes are simply the best, aren't they? I mean ice cream is amazing, but then you can add whatever toppings you want and turn it into an incredible, mountain of a dessert. And I love how each bite can taste totally different.
The point of this ice cream sundae was to give you something to celebrate the holiday season with. I know that it's winter and cold out and you might be mad at me for making ice cream, but just close your eyes (well actually read this first, and then close your eyes) and imagine this: a brownie on the bottom, topped with a layer of warm chocolate sauce, two scoops of candy cane ice cream, another layer of chocolate sauce, crumbled bits of more brownie and then crushed candy canes on top.
Now…are you closing your eyes? Can't you taste it? Mmm…and I just finished eating one – I still have a smile on my face. Ice cream in the winter is definitely okay in my book.
Plus, here's a step-by-step tutorial for you that shows each and every layer of this magical dessert. Enjoy it 🙂 And pretty please tell me how it was in the comments below!
Chocolate Candy Cane Ice Cream Sundae
Drown yourself in chocolate and sugary goodies!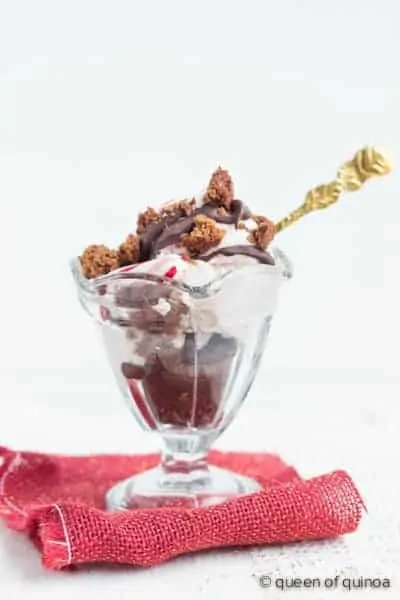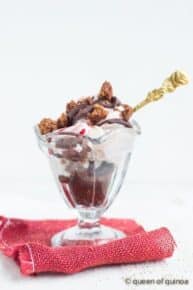 Ingredients
for one sundae:



2

scoops candy cane ice cream

1/4

hocolate chips

melted

2

brownie bites

made from 1 batch fudgy quinoa brownies, baked in a mini muffin tin

Crushed candy canes
Instructions
Start with the ice cream base: blend all ingredients (minus candy canes) in a blender. Chill in fridge for at least two hours.

Prepare ice cream according to your manufacturers instructions, adding candy canes when specified. Transfer to a glass container and move to freezer until completely frozen.

While the ice cream is freezing, prepare your brownies according to instructions. If you choose to bake them in a mini muffin tin, you will like have to adjust the baking time slightly (try 12 minutes to start).

Let brownies cool completely before assembling sundae.

In layers, start with brownie, then chocolate sauce, followed by ice cream, another layer of chocolate sauce, the second brownie crumbled, topped with crushed candy canes.
Nutrition
Calories:
396
kcal
|
Carbohydrates:
43
g
|
Protein:
3
g
|
Fat:
24
g
|
Saturated Fat:
20
g
|
Cholesterol:
3
mg
|
Sodium:
161
mg
|
Potassium:
264
mg
|
Sugar:
36
g
|
Vitamin A:
35
IU
|
Vitamin C:
1.1
mg
|
Calcium:
142
mg
|
Iron:
3.6
mg
Filed Under: