The perfect vegan rice crispy treat recipe! Made with just 5 simple ingredients, these are healthy, gluten-free, naturally sweetened and flavored with chocolate and peanut butter!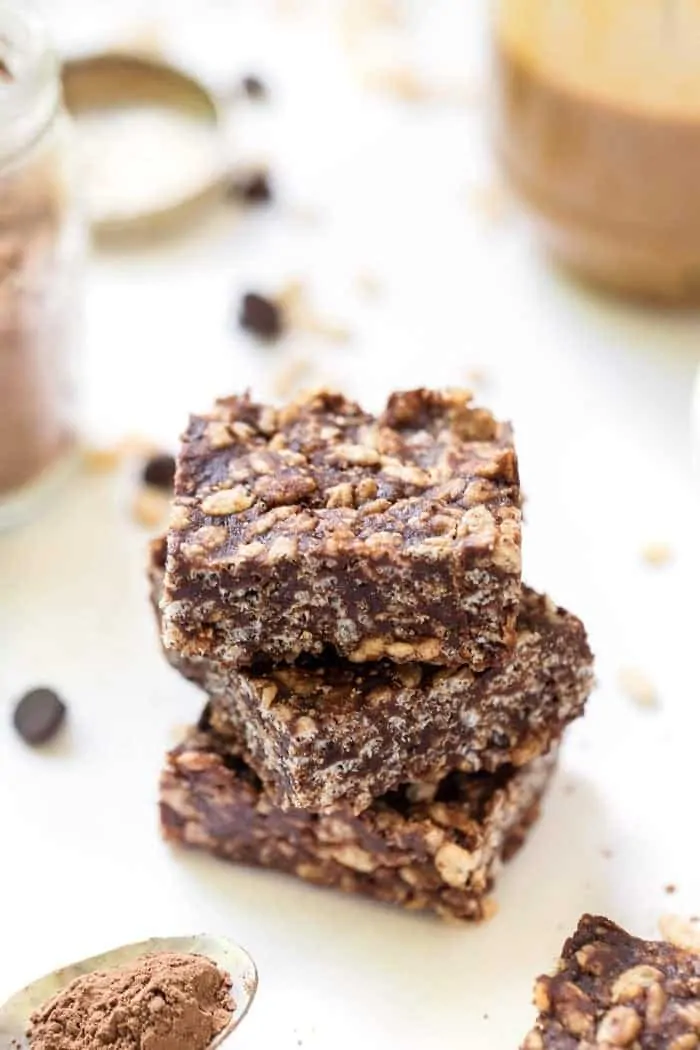 Today it's going down! Not only are we make healthy (and vegan!) rice crispy treats, but we're also jazzing them up with some chocolate and peanut butter.
I mean really, does it get any better?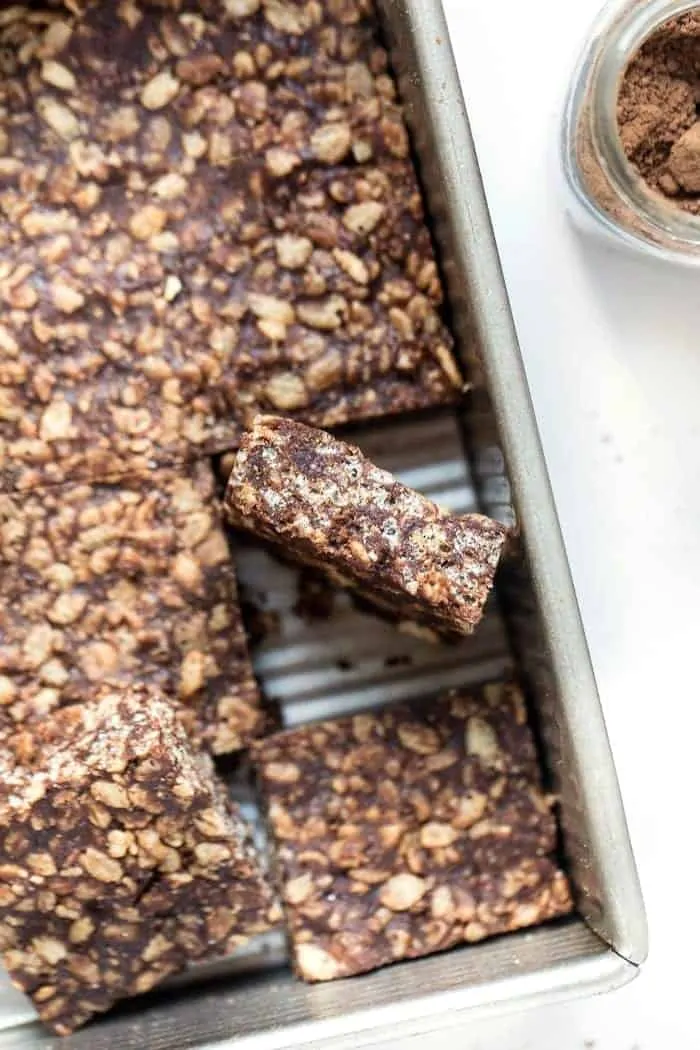 When I was a little kid, rice crispy treats were one of my favorites. My mom has always had a soft spot for them, but we grew up in a house that ate pretty much only whole foods, so when I say those were a treat, I mean they were really a treat.
Sometimes we'd get those boxes of mini ones, but most of the time we made them at home. It was such a fun thing to make when you're a kid – messy, stick and super sweet.
But nowadays? I'm not feeling all that butter and corn syrup, and since I know a lot of you feel the same way, I decided to create a new option that is healthy and delicious.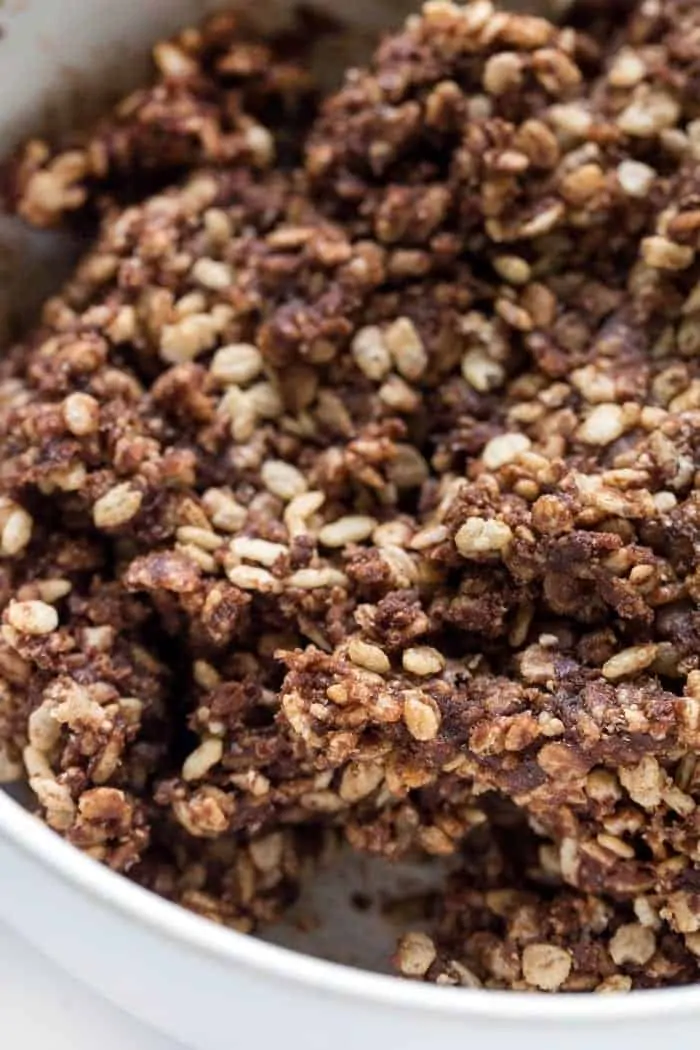 How to make Vegan Rice Crispy Treats
Most healthy rice crispy treat recipes you see are made with honey, and while I think that would be delicious, I know a lot of you are vegan and don't eat honey, so I wanted to give you another option.
The secret? Medjool dates!
I know it sounds totally crazy and the first time I saw it, I swore it wasn't going to work, but low and behold it does and it's amazing!
The secret is that you need to blend the dates into a sticky "dough" (using either a blender or a food processor) and then fold your rice crispy cereal into that mixture. It's a little bit of an arm workout, but it still yields rice crispy treats that remain crispy and are perfectly sweet.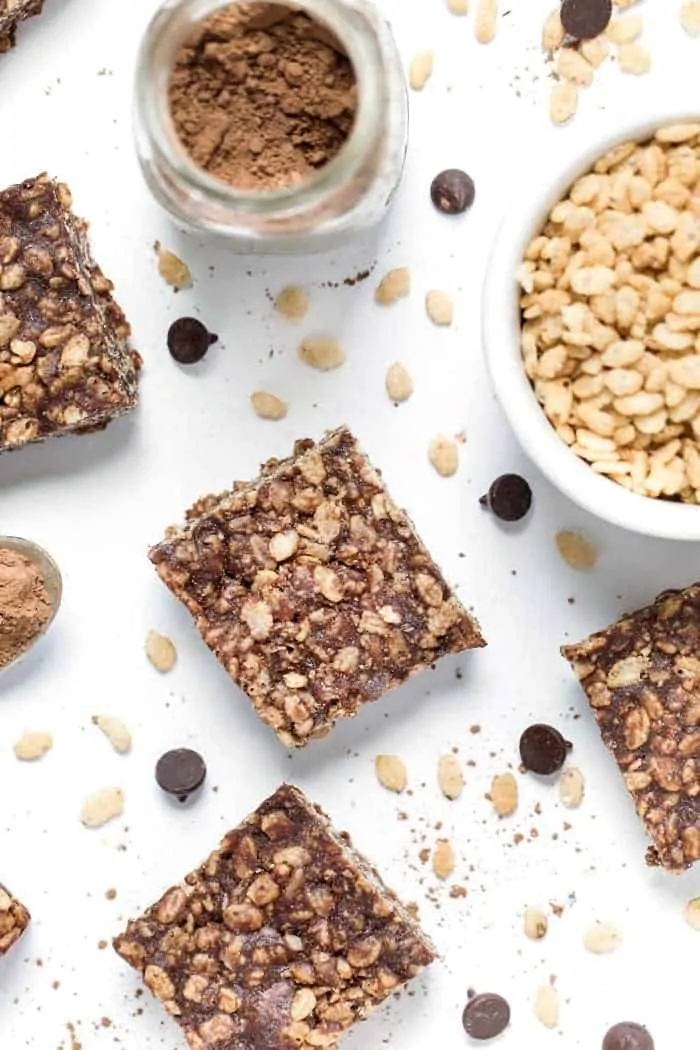 Some of the other recipes I've seen call for nut butter, so to me that only means one thing: peanut butter!
And since we're using peanut butter, chocolate was the logical next step. BUT I want to give you two different options if this isn't *quite* your jam:
#1: leave out the cacao powder and just keep them as simple peanut butter rice crispy treats
#2: leave out the cacao and instead, top them with some melted chocolate
#3: enjoy as is because they rock!
Honestly, no matter which way you make them, you are going to be shocked at how good they are. They're nutty, they're crispy, they're crunchy, they're sweet and yes, they're gluten-free and vegan too!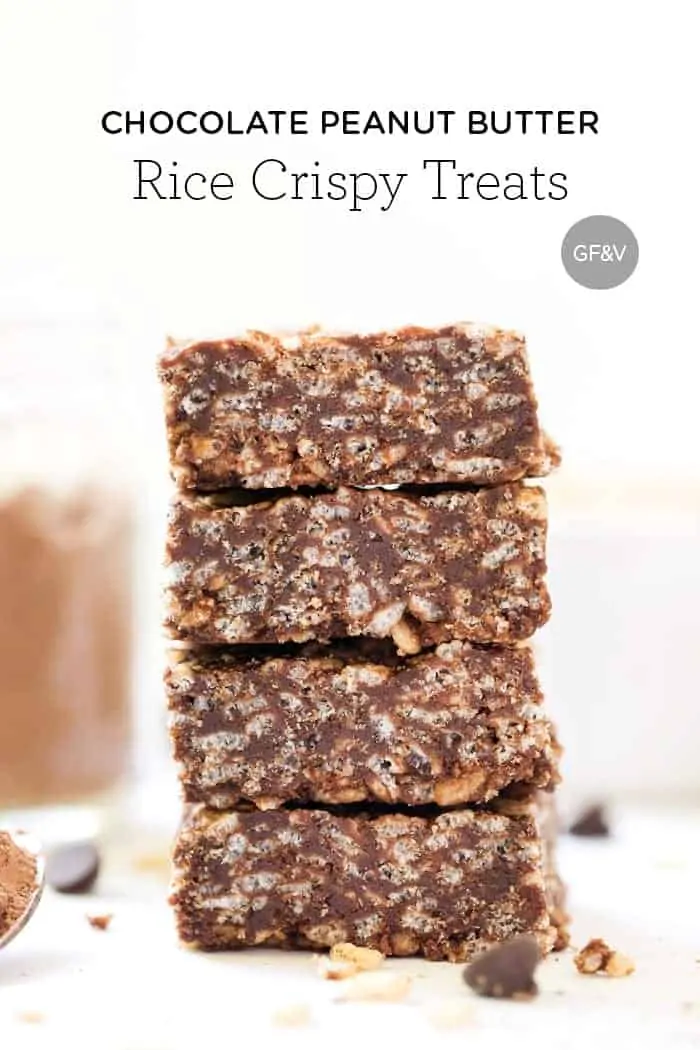 Tips for perfecting these Vegan Rice Crispy Treats
I've done a bunch of different tests with this recipe and have discovered a few things that I want to share before you make them:
The cereal matters. I've tested them with a bunch of different varieties and I've discovered the bigger the cereal, the crispier they remain. I recommend using this brand of brown rice crispies.
The food processor is better. Unless you have an amazing blender, it's easiest to get this blended up in the food processor. In the video, you'll see I'm using a blender, but I found it a lot more challenging getting everything combined and smooth.
The softness of your dates matters. If possible, you want to get dates that are pretty darn sticky. If yours are super dry, you can add more peanut butter or water to help it blend, but the stickier the dates, the easier it is to handle. Don't soak them though because I think that will make them soggy!
Otherwise, I think you're good to go! I know you're going to love these – they're great for kiddos, they hold up well and also are a great sweet treat for a little afternoon pick-me-up!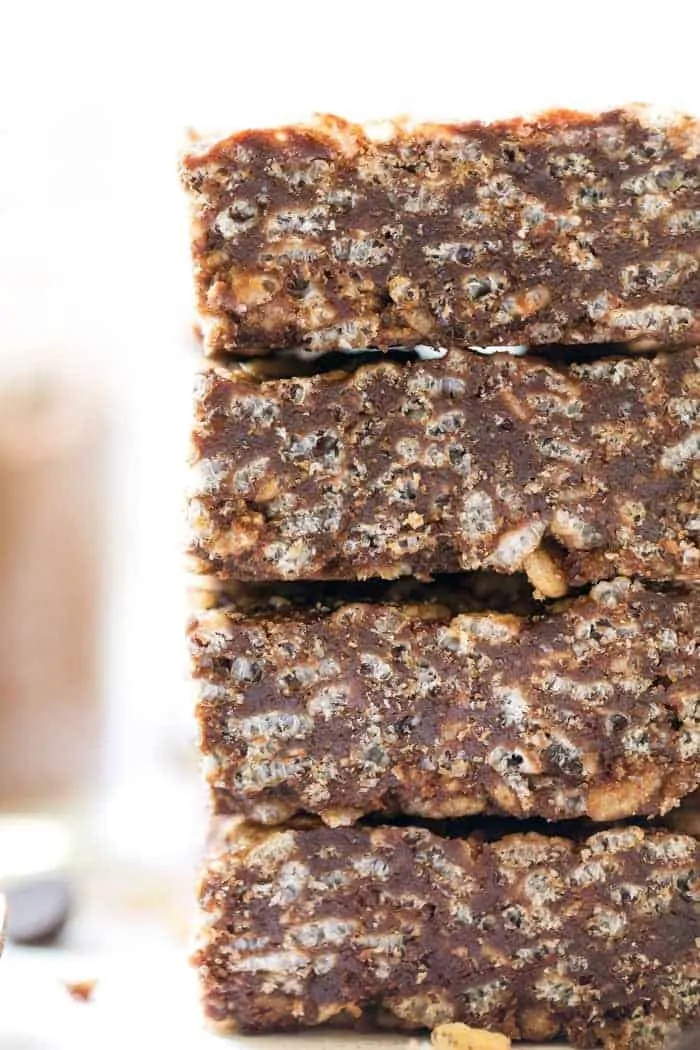 More Chocolate Peanut Butter Recipes to enjoy:
Chocolate Peanut Butter Vegan Rice Crispy Treats
A jazzed up version of this classic dessert, these vegan rice crispy treats are made with 100% whole food ingredients. They're vegan, gluten-free and with that chocolate peanut butter combo, you'll never go back!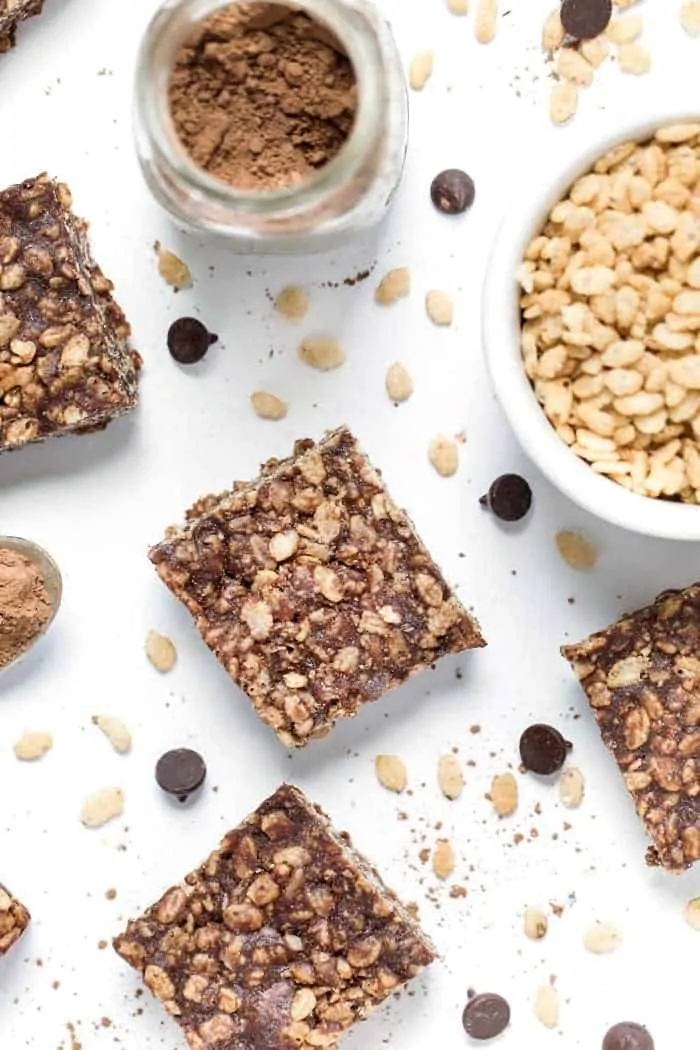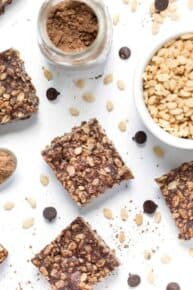 Instructions
Add the dates, peanut butter, cacao and syrup into a blender or food processor. Process until a smooth dough forms. This won't be very sticky, more of an energy ball consistency. Depending on the softness of your dates and creaminess of your peanut butter, you might need to add a splash or two of water to help the mixture get smooth.

Transfer this mixture to a bowl and add half of the crispy cereal. Using your hands, fold the cereal and dough together until combined. Add another 1 cup of cereal and repeat until you've used all the cereal and it's evenly combined throughout the "dough".*

Grease an 8X8 baking sheet (or line with parchment paper) and place the rice crispy mixture into the pan.

Using your hands, firmly press the mixture into the pan until all the corners are filled and the bars feel firm. If you're having trouble, use a flat-bottomed glass or jar to press down.

Refrigerate for 1 hour to help firm the bars up.

Remove from fridge and cut into bars. For best results, keep bars stored in the fridge in a covered container.
Nutrition
Serving:
1
bar
|
Calories:
109
kcal
|
Carbohydrates:
16
g
|
Protein:
2
g
|
Fat:
4
g
|
Sodium:
74
mg
|
Potassium:
151
mg
|
Fiber:
1
g
|
Sugar:
9
g
|
Vitamin A:
480
IU
|
Vitamin C:
4.5
mg
|
Calcium:
14
mg
|
Iron:
2.6
mg
Filed Under: