These Chocolate Peppermint Vegan Macaroons are the perfect holiday cookie! They're vegan, gluten-free, and made with only 10 ingredients. Plus, they taste simply amazing!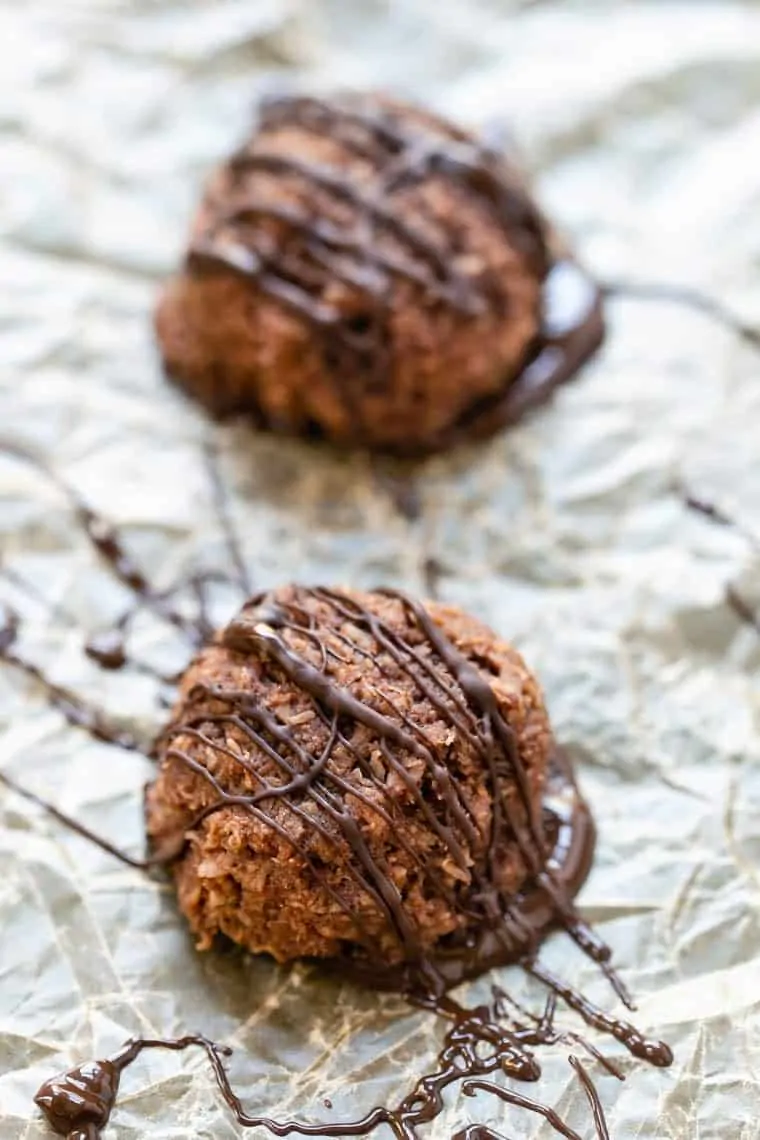 Cookies are one of my absolute favorite things to make, especially at the holidays. With Christmas lights twinkling in the background, and a fresh batch of cookies on the coffee table, surrounded by my family and my pup, I'm probably at my happiest.
And to me, cookies are the ultimate holiday treat. Mainly because they're easy to make and are amazing gifts. Who wouldn't love unwrapping a box of fresh, healthy cookies? I for one would be thrilled!
So today we're going to make some vegan macaroons but give them a little extra festive twist! Rather than the classic flavor, we're adding chocolate and peppermint! And then we're drizzling some extra chocolate on top because it's the holidays and we can.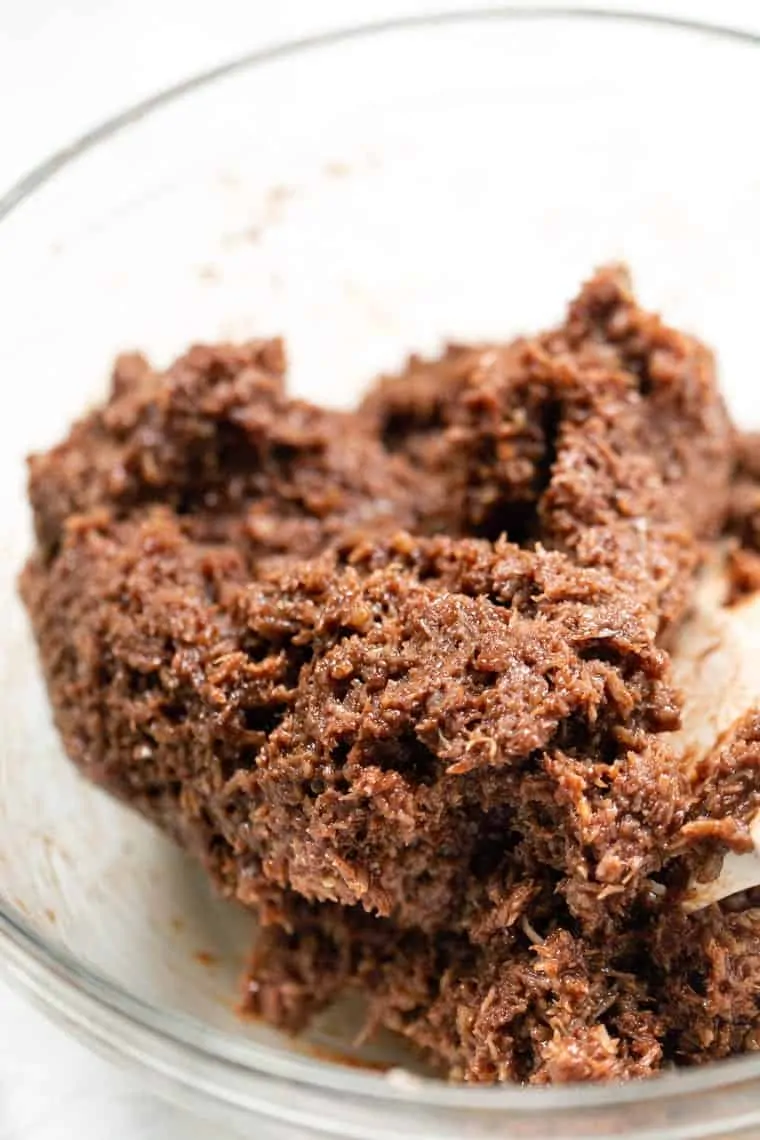 Ingredients for Vegan Macaroons
These chocolate peppermint macaroons are actually a cinch to whip up. We're using the traditional base for macaroons (shredded coconut), but we're simplifying it. No need to worry about egg whites or getting the right consistency. It's essentially a stir, drop and bake kind of recipe!
Here are the ingredients we're using for our vegan macaroons:
Shredded coconut: make sure that you don't buy sweetened! We want the unsweetened variety and we want it shredded not flaked. Again, this is the traditional base of macaroons.
Almond flour: another traditional ingredient in macaroons, almond flour helps soak up some of the liquid, gives them a nice soft texture and has a lovely subtle flavor as well.
Cooked quinoa: because why the heck not!? You can totally leave this out and replace it with more coconut if you'd like.
Cacao powder: for our chocolate, I'm opting for cacao powder, but you could also use unsweetened cocoa powder if that's what you have on hand.
Flax egg: since we don't have to worry about these rising, we're using a flax egg instead! Not sure how to make one? Check out our flax egg tutorial!
Coconut oil: helps give them some moisture and hold them together while they chill in the fridge.
Maple syrup: my favorite natural sweetener and it works so well with chocolate!
Almond butter: for a little extra flavor boost! You could also totally use cashew butter or peanut butter if you wanted (but that combo with the peppermint might be a little strange).
Peppermint extract: again, this ingredient is optional, but gives them a holiday twist. If you're not baking them during the holidays, then you can totally keep them just simple chocolate.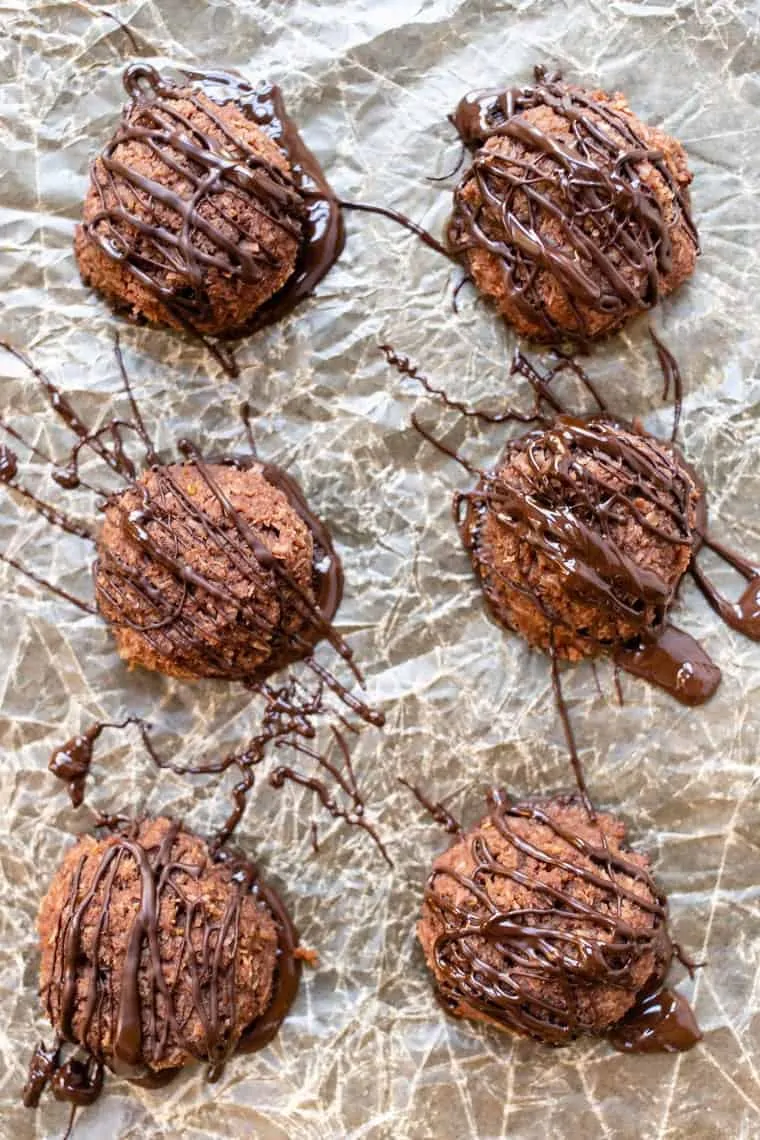 How to make Vegan Macaroons
Similar to other cookies, these chocolate macaroons are quick and easy. What's great about this recipe is that it uses just one bowl!
We start by combining all our dry ingredients together in the bowl and then stirring them up. Once they're combined you can add in your wet ingredients and fold it all together until you have a cookie dough!
To get the classic macaroon shape, I recommend using a cookie scoop to form them. You'll scoop out about a golf ball-sized bit of dough using your scoop, then drop them onto your baking sheet. Once you've filled the baking sheet, use your hands to reshape the cookies into that perfect little dome. I recommend also pressing the ingredients together a bit to avoid some crumbling post bake.
And once you're cookies have baked and cooled, it's so delicious to dip them into some dark chocolate and finish them with a cute little drizzle. Just makes them a touch more fancy and special!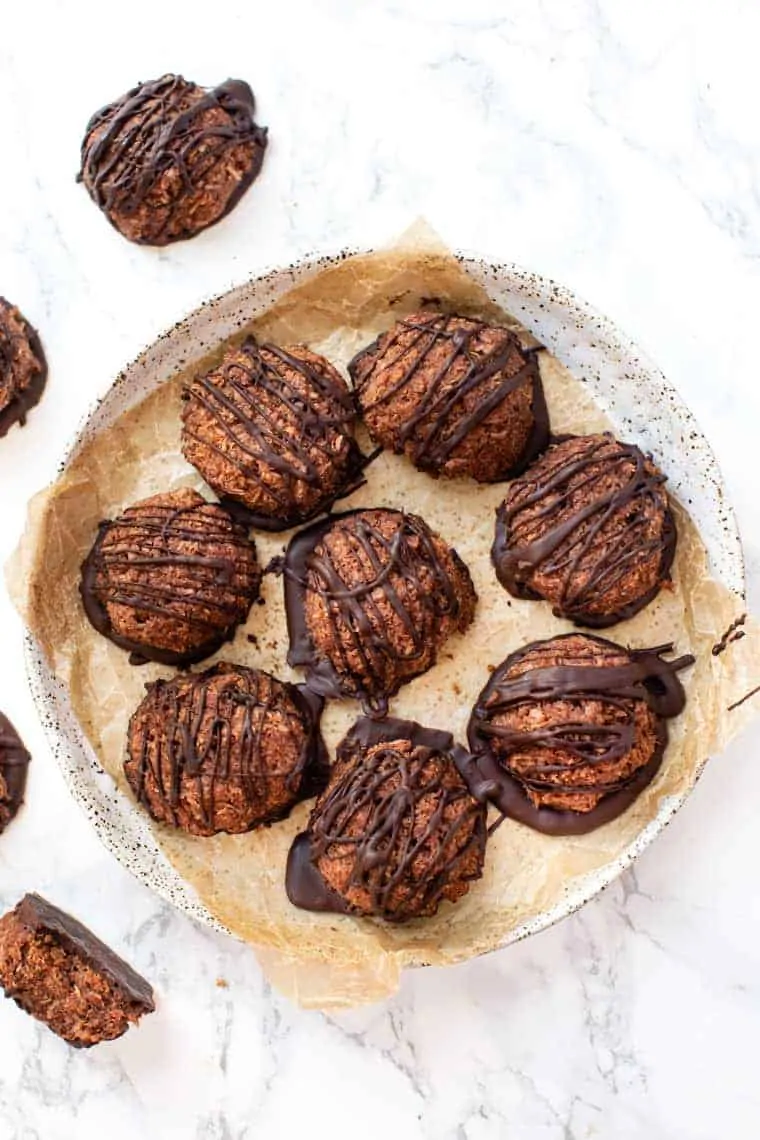 Tips & Tricks for Vegan Macaroons
Okay so let's chat about just a few tips and tricks before you jump into making these babies!
If your cookies are crumbly: make sure that you really press the cookies together on the baking sheet before you bake them. Thill will help them stick together. You also want to make sure you let them cool completely before dipping them into chocolate.
If you're not vegan: if you're not vegan, you can totally swap out the flax egg and maple syrup with a chicken egg and honey. Those two things will work equally the same, but the cooking time might need to be adjusted slightly. Check them a little before the recommended time to make sure they don't burn.
If you don't like peppermint: again, if you're not a peppermint fan you can simply leave it out! Or you could swap it with another extract like orange or almond.
Can You Freeze Macaroons?
The best way to store these cookies is in the freezer. They'll last the longest and won't go bad. They also won't lose their texture which is great!
If and when you do freeze them, simply wrap them up in foil, put them in a plastic bag and you're good. When it comes time to eat them, let them come to room temperature naturally.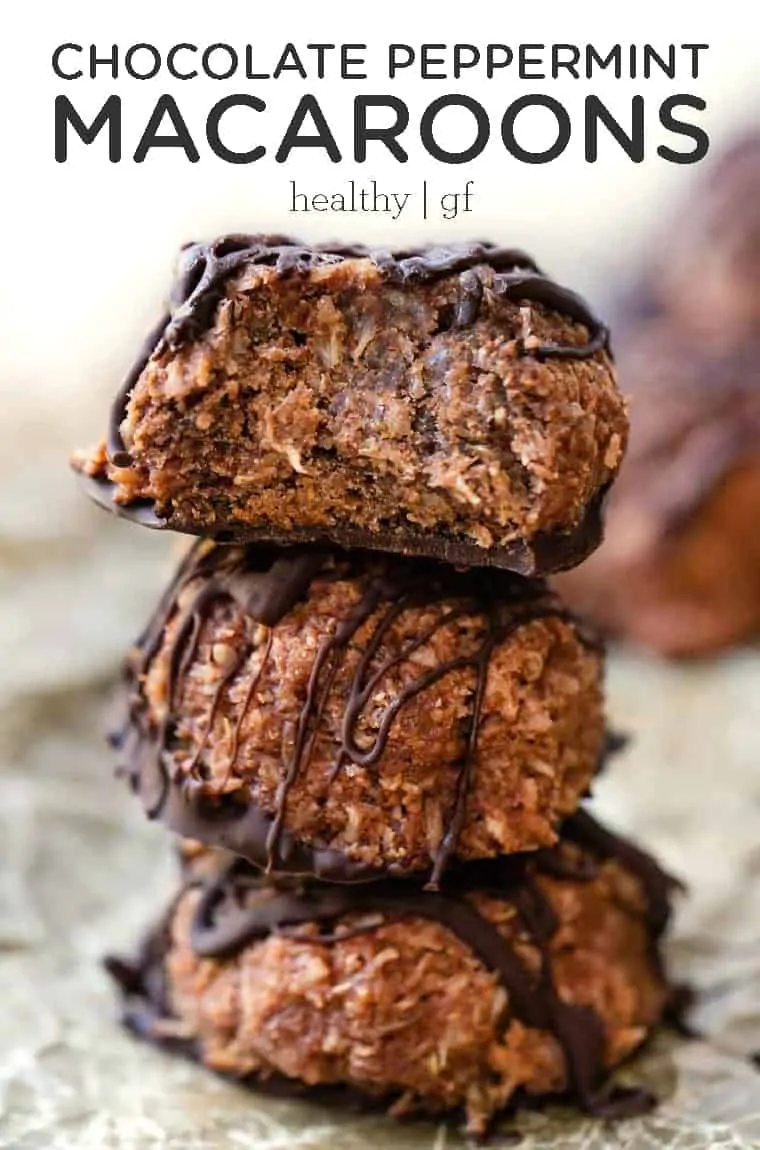 And that's pretty much it my friends! Now it's time to get baking. I hope y0u enjoy these vegan macaroons and have the best time making cookies this holiday season. Make sure to share photos with me on Instagram if you end up trying them – tag @simplyquinoa with your creations ❤️
More Healthy Holiday Cookies Recipes
Chocolate Peppermint Vegan Macaroons
These Chocolate Peppermint Vegan Macaroons are the perfect holiday cookie! They're vegan, gluten-free, and made with only 10 ingredients. Plus, they taste simply amazing!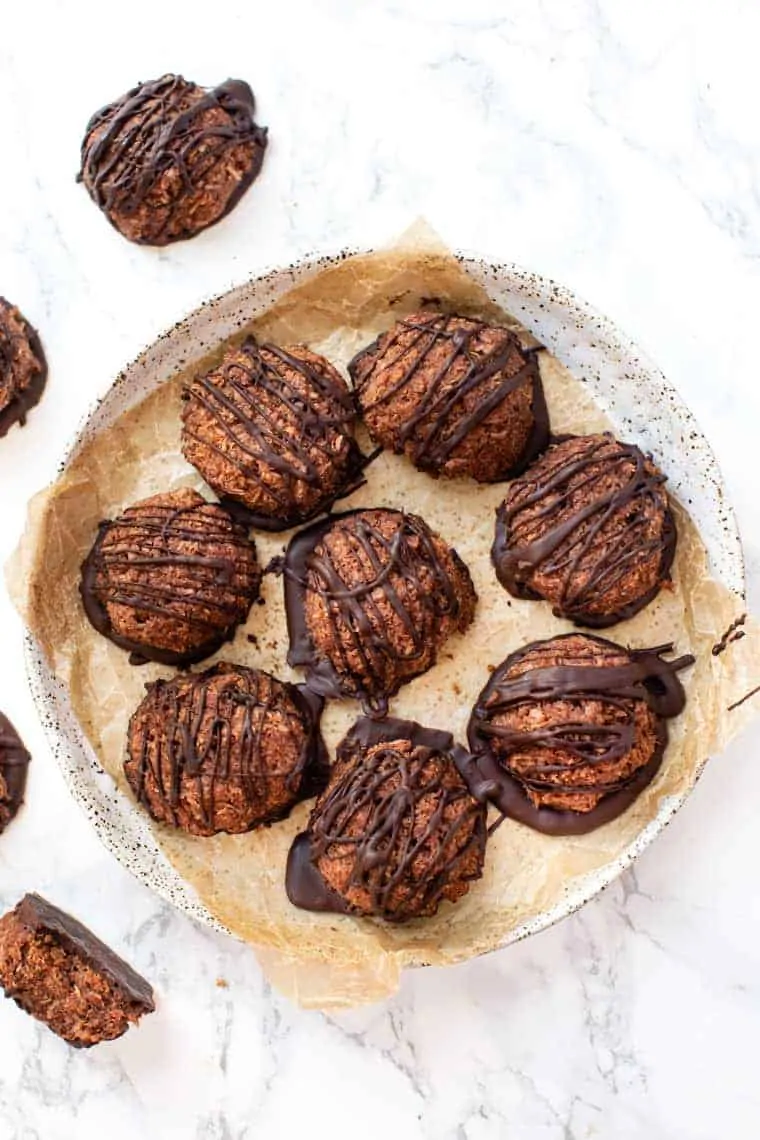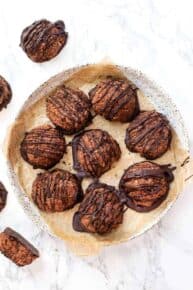 Instructions
Preheat the oven to 325ºF. Line a baking sheet with parchment paper and set aside.

Mix dry ingredients in a large mixing bowl. Add the wet ingredients into the bowl and then mix it all together.

Using a cookie scoop, form the dough into little domes. If they feel like they're falling apart a little, press them together with your hands. Repeat until no dough remains.

Bake on the center rack for 16 - 18 minutes, until the cookies are slightly browned. Remove and cool on a wire rack.

If using, melt chocolate chips either in the microwave or on a double boiler. Using a spoon, drizzle the chocolate over the cookies.
Notes
If you don't want to use quinoa, simply replace the 1/2 cup quinoa with an additional 1/2 cup coconut.
Nutrition
Serving:
1
cookie
|
Calories:
188
kcal
|
Carbohydrates:
12
g
|
Protein:
3
g
|
Fat:
15
g
|
Saturated Fat:
11
g
|
Cholesterol:
1
mg
|
Sodium:
43
mg
|
Potassium:
164
mg
|
Fiber:
3
g
|
Sugar:
6
g
|
Vitamin C:
1
mg
|
Calcium:
53
mg
|
Iron:
1
mg
Filed Under: