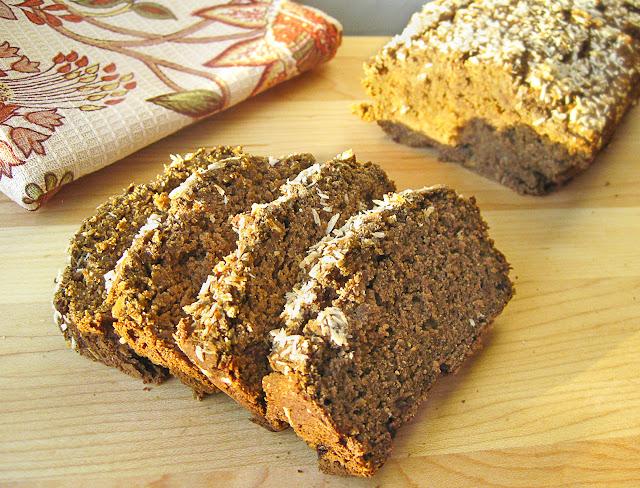 Beets and Chocolate. An usually delicious combination.
Yes, it's true. I'm guilty. Another gluten-free quick bread recipe. Trust me, it's not that I'm getting stale or bored in the kitchen, it's just that I really love sweet breads (I also have a new found adoration for gluten-free muffins!). Especially for breakfast. Smothered in almond butter. Mmm.
As difficult as it is for some people to wrap their heads around living and eating gluten-free and dairy-free, it is breads like this that make me realize how lucky we actually are. As delicious and enjoyable as all those gluten-filled treats once were (and probably still are), I'm absolutely loving perfecting my own gluten-free baked goods.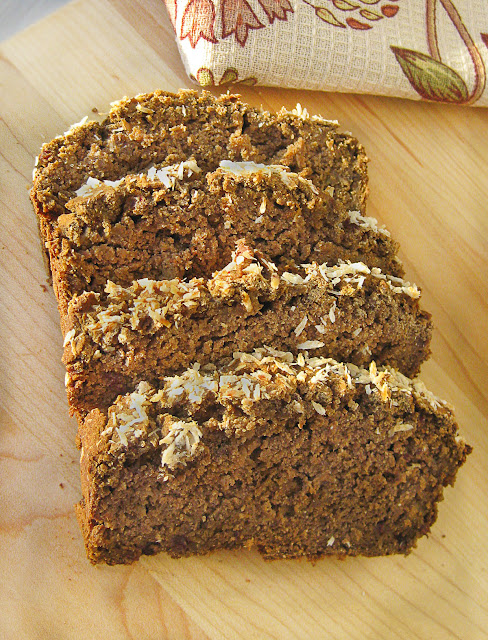 Wintertime in Vermont can be hard. It's often gray and gloomy, bitter cold, with wind so fierce it pierces through your clothing and chills you to the bone. Luckily, this winter has been fairly mild and we haven't had too many of those bone-chilling days.
When looking for ingredients to use in my cooking, like many others, I value local, organically grown produce. Well, here in VT we have a very short growing season. Our time frame to get fresh, local produce is limited and strolling down the asiles of the Farmer's Market every other weekend, seeing primarily root vegetables, can be disheartening. Spring seems so far away.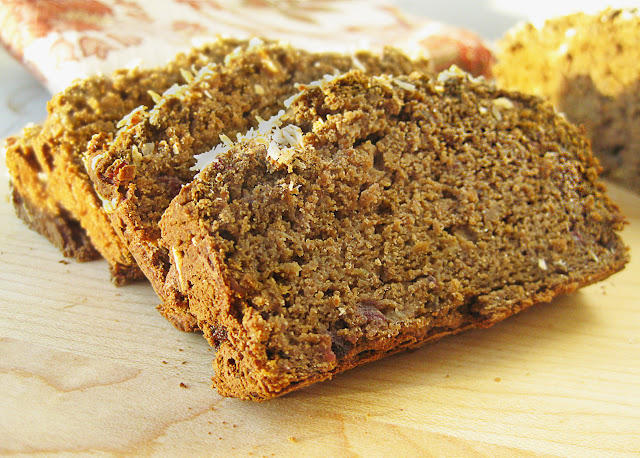 Root vegetables on my mind.
But now, the weather is getting warmer and Spring seems less out of reach. I find myself gravitating more towards root vegetables. I know, strange right? I'm craving creamy soups and heart warming comfort foods. Searching for new flavors. It's like I'm trying to relish the taste of winter as much as possible before it disappears again.
I have a love-hate relationship with the VT winter.
This particular recipe came together kind of randomly. Eating the last piece of my gluten-free carrot nut bread for breakfast, staring longingly at the crumbs sitting on my empty plate, I knew I needed to make more. But something different this time around. Something chocolatey.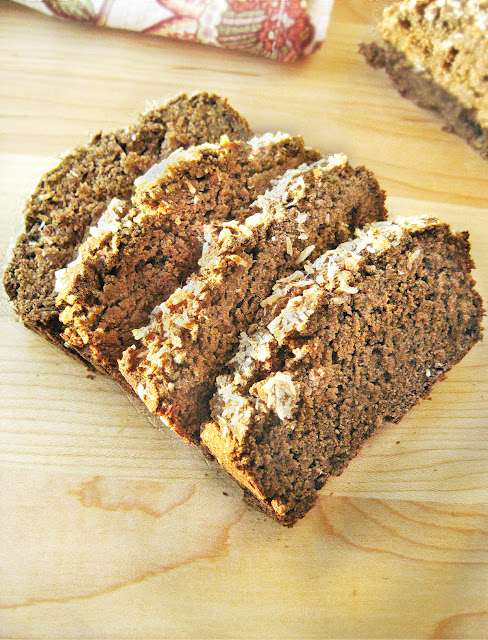 You can never go wrong with chocolate for breakfast.
Cocoa-Beet Quick Bread
Not overly sweet, this breakfast bread is my fun, more playful twist on a my recipe for gluten-free carrot nut bread. I really enjoy baking quick breads, they're easy to put together, the recipes are pretty forgiving, and you're really able to mess around with the ingredients to get the perfect combination.
One of my favorite things about baking gluten-free, is experimenting. Especially with new ingredients and flavor profiles. Who would have thought, chocolate and beets for breakfast? But don't be shy, this gluten-free breakfast bread is definitely a hit.
ingredients:
4 dates, soaked for 15 minutes
1/2 cup canned pumpkin
2 large eggs
1/4 cup unsweetened coconut milk
1/4 cup unsweetened almond milk
2 tablespoon olive oil
2 tablespoons raw cocoa powder
1/2 teaspoon stevia powder
1/2 teaspoon fine sea salt
1/2 cup coconut flour
1/4 cup buckwheat flour
1/4 cup millet flour
1/2 teaspoon baking powder
1/2 teaspoon baking soda
1 cup grated beets
1/4 cup chopped almonds (or other nuts of your choice)
Preheat the oven to 350 degrees F. Line a loaf pan (ceramic works best for gluten-free flours) with parchment paper and set aside.
In a food processor, combine the soaked dates, pumpkin, eggs, oil, spices, stevia and salt. Process until smooth and transfer to a large mixing bowl.
In a separate bowl, whisk the coconut flour, buckwheat flour, millet flour, cocoa powder, baking powder and soda together. Add the dry ingredients to the wet ingredients and stir until combined. Slowly stir in the coconut and almond milks, until you have a nice bread dough, pretty moist like a muffin batter. Gently fold in the beets and chopped nuts.
Transfer the batter into your loaf pan, smoothing the top out with the back of a wet spoon. Bake in the center of a warm oven for 45 – 50 minutes, or until a cake tester inserted into the center of the loaf comes out clean. Cool on a wire rack before slicing.
Makes 1 medium loaf.
Other sweet breads you may enjoy:
Cocoa-Beet Quick Bread
Beets and chocolate may seem like a strange combination, but trust me, you do not want to miss out on this fluffy Cocoa-Beet Quick Bread! Baked with pumpkin, grated beets, dates, and more, it's one of my favorite breakfast bread recipes!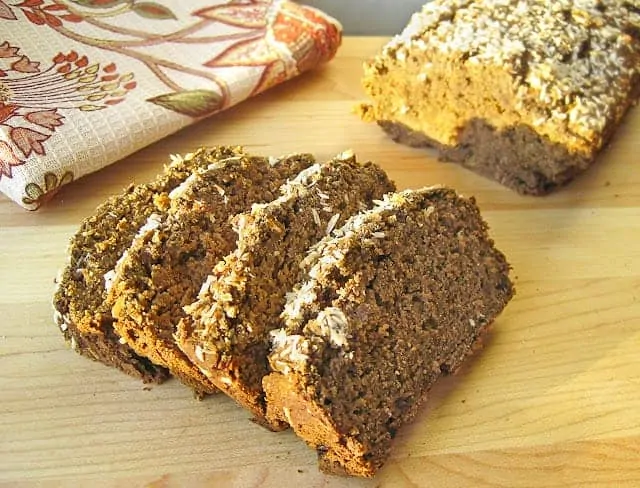 Instructions
Preheat the oven to 350 degrees F. Line a loaf pan (ceramic works best for gluten-free flours) with parchment paper and set aside.

In a food processor, combine the soaked dates, pumpkin, eggs, oil, spices, stevia and salt. Process until smooth and transfer to a large mixing bowl.

In a separate bowl, whisk the coconut flour, buckwheat flour, millet flour, cocoa powder, baking powder and soda together. Add the dry ingredients to the wet ingredients and stir until combined. Slowly stir in the coconut and almond milks, until you have a nice bread dough, pretty moist like a muffin batter. Gently fold in the beets and chopped nuts.

Transfer the batter into your loaf pan, smoothing the top out with the back of a wet spoon. Bake in the center of a warm oven for 45 - 50 minutes, or until a cake tester inserted into the center of the loaf comes out clean. Cool on a wire rack before slicing. (Makes 1 medium loaf)
Nutrition
Calories:
175
kcal
|
Carbohydrates:
17
g
|
Protein:
5
g
|
Fat:
10
g
|
Saturated Fat:
4
g
|
Polyunsaturated Fat:
1
g
|
Monounsaturated Fat:
5
g
|
Trans Fat:
0.01
g
|
Cholesterol:
41
mg
|
Sodium:
272
mg
|
Potassium:
252
mg
|
Fiber:
6
g
|
Sugar:
5
g
|
Vitamin A:
2448
IU
|
Vitamin C:
2
mg
|
Calcium:
51
mg
|
Iron:
2
mg
Filed Under: