Crispy, crunchy, full of oats, honey, and quinoa, these gluten-free granola bars are delicious. They're the perfect healthy snack and great for on-the-go!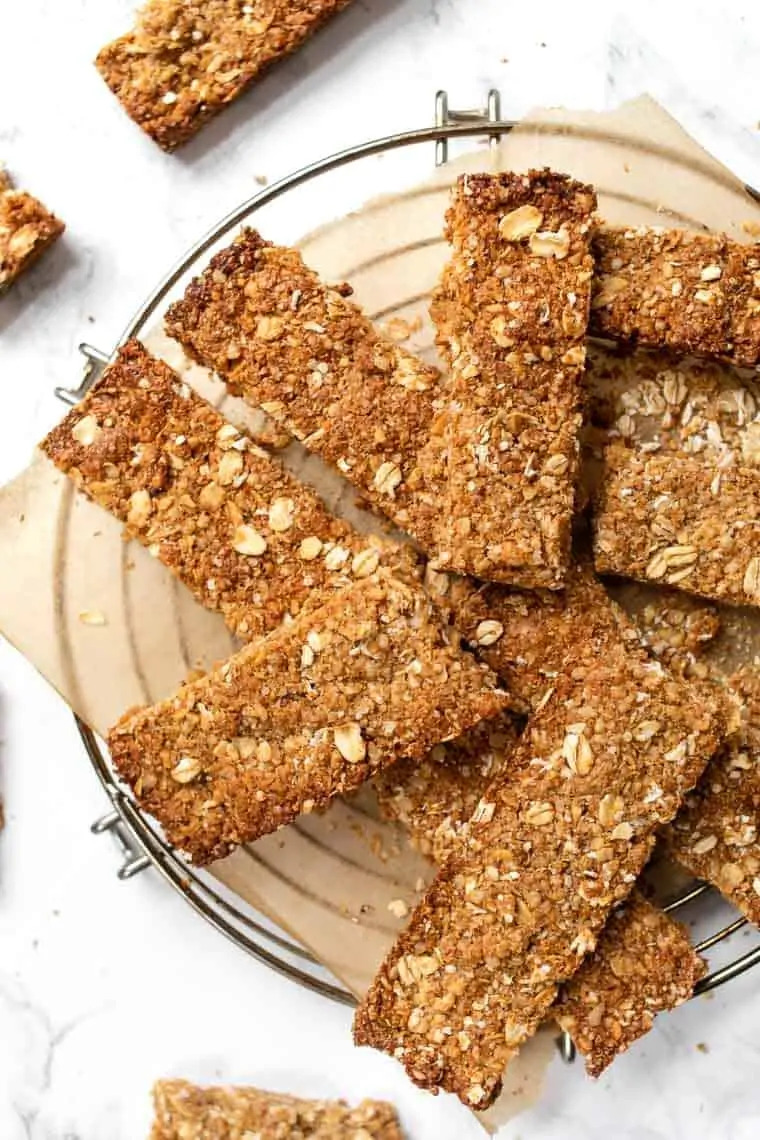 If there's one thing you'll find in my snack stash at all times it is bars. They're something I travel with, I almost always have in my purse and I also use them as a pre-workout snack.
But buying boxes of bars can get a little pricey, not to mention finding ones that are tasty and healthy can be tricky. So I've been on a mission to recreate some of my favorite granola bars into a healthier (and homemade) option.
Today it's these Crispy Gluten-Free Granola Bars with almond butter and honey. They're crunchy, they're sweet, they're a cinch to whip up and they're actually healthy. With just 6g of sugar, 117 calories and 3g of protein, they make the perfect little snack!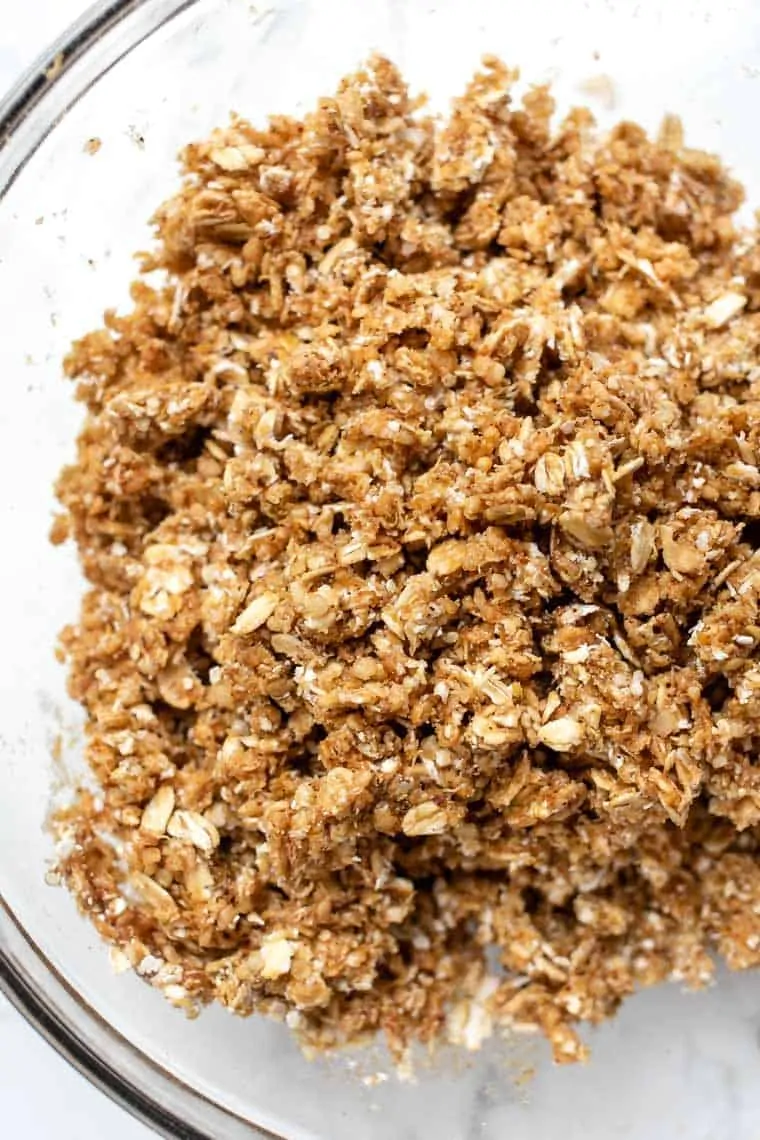 Ingredients for our Gluten-Free Granola Bars
When I was creating these quinoa granola bars in my head, I was trying to replicate the texture and crunch of a Nature Valley bar, but make them healthier and with fewer ingredients. I wanted that crispy, I wanted some sweetness and I wanted something that I'd be able to make ahead and take with me on busy days.
These gluten-free granola bars tick all those boxes and more. They use just 9 ingredients, are super easy to make, are ultra crispy and they taste phenomenal.
Here are some of the ingredient highlights:
rolled oats: the main base of these granola bars which add fiber and texture
quinoa flakes: high in protein and fiber, but also helpful in holding these bars together
quinoa crispies: adds that nice crunch that I was looking for
honey: one of the best natural sweeteners out there and so tasty in these gluten-free granola bars
almond butter: high in protein, a healthy fat, great for flavor and one of the ways we keep these from crumbling
Add those 5 superstar ingredients in, along with a few others for flavoring and you've got one dang good granola bar on your hands!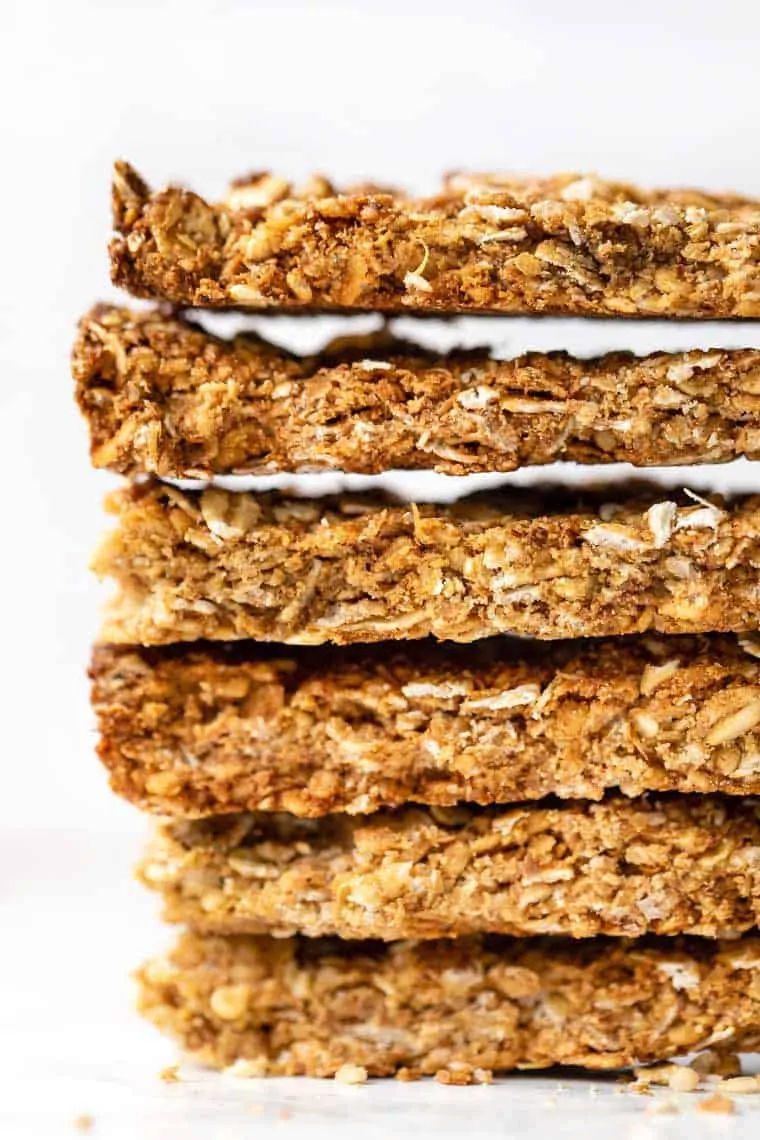 Tips for Getting Granola Bars to Stick Together
One of the challenges that you might face when you make homemade granola bars is getting them to stick together. Especially when you're baking them. But after making batch after batch of these granola bars, I have a few tricks up my sleeve that might help you from having a crumbly mess on your hands.
1. Use a Liquid Sweetener
When sugar cooks it starts to caramelize and when caramel cools, it hardens. That's the trick I use when I'm making a baked granola bar. I either make sure to use honey and maple syrup – usually mixing it with some nut butter – and once it bakes and cools, it should help your granola bars stick together!
2. Use Your Strength
Next up is your muscles. Specifically, how hard you press that granola bar mixture into the pan. You want to press hard. Like really, really hard. Get the mixture has compacted as you can and if you need help, use the bottom of a flat glass, jar or measuring cup to help you. This will help everything hold together once it's baked!
3. Score Before You Break
And my final tip is to score your granola bars as soon as they come out of the oven, then let them cool completely and then break them into bars. Scoring just means to cut light lines into the warm bars so then when you do cut them completely through, you're breaking them on even lines. Check out the video at the end of the post to see what I mean!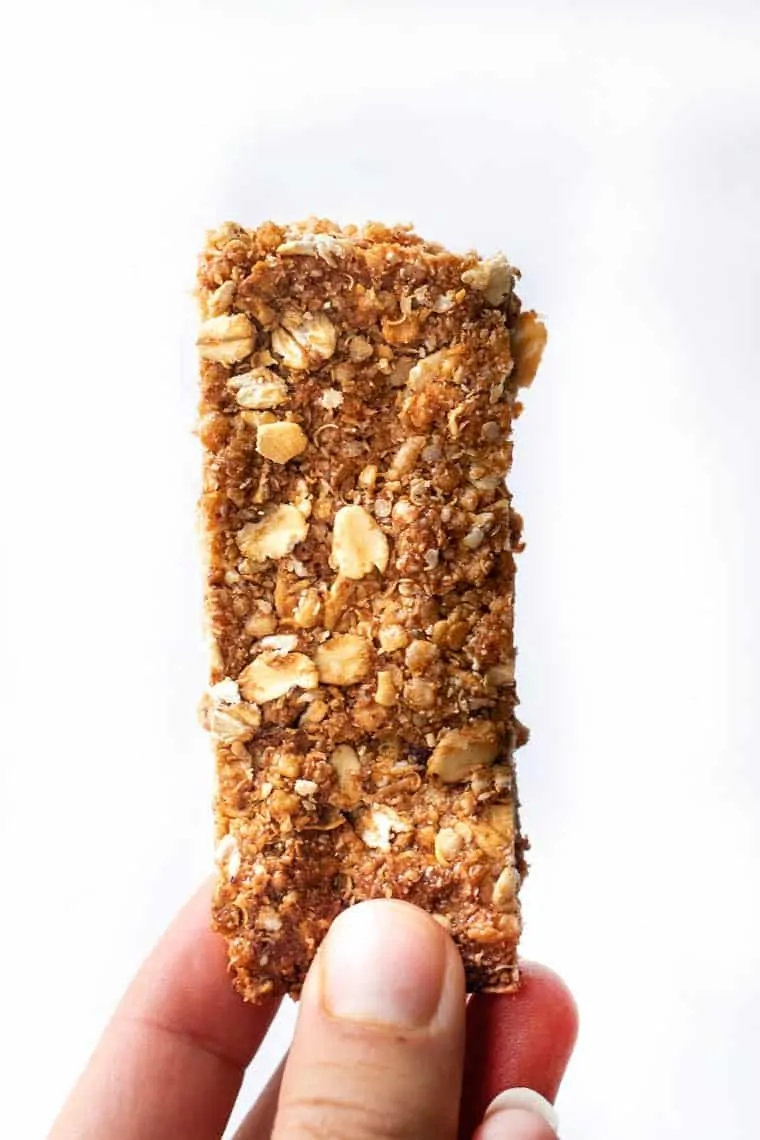 The Healthiest Granola Bars
It's no secret that making things at home is almost always healthier than the store-bought options. And I'd say that's especially true with things like granola bars.
The healthiest granola bars out there? Definitely homemade ones.
Why? Because many store-bought granola bars are loaded with sugar, unhealthy oils, additives, and preservatives. Not to say that you can't find healthy ones out there, but it can be tricky. And when you have options like these crispy gluten-free granola bars which are healthy, make-ahead friendly and fairly low sugar, it's kind of a no brainer!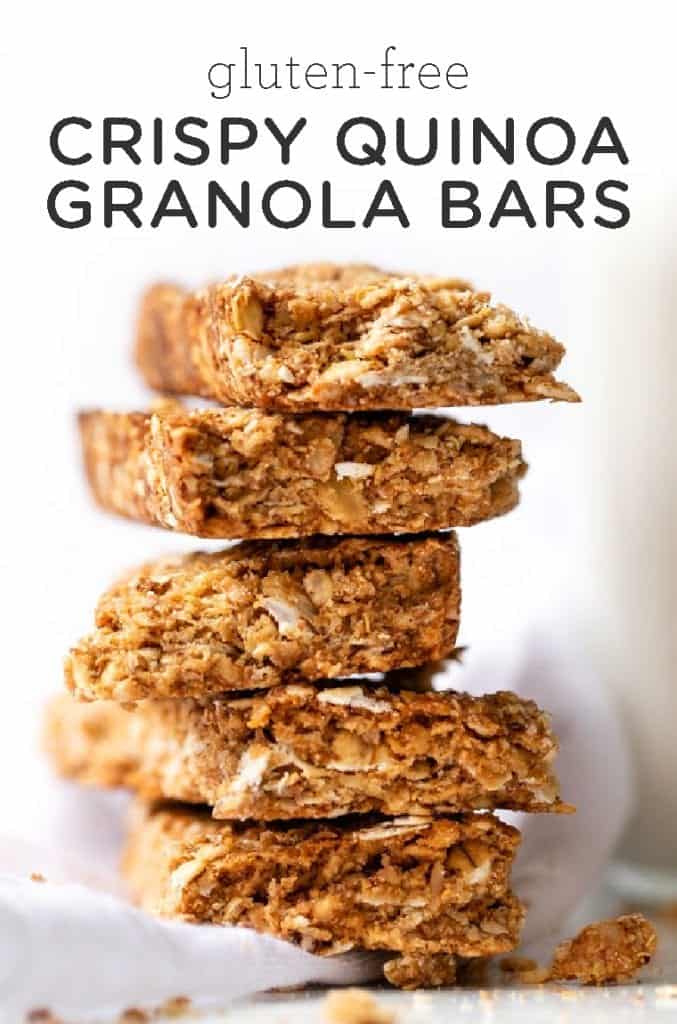 More Healthy Gluten Free Snack Ideas
Crispy Gluten-Free Granola Bars with Quinoa
Crispy, crunchy, full of oats, honey and quinoa, these gluten-free granola bars are delicious. They're the perfect healthy snack and great for on-the-go!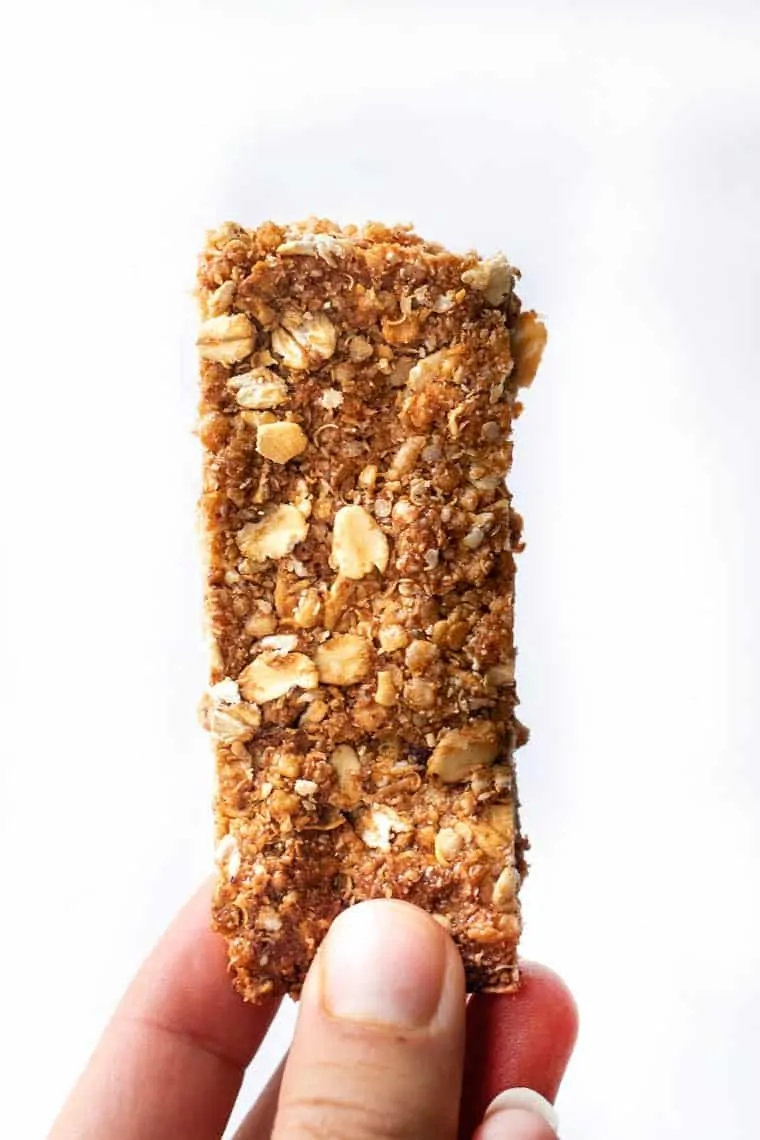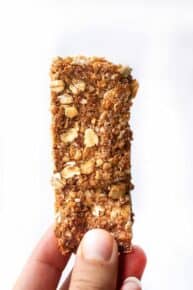 Instructions
Preheat the oven to 350 degrees F and line an 8 x 8 baking dish with parchment paper.

Mix together dry ingredients and set aside.

Melt the honey and almond butter together. Then pour over the dry ingredients and mix together until everything is combined.

Transfer the granola mixture to the prepared baking dish and press down with your hands (hard). Press, press, press. Make sure it's fully into all the corners and packed in there.

Bake for 16 - 18 minutes until the bars have started to brown. Remove and immediately slice into bars, but keep it in the pan to let it cool completely.

Once they're cooled, remove them from the pan and break them into bars.
Nutrition
Serving:
1
g
|
Calories:
117
kcal
|
Carbohydrates:
16
g
|
Protein:
3
g
|
Fat:
4
g
|
Sodium:
99
mg
|
Potassium:
110
mg
|
Fiber:
2
g
|
Sugar:
6
g
|
Calcium:
37
mg
|
Iron:
0.9
mg
Filed Under: