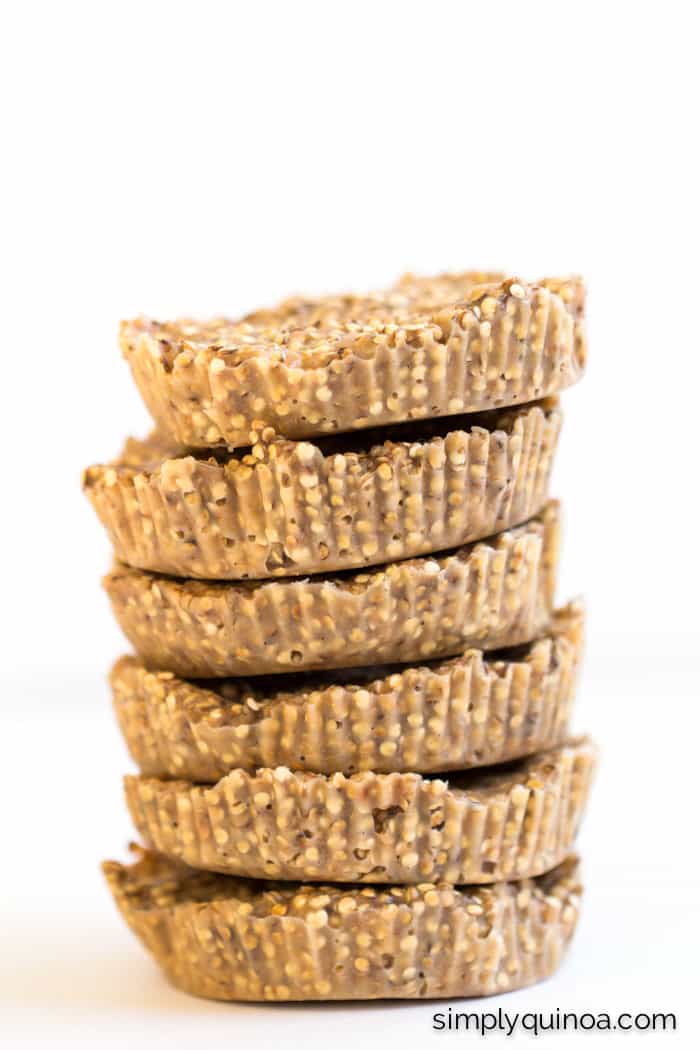 I've always had a love affair with coconut.
I mean it comes in practically every form imaginable at this point, and I've used it in almost every form on this blog. Coconut oil is the primary oil I cook with. Coconut sugar is the sugar I use in my baking. Coconut milk is used in everything from soups to desserts. And the list goes on.
But I have to say, I think my most favorite way to enjoy coconut is when it's toasted.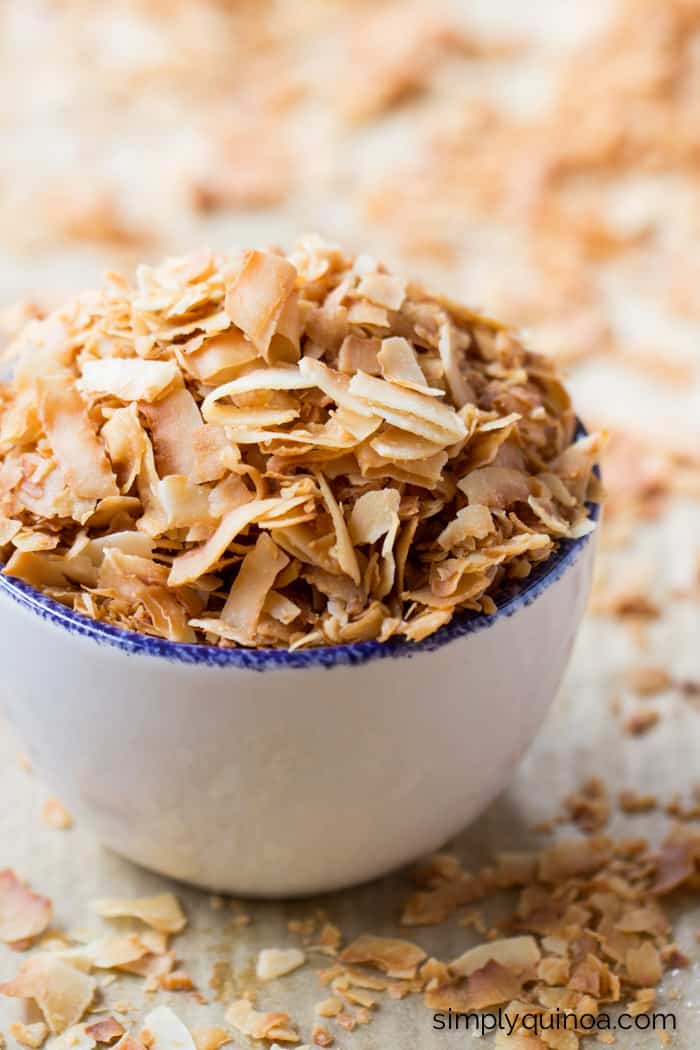 There's something magical about the flavor that comes from toasting coconut. I find that it brings out the sweetness of the flakes, while also adding a subtle nuttiness and smokiness to the flavor. It's one of those things that is mild enough that it doesn't overpower things, but it still stands out and brings a richer flavor to anything it's paired with.
Take my toasted coconut breakfast cookies. Not only did the coconut flakes add a bit of crunch to the cookies, but the the fact that the coconut was toasted really made the cookies different. The nut butter was more pronounced and I feel like they taste sweeter without the need for a ton of added sugar.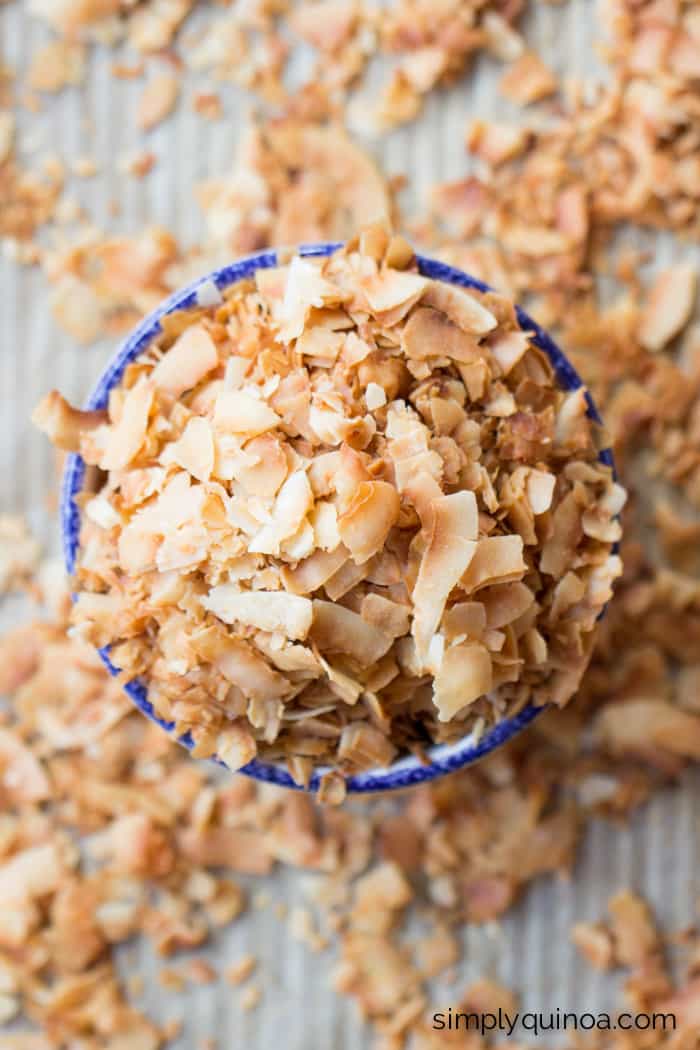 Today, we're taking simple toasted coconut flakes and transforming them into butter. That's right! The jar of super expensive coconut butter that you see at the grocery store? You can totally make it at home.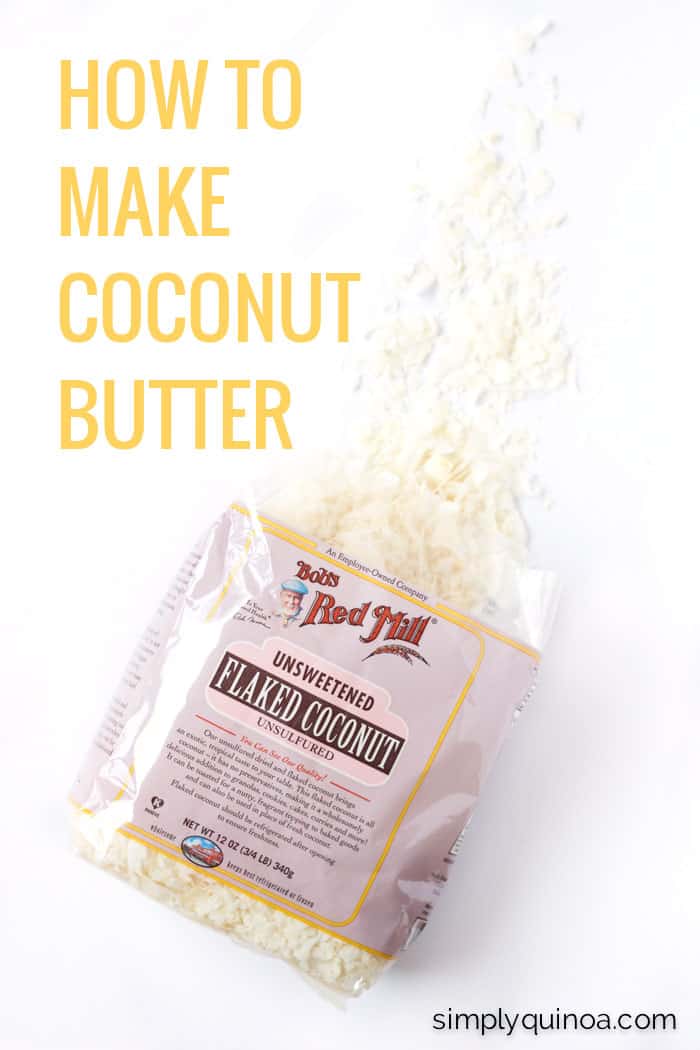 For this recipe I'm using Bob's Red Mill coconut flakes.
I've raved about their other products before, and their coconut flakes are every bit as amazing as I expected. Not only do their coconut flakes come in a conveniently portioned bag (about 4 cups total), but the also aren't super large which makes them perfect for making into butter. I can go through a bag of these flakes in no time.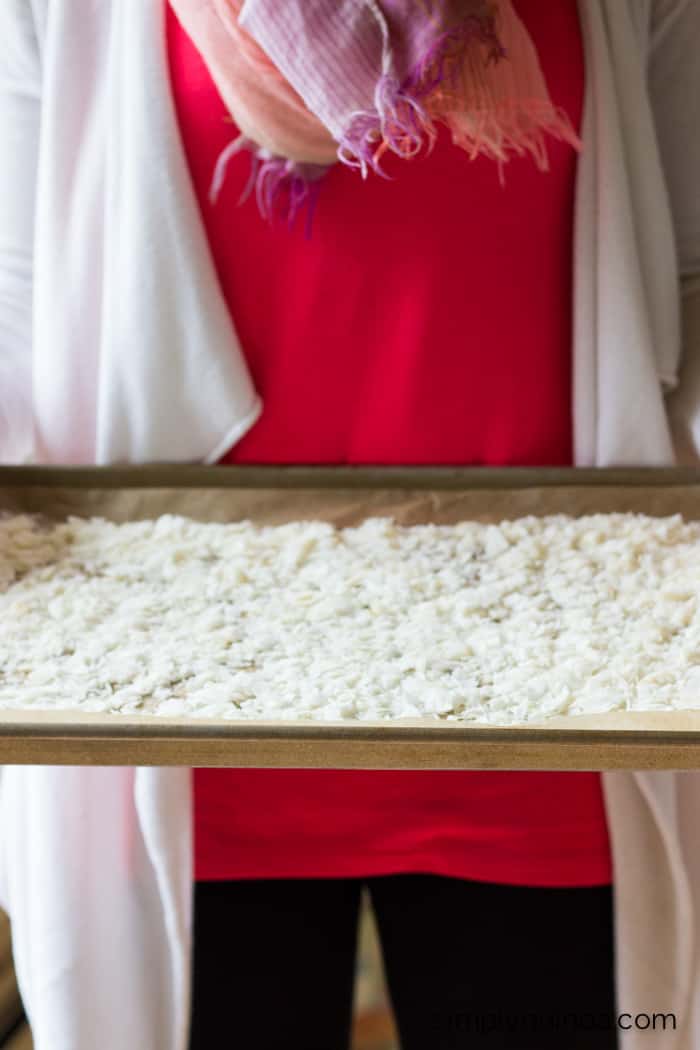 When you're starting with the butter, we begin by toasting the coconut flakes. I used a 325º oven, spread them out on a baking sheet and toasted them for about 10 minutes (5 on each side).
Once they're perfectly golden brown, you've got to let them cool before adding them to your food processor. When they're cooled, it's time to get blending (or grinding I guess).
Here are the four stages that the coconut flakes will go through as their transforming into toasted coconut butter.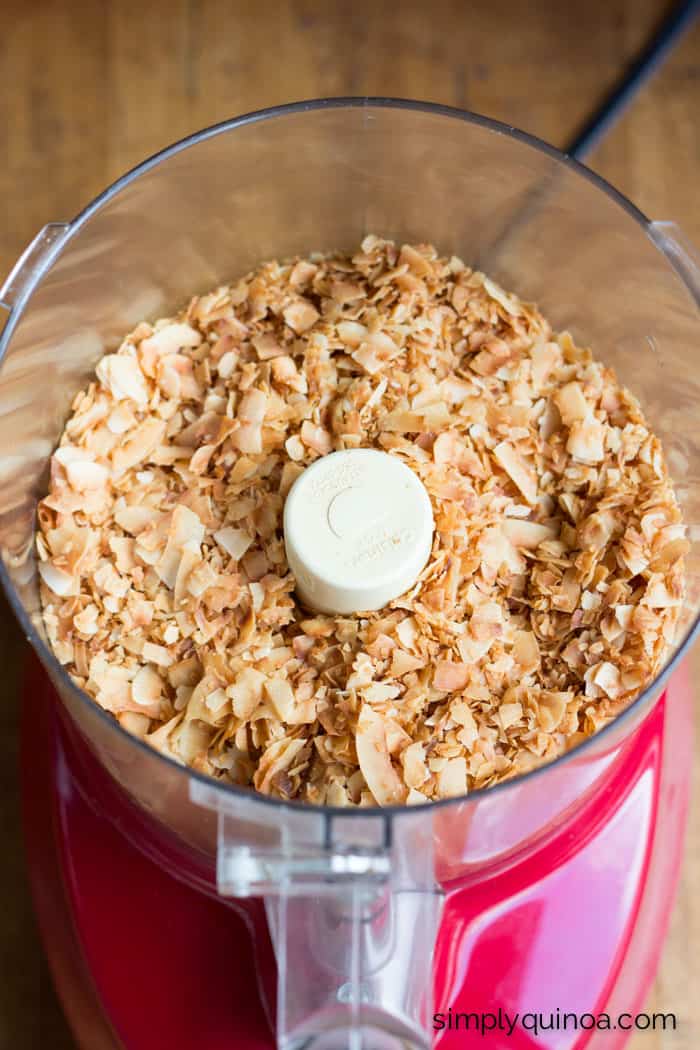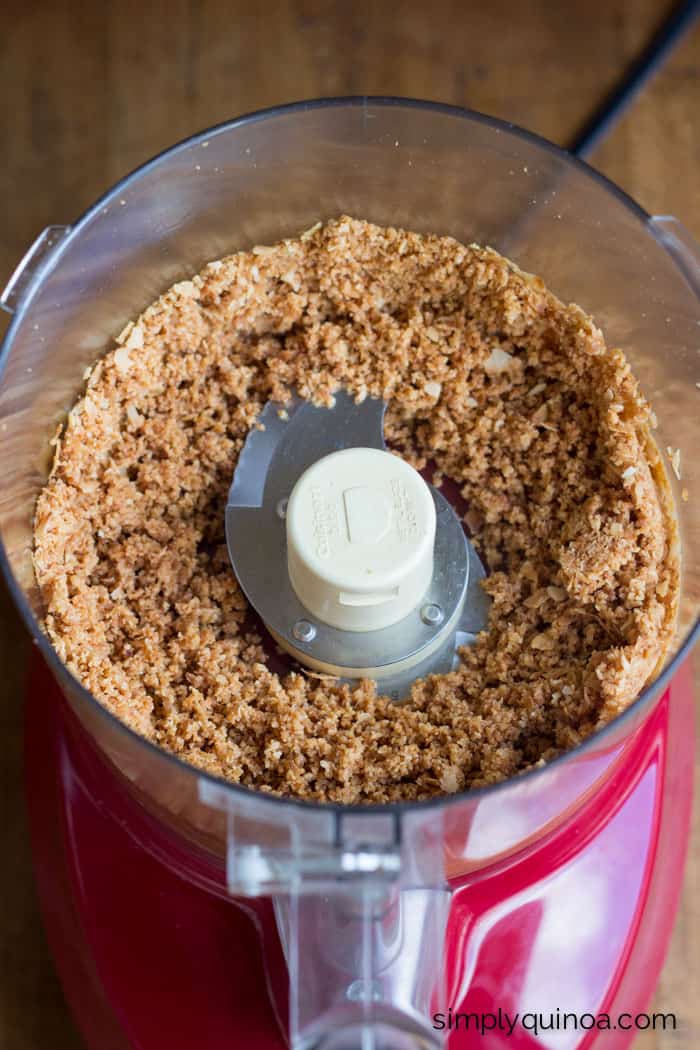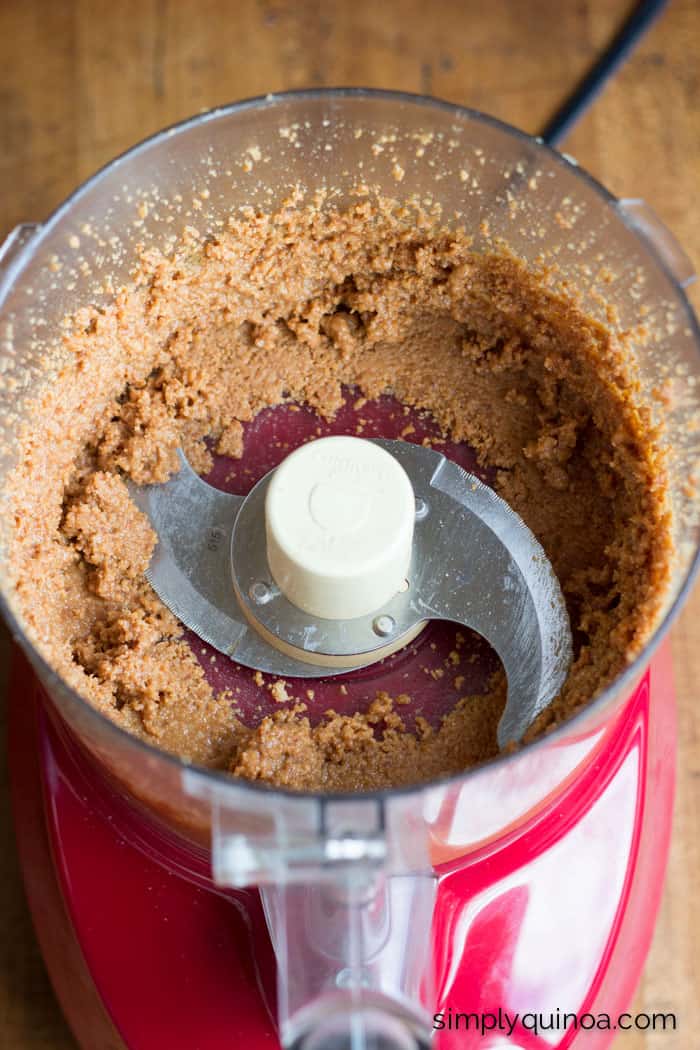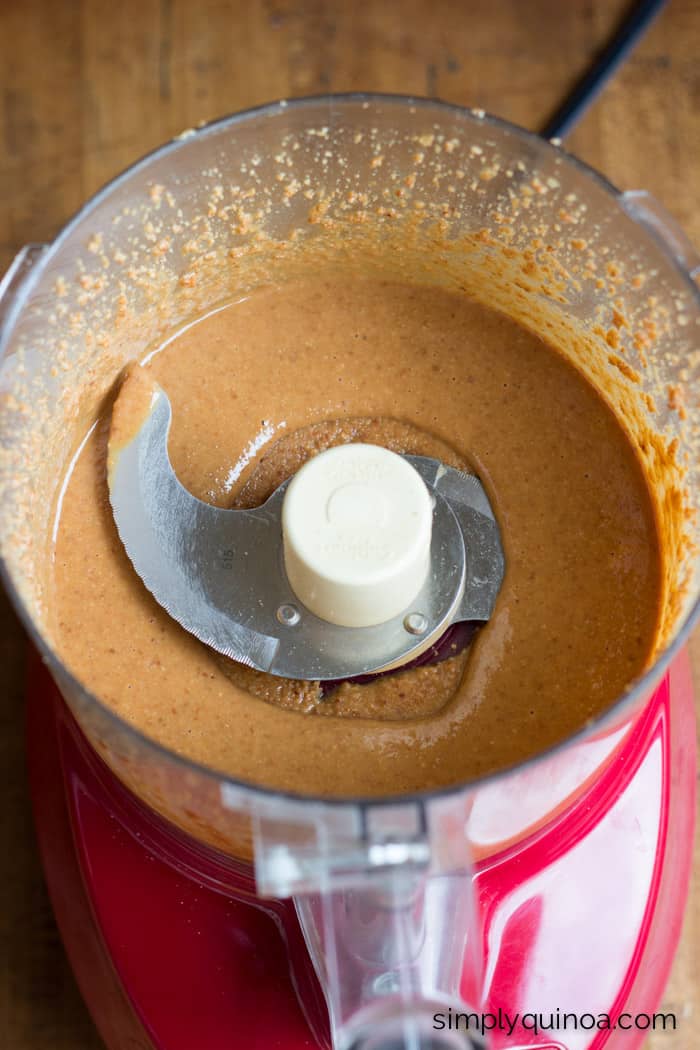 I do want to note that as you're blending, you will probably need to scrape down the sides a few times. You also don't want to stop too early. Keep on processing until the butter turns smooth. It could take up to 15 minutes!
The result? This creamy, dreamy toasted coconut butter.
You can simply enjoy it as is….OR you can turn it into these delicious crunchy quinoa bites.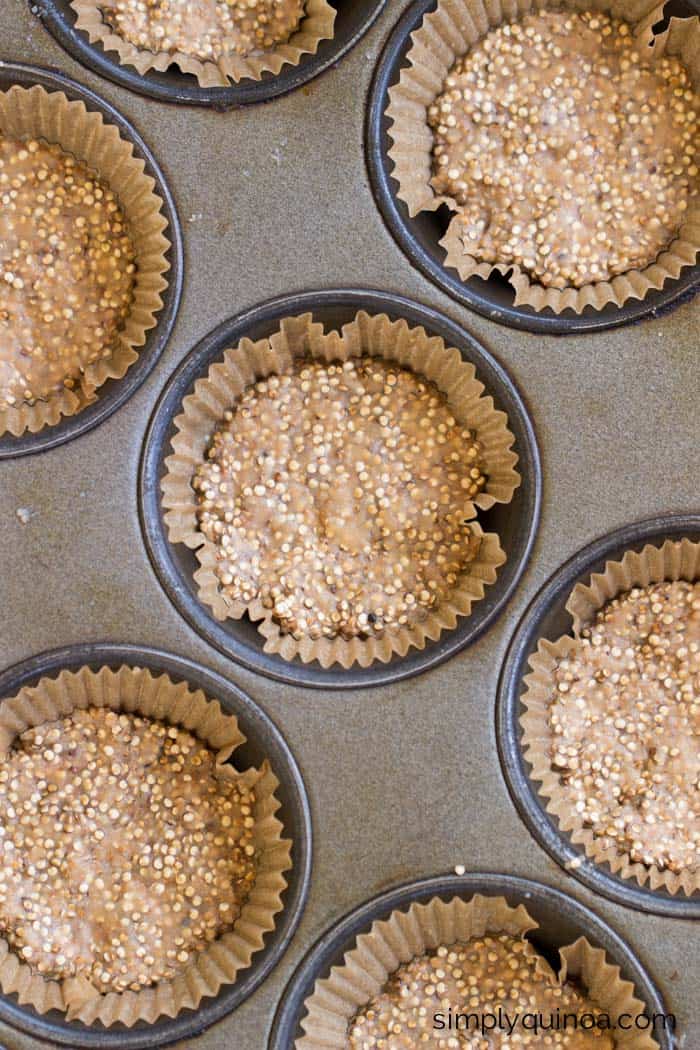 These are a cross between a snack and a dessert. Slightly sweet, filled with healthy fat to fill you up, loads of roasty-toasty flavor and with a satisfying crunch to top it off.
Plus, they only use 5 ingredients! Toasted coconut butter, cashew butter, coconut oil, maple syrup and toasted quinoa.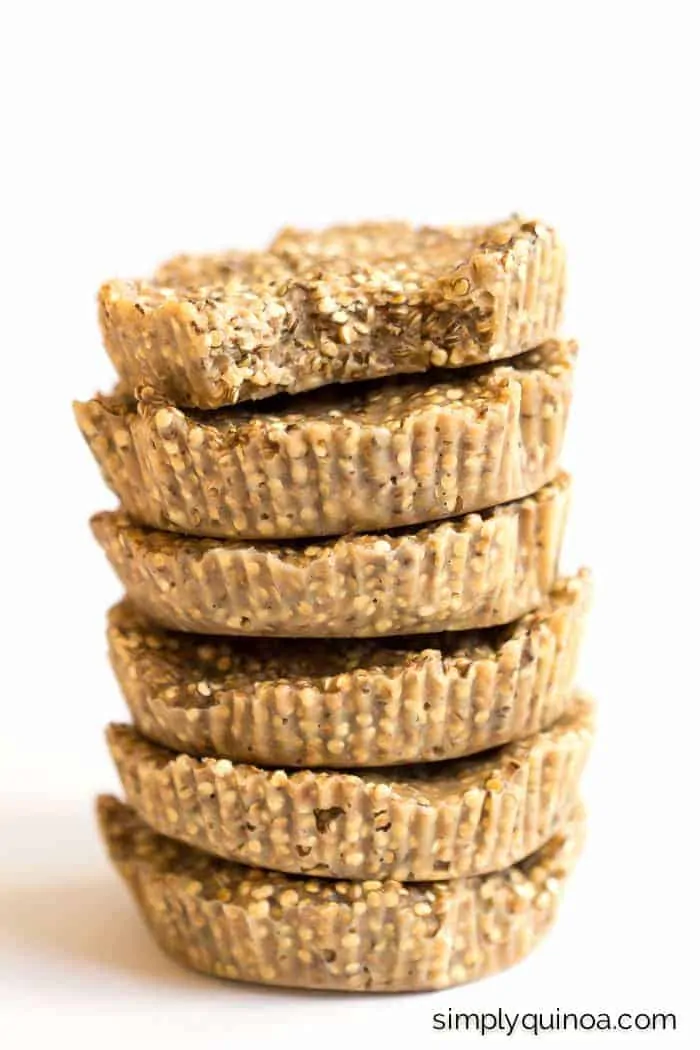 Snack time is here and these quinoa bites are calling!

PS: if you make this recipe (or any others!) make sure to snap a pic and share it on Instagram using hashtag #SIMPLYQUINOA – I want to see your creations!
Crunchy Toasted Coconut Butter Quinoa Bites
These healthy Toasted Coconut Butter Quinoa Bites are a quick and easy recipe that tastes delicious! Full of healthy fats, packed with protein and delish!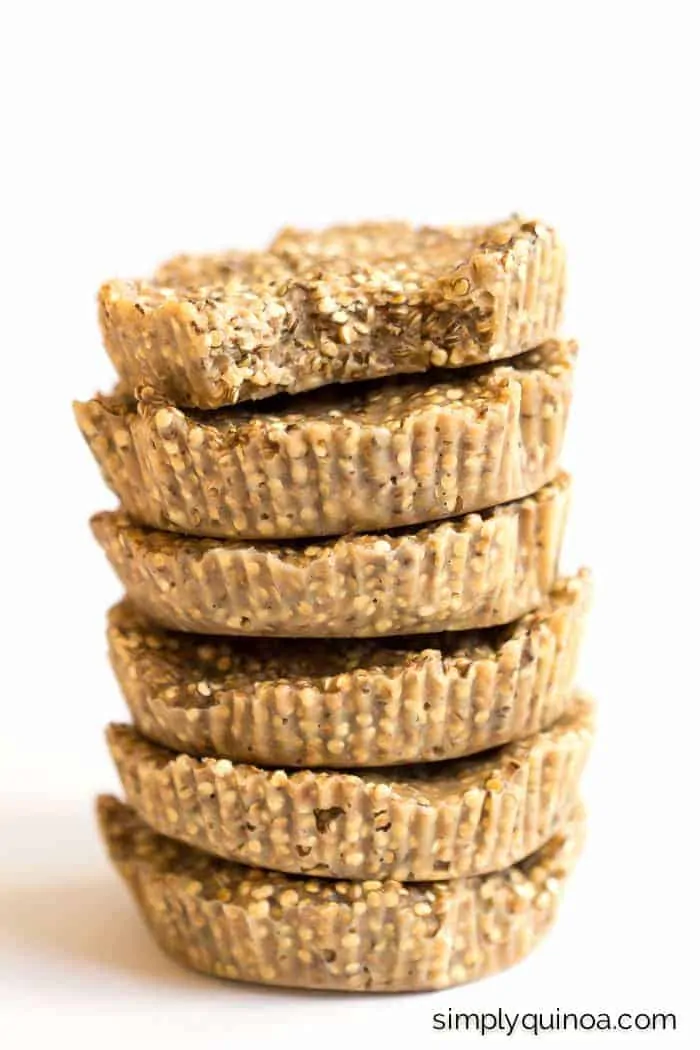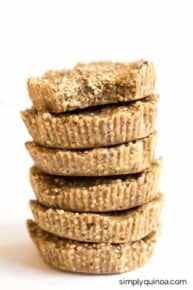 Ingredients
for the toasted coconut butter:
Instructions
Preheat the oven to 325 °F. Place the coconut flakes on a large baking sheet and toast the coconut but 10 minutes, stirring every few minutes, until it's golden brown and fragrant. Allow the coconut to cool or at least 15 minutes.

Transfer the toasted coconut flakes to a food processor. Process the coconut until it becomes completely smooth and is almost runny. Note that coconut butter is thinner than traditional nut butters but will harden as it cools. This could take anywhere from 10 - 20 minutes depending on your food processor.

Transfer the coconut butter to a jar and allow to cool slightly before preparing your quinoa bites. The coconut butter can be stored in an airtight jar for up to two months.

To make the bites, toast the quinoa in a dry skillet. Allow the quinoa to cool for a few minutes then add to a large bowl.

Melt the coconut butter, cashew butter, coconut oil and syrup together in a small saucepan. Pour the this mixture over the toasted quinoa and stir to combine.

Line a muffin tin with paper liners than evenly divide the quinoa-coconut mixture into each liner. Press to flatten the quinoa into the liners.

Refrigerate (or freeze) for at least 1 hour or until the bites are hard. Store in a sealed container in the fridge or freezer.
Nutrition
Calories:
151
kcal
|
Carbohydrates:
14
g
|
Protein:
3
g
|
Fat:
9
g
|
Saturated Fat:
3
g
|
Sodium:
3
mg
|
Potassium:
116
mg
|
Fiber:
2
g
|
Sugar:
2
g
|
Vitamin C:
0.2
mg
|
Calcium:
15
mg
|
Iron:
1.1
mg
Filed Under: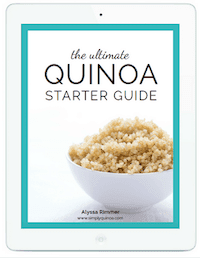 New to cooking quinoa? Grab your FREE Quinoa Starter Guide!
Become part of the Simply Quinoa community and receive weekly emails with exclusive content that I only share in email, as well as my in-depth guide to starting your quinoa journey.