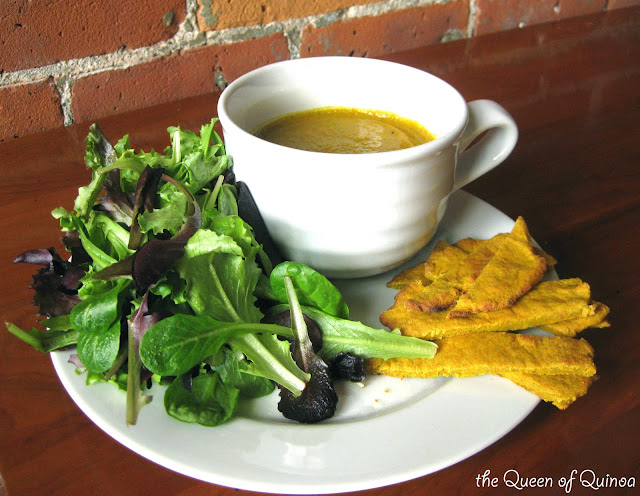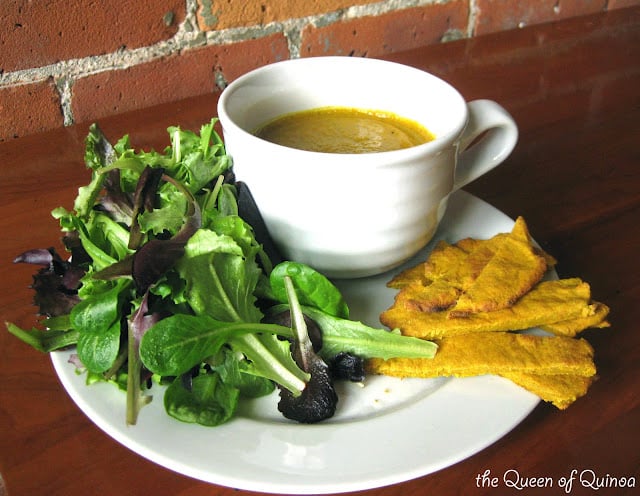 A seriously delicious indian inspired soup.
I am so excited about this recipe. This is my favorite soup yet. It may have been the amazing sweet curry flavors or the soft, fluffy gluten-free flatbread, but either way this meal was fabulous.
A light, creamy, incredibly flavorful soup, with the rich color of curry. One bite and I was hooked. I felt like I was transported to India (although I've never been, I'm just in love with their cuisine), comforted with this steaming bowl of delicious soup in front of me.
With my love of indian food, I have missed naan the most.  The restaurant by my house that we order takeout from occasionally, has the most amazing naan.  It's fluffy, slightly browned, and truly perfect. Alas, it's packed with gluten.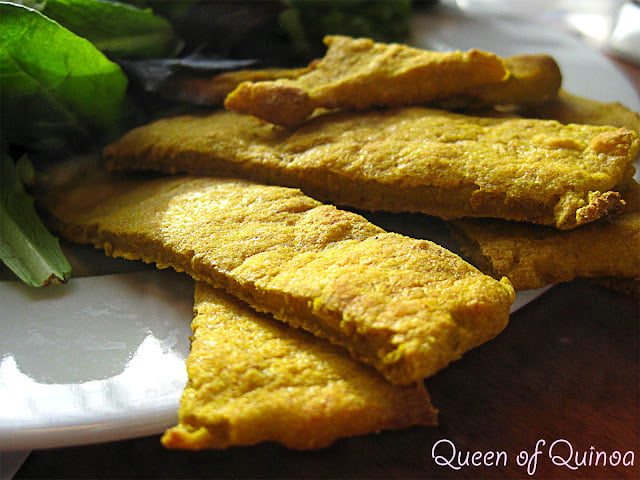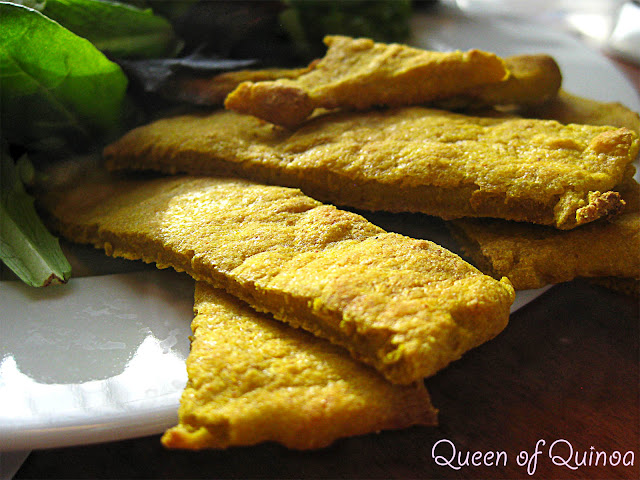 Curried Garlic Quinoa Flatbread
This post is as much about the soup as it is about the flatbread. I have been determined for quite some time to find a recipe that I liked for quinoa flatbread. I've made a quinoa pizza crust, a quinoa quiche crust, I've tried my hand at socca (here's a great recipe for a yummy socca pizza), and nothing has been just what I was looking for.
I wanted a thin, soft, and light flatbread that was strong enough to dip in soup, but would melt in your mouth with each bite. Much like naan does, topped with a glorious lentil dahl.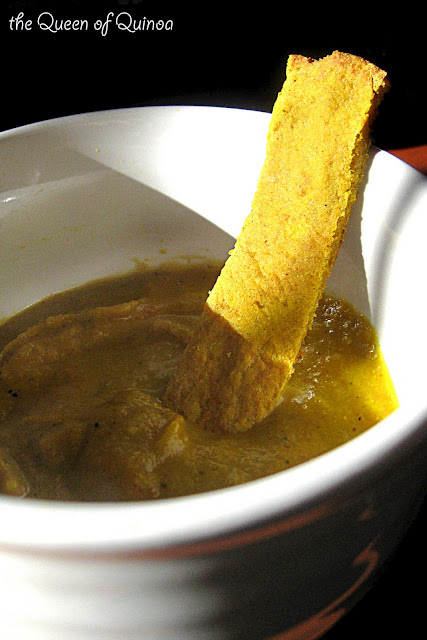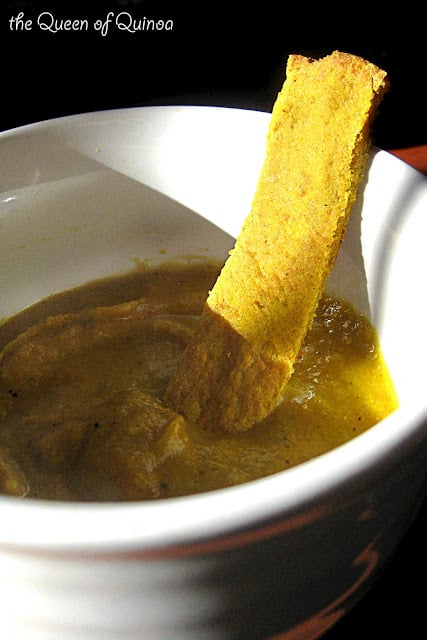 A flatbread fit for dipping.
I have finally found one. The perfect Quinoa flatbread. It is so versatile, it could be mixed with anything. If you're having Italian, make a basil flatbread. Hungry for something sweet, make a cinnamon-sugar flatbread. And if you're jonesing for some Indian soup, make a curry and garlic flatbread.
Garlic & Curry Quinoa Flatbread
I give full credit to Emilia from A Gluten-Free Day for this amazing recipe. She posted this Poppyseed Gluten-Free Flatbread made from quinoa flour, water and pysllium husk, and I just had to try it. I was so confident I had finally found the recipe I'd been searching for, I doubled it.
ingredients:
2 cups quinoa flour
1 teaspoon salt
2 tablespoons pysllium husk
1 tablespoon curry powder
1 teaspoon dried garlic powder
1 1/2 cup water
Preheat the oven to 400 degrees F.
In a medium bowl, whisk together the flour, salt, psyllium husk, curry and garlic powders. Slowly add the water and mix until you have a creamy batter. Cover with plastic wrap and let sit for 5 minutes.
Line two baking sheets with parchment paper and prepare your dough. With wet hands, scoop a handful of dough out of the bowl, form it into a ball and press it down on the baking sheet until your desired thinness. I had about 8 little round flatbreads.
Repeat with the rest of the dough. Place the sheets in the center of the oven on separate racks and bake for 20 minutes, switching the sheets half way through.<
When they're browned on the top, pull them out and let them cool on a wire rack.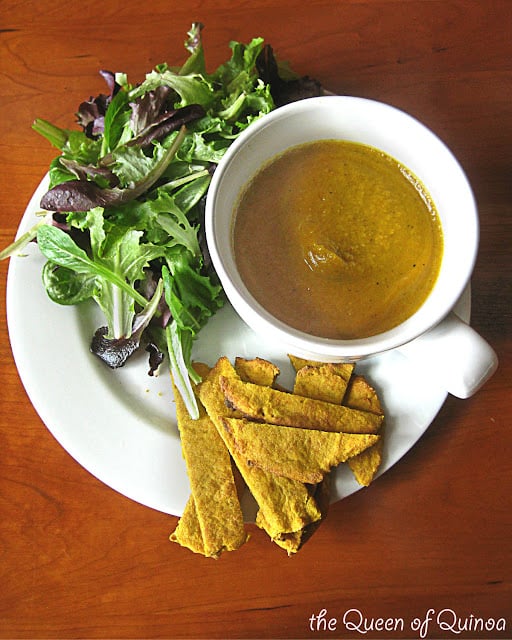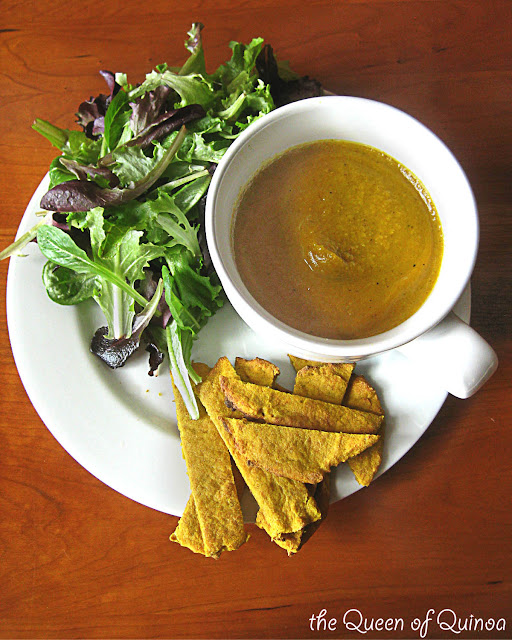 And now for the soup that I threw together to accompany my flatbreads.
Curried Cauliflower & Squash Soup
This recipe wasn't planned, I just used what I had on hand and tossed it into a pot. It's an amazingly simple, but totally unique, combination of ingredients, and makes this soup incredibly flavorful and subtly sweet.
ingredients:
1 acorn squash, halved with the seeds removed
1 head of yellow cauliflower, chopped into florets
1 medium white onion, chopped
1 medium carrot, peeled and chopped
1 parsnip, peeled  and chopped
1 cup vegetable broth (I use Imagine's No-Chicken Broth)
3 cups filtered water
1/4 cup unsweetened coconut milk
2 tablespoons curry powder
1 tablespoon mustard seeds
1 teaspoon turmeric
2 tablespoons olive oil
Salt and pepper to taste
Preheat the oven to 400 degrees F.In a shallow baking dish, add 1/4 inch of water and place the two squash halved face down. Place in the center of the oven for 20 – 30 minutes.
While the squash is cooking, toss the cauliflower with 1 tablespoon olive oil, 1 tablespoon curry powder and mustard seeds. Add salt and pepper to taste. Place on a baking sheet and roast in the oven for 10 – 15 minutes, turning halfway through.
On the stovetop, heat the remaining tablespoon of oil in a large sauce pan and sauté the onions, carrots and parsnips together until the onions are translucent and the carrots have begun to soften. Add the cauliflower when it is done roasting, and sauté for another few minutes.When the squash is done, scoop the flesh out of the skins and add it to the pot. Add the vegetable broth, water, coconut milk, salt, pepper and the remainder of your spices (add more of any if you'd like) and bring the soup to a boil. Turn it down to medium-low and let it simmer for another 10 – 15 minutes.
Take the soup off the heat and with an immersion blender, or in a food processor, puree it until it's smooth and creamy.
Serve piping hot with a side of flatbreads (totally perfect for dipping!). Garnish with a touch of coconut milk if you so choose. Enjoy and stay warm!
Serves 4 large bowls.