Curry Cauliflower Rice and Quinoa
This quick and easy curry cauliflower rice has a bit of a twist with the addition of quinoa for more protein. It's healthy, satisfying and delicious!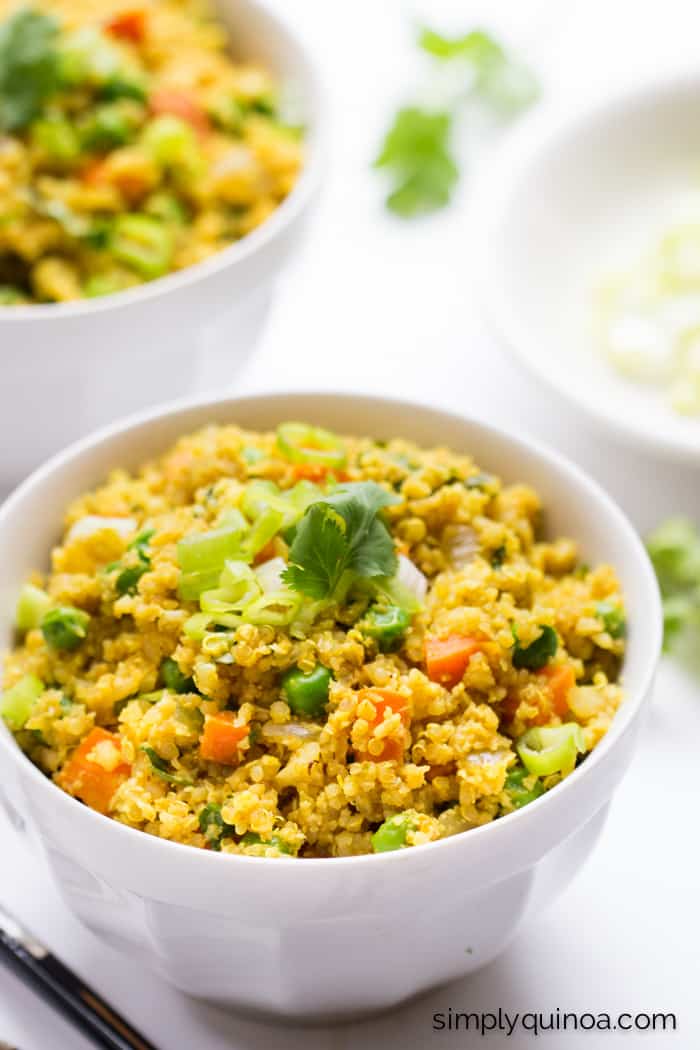 As usual, I feel like I'm a million years behind.
Cauliflower rice. It's been plastered on blogs, Pinterest and cookbooks for ages, but here I am just now jumping on the band wagon.
I honestly, don't know what took me so long. It's kind of a genius health food hack. Almost like a spiralizing a zucchini is to pasta, making rice out of cauliflower gives you that same familiar sensation of eating rice, but you're actually eating cauliflower. Pure genius.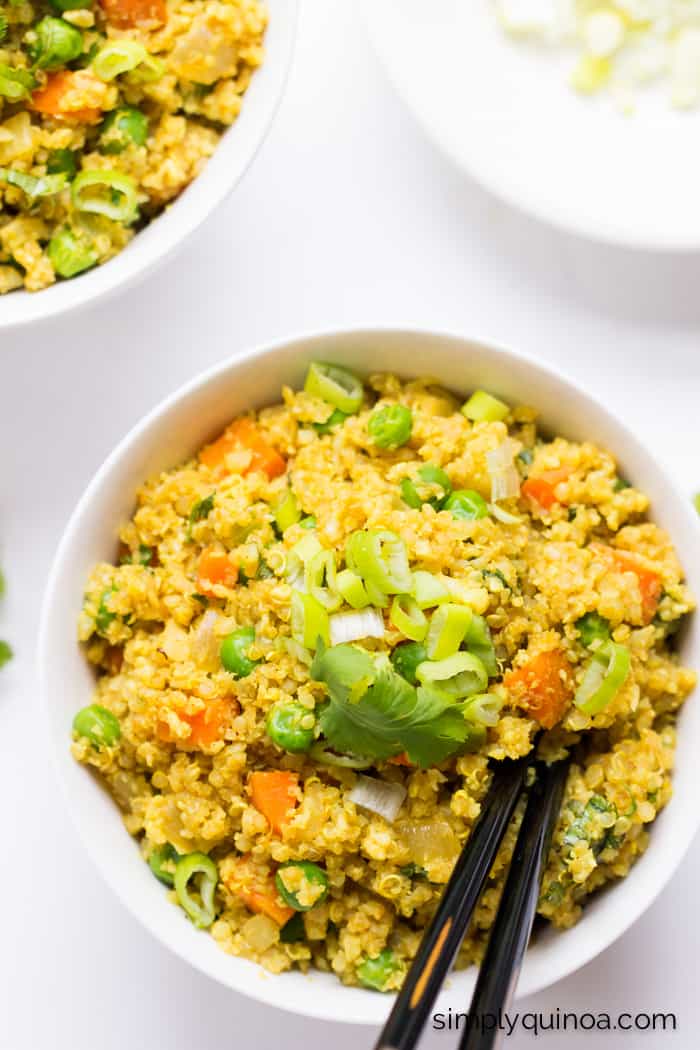 Now I'm by no means an expert in this cauli-rice game yet, BUT I've made this particular curry cauliflower rice at least four times and am pretty much addicted.
Plus it's another one of those super simple dinners, which we can't seem to get enough of lately.
The beauty with cauliflower rice is that you just have to whizz up the florets in a food processor to get that perfect rice-like texture. No real chopping and little mess. My kind of start to meal prep.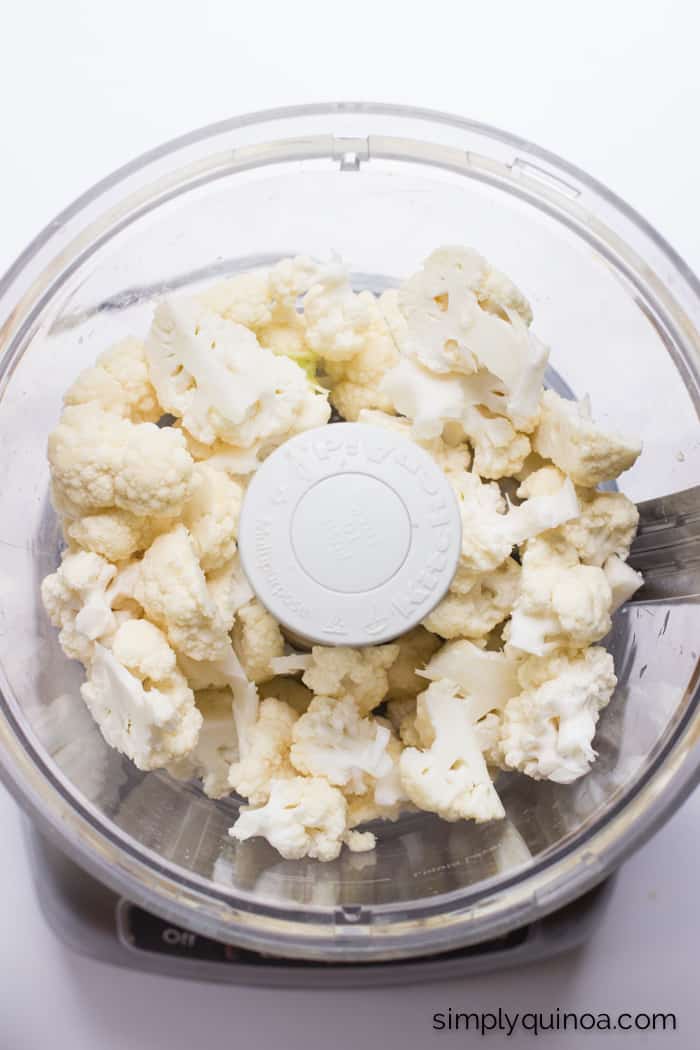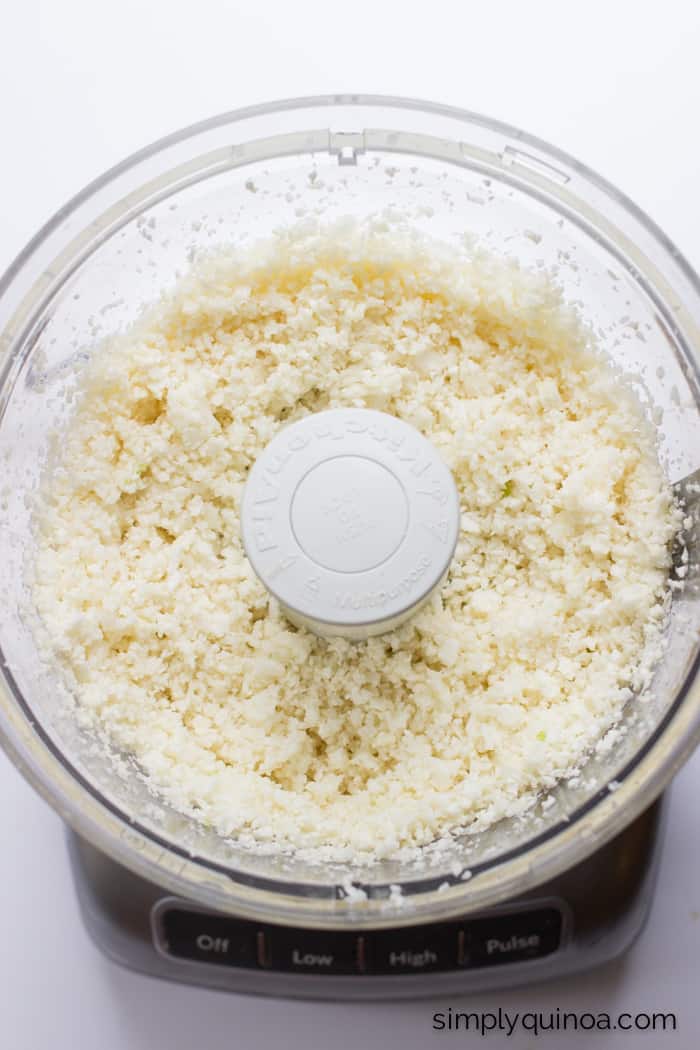 Once you've got your "rice", you usually just steam it, add your flavors and you're done.
I didn't really follow a recipe when I was making mine, so I started by sautéing the cauliflower (and some veggies) in coconut oil, garlic and ginger and then I added my water for steaming. The result? It was surprisingly flavorful before I added any spices so the spices were just elevated.
Once the cauliflower was almost cooked, I added my spices, some peas and some quinoa 🙂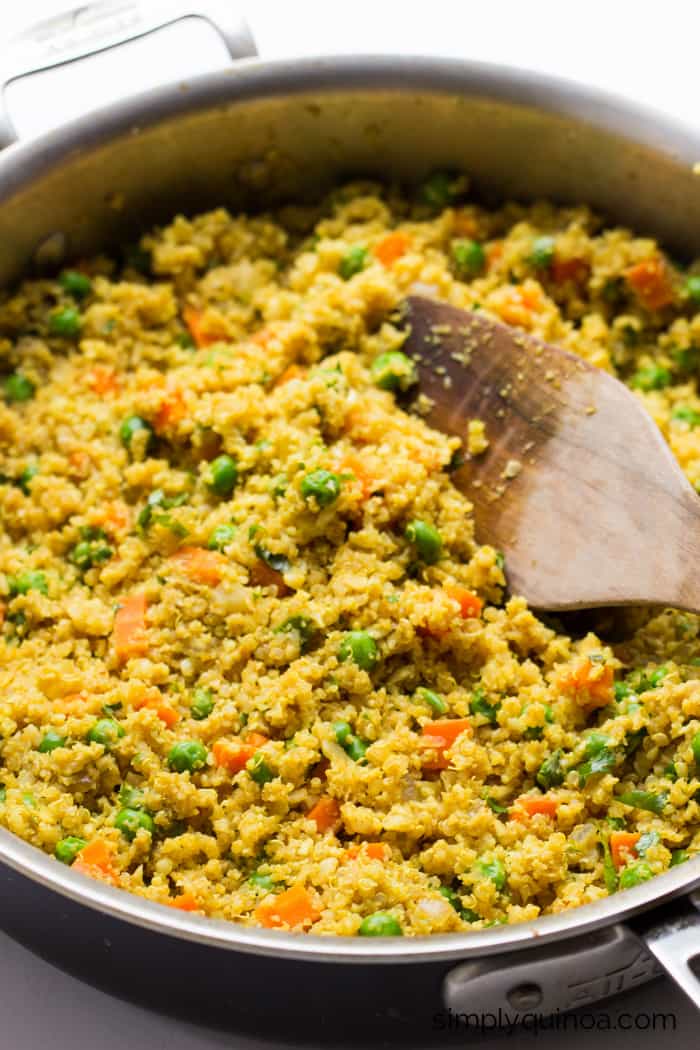 Curry can go a few ways in terms of flavor. Indian, Thai, Vietnamese, etc. This curry cauliflower rice is on the Indian end; I like to think of it as a healthy version of that rice you get in the white takeout containers from your favorite Indian restaurant. If only those places actually served something like this – it would make takeout much more appealing!
But at least you now have options. Whether you want to healthify your takeout order at your next Friday movie night in, or you need a simple weeknight meal, or you just want to jazz up your office lunch, I think you're going to love this cauliflower rice and quinoa combo.
It's satisfying, flavorful and it's made with veggies! Gotta love that 🙂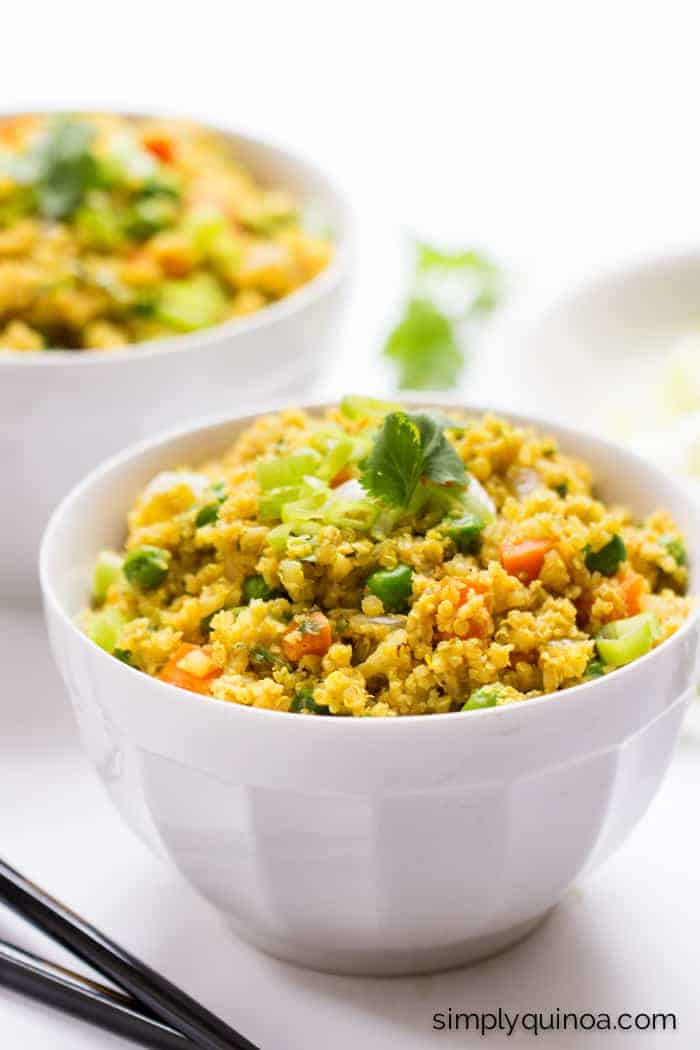 More Amazingly Delicious Cauliflower Recipes to try:
Curry Cauliflower Rice and Quinoa
The beauty with cauliflower rice is that you just have to whizz up the florets in a food processor to get that perfect rice-like texture. No real chopping and little mess. My kind of start to meal prep.
Servings 6 Servings
Calories 103kcal
Ingredients
1 head cauliflower
1 tablespoon coconut oil
1 cup diced carrots about 1 large carrot
1/2 cup diced onions about 1/2 medium onion
1 tablespoon minced garlic
1 teaspoon freshly grated ginger
1 1/2 cups water
1 cup cooked quinoa
1 cup fresh or frozen peas
1 tablespoon curry powder
1/2 teaspoon cardamom
1/4 teaspoon garam masala
1 tablespoon tamari
Red pepper flakes fresh cracked pepper and additional sea salt to taste
Freshly chopped cilantro optional
Sliced green onions optional
Instructions
Remove the leaves and stem from the cauliflower then chop it into small florets. Add the florets to a food processor and process on high until it's the consistency of rice.

Heat the oil in a large skillet over medium heat. Add carrots, onion and garlic and saute until onions have started to soften, about 2 minutes. Stir in ginger and cauliflower and saute for 1 - 2 minutes.

Add water to skillet, bring to a simmer and cover for 10 - 15 minutes until most of the water has evaporated and the cauliflower has softened but still has a slight crunch.

Stir in the quinoa, peas, spices and tamari and let cook for another 1 - 2 minutes. Taste and adjust seasonings as desired. Stir in some cilantro and fresh green onions if using.
Nutrition
Calories: 103kcal | Carbohydrates: 15g | Protein: 3g | Fat: 3g | Saturated Fat: 2g | Sodium: 196mg | Potassium: 274mg | Fiber: 3g | Sugar: 3g | Vitamin A: 3770IU | Vitamin C: 21mg | Calcium: 34mg | Iron: 1.3mg
share what you make
Tag #simplyquinoa on Instagram with your creations! We love sharing what you make with the community. We can't wait to see!

follow on instagram