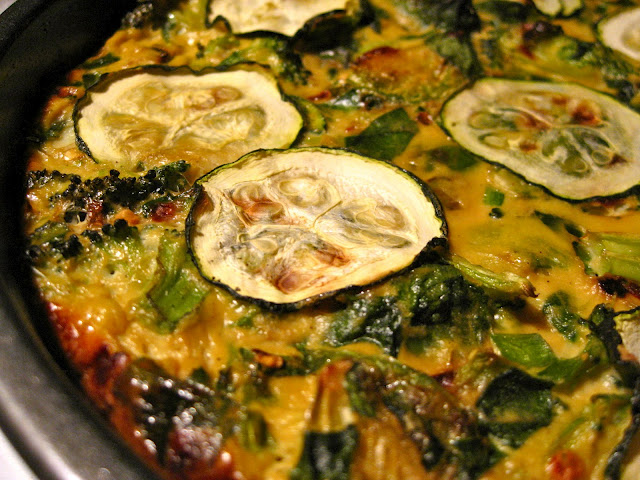 Delectable. A new favorite gluten-free and dairy-free quinoa recipe.
Forever and ever I have loved quiche. Creamy, soft, bacony, cheesy quiche. My mom makes a fabulous pie crust (flaky, buttery and delicious), and whenever she used it to make a quiche, it was one of those dinners I would melt for. Theirs of course is loaded with diary, gluten and red meat, so when the craving hit I needed to find a suitable alternative. With the "limitations" (some would call it that, but not the Queen of Quinoa) of being gluten-free and dairy-free, a traditional quiche was out of the picture. I channeled my inner Queen to find the creativity with this one.
When the need for creativity arises, as always I choose to cook with something I'm comfortable with. Yes, you guessed it. I turn to my trusty friend, quinoa. I mean really, what could be easier, tastier and healthier than quinoa? Not much.
The first trick with the crust was binding it without using eggs. Eating Clean does not include eating eggs, the base of this meal, so I wanted to avoid adding more than was necessary. I decided to use a flax meal gel with a bit of brown rice flour to not only add more nutrients and fiber, but also to give it some body and a softer texture.
Now, I've played around with using quinoa as a base for crust, like in my Gluten-Free Quinoa Pizza Crust, and I knew that somehow I could make this work. My goal for this dinner was to make a delicious, healthy, low-fat version of my mother's quiche. Cheese, bacon and her gluten-filled pie crust is obviously a no-go for this girl, but I was confident I could pull some of her flavors together and produce the dinner my body and mind was craving.
Dairy Free Vegetable Quiche with Quinoa Crust
Dairy Free Vegetable Quiche is flavorful, crunchy, crusty and seriously so good. There's even a special mixture of dark green veggies thrown into this healthy version of a traditional breakfast quiche!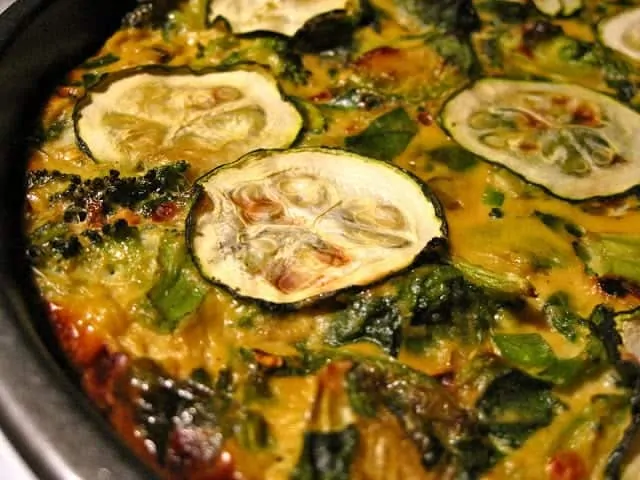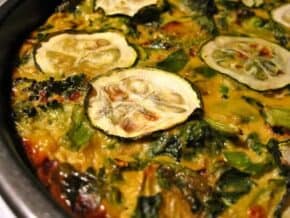 Ingredients
1/2

cup

dry quinoa

(I mixed red and white to add a pop of color)

1

tablespoon

vegan

, soy-free butter

2

tablespoons

flaxseed meal

2

tablespoons

brown rice flour

4

tablespoons

cold water

4

eggs

1

cup

unsweetened almond milk

2

tablespoons

nutritional yeast

1

tablespoon

olive oil

1

cup

chopped brussels sprouts

1

cup

chopped broccoli florets

1

cup

chopped spinach

1

bunch green onions

, thinly sliced

1/2

zucchini

, thinly sliced

1/2

teaspoon

garlic powder

1

teaspoon

red pepper flakes

Salt & pepper to taste
Instructions
Preheat the oven to 350 degrees F.

In a medium saucepan bring 1 cup water to boil and add the dry quinoa. Cover and turn down to a simmer, cooking for 10 - 12 minutes.

While the quinoa is cooking prepare your flax meal gel by combining the flaxseed meal and water together. Mix quickly and set aside, letting it turn into a gel paste.

When the quinoa is done cooking, transfer it to a small mixing bowl and add your butter. Mix it around until the butter is melted and add the flax gel. Next, add the flour and mix it all together. The mixture should be goopy and easily mixable and spreadable.

Grease the bottom of a baking pan and spread your quinoa mixture along the bottom. Try to even it out with the back of a wooden spoon. You want to have the crust an even thickness across the pan so that quiche lays flat when it bakes.

Place the baking pan in the center of a warm oven and bake it until it turns golden brown, about 20 minutes.

While the crust is baking away in the oven, heat the oil in a medium skillet and add the brussels sprouts, broccoli, and green onions. Saute until just about tender and add the spinach. Sprinkle with salt and pepper to taste.

Beat the eggs in a medium mixing bowl and add in the almond milk. Mix until the eggs and milk are fully combined. Next add the nutritional yeast, red pepper flakes, and garlic powder and whisk together quickly. Add in the sautéed veggies and mix the whole mixture together. Gently pour the filling into the baking pan and lay the sliced zucchini on the top.

Place the quiche in the center of the oven, still at 350 degrees F, and bake for about 50 minutes. You want the center to be firm but give slightly to the touch. When you place a knife in the center, it should come out clean.

Serve warm, topped with a bit more salt and pepper and a touch of hot sauce.
Nutrition
Serving:
0.25
of the quiche
|
Calories:
265
kcal
|
Carbohydrates:
26
g
|
Protein:
14
g
|
Fat:
12
g
|
Saturated Fat:
2
g
|
Cholesterol:
164
mg
|
Sodium:
197
mg
|
Potassium:
571
mg
|
Fiber:
6
g
|
Sugar:
2
g
|
Vitamin A:
1476
IU
|
Vitamin C:
46
mg
|
Calcium:
150
mg
|
Iron:
3
mg
Filed Under: