Dark Chocolate Quinoa Truffles
Happy Valentine's Day!
If you still don't know what to whip up for your sweetie tonight, I have just the thing you might be craving. Yes, it involves chocolate. Yes, it involves quinoa. Yes, it's super healthy. And yes, you can make it in about five minutes.
Do you have any other excuse not to make these to-die-for dark chocolate quinoa truffles? I don't think so! It's time to tempt that special some with some super chocolatey.
When it comes to truffles, I'm all about the texture. You know the Lindtt chocolate commercial, Do You Dream in Chocolate?, where the whole commercial is decadent, melty chocolate? Where the chocolatier stirs a vat of melted chocolate, where the last shot is that little round ball filled to the brim with a creamy chocolate center?
That's what I look for in a truffle. To me that's magic.

I must admit, I can't quite promise these chocolate quinoa truffles resemble the ones I swoon over on TV, but they are close. With a hard chocolate shell, that cracks when you take a bite, and a luscious, gooey center, you'll still be transported to chocolate heaven.
But there's one major difference between my decadent chocolate quinoa truffles and those outrageously tasty Lindtt chocolates. These truffles are healthy! These chocolates are packed with protein, healthy fats, and fiber, but still taste delicious. Not to mention they're vegan and refined sugar-free too!
So if you want to indulge on this extra special day (with your one and only by your side), but don't want to throw your week of workouts out the window, then pull out your food processor and let's start making truffles!

Dark Chocolate Quinoa Truffles
Do you have any other excuse not to make these to-die-for dark chocolate quinoa truffles? I don't think so! It's time to tempt that special some with some super chocolatey.
Servings 12 Balls
Calories 170kcal
Ingredients
For the chocolate coating:
Instructions
Add the dates to a food processor fit with the steel blade and process until finely chopped. Add the remaining dry ingredients and process until incorporated.

Add the almond butter and process until combined. Slowly add the honey into the top of the food processor, while the machine is on, and mix until a thick dough forms.

Scoop the dough from the bowl and roll into 1-inch balls with your hand. Cool in the refrigerator for about half an hour.

While the truffles are cooling, whip up your chocolate coating by adding all the ingredients into a bowl and mixing until a chocolate syrup forms.

Remove the chocolate balls from the fridge and dunk / roll them in the melted chocolate sauce. Place them on a wire rack to set, and sprinkle with with salt, then transfer them to a parchment lined plate and refrigerate until the chocolate has set, anther half hour or so.

Store these truffles in the fridge until you're ready to eat them.
Nutrition
Calories: 170kcal | Carbohydrates: 16g | Protein: 6g | Fat: 9g | Saturated Fat: 3g | Cholesterol: 1mg | Sodium: 33mg | Potassium: 278mg | Fiber: 4g | Sugar: 9g | Vitamin A: 235IU | Vitamin C: 2.7mg | Calcium: 83mg | Iron: 1.8mg
---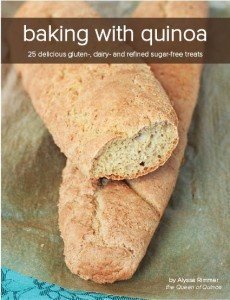 Available Now!! Baking with Quinoa
Featuring 25 mouthwatering recipes – all free from gluten, dairy & refined sugar – Baking with Quinoa will show you just how easy it is to make healthy & nutritious baked goods.
share what you make
Tag #simplyquinoa on Instagram with your creations! We love sharing what you make with the community. We can't wait to see!

follow on instagram