The easiest natural hair care routine ever! Including non-toxic hair products to use on the daily that will help your hair get healthy, shiny, and to grow!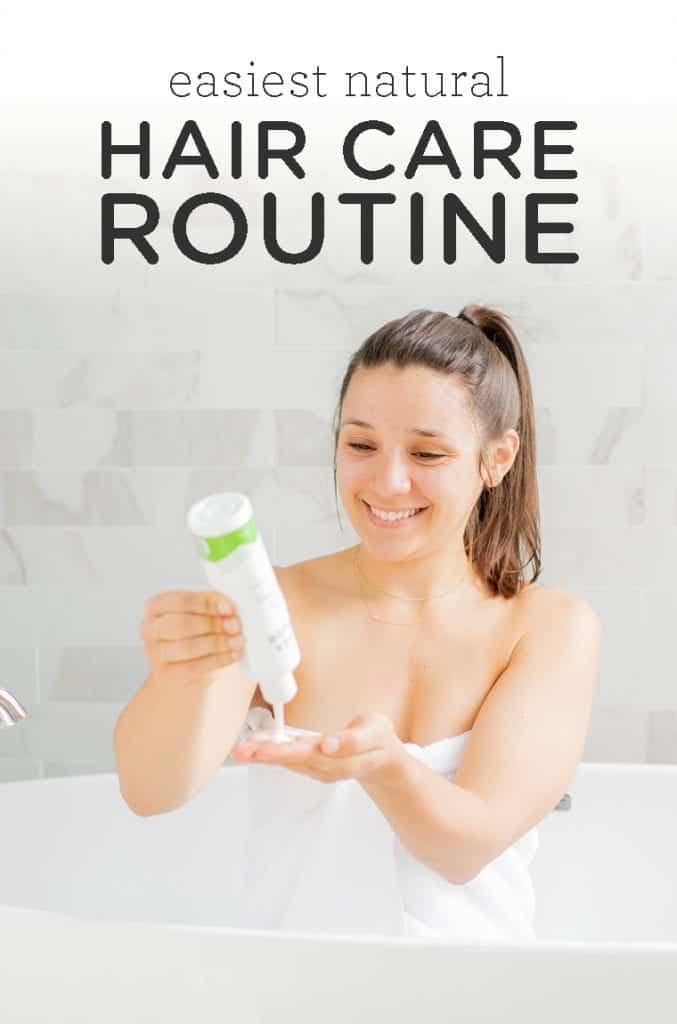 One of the questions I get asked the most from is what I use for my hair to help it stay shiny and healthy. My first response is always two parts. The first is nutrition. The second is my natural hair care routine.
I believe that the most important thing we can do for our hair (and skin and nails) is fuel our body right. Having a diet rich in vitamins, minerals, and lots of plants definitely help you have healthy hair. For me, that's probably the thing that has the biggest effect.
After the food aspect, I think the next thing I do that helps my hair is my natural hair care routine. I'll plan on doing another post about specific foods that are good for your hair, but for now, we're going to focus on the non-toxic products I use, as well as my washing cycle and styling.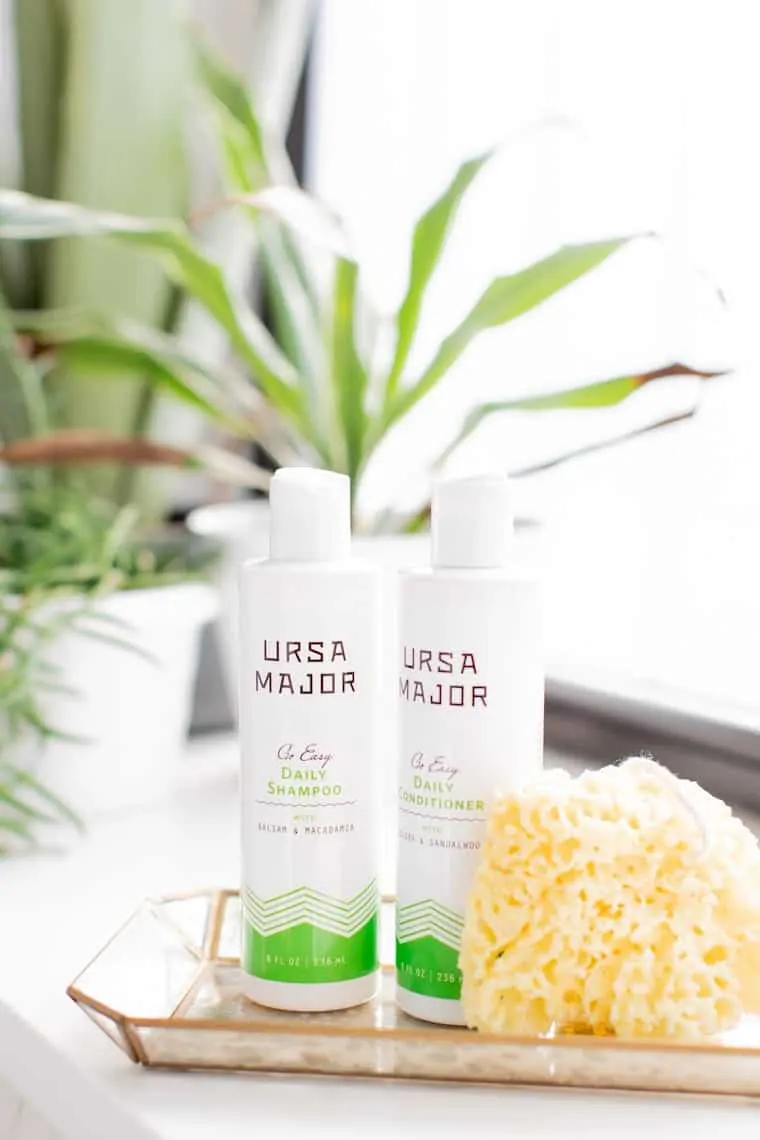 My Natural Hair Care Routine
I think it would be most helpful for me to first layout my routine and then we can dive into products.
Washing
I was my hair every other day (sometimes every three days). I try not to wash every day as I think it helps the health and shine of your hair. My hair is a finer texture, but it's thick, so it definitely gets greasy if I don't wash it. I also work out almost every day, so I don't want to build up excess oil and bacteria on my scalp.
Blowdrying & Straightening
On my wash days, I blowdry and straighten my hair. I do this for a few reasons: 1) I don't like how my hair naturally dries and 2) it seems to help my go longer and build up less grease. To help my hair stay healthy, I try to use a heat protectant spray, but I don't always remember!
Non-Wash Days
On the days I don't wash, I use a shower cap in the shower and dry shampoo. I also always have it at least partially tied back. I like to do a low bun or a half updo.
And that's pretty much it! I filmed a video that shares my natural hair care routine, so check that out below if you're interested! I've also linked all the products I use for you below the video ????
Watch: My Natural Hair Care Routine
Best Non-Toxic Hair Products
---
Ursa Major Daily Shampoo & Conditioner
Price: $26 – $28
Click here to shop the shampoo >>
Click here to shop the conditioner >>
It's taken me a while to find a natural shampoo that I like and this one I LOVE! Not only is it light, but it also smells amazing and is pretty affordable. I really love that the shampoo gets sudsy, and the conditioner is hydrating, but not greasy. I highly recommend these both!
---
Giovanni Heat Protectant Spray
Price: $8
I'll admit, I don't use this all the time, but I do know how damaging heat can be to your hair. When I remember to use this spray, I definitely notice that my hair is shinier and doesn't feel as dry. I think you could forgo this step if you don't use heat on your hair!
---
Love Beauty & Planet Dry Shampoo
Price: $14 (for 2)
Since I'm only washing my hair every other day, dry shampoo is a must for me. I personally like aerosol dry shampoos because of the fine hair texture I have, and this one is what I like best. It smells nice, works on all hair colors, doesn't leave a gross residue and it's non-toxic!
---
Kaia Naturals Overnight Dry Shampoo
Price: $32
This is my second favorite dry shampoo and I actually rotate it with the spray one. I really like the texture of this one, I like that you use it overnight (and/or when you work out) and it really does work. They have two – blonde and brown – and the brown works really well for me. It also doesn't really have a smell and lasts forever!
---
Primally Pure Dry Shampoo
Price: $16
Out of the three dry shampoos that I have here, this is my least favorite. It still works really well, it's just not as good for my hair. I think if you have thick hair, it would be awesome! It also has a nice smell and lasts forever which I really like!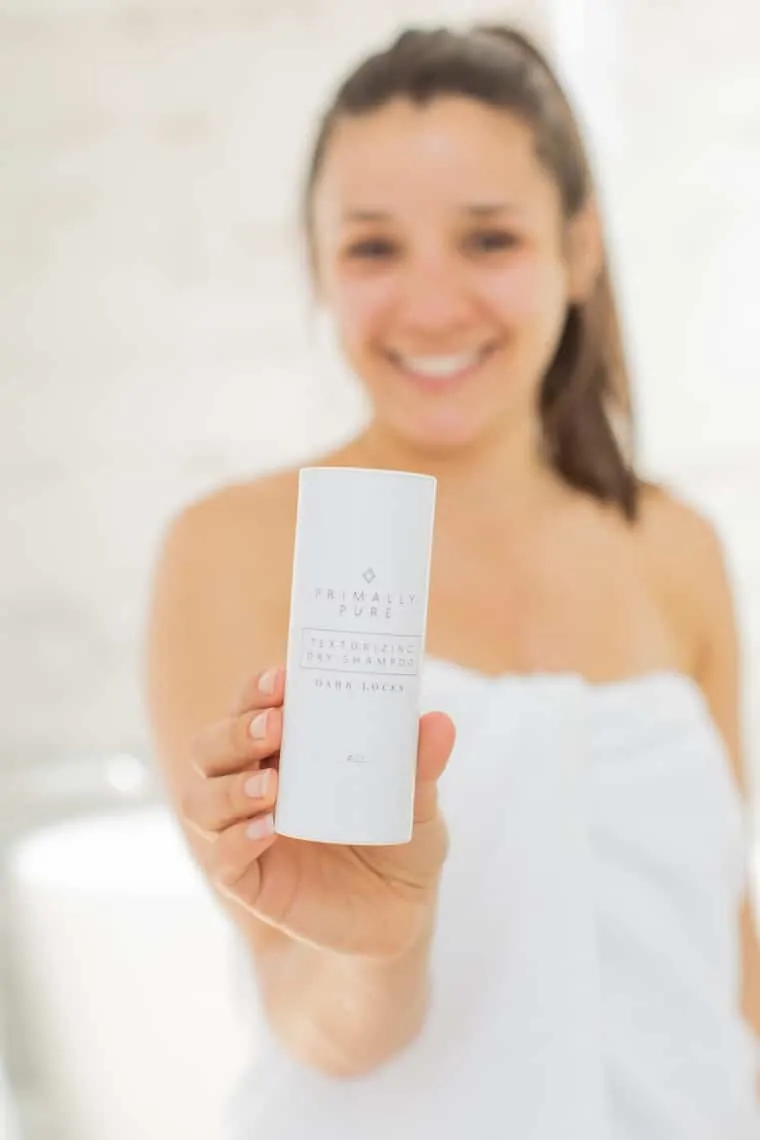 What's your Hair Care Routine?
I'd love to know what products you use on your hair! If you have any favorites or things you think I should try, pop them down int the comments!