This easy chicken noodle soup recipe is incredibly rich and comforting. It has all the classic, mouth-watering flavors you love, but only takes 40 minutes to make.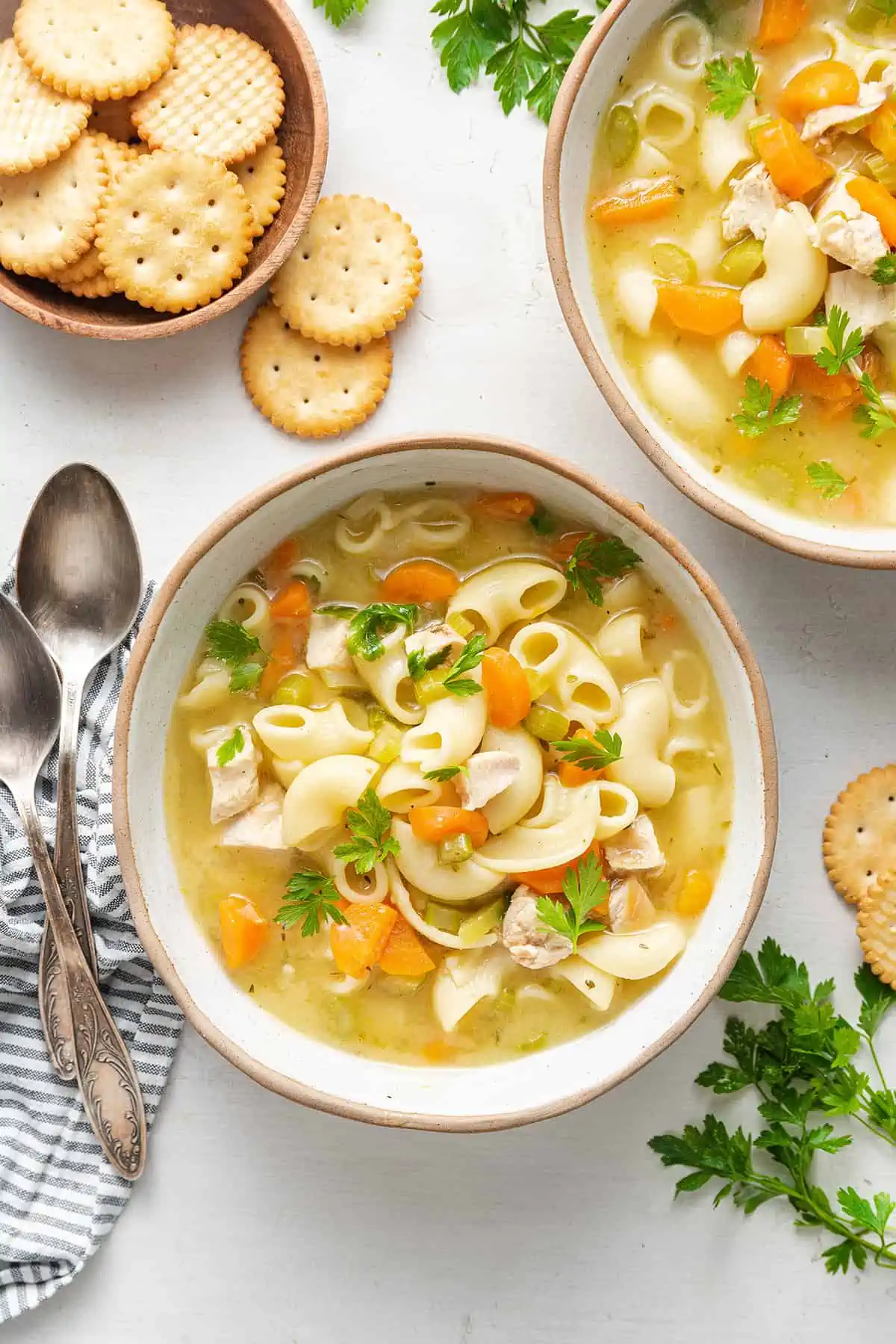 Creamy chicken noodle soup is one of the most comforting foods in the world. Whether you're nursing a cold, or just trying to stay cozy on a winter day, it's sure to warm both your stomach and your spirit. 
There's a pretty big difference between homemade chicken noodle soup and the stuff that comes in a can. The homemade stuff is night and day better, but if you're sick, or you're making soup for someone who is, you don't want to spend hours laboring over the stove. That's why I'm a huge fan of this chicken noodle soup recipe. It's easy to make, and only takes about 40 minutes.
What could be better when you or a loved one is under the weather or just want to indulge in a cozy bowl of soup?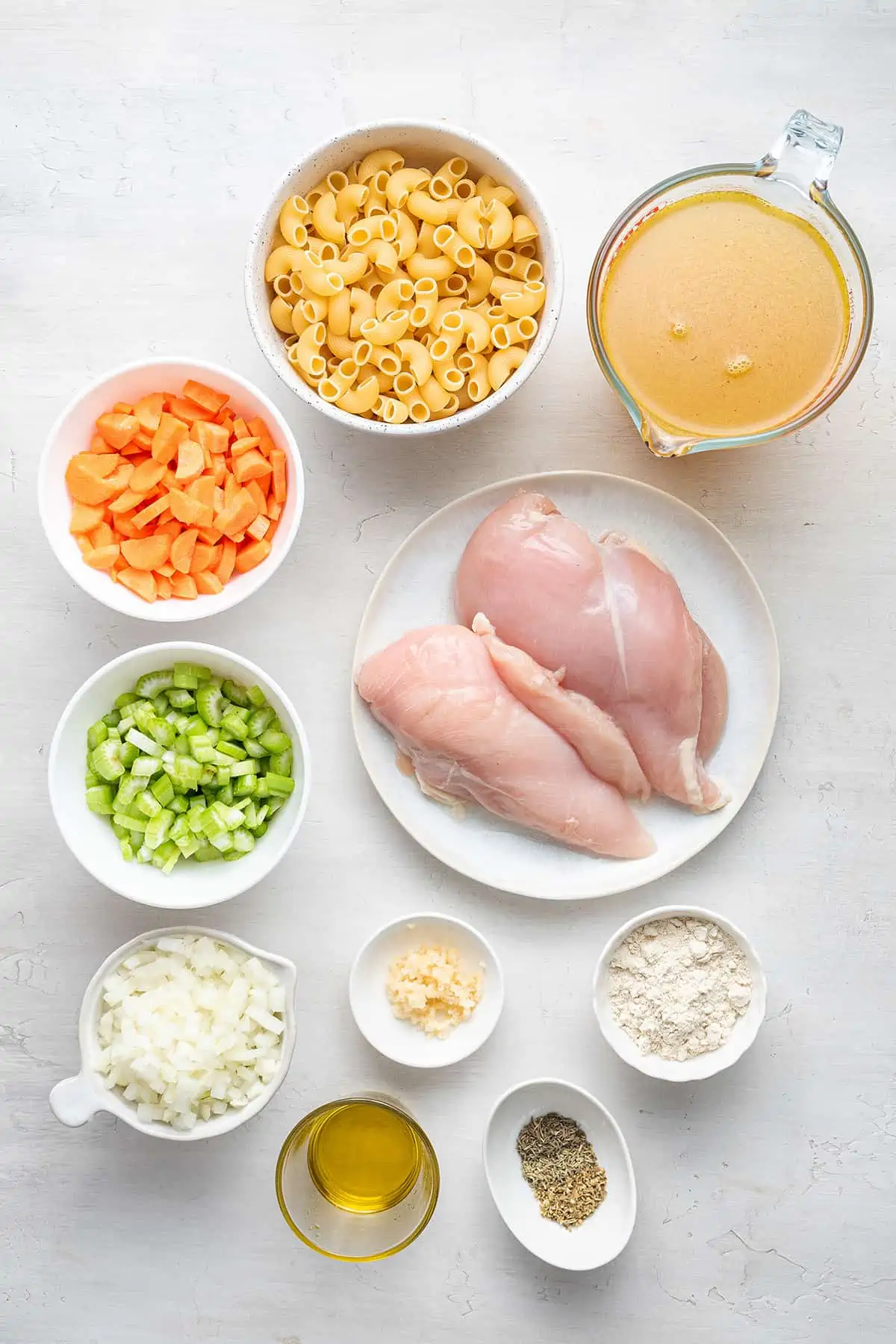 What You'll Need
This easy chicken noodle soup recipe relies on pretty traditional ingredients. Be sure to check out the recipe card at the bottom of the article for exact quantities. 
Olive oil
Onion – A yellow onion or a sweet onion is best, but you can use white or red onions if that's what you have.
Carrots
Celery
Garlic
Quinoa flour
Thyme
Rosemary
Oregano
Salt and pepper
Chicken breasts – You want boneless, skinless chicken breasts for this soup recipe.
Chicken stock
Elbow macaroni – You can use other types of pasta if you prefer, but elbow macaroni is traditional.
Why Quinoa Flour?
This is a very traditional chicken noodle soup recipe, with the exception of one ingredient: quinoa flour. Adding flour helps thicken this soup, which gives it that creamy, velvety texture that is so magical. You can use any type of flour, but quinoa flour is packed with nutrients and proteins, and contributes a hearty flavor to the soup.
Quinoa flour is also gluten-free. If you're trying to make a gluten-free chicken noodle soup, just use gluten-free pasta and you're all set.
How to Make Chicken Noodle Soup
If you've ever wondered how to make chicken noodle soup, you're in the right place! This recipe is both quick and easy to make, which is a very nice thing if you're making it when sick!
Cook the vegetables. Heat the oil in a pot over medium-high heat, then add the onions, carrots, and celery. Cook until they soften, about 5 minutes, then add the garlic and cook for 2 minutes. Add in the spices and stir to combine, then stir in the quinoa flour and cook for 1 minute.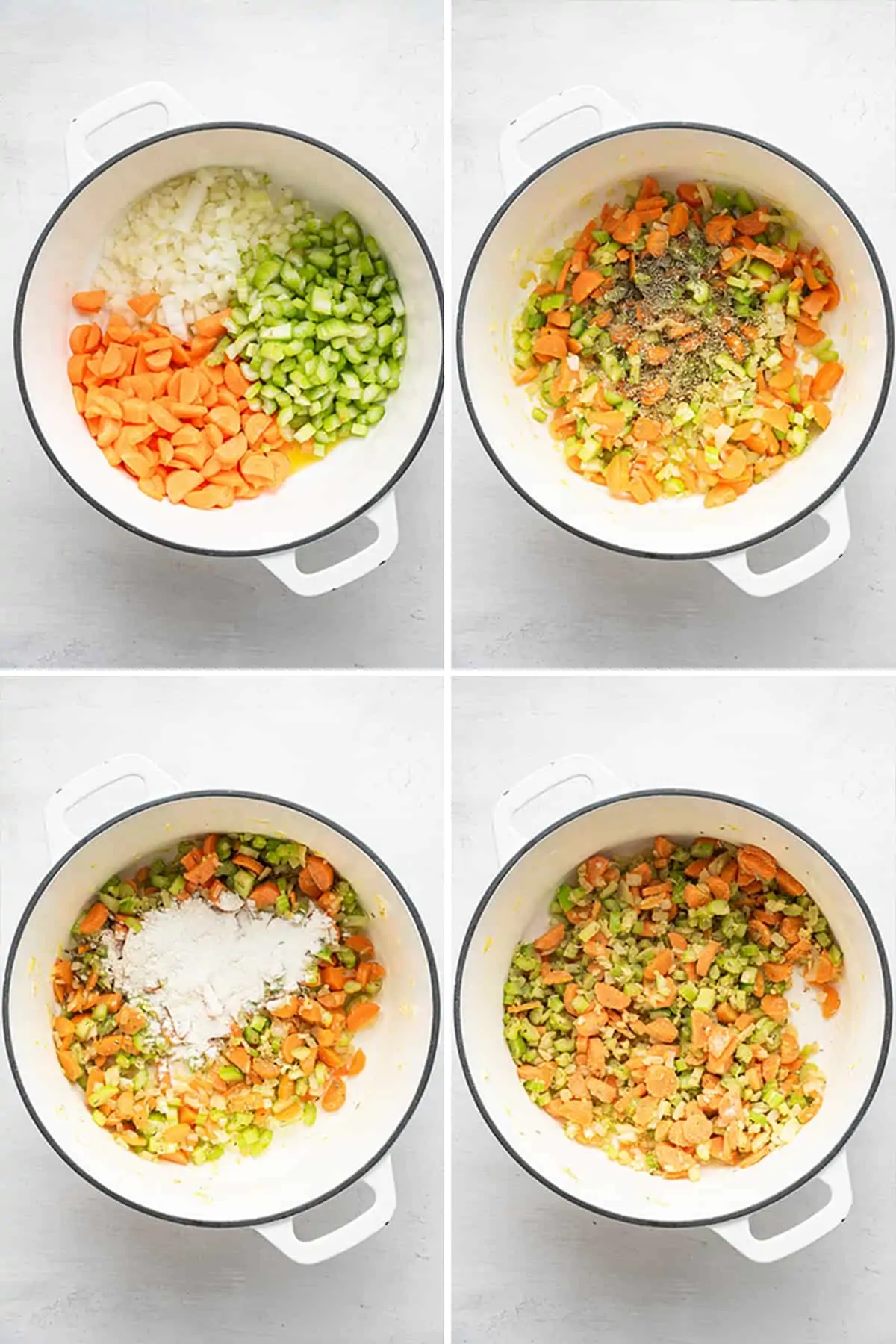 Add the broth. Pour the chicken stock into the pot, and bring it to a boil. Once the stock is boiling, turn the heat down and simmer for 15 minutes.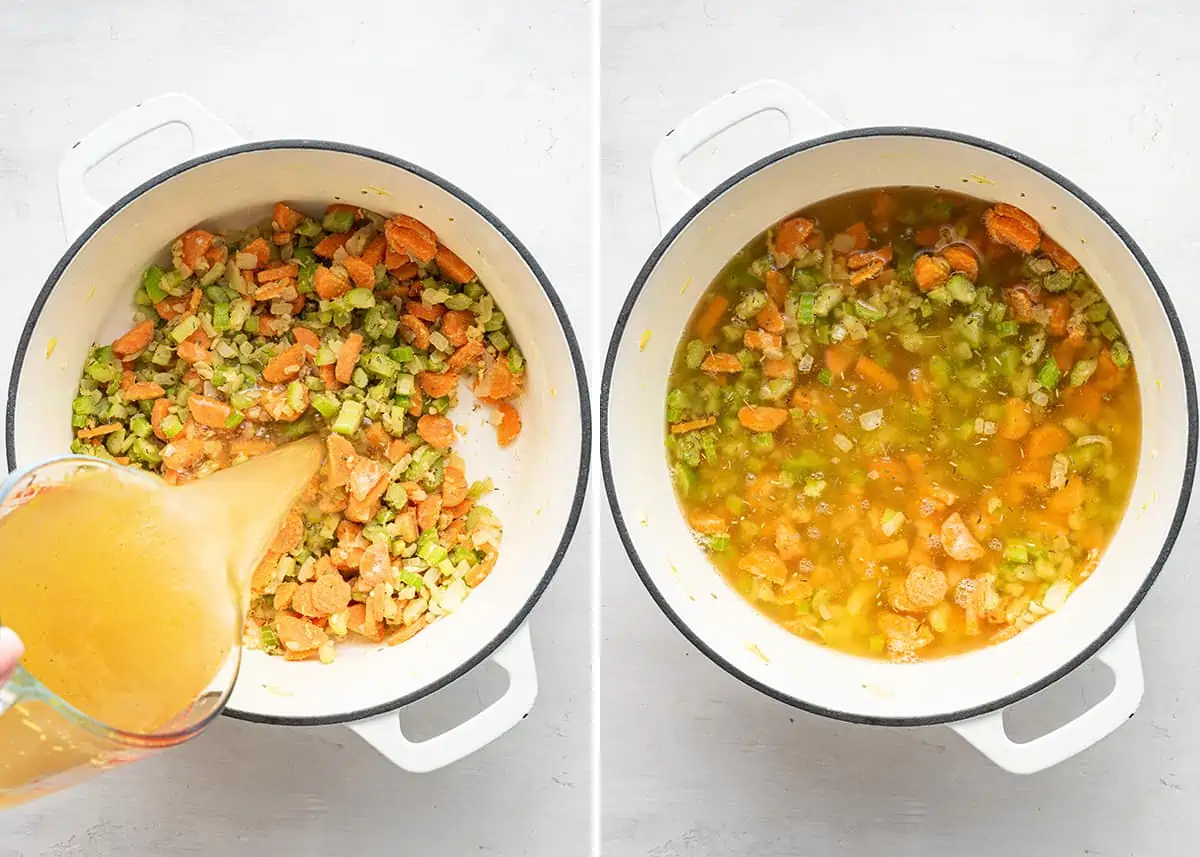 Cook the chicken. Use a grill pan or a grill to cook the chicken on both sides. Remove the chicken from the pan and let it sit for 5 minutes, then cut into cubes. Add the chicken and the noodles to the soup.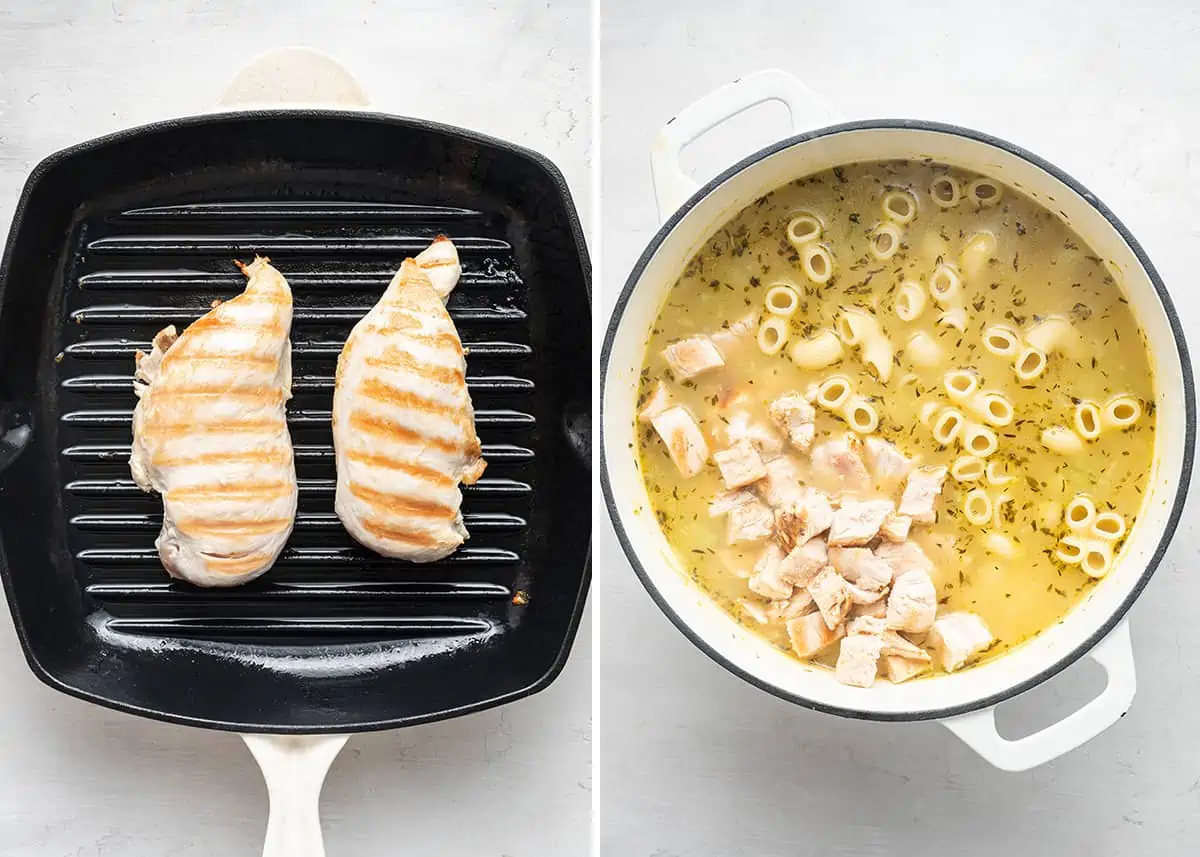 Finish cooking. Keep cooking the soup for another 10-12 minutes. When the noodles are al dente, it's time to serve it up.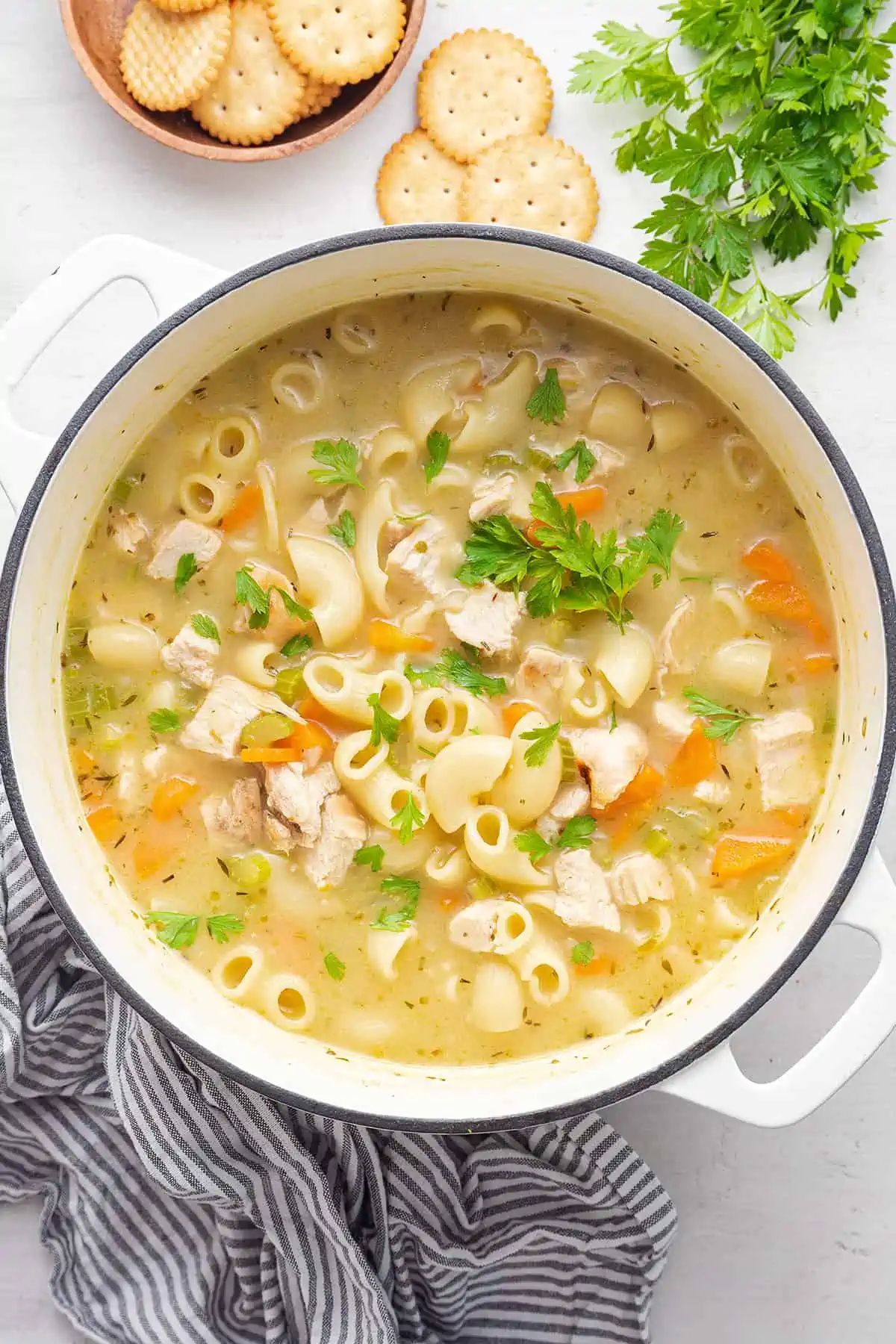 Tips for Success
Here are some tricks and tips for making the best chicken noodle soup.
Don't overcook the noodles. We've all had pre-made chicken noodle soup where the noodles are so soft that they're falling apart. That's not great! Make sure to cook the noodles until they're al dente, and not any further. That way the pasta will retain its firm texture, which brings a nice contrast to the soup.
Don't overcook the chicken. When cooking the chicken before adding to the soup, be careful not to overcook. If you cook the chicken too long and it dries out, it will stay somewhat dry even when sitting in the soup. You want to make sure it's still juicy when you finish cooking it. It's okay if the chicken is a little undercooked in the pan, as it will finish cooking in the soup.
Grill the chicken. The easiest way to make this recipe is to cook the chicken in a grill pan on the stove. But if you cook it over an actual outdoor grill, you'll get some additional smoky flavors added to your soup.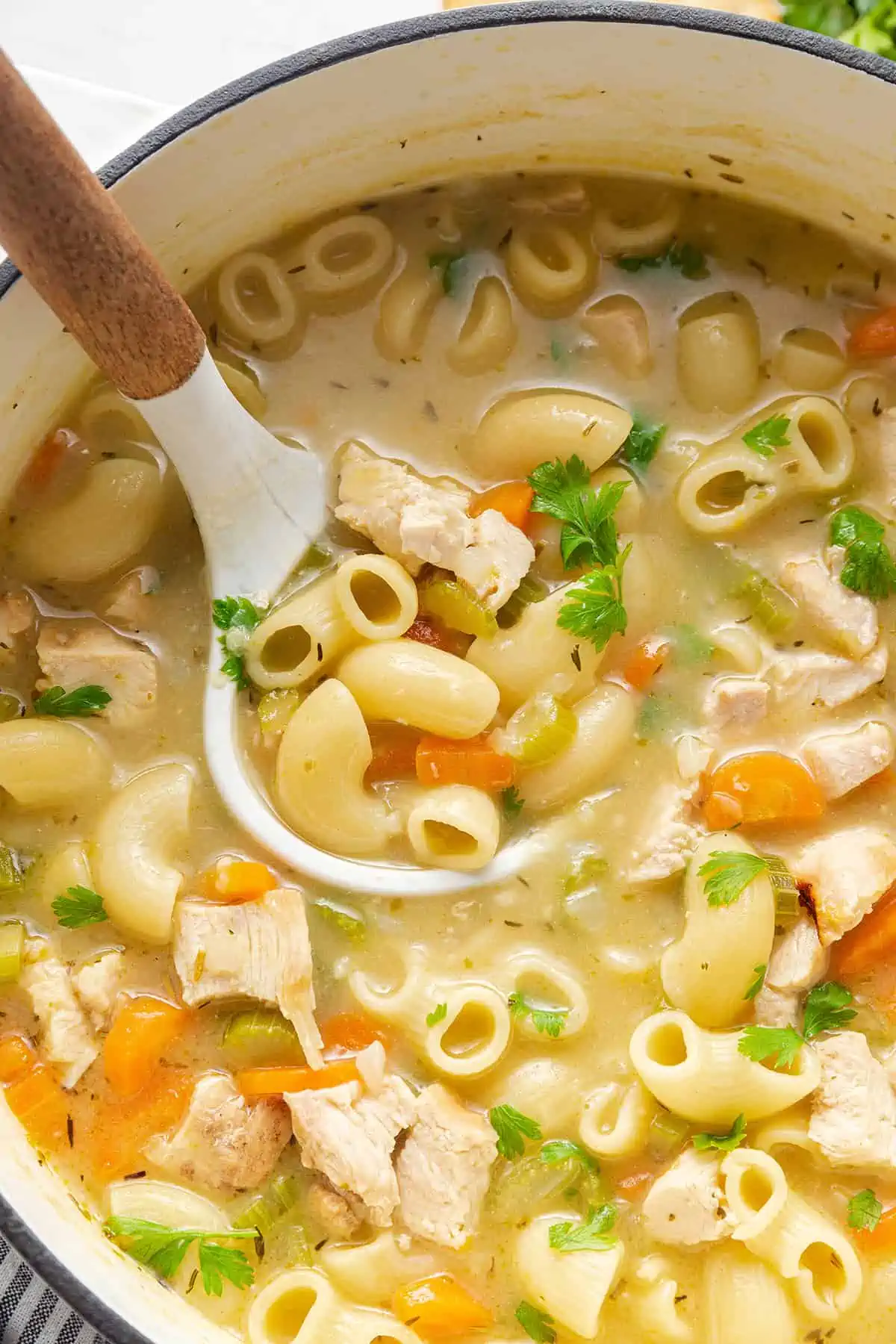 How to Store Chicken Noodle Soup
This chicken noodle soup recipe will last in your fridge for up to 3 days. Just store it in an airtight container, then reheat in the microwave or on the stove top.
Can This Chicken Noodle Soup Recipe Be Frozen?
I'm a huge fan of freezing this soup. Sure, it's already easy to make, but it's even easier to reheat. Next time you make some, freeze a few portions. I promise you your future sick self will thank you! Freeze the soup in an airtight container for up to 4 months. Thaw in the fridge, microwave, or on the stovetop before reheating.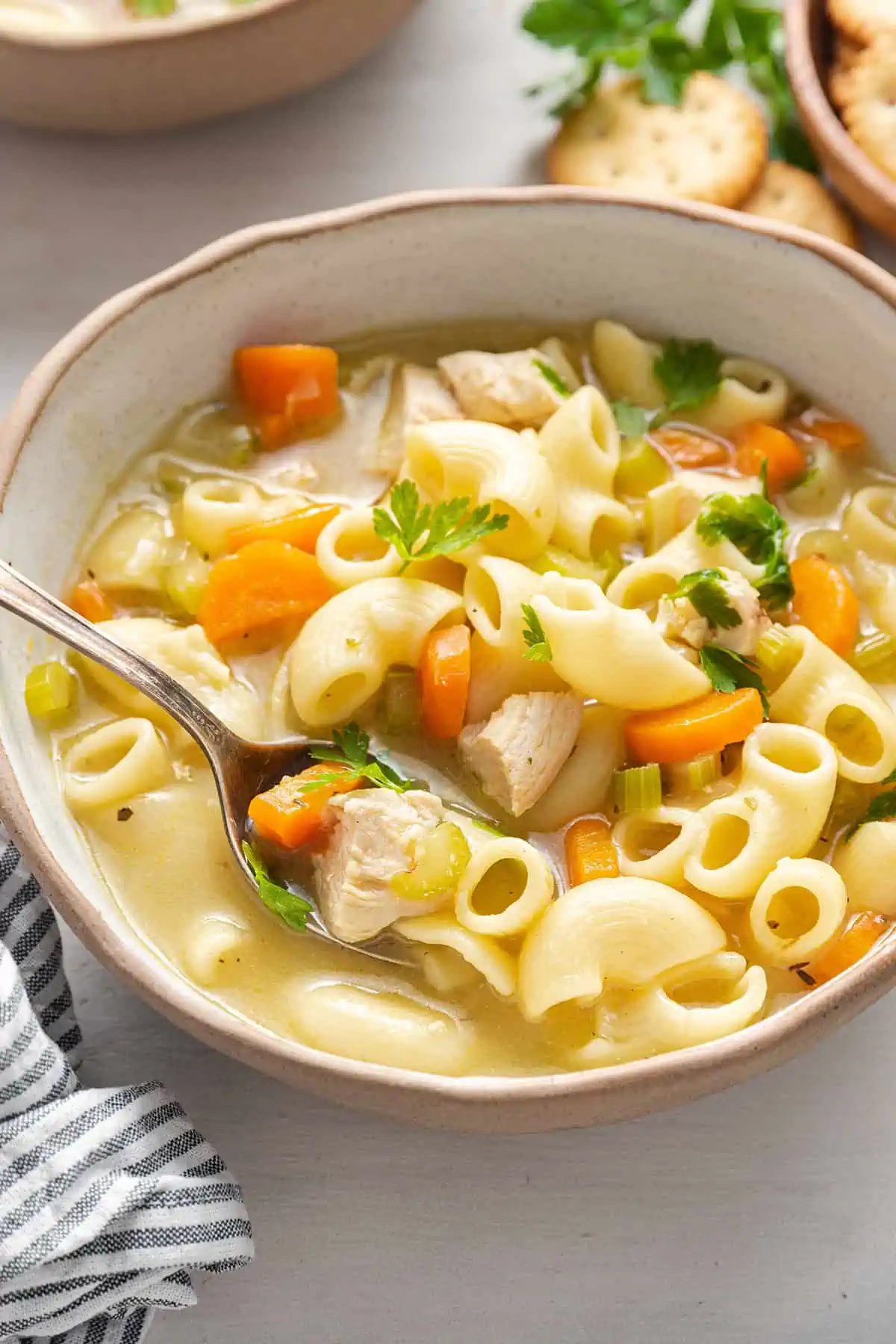 More Cozy Soups to Try
If you like this chicken noodle soup recipe, be sure to check out these other cozy fall and winter soups.
Easy Chicken Noodle Soup
This easy chicken noodle soup recipe is incredibly rich and comforting. It has all the classic, mouth-watering flavors you love, but only takes 40 minutes to make. 
Servings 8 Servings
Calories 497kcal
Ingredients
2 tablespoons olive oil
1 large onion chopped
3 medium carrots chopped
4 celery stalks chopped
3 cloves of garlic minced
3 tablespoons quinoa flour
1/2 teaspoon thyme
1/2 teaspoon rosemary
1/2 teaspoon oregano
Salt & pepper to taste
1 1/2 pounds chicken breast
12 cups chicken stock or homemade broth
1 lb elbow pasta
Instructions
Heat oil over medium high heat, add onions, carrots and celery, and saute until starting to soften, 5 minutes. Add garlic and cook for another 2 minutes. Toss in spices and mix to combine. Sprinkle vegetables with quinoa flour, cook for 1 minute then add broth.

Bring soup to boil and reduce to simmer for 15 minutes.

While the soup is cooking, grill the chicken (either on a grill pan or an outdoor grill) until no longer pink in the middle. Once the chicken is cooked, remove it from the heat and let sit for 5 minutes. Cut the chicken into cubes and add it to the soup along with the noodles.

Cook the soup for another 10 – 12 minutes, until the noodles are al dente.

Scoop into bowls and serve immediately.
Nutrition
Serving: 1.5cups | Calories: 497kcal | Carbohydrates: 61g | Protein: 35g | Fat: 11g | Saturated Fat: 2g | Polyunsaturated Fat: 2g | Monounsaturated Fat: 5g | Trans Fat: 0.01g | Cholesterol: 65mg | Sodium: 650mg | Potassium: 971mg | Fiber: 3g | Sugar: 9g | Vitamin A: 3956IU | Vitamin C: 5mg | Calcium: 51mg | Iron: 2mg
share what you make
Tag #simplyquinoa on Instagram with your creations! We love sharing what you make with the community. We can't wait to see!

follow on instagram