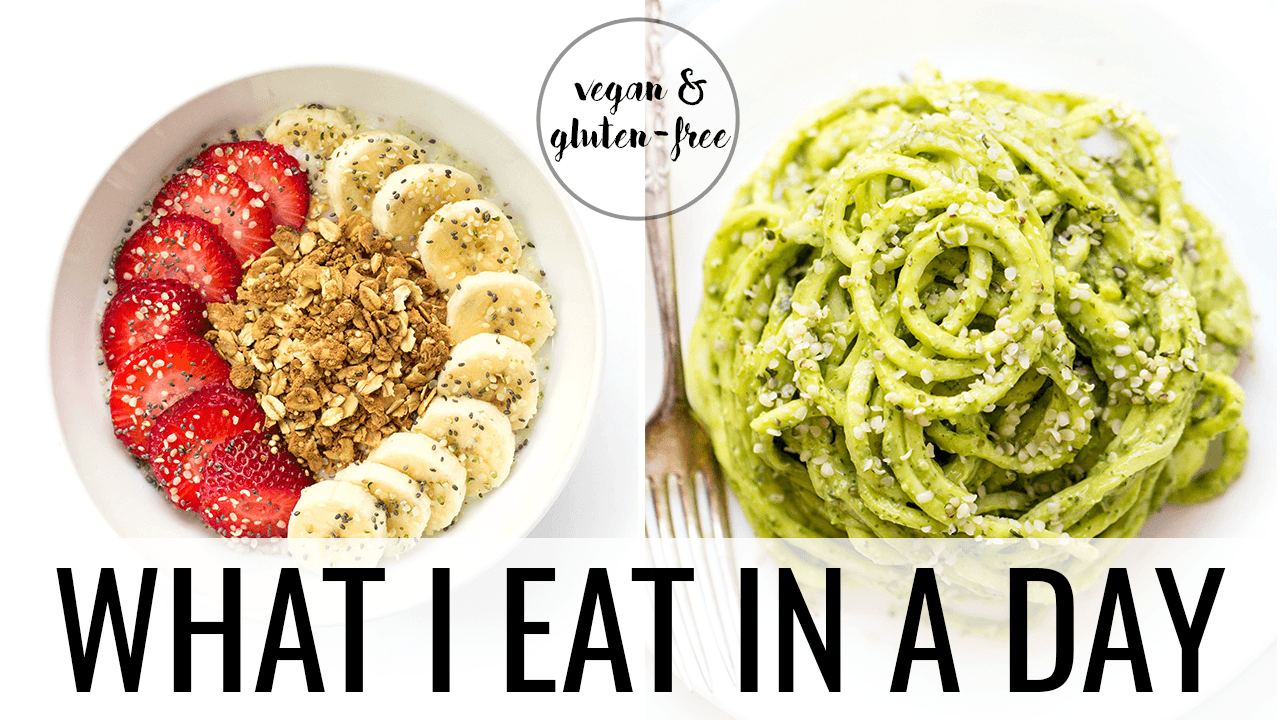 You guys! I can't believe we've already done 5 episodes in the What I Eat In a Day Series! These videos have been so much fun to put together and clearly you guys have been loving them, so we're going to keep on rolling with this series and see where it takes us!
For this episode, it's a pretty typical day for me, except that I actually went over to my cousin's house for dinner instead of eating at home. Everything you see here is gluten-free and vegan, super healthy and a great example of how healthy eating can be simple and quick. I don't think I spent more than 10 minutes prepping any of these meals!
Before we dive in, I have two announcements:
We reached over 10K subscribers on YouTube!! Super exciting and I couldn't be more grateful the support you all have given me to help grow this channel. It's helped me reach more people and inspire their meals and help them eat healthier, so THANK YOU!
I've put together a 7-day meal plan based on the way I eat! Since these videos have been so popular, I wanted to pull together some of my favorite recipes (and some that are featured in this series) to bring you a quick, easy and nutritious meal plan that you can print out and use for your own healthy eating! You can pick that up or check it out by clicking here!
So without further ado, let's dive in to today's new video:
TODAY'S MEALS:
Pre-Breakfast – Filtered Water with Lemon
Breakfast – Almond Yogurt with granola + fruit and Green Juice
Snack – Energizing Matcha Latte
Lunch – Avocado Pesto Zucchini Noodles over greens + Cinnamon Raisin Toast with mixed nut butter
Snack – Chocolate Green Smoothie
Dinner – Massaged Kale Salad, Roasted Veggies, Warm Chickpeas, Pesto Zucchini Noodles + Quinoa
Products I mentioned in the video: SOMA Water Filter (LOVE this!!), Organic Matcha Powder, Monk Fruit Extract, Vegan MCT Oil , OXO Lemon Squeezer, Sprouted Gluten-Free Bread, Vegan Protein Powder
Interested in more videos?
Come check out the Simply Quinoa YouTube channel! I have some really great recipe videos and tutorials to watch and if you don't want to miss new videos like this one, just click subscribe in the upper right hand corner!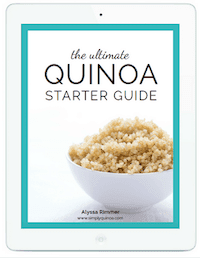 New to cooking quinoa? Grab your FREE Quinoa Starter Guide!
Become part of the Simply Quinoa community and receive weekly emails with exclusive content that I only share in email, as well as my in-depth guide to starting your quinoa journey.
Want more quinoa dinner recipes?
Follow my board on Pinterest!