What I Eat in a Day: Episode #7 — a video series from Alyssa Rimmer all showing you how to eat simple, clean and healthy dishes!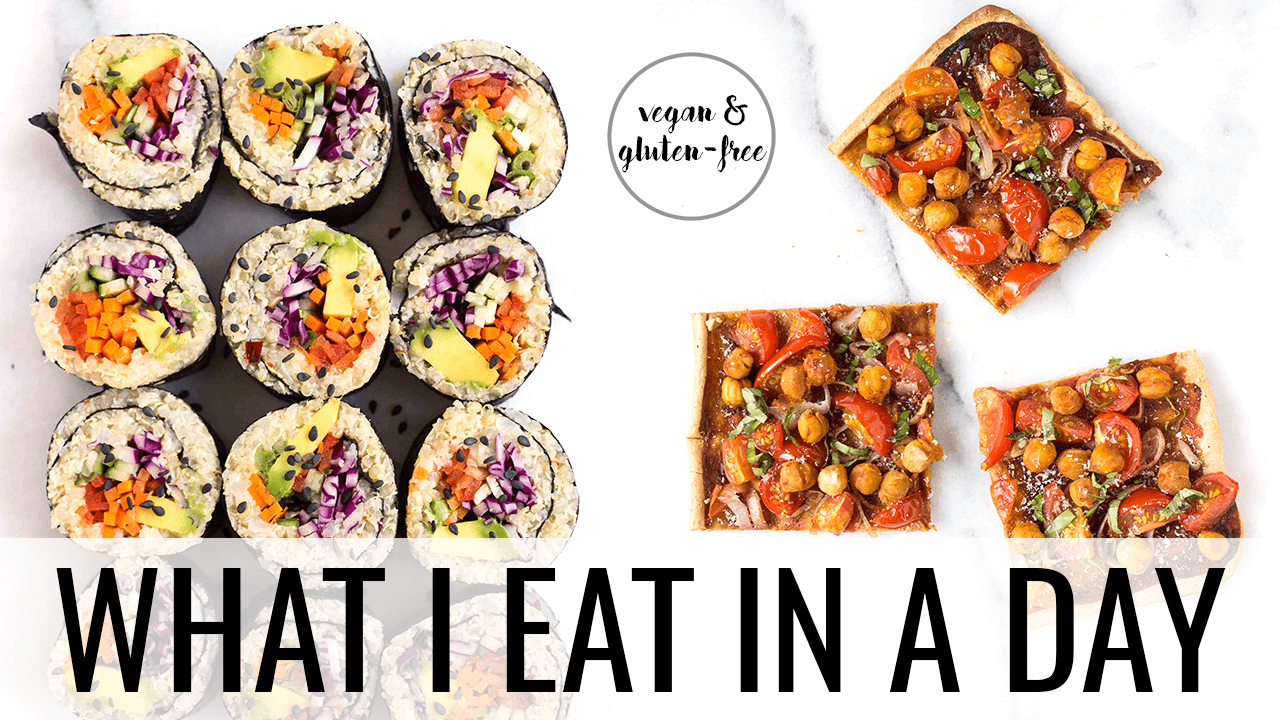 I'm psyched to be back sharing another What I Eat in a Day video for you! You guys have been totally loving this series and I've loved reading all your comments about how they're giving you ideas for your own healthy meals. That's totally my goal with these videos — to show you how I'm eating in hopes to help you make healthier choices for your own meals — and it's awesome to know it's actually working!
So today was a teeny bit different than my normal routine for a few reasons:
I'm in Vermont at my parent's house, so don't have the same equipment or groceries as I normally do
My eating schedule was a bit off because I worked out at the gym with my mom in the morning and then we did errands, so I ended up need to snack before I had an actual breakfast
Recipe tested all day, so my lunch + dinner were both recipes I was testing for the blog (linked below!)
Other than that, this is a fairly typical day eating wise. I tend to normally eat more salad that I did today, but I definitely made a point to still eat lots of veggies!
So let's dive in to today's new video:
TODAY'S MEALS:
Pre-Breakfast – Filtered Water with Lemon
Pre-Workout – 2 Turkish Figs
Post-Workout Snack – Dried Mulberries, Dried Mango + Strawberry Kombucha
Breakfast – Chocolate Peanut Butter Protein Smoothie
Lunch – Veggie Quinoa Sushi
Snack – Sliced Apples + Vermont Peanut Butter
Dinner – BBQ Quinoa Pizza (recipe coming Sunday!) + Pesto Quinoa Pizza with sauteed zucchini, peppers + kale
Products I mentioned in the video: Dried Mulberries, Dried Mango, Strawberry Kombucha, Chocolate Peanut Butter Protein Powder, Nori Sheets, Vermont Peanut Butter, Vegan BBQ Sauce, BlendTec Twister Jar
What types of videos would you like to see next?
I'm always looking for suggestions for video and blog content, so if you have some ideas or specific recipes/content you'd like to see, let me know! I actually put together a little form, so if you have time, please fill it out so I can get your ideas on paper!

Interested in more videos?
Come check out the Simply Quinoa YouTube channel! I have some really great recipe videos and tutorials to watch and if you don't want to miss new videos like this one, just click subscribe in the upper right hand corner!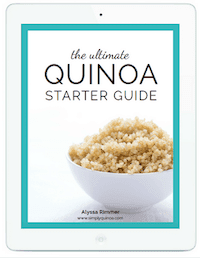 New to cooking quinoa? Grab your FREE Quinoa Starter Guide!
Become part of the Simply Quinoa community and receive weekly emails with exclusive content that I only share in email, as well as my in-depth guide to starting your quinoa journey.
Want more quinoa dinner recipes?
Follow my board on Pinterest!