The 10 best essential skincare products that are non-toxic and natural! These products will leave your skin glowing and need to be part of your everyday routine!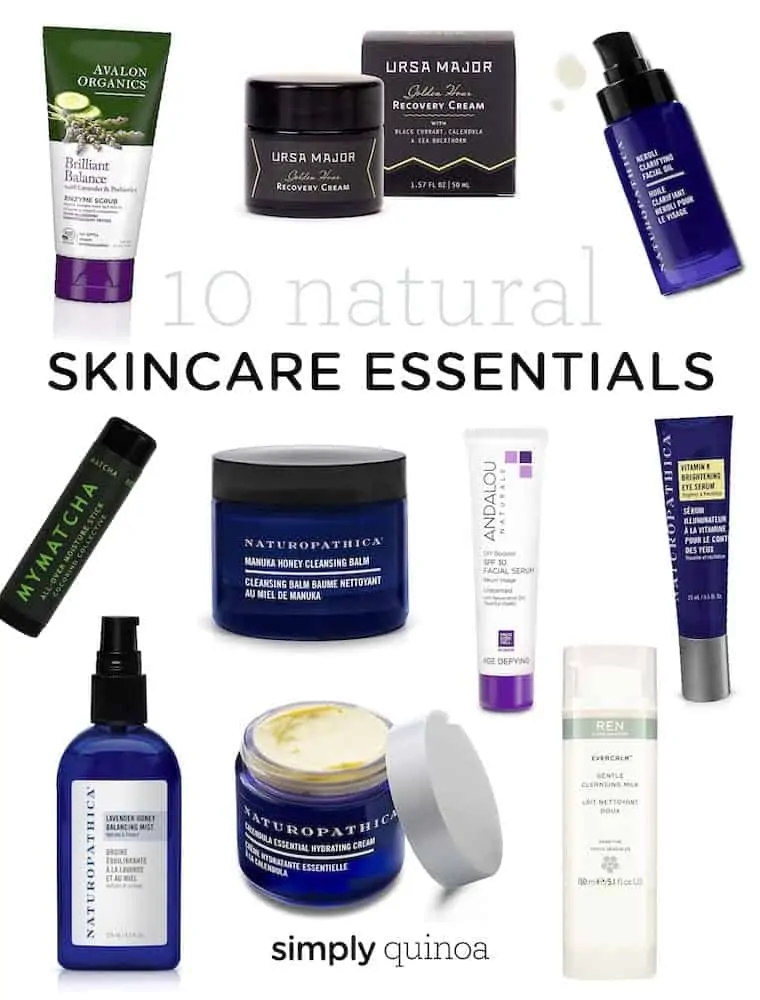 I get so many questions about the skincare products I use that I thought it would be helpful to put together a post that shares my essentials. These are the ones that I turn to over and over again. These are the products that I use on a (mostly) daily basis and love.
And yes, all of these products are non-toxic and natural.
I think one of the best investments we can make is our skincare products. Our skin is our largest organ and the beauty industry is one of the least regulated industries out there. That means that companies are putting loads of toxic chemicals in their products and our skin is just soaking it all up. Kinda nasty, right?
My Must-Have Essential Skincare Products
I'm going to do another post that talks about the importance of using non-toxic skincare products, but for now, let's just talk about the basics. As I said, these are the things I use every single day. And they're products that I think you would enjoy as well!!
Ready to dive in? Let's do it!
---
REN Skincare Gentle Cleansing Milk
Best for: all skin types
Frequency: daily
Price: $26
The first product I use on my face is my cleanser. I've been using this gentle milk cleanser for years and I absolutely love it. As the name suggests, it's very gentle, but it also works. It leaves my skin feeling smooth and hydrated, but also clean. I also adore the smell – it's fresh, but not overpowering. This might be my favorite skincare product in my arsenal!
---
Naturopathica Lavender Honey Balancing Mist
Best for: all skin types
Frequency: daily
Price: $32
My first step after cleansing is to use a toner. I love using toners because I find they really help the moisturizers sink in and leave me feeling so soft and hydrated. This balancing mist from Naturopathica is awesome – it smells nice, it's refreshing and it's a great everyday product!
---
Naturopathica Calendula Hydrating Cream
Best for: sensitive, dry or irritated skin
Frequency: 1 – 2x daily
Price: $59
I've talked about this product many times before and raved about it in my winter skincare guide, and I just had to add it to this list. It's actually the first ever product I tried from Naturopathica and is what got me hooked on their line. This cream is very hydrating but won't leave you feeling oily or greasy. The calendula is also calming which is great for problematic skin. I use this as my everyday moisturizer and my skin has never felt better!
---
Naturopathica Clarifying Neroli Facial Oil
Best for: oily or combination skin, helps balance skin and soothe blemishes
Frequency: 1x daily (or as needed)
Price: $58
Oils are an amazing thing to add to your skincare routine. A lot of us, myself included, are scared of using oils thinking they'll make our skin breakout. This oil actually does it the opposite. In addition to hydration, it also helps to sooth blemishes and balances the skin. I think this is a wonderful everyday oil that can be used for many different skin types and will leave your skin feeling luxurious!
---
Cocokind Matcha Stick
Best for: dry patches or undereye circles
Frequency: daily
Price: $13
I personally think that a person's eyes are where they age first, which is why I think it's so important to keep that skin looking fresh and healthy. My go-to solution? The matcha stick from Cocokind. It's super hydrating, it helps reduce puffiness and the appearance of dark circles. I use this 2x per day – in the morning under my serum and also at night!
---
Naturopathica Vitamin K Brightening Eye Serum
Best for: all skin types
Frequency: daily
Price: $74
It's a little on the pricey side, but so worth it! This eye cream is awesome. It's designed to help brighten the skin under your eyes and is something you actually only use in the morning. I can honestly say that I notice a difference when I use it. My eyes are just brighter!
---

Ursa Major Golden Hour Recovery Cream
Best for: dry & dehydrated skin
Frequency: 2 – 3x per week
Price: $50
If you follow me on social media, you know I love a good face mask! The white tea mask from Naturopathica is another product I was introduced to in that facial and I love it. The esthetician recommended that I use two times per week for hydration. It's nice and light, but it also leaves my face feeling super nourished. The other thing I love about this mask is that it can also be used as an overnight cream when you need it. For example, if you went on a ski weekend and your face was dry and irritated, use this mask as your night cream and you'll wake up feeling incredible!
---
Naturopathica Manuka Honey Cleansing Balm
Best for: all skin types
Frequency: makeup remover
Price: $62
.While I absolutely love using this in the wintertime, it can sometimes be a little much for my skin and ends up clogging my pores. So now I'm using it as a makeup remover and I love it. I just put a little on my fingertips, wipe it around my eyes (to remove mascara and my brow powder) and then wash it off with clean water. I follow that up with my cleanser and I'm completely makeup-free before bed!
---
Avalon Organics Brilliant Balance Enzyme Scrub
Best for: all skin types
Frequency: 2x per week
Price: $10
Exfoliation is one of the most important things you can do for keeping your skin clear. I like to use this gentle exfoliant a few times per week to remove dead skin cells and keep my pores nice and clean. This is a scrub, so be gentle! But it's also definitely on the more gentle side which I love and is perfect for my skin type.
---
Andalou Naturals SPF 30 Facial Serum
Best for: all skin types
Frequency: daily
Price: $17
And lastly, SPF! Now that I'm in my 30s, I'm all about anti-aging. Sun damage is one of the quickest things to make our skin looked aged – it causes wrinkles, spots and more. So I make sure to put an SPF on every single day – even if it's raining. I want my face to look youthful for as long as possible.
---
More Natural Skincare Tips