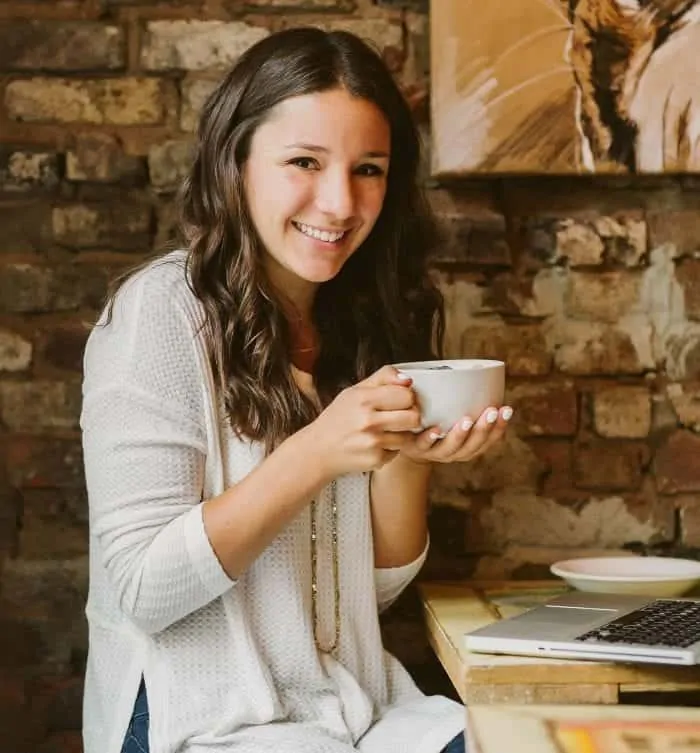 After I shared about my daily fitness routine, I started get a bunch of questions about what my day-to-day diet looks like.
So rather than giving you another lengthy post, I thought it would be fun to make a "What I Eat In A Day" video. Come along with me for the whole day and see everything that I ate!
What I Eat In A Day: Episode 1
This was actually a fairly typical day for me eating wise. Breakfast is always a smoothie bowl as I'm sure you know (I talked about getting out of that rut…and it still hasn't happened), but I like to change up the toppings which keeps things a little more interesting.
Lunch I usually make at home and I've been loving the hummus + avocado toast lately, but I don't normally run up to Whole Foods in the middle of the day. Since Trevi gets groomed up there (the only downside of having a dog that doesn't shed!), I popped over to grab some stuff at the hot bar and to pick up some groceries. Plus, it's a nice place to do a little work AND they have awesome non-dairy milk options in the cafe. You don't have to ask me twice to spend the day at Whole Foods…I'd probably move in if they let me.
If you follow me on Snapchat, then you know that the dinner has been bowl after bowl after bowl. What is it with me and bowls right now? Sheesh! But this one was absolutely scrumptious and I love, love, LOVED the sweet potatoes on the side. I could eat that every day! (oh wait…)
Okay, just to recap, here's a rundown of my meals:
Pre-Breakfast – Lemon Water with Apple Cider Vinegar
Breakfast – Chocolate Smoothie Bowl with spinach, bananas, blueberries, blackberries + superfood powders (see below for exact products)
Snack – Match Latte with hemp milk + dried persimmons
Lunch – Arugula Salad with sesame broccoli, carrots, beets and tahini + slice of gluten-free toast with hummus and avocado + kombucha
Snack – Fresh green juice
Dinner – Vegan Quinoa Bowl with kale, brussels sprouts, crispy chickpeas, hemp seeds and avocado + Roasted Sweet Potato Wedges (used this method for making the crispy)
And now for the video!
Powders I used in my smoothie: Vegan Fermented Protein, Maca Powder, Reishi Powder, Chocolate Greens Powder, Raw Cacao Powder (couldn't find the same brand as in the video, but I've used this one before and really like it)
Interested in more videos?
Come check out the Simply Quinoa YouTube channel! I have some really great recipe videos and tutorials to watch and if you don't want to miss new videos like this one, just click subscribe in the upper right hand corner!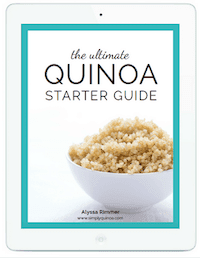 New to cooking quinoa? Grab your FREE Quinoa Starter Guide!
Become part of the Simply Quinoa community and receive weekly emails with exclusive content that I only share in email, as well as my in-depth guide to starting your quinoa journey.