A healthy and protein-pack breakfast, this quinoa breakfast cereal bowl can be made with your favorite fresh fruit and yogurt, and is perfect for on the go!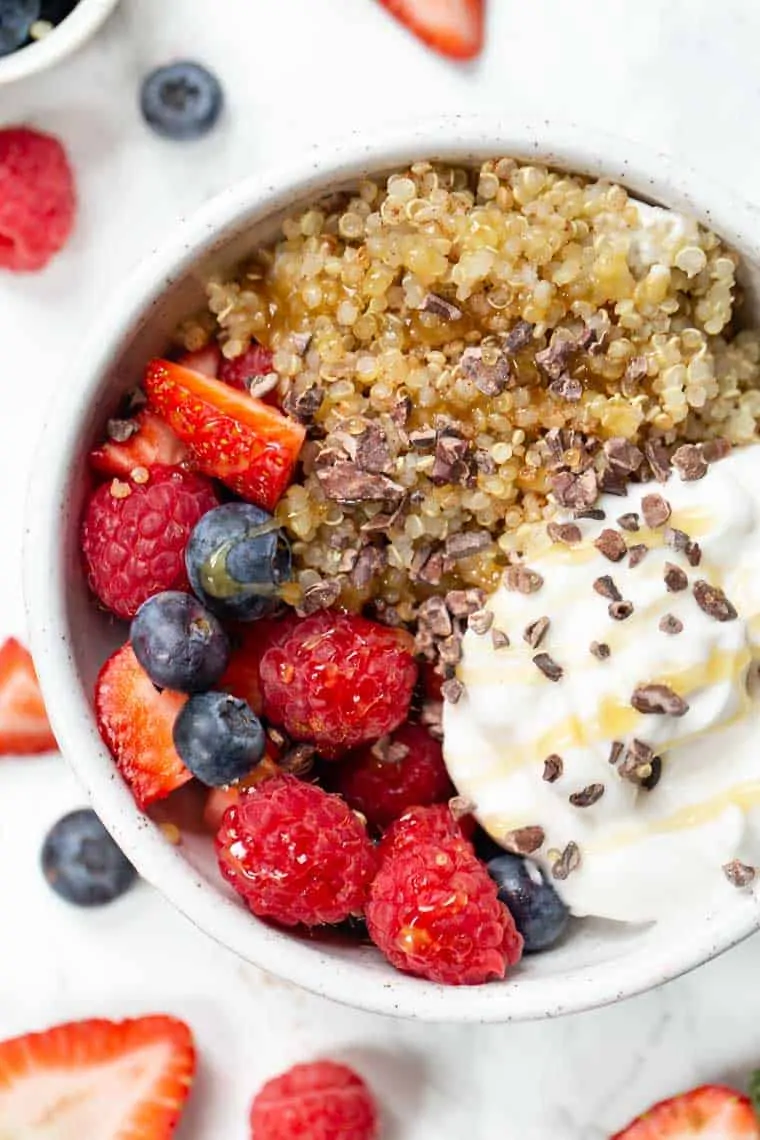 If you've been following me for any extended period of time you know this: I love quinoa breakfast recipes! I think quinoa is the ultimate breakfast food for a few reasons, but mainly it's easy.
Breakfast isn't supposed to be something overly complicated or time-consuming. It's something you should be able to throw together in a matter of minutes. Or better yet, make it ahead of time.
Well, that's what I've got in store for you today! A delicious, healthy and super easy Quinoa Breakfast Cereal recipe that is pretty much a bowl full of all my favorite breakfasty things.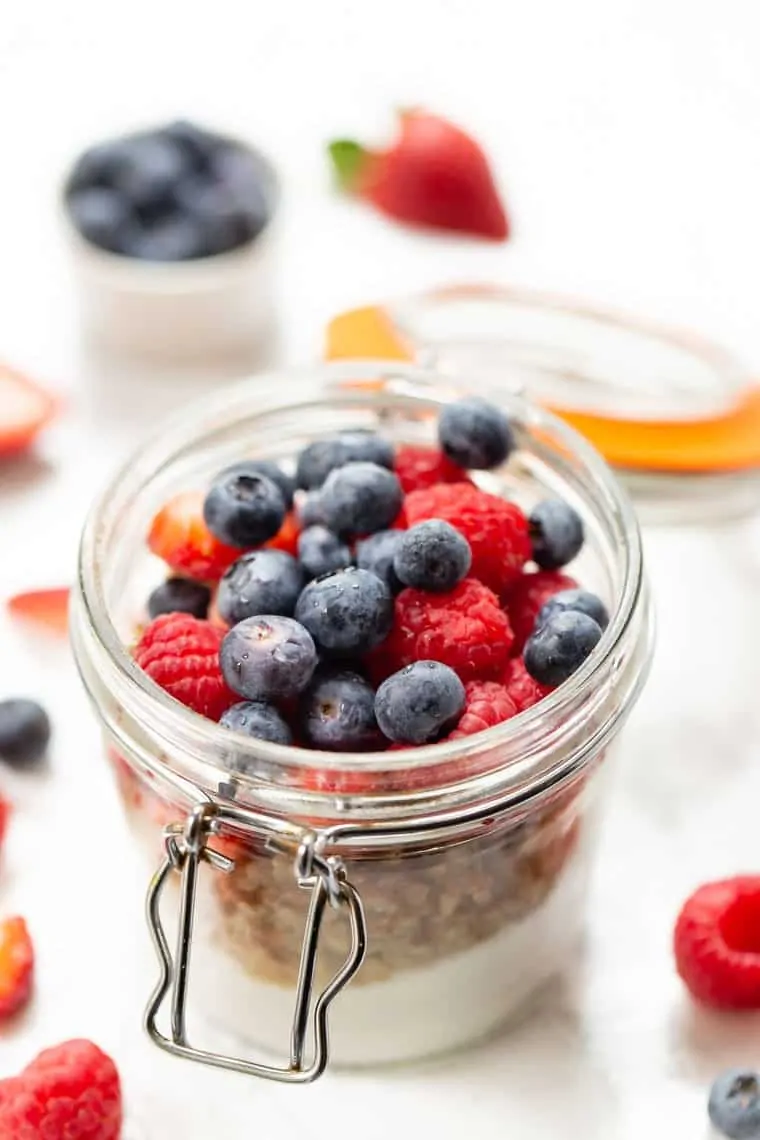 A New Way of Cooking Quinoa for Breakfast
I didn't think it was possible to find a new way to enjoy quinoa, but I have discovered something great with this quinoa breakfast cereal!
And guess what?! It's just plain cooked quinoa.
When I think about adding cooked quinoa to my meals, I usually toss it with some veggies, maybe a little protein, the occasional piece of fruit, and call it a day. But I've never thought to eat it like granola.
Just plain cooked quinoa.
Eaten as if it were cereal.
Nothing added.
So simple.
And oh-so-very good.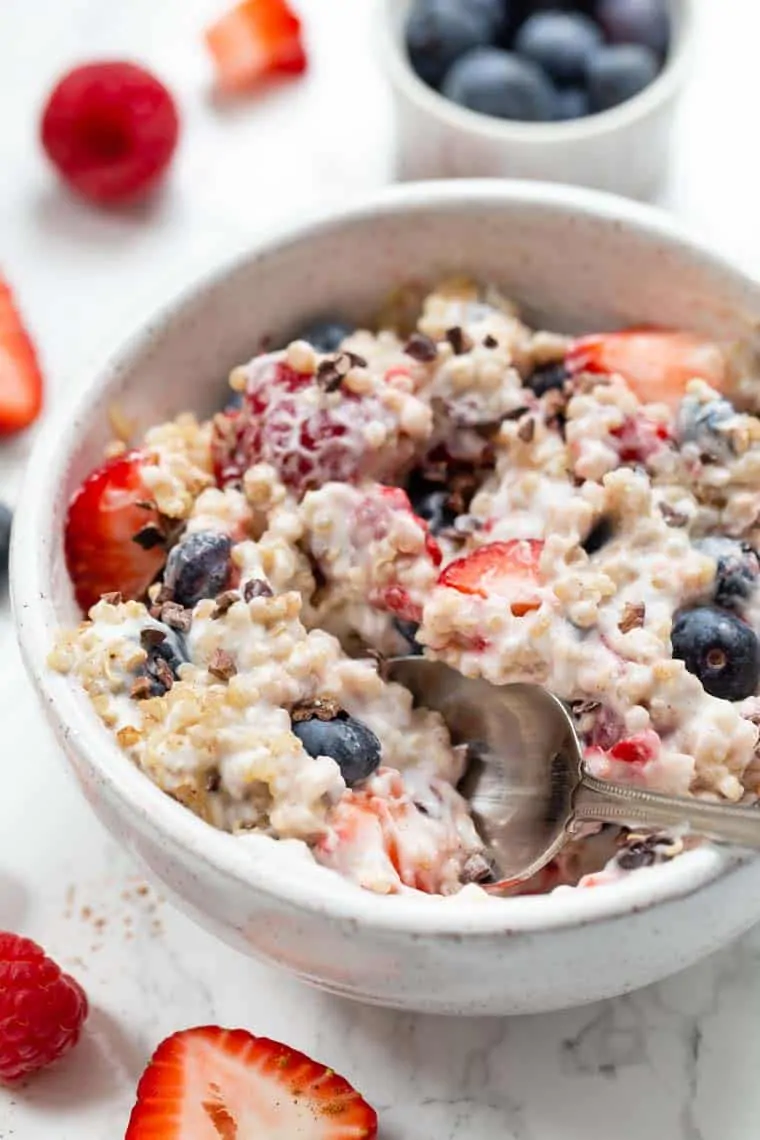 How to Meal Prep Breakfast Cereal
For meal prep purposes, you can think of this breakfast bowl as a parfait. We're layering it in a jar which means we're keeping the ingredients separated and fresh, but also making the recipe portable.
When you're ready to eat it, all you gotta do is just dump it into a bowl, give it a stir and enjoy.
Quinoa will last in the fridge for at least 4 – 5 days. As will the yogurt and berries. I like to keep the berries on top to keep them as fresh as possible, but you could easily make 4 – 5 batches of these and have them for breakfast all week long!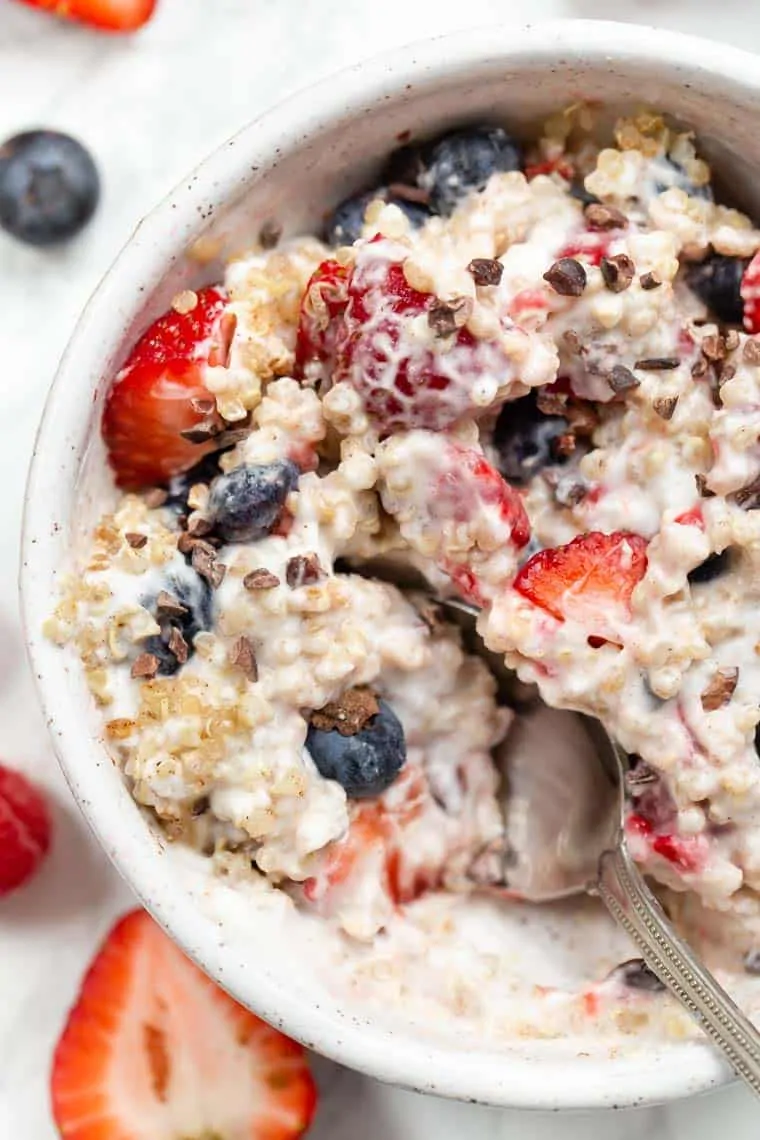 The Ultimate Quinoa Breakfast Recipe
My quinoa breakfast game was totally just kicked up a notch.
Some of you may be thinking, "how has she not thought of this sooner?" My reply to you is, "I don't know!!! How could I have been missing this the whole time?" I'm feeling a bit sheepish and behind the times on this one.
So, my friends, cooked quinoa is not only a scrumptious addition to salads or even a lively side dish.
No, it's quinoa breakfast cereal is a thing. And you need to hop on board!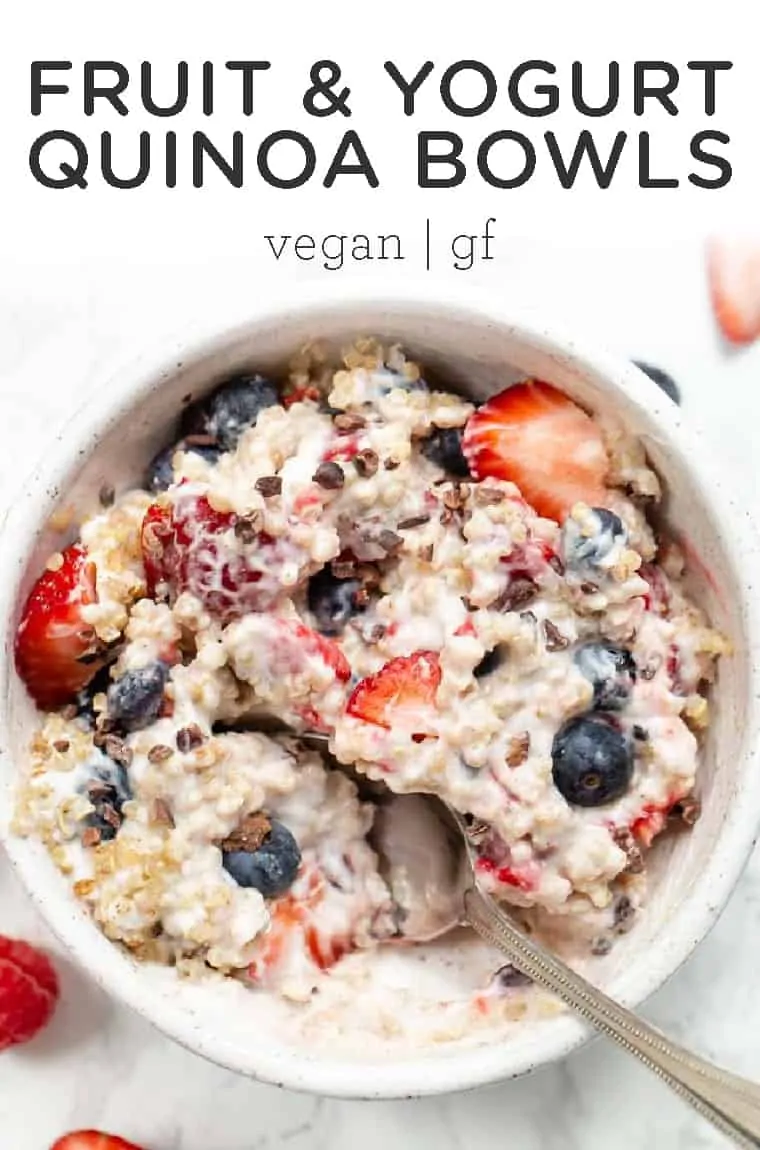 More Meal Prep Breakfast Ideas:
Fruit & Yogurt Quinoa Breakfast Cereal Bowls
A quick & healthy breakfast recipe that combines yogurt, fruit and cooked quinoa. High in protein, super creamy and so delicious!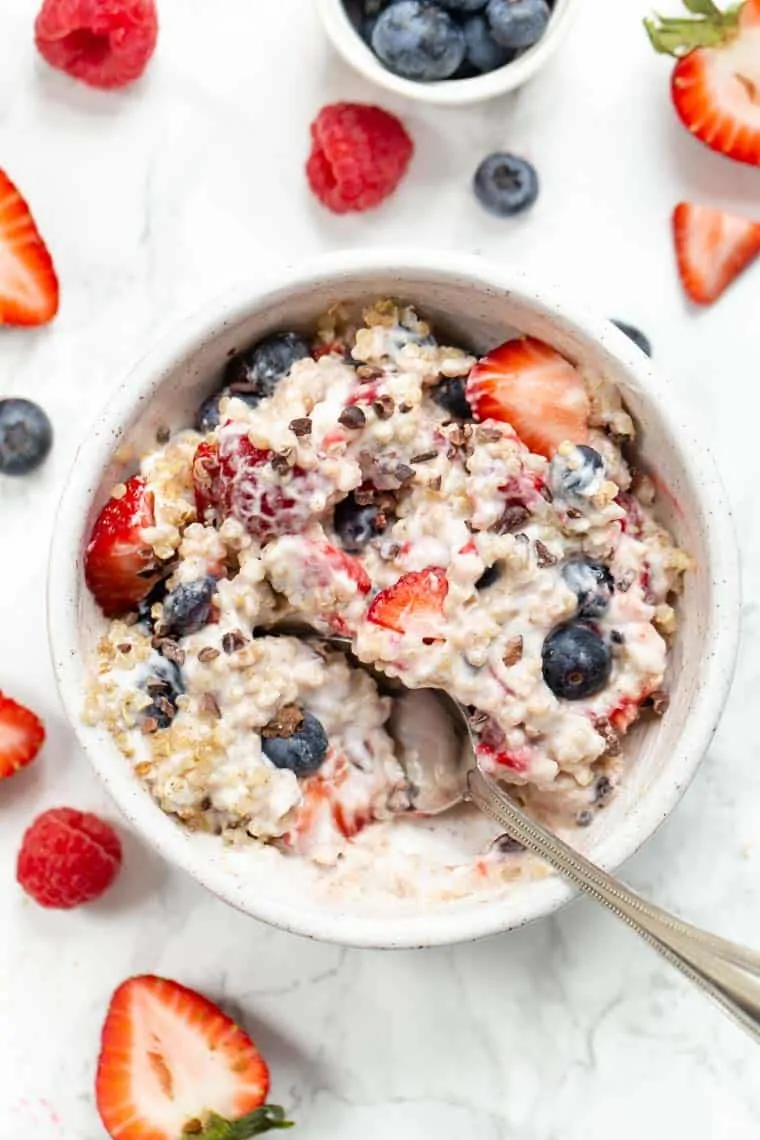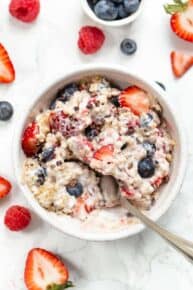 Ingredients
1/2

cup

non-dairy yogurt

1/2

cup

cooked quinoa

1/4

cup

fresh blueberries

1/4

cup

chopped strawberries

1/4

cup

fresh raspberries

honey, cacao nibs, chopped nuts, etc. to garnish
Instructions
Add yogurt to a bowl and top with quinoa, fruit and desired toppings.

Enjoy!
Notes
Feel free to add other fruits (it would be tasty with some peaches and strawberries) or top with nuts!
Nutrition
Calories:
234
kcal
|
Carbohydrates:
42
g
|
Protein:
8
g
|
Fat:
4
g
|
Saturated Fat:
1
g
|
Sodium:
22
mg
|
Potassium:
259
mg
|
Fiber:
7
g
|
Sugar:
14
g
|
Vitamin C:
47.6
mg
|
Calcium:
166
mg
|
Iron:
1.6
mg
Filed Under: