These super easy garlic sesame zucchini noodles make an awesome side dish or base for a healthy meal. Simple to make, flavorful, vegan and gluten-free too!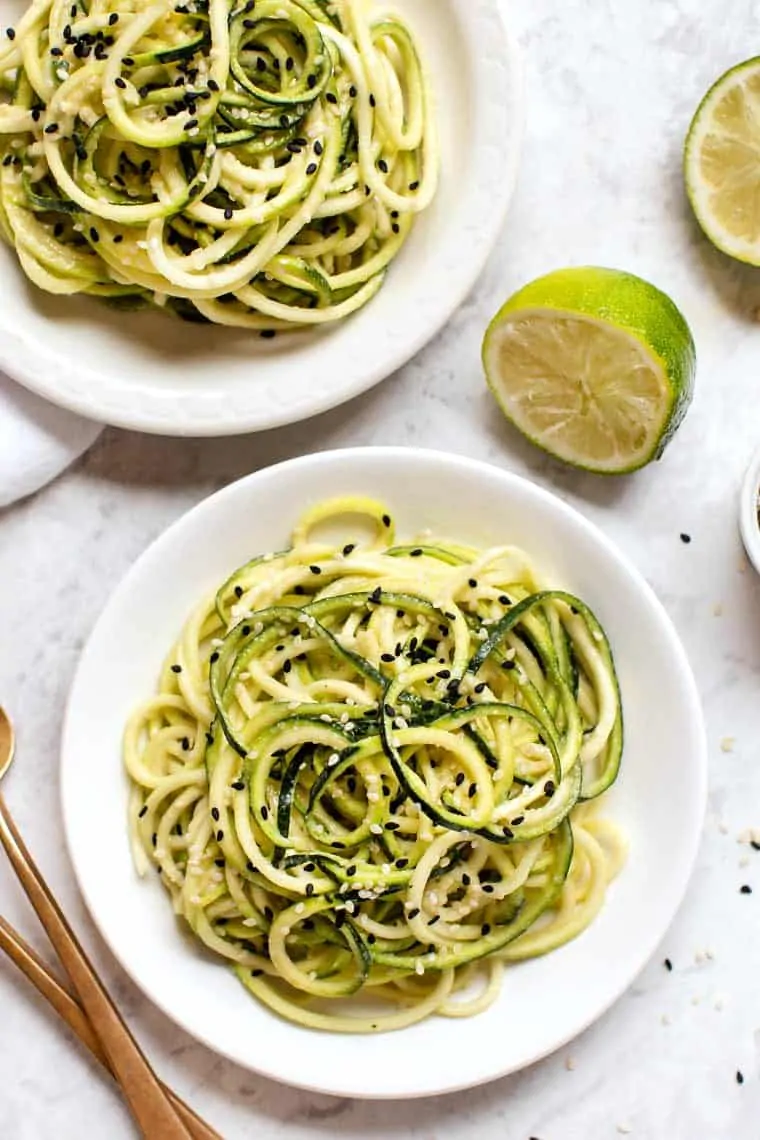 It's almost summer which means it's zoodle season! I'm a big fan – like big, BIG fan – of zucchini noodles, but I really only eat them in the summer. I don't love cooked zucchini noodles because I find they get a little soggy, but I'm all about the cold zucchini noodle salad.
A few reasons why zucchini noodles are the best:
they take almost zero time to make
they're a low cal version of pasta
you can jazz them up any which way you like
And today we're doing all three! We're making my quick and easy Garlic Sesame Zucchini Noodles which take just 10 minutes to make, use only 6 ingredients, and are the ultimate summer side!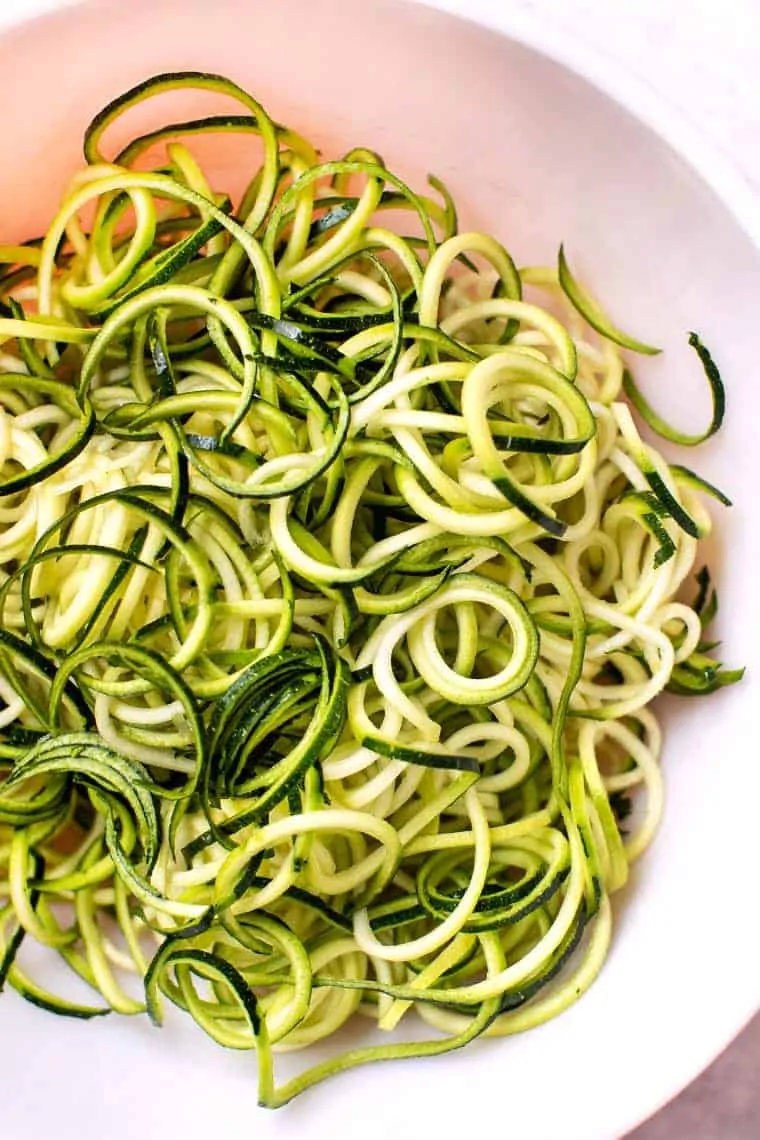 What is the Best Spiralizer?
First things first…how the heck do you even make zucchini noodles!? There are a few ways to make zucchini noodles, but my favorite is to use a spiralizer. The only one I recommend (and I've tested quite a few) is the Inspiralizer. It's powerful, it's easy to use and clean, it gets through tough veggies and it's smaller than other options out there.
If you don't have access to a spiralizer, you can also make zucchini noodles on your own. The best way to do this would be to use a mandolin slicer to cut the zucchini into wide strips. From there you'd like the strips into thinner strips that would resemble noodles.
That method would take quite a long time, but it still works. I guess it's mostly just personal preference!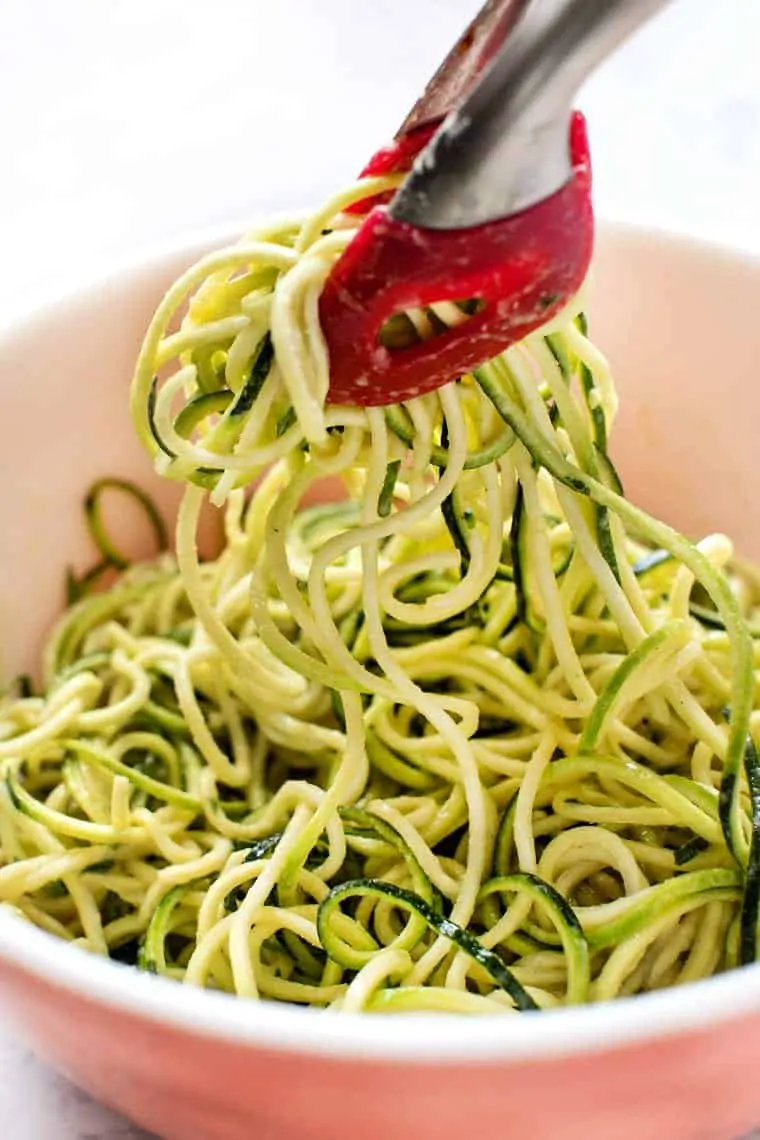 How to Make Zucchini Noodles Not Soggy
One of the problems I have with zucchini noodles, especially when you cook them, is they get a little soggy. Zucchini is about 95% water, so it makes sense that the longer they sit, the more water they release.
Because of that, unfortunately, there isn't a super easy fix for making them not soggy. It's kind of the name of the game with zoodles.
BUT I do have a few ways to help them not be too wet and soppy:
Cook them for just a little. The longer they cook, the more water they release.
If cooking, drain the noodles before adding any sauces
Pat the zucchini noodles with a paper towel before using
Use a thick sauce (either cold or wet) to not add too much additional moisture
And my girl Ali from Inspiralized has even more tips for avoiding soggy zucchini noodles!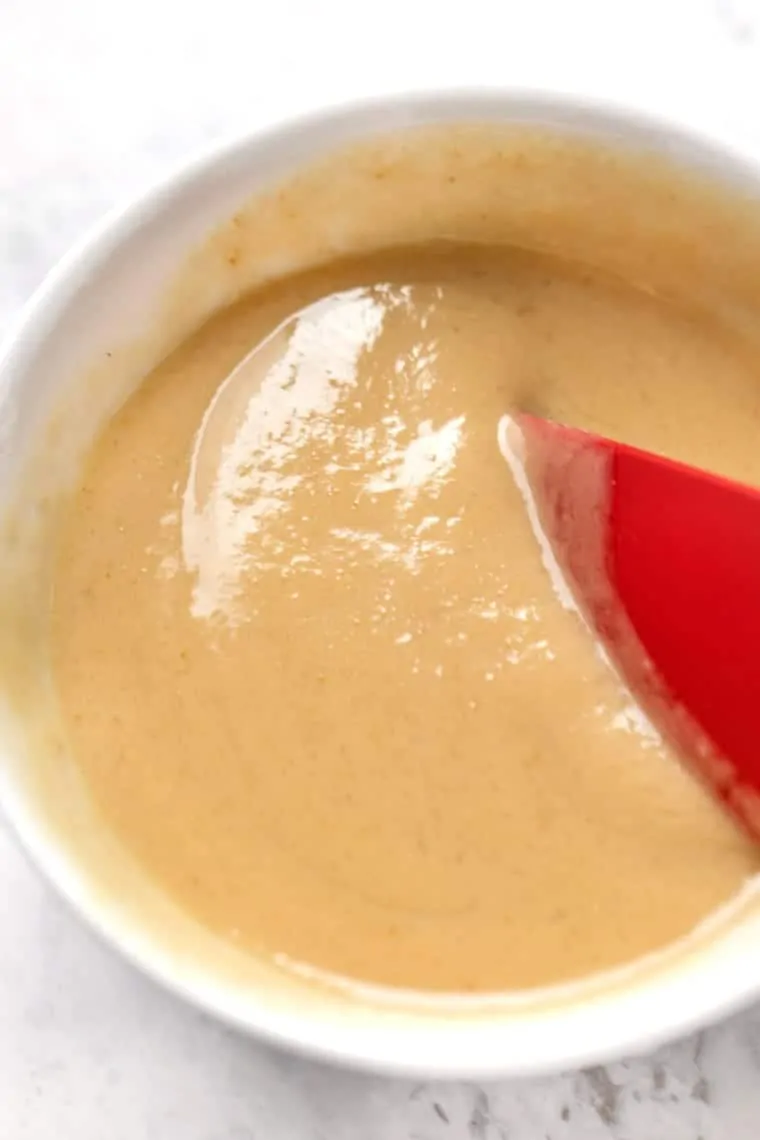 Simple Garlic Sesame Sauce
Okay so speaking of sauce, let's talk about this amazing sauce we're using our on zoodles today.
These zucchini noodles aren't cooked, so we're going to a thicker sauce made from tahini, sesame oil, garlic, and some salt. It's super simple, but also has this lovely creamy texture which tastes fabulous with the noodles.
Toasted sesame oil is one of those things that is very pungent (in a good way). It brings a ton of flavor, it's healthy and it really carries through most recipes. I recommend using sesame oil as a finishing oil in things like dressing, sauces or even on stir fry. Cooking it can reduce some of its benefits, but also its flavor.
Since we're making a garlic sesame sauce, we need some garlic. I went with garlic powder for this recipe because we're not cooking it and I sometimes find the flavor of raw garlic a little much. Garlic powder is a little milder but still packed with flavor. And it's easy. You just pour it out of the bottle and go.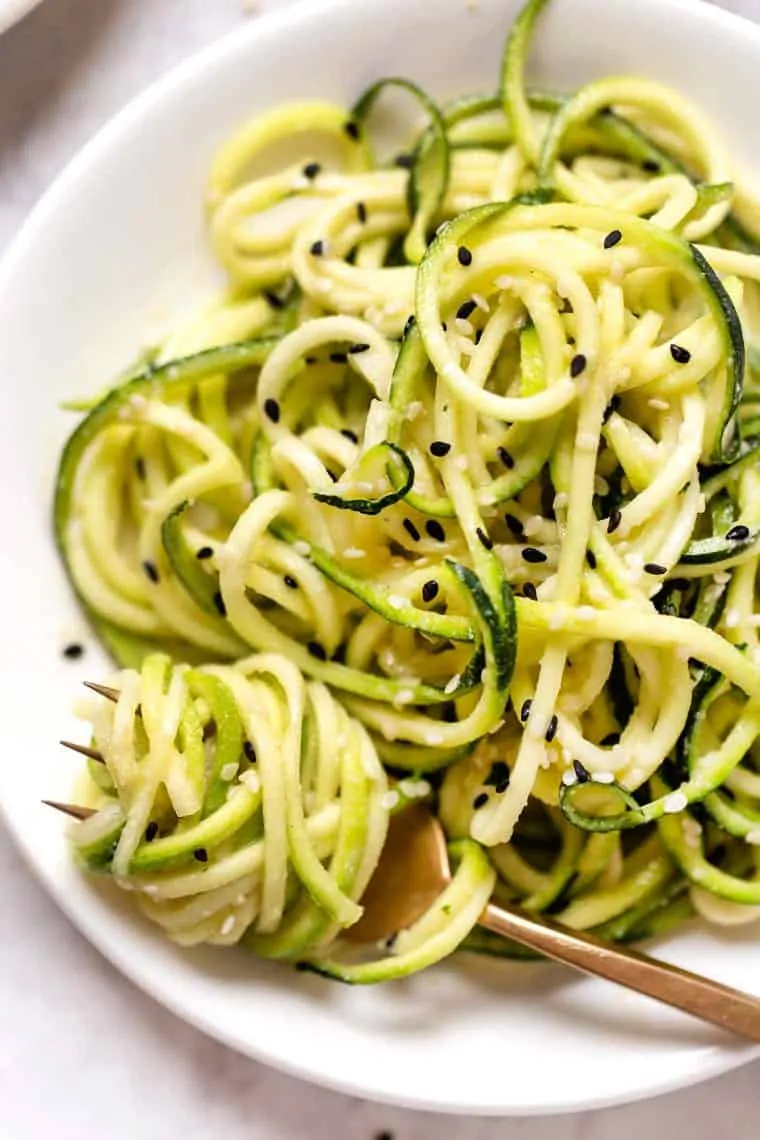 The Absolute Best Garlic Sesame Zucchini Noodles
If you're a fan of Asian style noodles, you'll love these garlic sesame zucchini noodles. They're a cinch to make – take less than 10 minutes – and are packed with flavor.
They're also a great base. Whether you want a quick and healthy side dish or you want a flavorful base to another meal, these noodles are here for you. I love serving them at summer parties, but will also top them with baked tofu and roasted veggies or a light and healthy meal.
You really can't go wrong with sesame-flavored anything. It's just a bonus that it feels like pasta but is actually just vegetables ????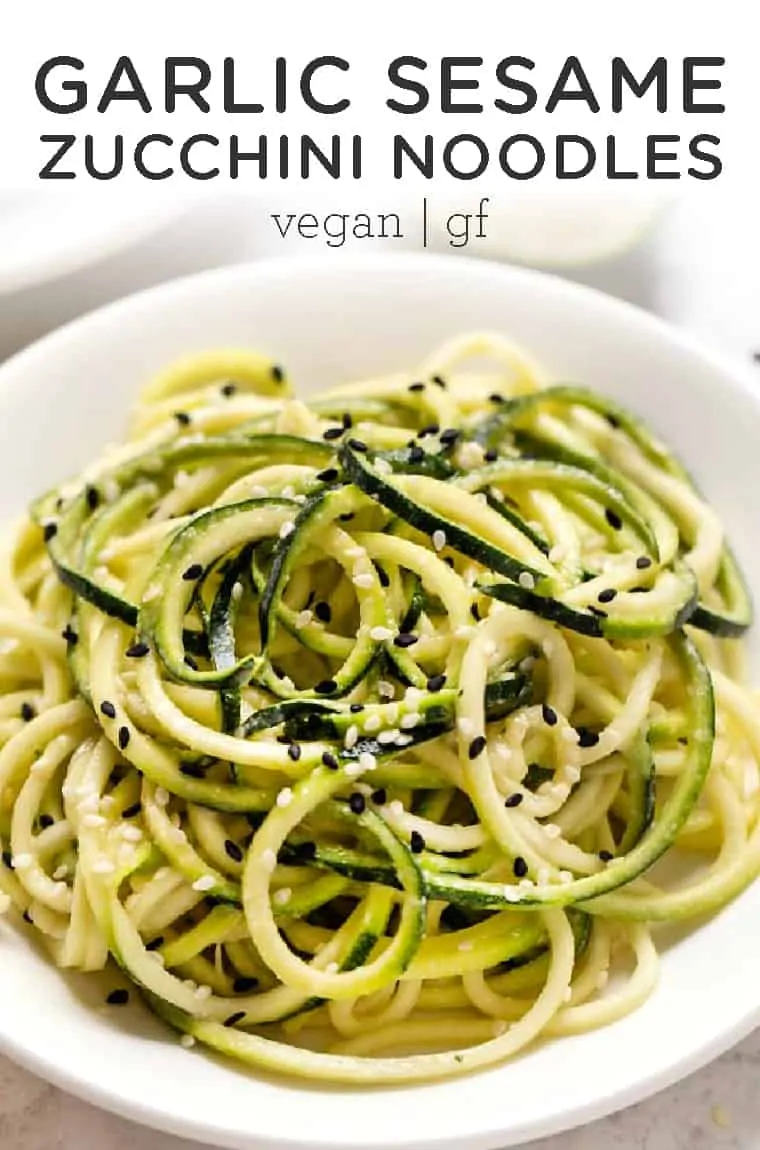 More Healthy Zucchini Noodle Recipes
Garlic Sesame Zucchini Noodles
These super easy garlic sesame zucchini noodles make an awesome side dish or base for a healthy meal. Simple to make, flavorful, vegan and gluten-free too!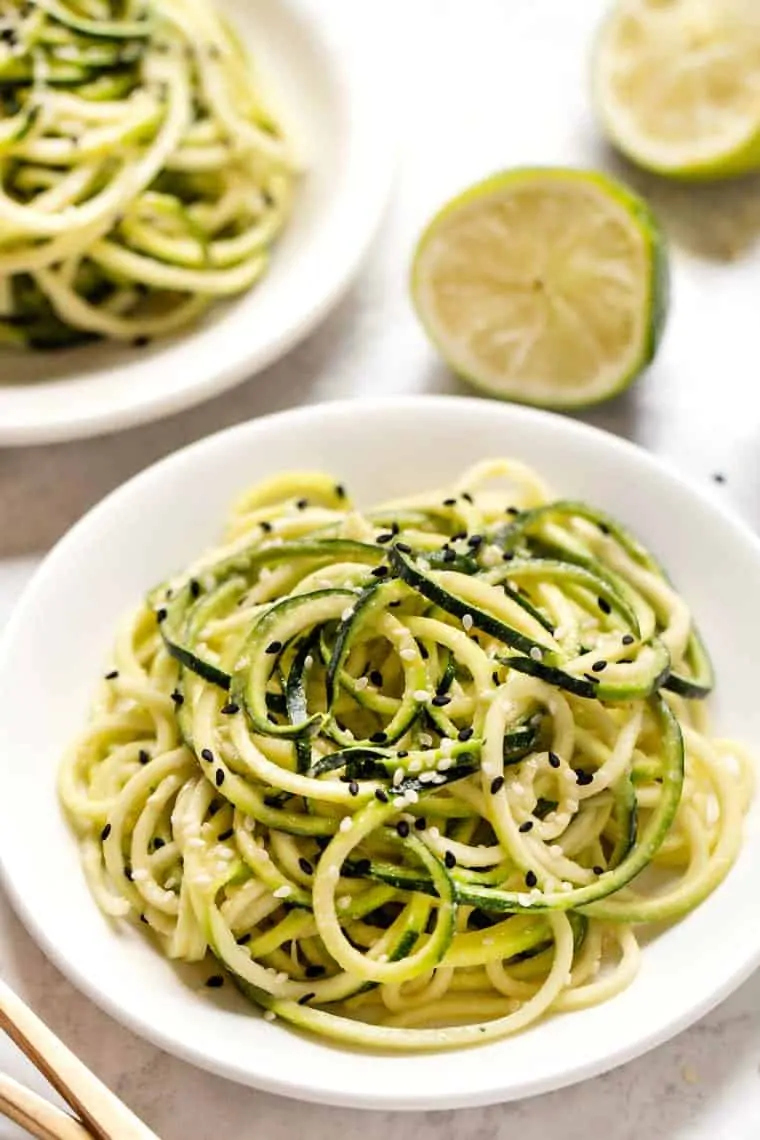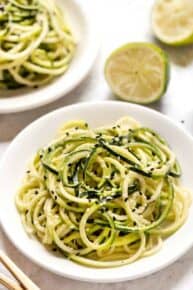 Ingredients
for the noodles
2

large zucchinis

garlic sesame dressing
Instructions
Whisk together the dressing ingredients (minus the water) until smooth and creamy. Add water, 1 tablespoon at a time, and stir until you get a pourable consistency.

Spiralize the zucchini into noodles using your favorite spiralizer tool (I like this one).

Add the zucchini noodles to a bowl and top with dressing. Toss to combine until the noodles are coated in the sauce. Divide among plates and garnish with sesame seeds.
Nutrition
Serving:
1
cup
|
Calories:
125
kcal
|
Carbohydrates:
5
g
|
Protein:
3
g
|
Fat:
11
g
|
Saturated Fat:
2
g
|
Sodium:
302
mg
|
Potassium:
299
mg
|
Fiber:
1
g
|
Sugar:
2
g
|
Vitamin A:
195
IU
|
Vitamin C:
17.8
mg
|
Calcium:
26
mg
|
Iron:
0.7
mg