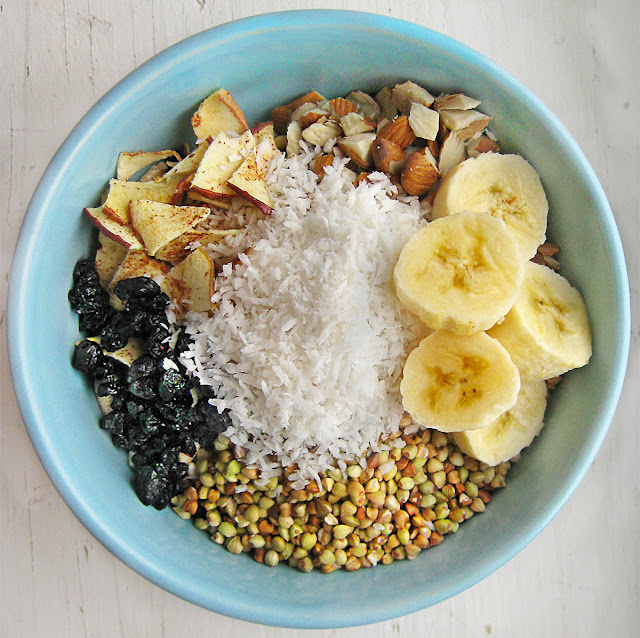 Wake up to something delicious and nutritious this morning.
Breakfast is my favorite meal, and for as long as I can remember, cereal has been my breakfast of choice. The cold milk mixed with sweet, crunchy cereal and topped with fresh fruit, is pure bliss.
I love cereal so much that upon my return to the United States after living in Spain for 6 months, my first meal was cereal. A huge bowl of Honey Bunches of Oats (always with Almonds) with granola (sadly not homemade) on top. Yep, totally packed with gluten and I totally enjoyed every single bite of it.
Anyway, when I took gluten and dairy out of my diet, cereal pretty much fell by the wayside. Much to my dismay (at the time at least), my daily bowl of cereal was replaced with green smoothies, quinoa muffins, gluten-free scones, and puffed rice cakes with almond butter and apples.
Of course, now I couldn't be happier with my lifestyle and breakfast options. But that doesn't mean I haven't been missing cereal. At least until this recipe came along. I was inspired. I could now combine my healthy, amazing gluten-free breakfasts with my beloved bowl of cereal.
To put it simply, I've found the perfect bowl of gluten-free breakfast cereal.
This recipe was inspired by Lisa (who blogs at With Style & Grace), who recently posted a DIY Breakfast Cereal. The pictures, the post, everything about the recipe was screaming my name. It had Alyssa written all over it.
This got me thinking. I had a huge bag of puffed brown rice cereal from when I made rice cripsy treat cookies, and I didn't want it to go to waste. The idea of eating a bowl of the bland, unflavored cereal did not sound appealing. I needed a way to spice things up a little bit. And so, like Lisa, I started to play around with my pantry ingredients.
When making your own cereal, start with the basics. I like using an unsweetened cereal for my main portion, because it lets me enhance the flavor with other fun and healthy ingredients.
For most of us, our days start with breakfast, the most important meal of all. And breakfast is all about balance, making sure our bodies get what we need to start our day out right.
We need our carbs, our fiber, our protein, our fat and of course, our fruits and vegetables. Let me begin by saying, I'm sorry, there are no veggies in this breakfast bowl (I sneak greens into my breakfast with smoothies).
My pantry was chock-full with  things I could add to cereal. I took what I had on hand and made something spectacular. A new favorite in my recipe collection.
Chopped raw almonds, raw buckwheaties and apple rings (which I dehydrated myself! – recipes to come soon), shredded coconut, dried blueberries and banana.
A gluten-free breakfast bowl packed with nutrients.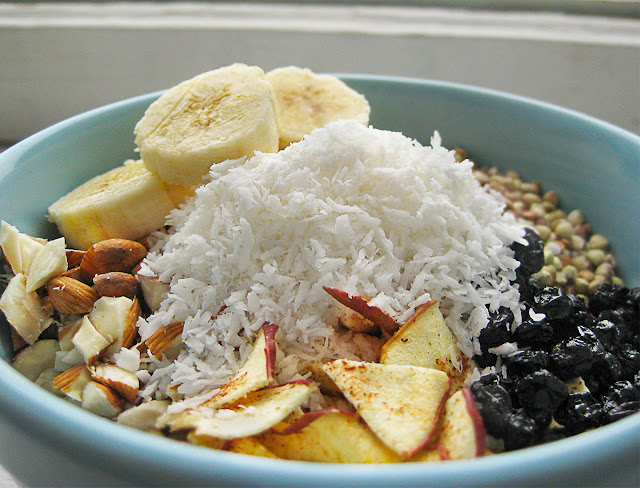 My very own Gluten-Free Breakfast Cereal Bowl
Gluten-Free Breakfast Cereal Bowl
I have an new outlook on the world of gluten-free cereal thanks to With Style & Grace. No more $6 boxes of the sugary, processed junk, I have this now. A totally easy to make and super delicious bowl of cereal. A fabulous way to start my day. Loaded with flavor and healthy ingredients. Amazingness in a bowl.
Don't be afraid to make this cereal completely your own. Use whatever ingredients you like. Play with it. Have fun. Enjoy it. Add ingredients that you love and that make you happy. Isnt' that what this is all about anyway? Do it for you.
my personal breakfast bowl ingredients:
1/2 cup puffed brown rice cereal
1/4 cup raw buckwheaties
2 tablespoons dried blueberries
1/4 cup chopped raw almonds
1/4 cup unsweetened shredded coconut
3 dried apple rings, chopped
1 small banana, sliced.
Mix everything in a bowl, add your favorite non-dairy milk, and enjoy with a steaming cup of green tea (or coffee, or juice, or whatever your morning beverage usually is).