While we're having a healthy breakfast of eggs and toast, let's also chat about fitness. Fitness is an important part of maintaining a healthy lifestyle, but what do you do when you hate working out? And I mean really don't like it.
That's me. The idea of working out is awesome, but when push comes to shove, I just would rather take my puppy for a walk and play in the snow. Gyms aren't my jam. Boot camp makes me want to hurl.
I do get on workout kicks. I'll buy DVDs and do it for a few weeks, then my knees start to hurt and I stop. I don't know if it's just in my head or if it's my body telling me that I'm not choosing to the right kind of exercise. Either way, it's absolutely no fun.
What I will say though, is yoga never hurts. Yoga makes me happy. Yoga is the one form of exercise that I actually look forward to. Yoga brings me peace.
Which is why I've decided to challenge myself to practice yoga every single day for the month of February.
Part of this challenge also includes eating right. I feel really strongly that part of eating healthy is to make sure that you're starting your day with a nutritious meal. That doesn't mean just a small piece of fruit or a handful of granola. It means that you're actually eating a meal.
This is a chance to get my metabolism in gear and put my body on the right schedule for the day. I know that I'll end up burning more calories throughout the day, will have more energy and most importantly will actually feel good! Breakfast is essential.
I've never been the biggest eggs and toast fan – I'd much rather go the sweet route when it comes to breakfast. But since I'm trying to cut back on my sugar intake during the month, eggs are a natural choice.
I settled on a gluten-free breakfast sandwich. They're quick, easy and totally adaptable. Plus, everyone loves them!
To make this breakfast really shine, I toasted up a slice of my high-protein quinoa bread (carbs for energy), topped with some smashed avocado (healthy fats to keep you satiated), then a layer of steamed kale (a blast of nutrients), finished with a fried egg on top (protein to help stay alive).
It's pretty much the ultimate (and easiest) breakfast sandwich on the planet. Oh and it takes less than five minutes to make. Does it get any better than that?
Easy Gluten-Free Breakfast Sandwich
They're quick, easy and totally adaptable. Plus, everyone loves them!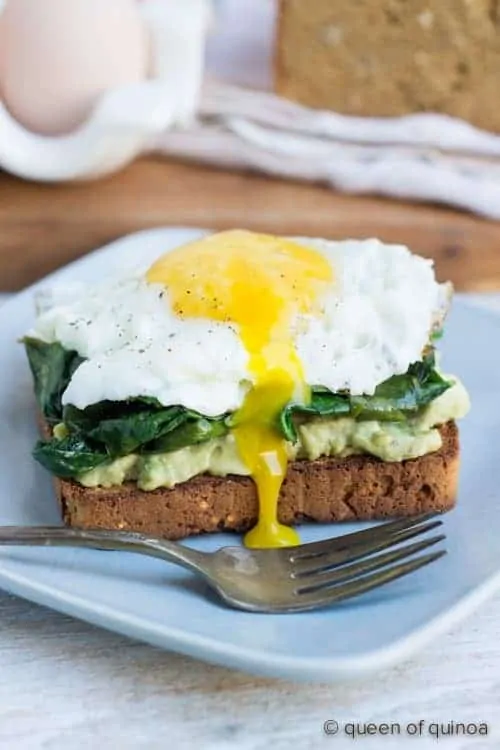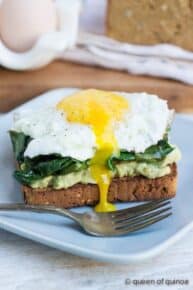 Ingredients
1

slice

high-protein quinoa bread

toasted

1/2

avocado

mashed

1

cup

kale

finely chopped

1

large egg
Instructions
Heat a skillet over medium high heat, add a splash of water and kale, and cook until wilted. Transfer to a plate.

Return skillet to the stove, drizzle with a little olive oil or butter. Crack egg over skillet and cook until edges have started to crisp, 1 - 2 minutes. Flip and cook until desired consistency (for an over-easy egg, this is 30 seconds to 1 minute more).

Assemble sandwich: top toast with avocado, then kale, then top with egg.

Enjoy!
Nutrition
Calories:
349
kcal
|
Carbohydrates:
29
g
|
Protein:
11
g
|
Fat:
21
g
|
Saturated Fat:
3
g
|
Cholesterol:
169
mg
|
Sodium:
210
mg
|
Potassium:
877
mg
|
Fiber:
7
g
|
Sugar:
3
g
|
Vitamin A:
7155
IU
|
Vitamin C:
90.4
mg
|
Calcium:
175
mg
|
Iron:
2.3
mg
Filed Under: