A gluten-free bread that will knock your socks off. This English muffin bread is like no gluten-free bread you've ever had – light, fluffy & delicious!
I spent this past weekend pretty much off the grid. I was in the White Mountains at a family reunion, the cell service was awful, there was no TV and definitely no internet. At first, I was a freakin' out over the whole "being out of touch" thing, but by the time Sunday rolled around, I realized it was actually kind of awesome.
I didn't find myself searching for my phone. I wasn't checking my email. I wasn't scrolling through Instagram and liking things on Facebook. I wasn't tweeting. I was spending time outside, playing games in the yard and laughing with my family. And obviously loving my little puppy.
And you know what? I was completely content. It was nice even.
Sometimes you need that little recharge. You need to disconnect. To not be plugged in every second. It feels good to just get away from it all. To focus on what's important, like spending time with your family. Because you can quickly realize that every year, as much as we'd like to stop it, we're getting older and these weekend where we're all together will become fewer and farther in between.
There was 20 of us at this reunion. All my aunts and uncles, my grandparents and my cousins. We rarely (if ever) get to see each other all at once, and so it was kind of perfect that no one had cell phone service. We were able to just focus on being together and having fun. That's what it's all about anyway.
Which brings me to the food. For someone with food allergies, big family get-togethers like this can be a challenge. With so many mouths to feed, accommodating just one person makes you feel like a burden on the rest of the group. At least for me, I don't want everyone to be constantly worried about making me special food. So I just bring my own, and I make sure I'm never feeling like I'm missing out.
We're big sandwich people in my family. With our big house in Maine, we always make huge lunches to take with us and they're usually sandwiches. I knew that would be the case again this weekend, so instead of pining away for bread (like I usually do), I decided to whip up a loaf to bring with me.
So I decided to turn my fabulous gluten-free english muffin recipe into bread. I wasn't sure if it was going to work out (and I tweaked the recipe slightly), but I have to say, this was the best gluten-free bread I've ever made. I know I've said that before, but this one is it. I've found my go-to recipe – english muffin bread. It's just incredible.
Gluten-Free English Muffin Bread
Amazingly light and fluffy, this gluten-free english muffin bread has the perfect texture. When toasted, you'll never know you're munching on a gluten-free bread. It's that good!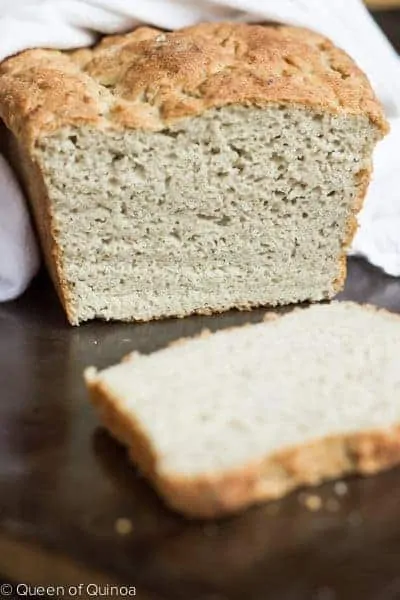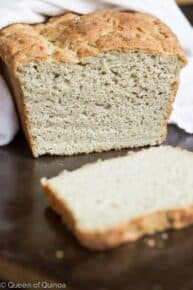 Instructions
Whisk/sift the dry ingredients (minus the yeast) together in a large mixing bowl. Set aside while you proof the yeast.

Add the yeast, sugar (or 1 teaspoon honey), warm water and milk into a bowl and whisk together. Let stand for 5 - 7 minutes, until the yeast is puffy.

Pour the yeast mixture, followed by the eggs, oil and honey and stir until combined. You can use a stand mixer fit with the paddle attachment here, mixing for 2 - 3 minutes. If you don't have a stand mixture, simply beat with a whisk for 1 - 2 minutes (get some elbow grease behind it and think of it as you arm workout for the day!).

Transfer the dough to a greased 9" loaf pan, cover with a tea towel and set in a warm place to rise for 30 minutes, until it has doubled in size.

While the dough is rising, preheat the oven to 375 degrees F.

When the dough has finished rising, brush with the egg or milk wash and bake in the center of the oven for 35 - 40 minutes, until browned and hard on top. You should be able to tap on the top of the loaf and hear an almost hollow sound.

Let cool in the loaf pan for 5 - 10 minutes, then transfer to a wire rack and cool completely before slicing.

I find this bread is best served when toasted, and keeps on the counter for 1 - 2 days. To maximize it's freshness, slice the entire loaf, wrap it in foil and freeze until your're ready to use.
Nutrition
Calories:
183
kcal
|
Carbohydrates:
31
g
|
Protein:
3
g
|
Fat:
5
g
|
Cholesterol:
27
mg
|
Sodium:
319
mg
|
Potassium:
79
mg
|
Fiber:
1
g
|
Sugar:
3
g
|
Vitamin A:
40
IU
|
Calcium:
33
mg
|
Iron:
1
mg
Filed Under: