Gluten-Free Mixed Berry Scones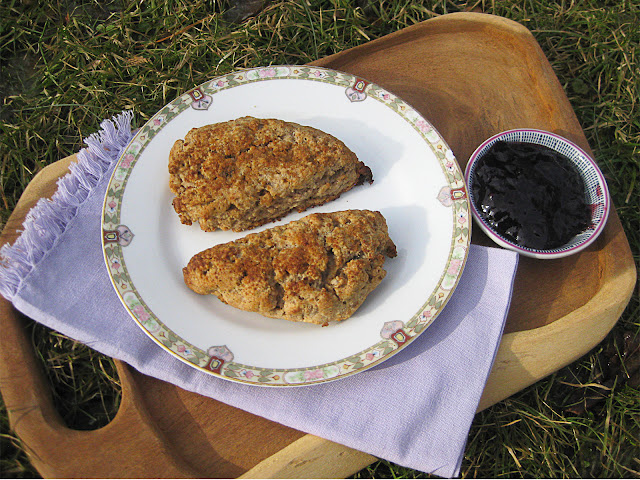 Amy's scones were the perfect Sunday morning breakfast
Sunday mornings call for decadence. Sweet gluten-free treats, mint tea, lazily perusing the internet in search for new quinoa inspiration. To me, that sounds like perfection.
I was debating between muffins and scones, but when I came across Amy's recipe (from Simply Sugar and Gluten-Free) for mixed berry scones, my mind was made up. I simply could not resist. This Sunday, gluten-free scones were going to be on the menu.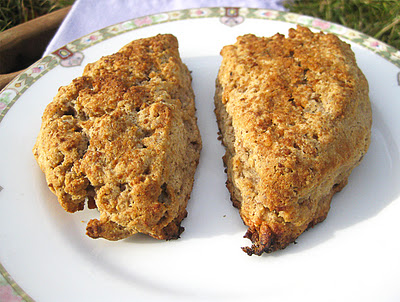 Freshly baked scones to satisfy my sweet tooth.

The point of Amy's recipe was to make a healthier version of the traditionally decadent and much loved baked good. I don't really consider myself a scone person, especially sweet scones, but these looked too delicious to pass on.
Back in my glutenful days, cheddar baked scones were one of my favorites. My dad makes a mean cheese scone, perfect dipped in his scrumptious potato cheddar soup. Sadly those days are behind me. There's no use reminiscing since they will never be part of my diet again. Let's leave the past in the past and focus on the present.
And I'm delighted to say, the present includes heavenly gluten-free scones.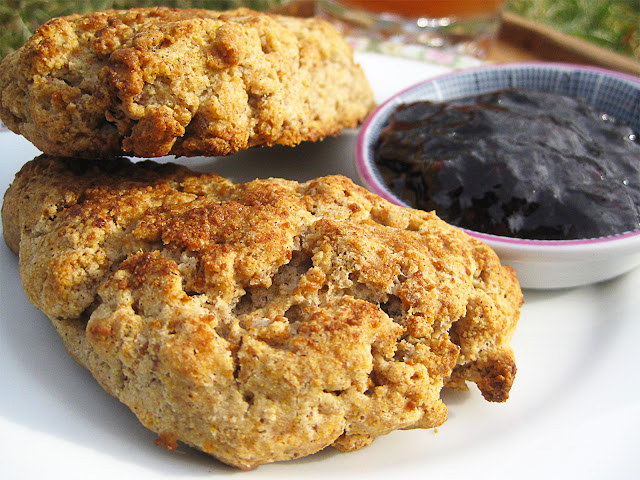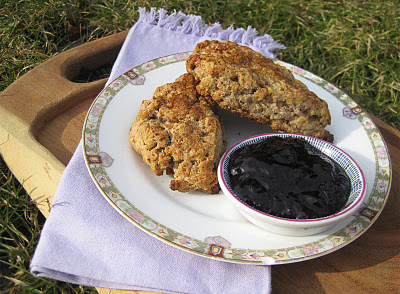 Gluten-Free Mixed Berry Scones
The secret to these scones is Erewhon's Crispy Brown Rice with Mixed Berries cereal. The fruit add a touch of sweetness and the cereal adds a bit of crunch. To makes these scones healthier, Amy added coconut oil, honey and almond flour. To make them Clean (well almost clean – the cereal has honey and strawberries), I subbed the egg for applesauce, used psyllium husk instead of xanthan gum and used brown rice syrup instead of honey. The result was marvelous.
ingredients:
1/2 cup sorghum flour
1/4 cup almond meal
1/4 cup tapioca starch
1 teaspoon baking powder
1/2 teaspoon cinnamon
1/2 teaspoon lemon zest
1/4 teaspoon psyllium husk
1/8 teaspoon fine sea salt
4 tablespoons coconut oil, in 3 left in solid form, 1 melted (reserved for brushing the scones)
1/4 cup unsweetened coconut milk
3 tablespoons applesauce
1 tablespoon brown rice syrup
2 tablespoons coconut palm sugar (reserved for brushing the scones)
Preheat the oven the 375 degrees F. Line a baking sheet with parchment paper and set aside.
In a food processor fit with the metal S blade, combine the dry ingredients and pulse until well combined. Add the solid coconut oil and pulse until you have a sandy texture. About 5 or 6 pulses.
Transfer the mixture to a large bowl and add the cereal. Stir until the ingredients are combined and make a well in the center.
In a separate bowl, whisk the wet ingredients together. Pour the wet ingredients into the well in the dry ingredients and mix with a wooden spoon until you have a thick dough.
Form the dough into a log and place it on the baking sheet. Cut the log in half and then each half into triangles. Brush each scone with the melted coconut oil and sprinkle with the palm sugar.
Bake in the center of the warm oven for 15 minutes, or until the scones have browned. Let cool on the baking sheet for a few minutes, then transfer to a wire rack.
Serve slightly warm with cup of tea and your favorite no sugar-added fruit spread.
Makes 4 scones.
share what you make
Tag #simplyquinoa on Instagram with your creations! We love sharing what you make with the community. We can't wait to see!

follow on instagram