Gluten-Free Panzanella Salad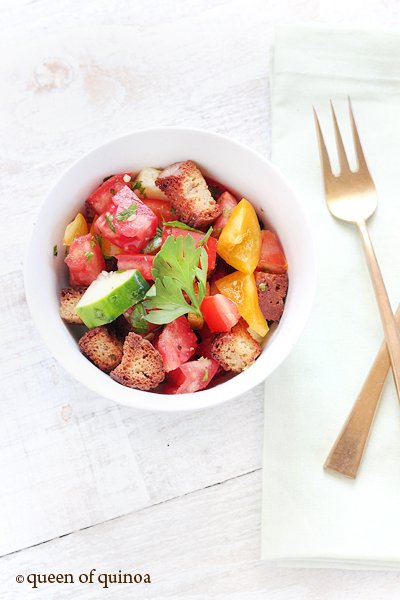 I've been on the hunt for a fabulous, crusty gluten-free french bread for a while now. I've looked at recipe, after recipe, after recipe, and just haven't found exactly what I'm looking for. I'm starting to think that that perfect loaf of gluten-free deliciousness doesn't exist (but trust me, I won't stop searching).
Recently, I made a loaf using Amy's gluten-free flour blend, based off her recipe for gluten-free french bread. While it was perfectly crusty, I'm not a fan of bean flours (the taste totally throws me off, which I should have known from the start) and it didn't rise like I wanted it to.
But I was done baking, I had this whole loaf on my hand. Sliced and frozen, waiting to be used. I thought about making french toast, but that seemed to easy (plus, I'd made it before). I wanted something new. Something that highlighted the bread's crunchy exterior and soft, fluffy interior. Something that was salty and delicious. Something Italian.
And panzanella salad immediately came to mind.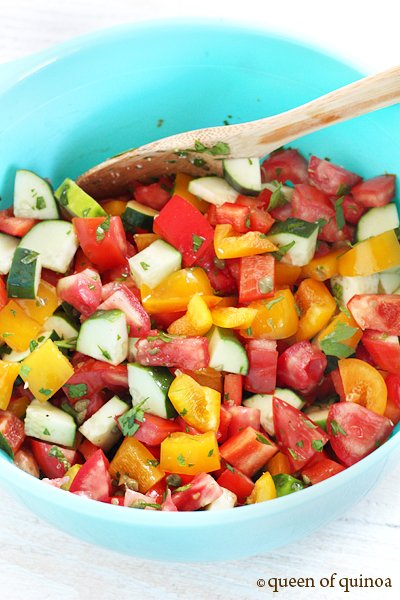 Panzanella salad, if you're not already familar, is the Italian version of salsa. It's full of garden-fresh ingredients, bright green herbs, with just a hint of spicy mustard dressing.
But like all things Italian, we can't just stick with herbs and vegetables. We need carbs. Lots and lots of carbs.
So in classic Italian fashion, what do we do? We add bread to our salsa and call it a salad.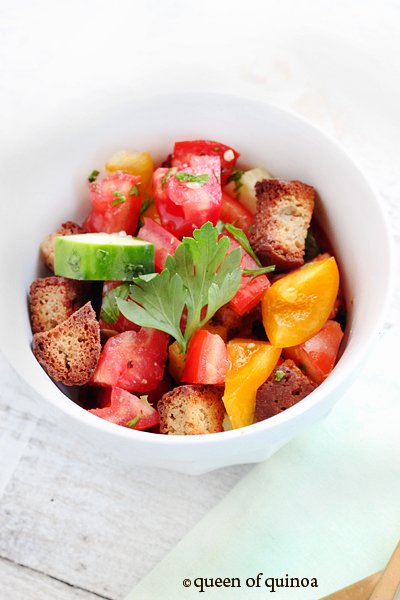 Gluten-Free Panzanella Salad
In classic Italian fashion, what do we do? We add bread to our salsa and call it a salad.
Servings 6 Servings
Calories 221kcal
Ingredients
3 tablespoons olive oil
1 loaf of gluten-free french bread cut into 1" cubes
1 teaspoon fine sea salt
2 tomatoes cut into 1" cubes
1 large cucumber cut into 1" cubs
1 red pepper cut into 1" cubes
1 yellow pepper cut into 1" cubes
1/2 red onion finely chopped
3 tablespoons fresh parsley finely chopped
3 tablespoons capers drained & chopped
1 garlic clove minced
1 teaspoon Dijon mustard
3 tablespoons white wine vinegar
1/4 cup olive oil
Salt & pepper to taste
Instructions
Heat 3 tablespoons olive oil over medium heat. Add the bread cubes and toss to coat. Saute until golden brown and crispy, 5 - 7 minutes. Toss with 1 teaspoon salt.

Combine tomatoes, cucumber, peppers, onion, parsley and capers in a medium mixing bowl.

Whisk together the garlic, dijon, vinegar, remaining 1/4 cup olive oil in a small mixing bowl and pour over vegetables.

Add toasted breadcrumbs and toss to combine. Season with salt and pepper.

Serve immediately.
Notes
gluten-free | dairy-free | refined sugar-free | nut free
Nutrition
Calories: 221kcal | Carbohydrates: 14g | Protein: 3g | Fat: 17g | Saturated Fat: 2g | Sodium: 676mg | Potassium: 273mg | Fiber: 2g | Sugar: 3g | Vitamin A: 1205IU | Vitamin C: 72.6mg | Calcium: 18mg | Iron: 0.7mg
This recipe was shared on: Slightly Indulgent Tuesdays
share what you make
Tag #simplyquinoa on Instagram with your creations! We love sharing what you make with the community. We can't wait to see!

follow on instagram