My addition to the Gluten-Free Holiday Cookie Swap
I just got back from my very first cookie swap, a gluten-free cookie swap to be more exact. The cookie swap was held by a fabulous local gluten-free bakery, From the Ground Up, who have delectable gluten-free treats in many local markets and coops. I discovered them at the Burlington Farmer's Market this summer and fell in love with their muffins. Especially the Gluten-Free Blueberry ones, yum. Amazing.
The cookie swap was great. It was a small crowd, only about five of us, but it was really fun to sit around a table with people I'd never met and chat about life living gluten-free. It's amazing how something like a food sensitivity / allergy can bring people together and build a community.
Not only was this my first cookie swap, but it was also the first time I had baked anything for strangers. I mean I've cooked for my family, my friends and for Matt, but they still accept me even if my food isn't tasty. So baking for a lot of gluten-free strangers, let alone gluten-free bakers (!), I felt like I needed to bake something scrumptious.
I wanted to have a recipe that was memorable. I wanted people to taste my cookies and smile. I think with the recipe I pulled together, I succeeded. I have to admit, I wanted to impress so much that I even went as far as designing little recipe cards in hopes that I could share the Queen of Quinoa with the local gluten-free community!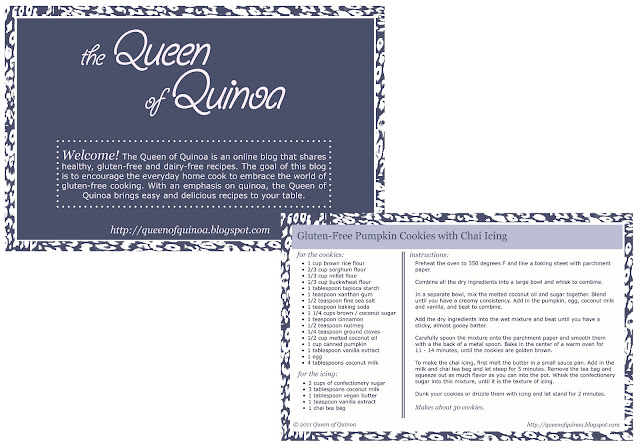 My very own recipe card. Queen of Quinoa + leopard print = yes.
Pumpkin, as you know, is one of my most favorite things in the world. Cookies, muffins, breads, pies, smoothies, soups. Any which way you make it, pumpkin is always delicious. So I knew if I was baking to impress, I better stick with the flavor profile I love.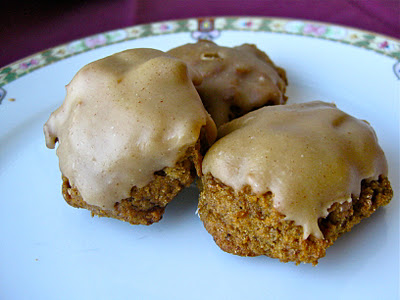 A yummy, gluten-free holiday treat.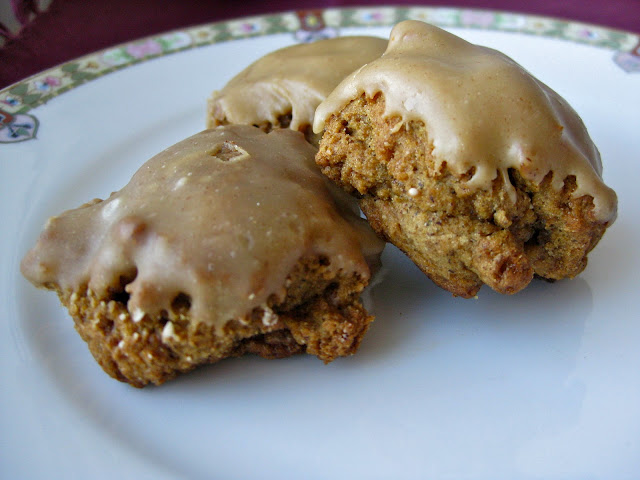 A new spin on iced cookies: pumpkin and chai
Gluten-Free Pumpkin Cookies with Chai Icing
These little morsels are seriously delicious. They have a crispy outside, but a soft and chewy center. They're almost like little pumpkin pie bites, but in cookie form. I used a crazy combination of flours, but it was totally worth it. The millet and buckwheat give them a richer, fuller-bodied flavor and the coconut palm sugar is much less sweet then traditional cookies. Overall, these cookies are fairy healthy, but I topped them with icing, which made them the holiday indulgence that every gluten-free foodie deserves.
ingredients:
1 cup brown rice flour
2/3 cup sorghum flour
1/3 cup millet flour
1/3 cup buckwheat flour
1 tablespoon tapioca starch
1 teaspoon xanthan gum
1/2 teaspoon fine sea salt
1 teaspoon baking soda
1 1/4 cups brown / coconut sugar
1 teaspoon cinnamon
1/2 teaspoon nutmeg
1/4 teaspoon ground cloves
1/2 cup melted coconut oil
1 cup canned pumpkin
1 tablespoon vanilla extract
1 egg
4 tablespoons coconut milk
Preheat the oven to 350 degrees F and line a baking sheet with parchment paper.
Combine all the dry ingredients into a large bowl and whisk to combine.
In a separate bowl, mix the melted coconut oil and sugar together. Blend until you have a creamy consistency. Add in the pumpkin, egg, coconut milk and vanilla, and beat to combine.
Add the dry ingredients into the wet mixture and beat until you have a sticky, almost gooey batter.
Carefully spoon the mixture onto the parchment paper and smooth them with a the back of a metal spoon. Bake in the center of a warm oven for 11 – 14 minutes, until the cookies are golden brown.
Makes about 30 cookies.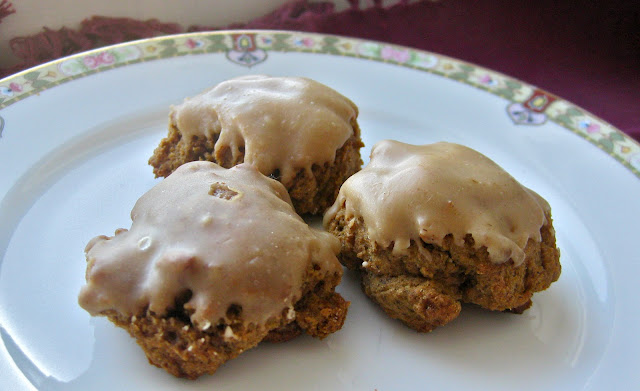 Gluten-Free Pumpkin Cookies smothered in Vegan Chai Icing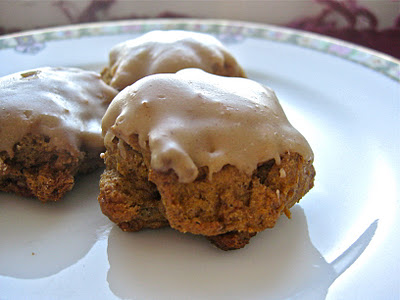 A sweet, decadent, deliriously tasty icing.
Vegan Chai Icing
2 cups of confectionery sugar
3 tablespoons coconut milk
1 tablespoon vegan butter
1 teaspoon vanilla extract
1 chai tea bag
First melt the butter in a small sauce pan. Add in the milk and chai tea bag and let steep for 5 minutes. Remove the tea bag and squeeze out as much flavor as you can into the pot. Whisk the confectionery sugar into this mixture, until it is the texture of icing.
Dunk your cookies or drizzle them with icing and let stand for 2 minutes.
Serve these cookies with a vegan chai tea latte or warm milk and cinnamon. They'd even be great with dairy-free eggnog.
Happy holiday baking to all!!