How to make Pumpkin Cornbread French Toast. This healthy fall breakfast recipe is naturally gluten-free, dairy-free and uses pumpkin cornbread for the base.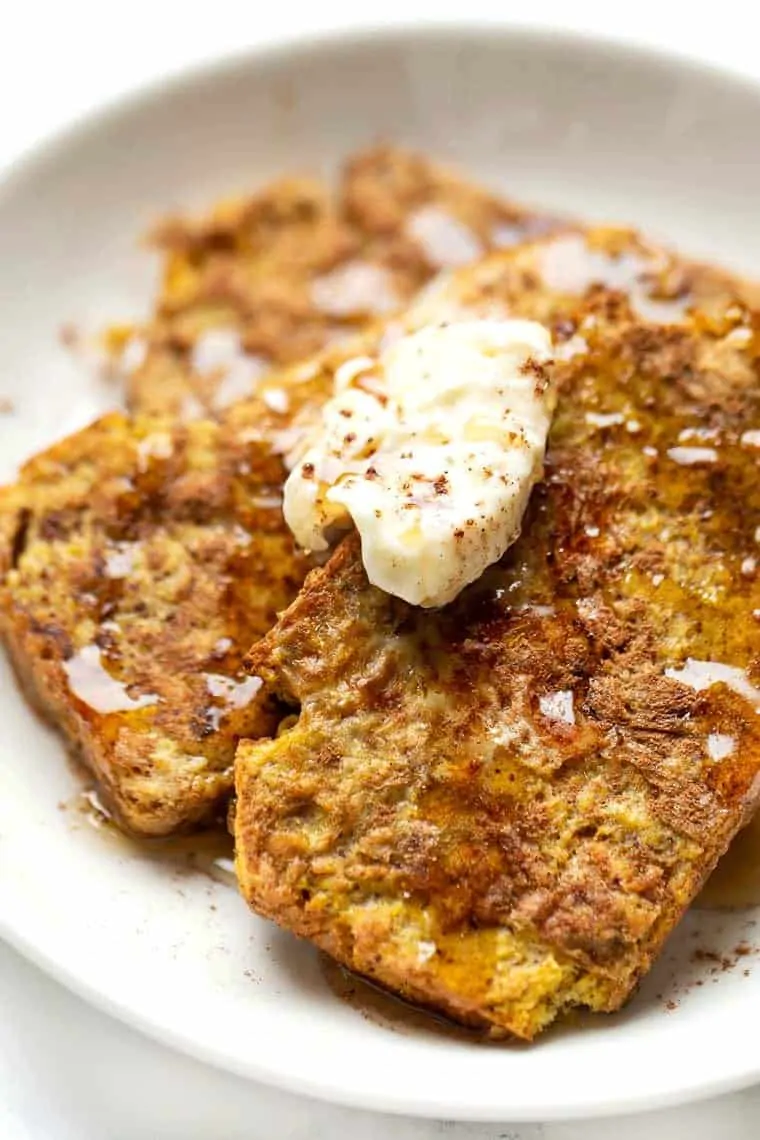 I gotta tell you, I am all about those weekend brunches. I never used to be a big brunch person, but I have quickly fallen in love with our new weekend morning routines. It looks a little something like this…
We wake up around 730/8, get our walking clothes on, hit up Starbucks and head to Central Park. We walk for about an hour, then get home, make more tea and coffee, watch an episode of our favorite show and eventually make breakfast.
Usually, around 10am we start cooking. If Matt's in the kitchen it's something savory with eggs, but if I'm in the kitchen it's something sweet. And this right here is one of my new obsessions: pumpkin cornbread french toast!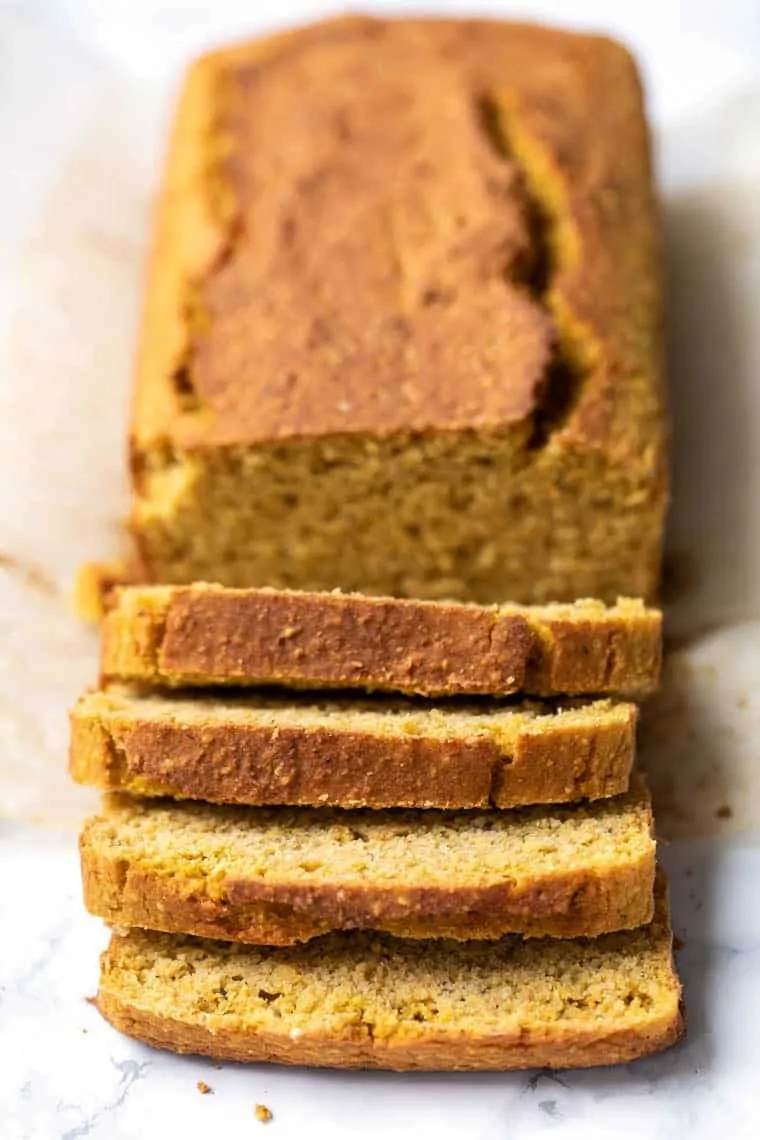 Easy Gluten-Free Cornbread Recipe
If you've been on the hunt for the perfect gluten-free cornbread recipe, I've got you covered. This is hands down one of the best and EASIEST cornbreads ever!
My pumpkin cornbread recipe in just one bowl, can be made vegan or non-vegan, has the perfect amount of sweetness, isn't too dry and doesn't crumble when you cut it.
It's also got pumpkin in there which is great for amping up the fiber content, but also perfect for when you've got just a little pumpkin puree left in your can and you aren't sure what to do with it. Now you don't have to worry because you can just turn it into pumpkin cornbread!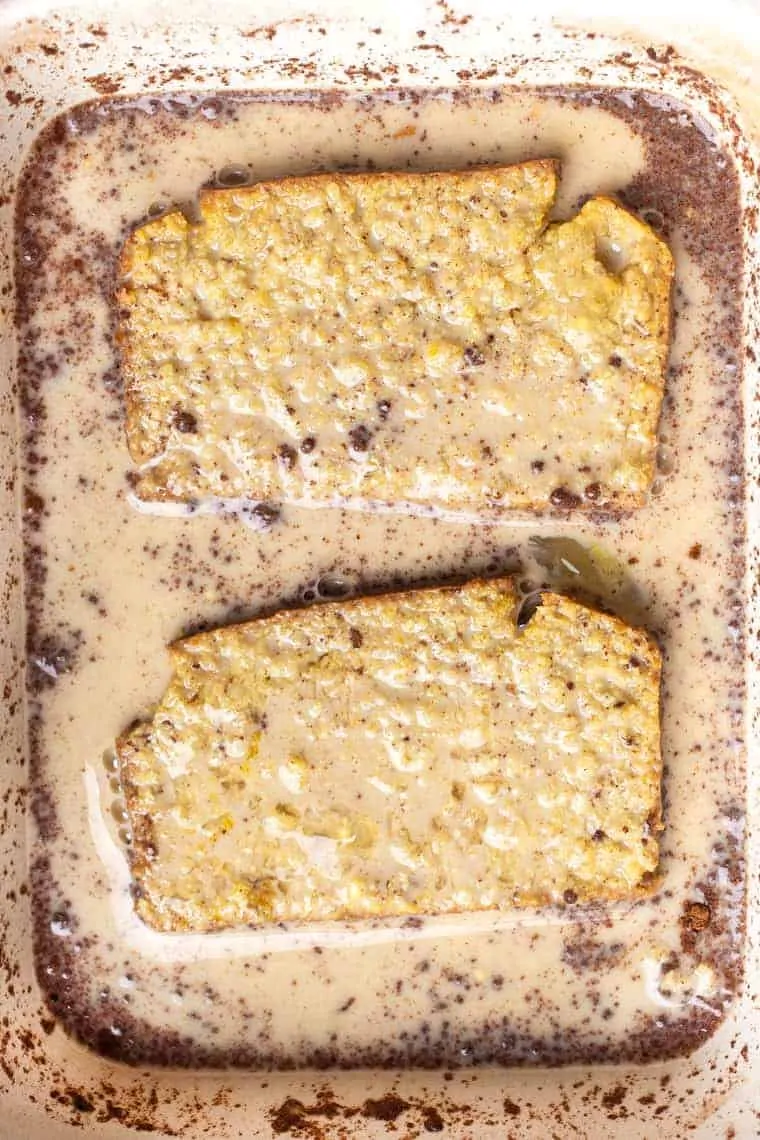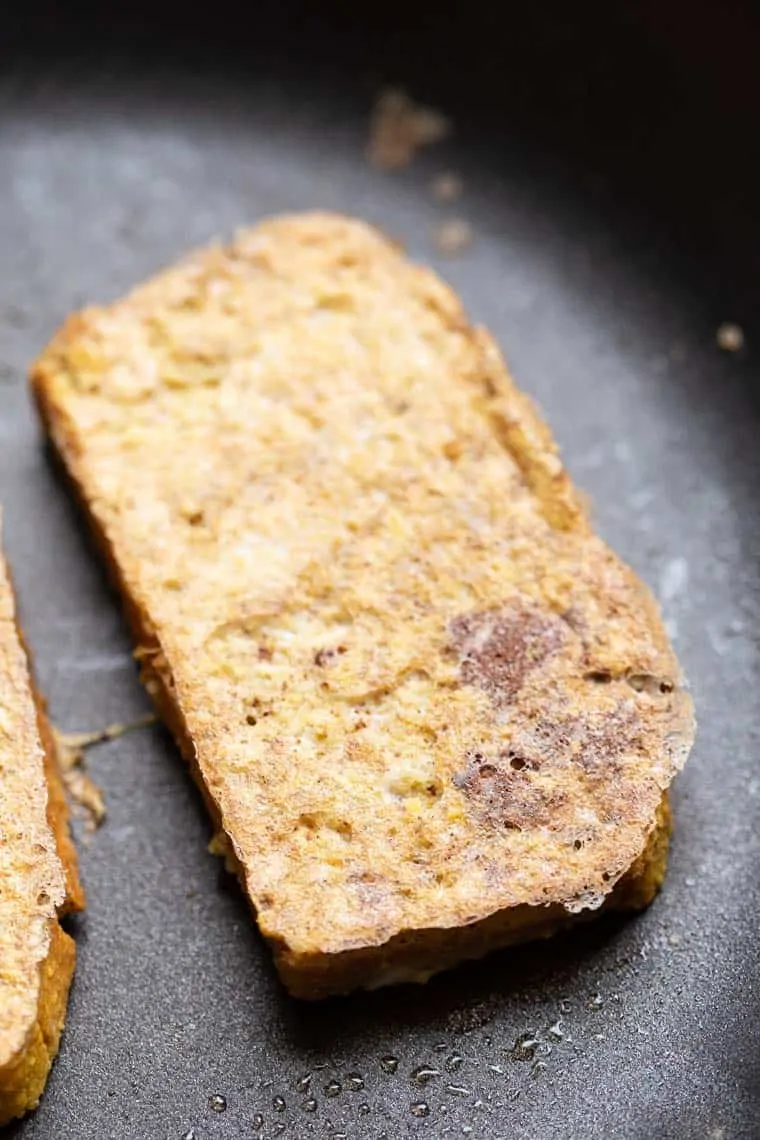 The Origins of the Cornbread French Toast
I love a good cornbread, especially in the fall with a steaming bowl of soup. I usually bake my pumpkin cornbread in a brownie pan and cut them into squares, but the other day I was feeling a little frisky and baked it into a loaf.
We didn't end up eating it as quickly as I wanted and I didn't want it to go to waste, so I decided to use it for breakfast.
Thing is, plain old cornbread doesn't constitute the proper weekend brunch for us. I had to do something a little fancier. Something a little special.
And so the pumpkin cornbread french toast was born!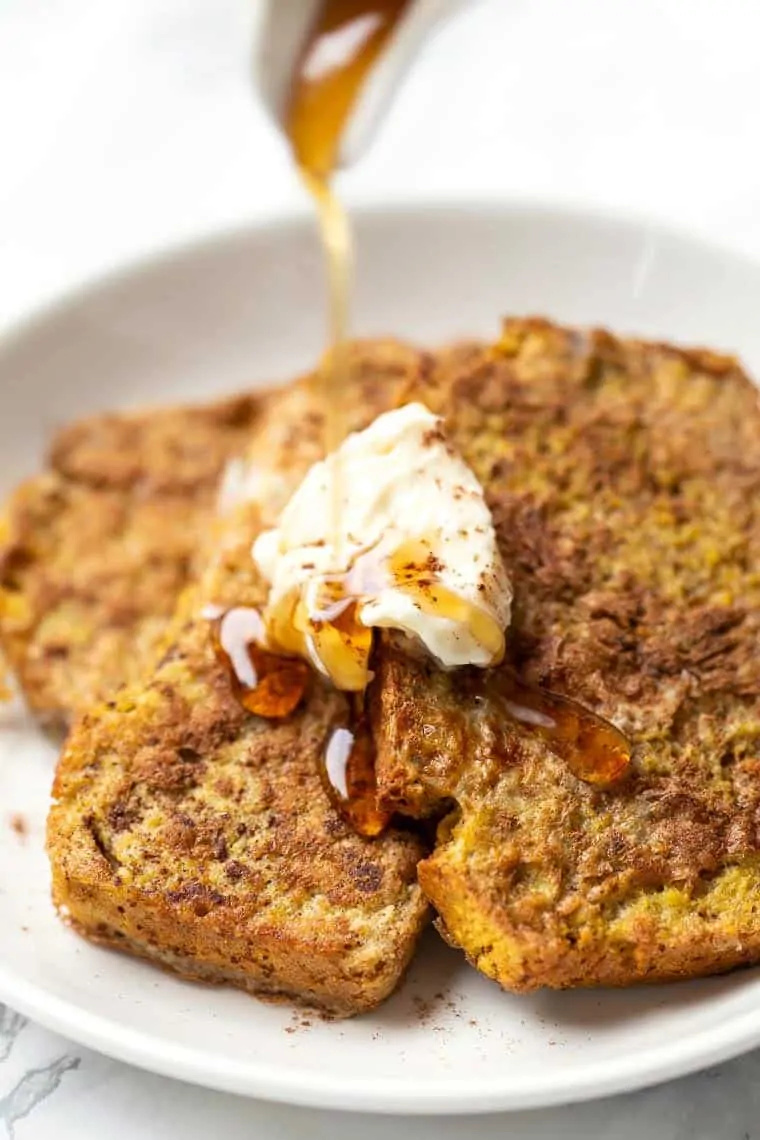 How to make French Toast
If you've never made french toast before, you're going to love how easy it is! All you need are two ingredients (plus spices if we're getting jazzy) and you've got the perfect french toast batter.
Those ingredients? Eggs + milk.
You can use whatever type of milk you want – I like unsweetened almond – and essentially just whisk those two together until you've got a creamy egg mixture, dunk in your bread, and cook it up!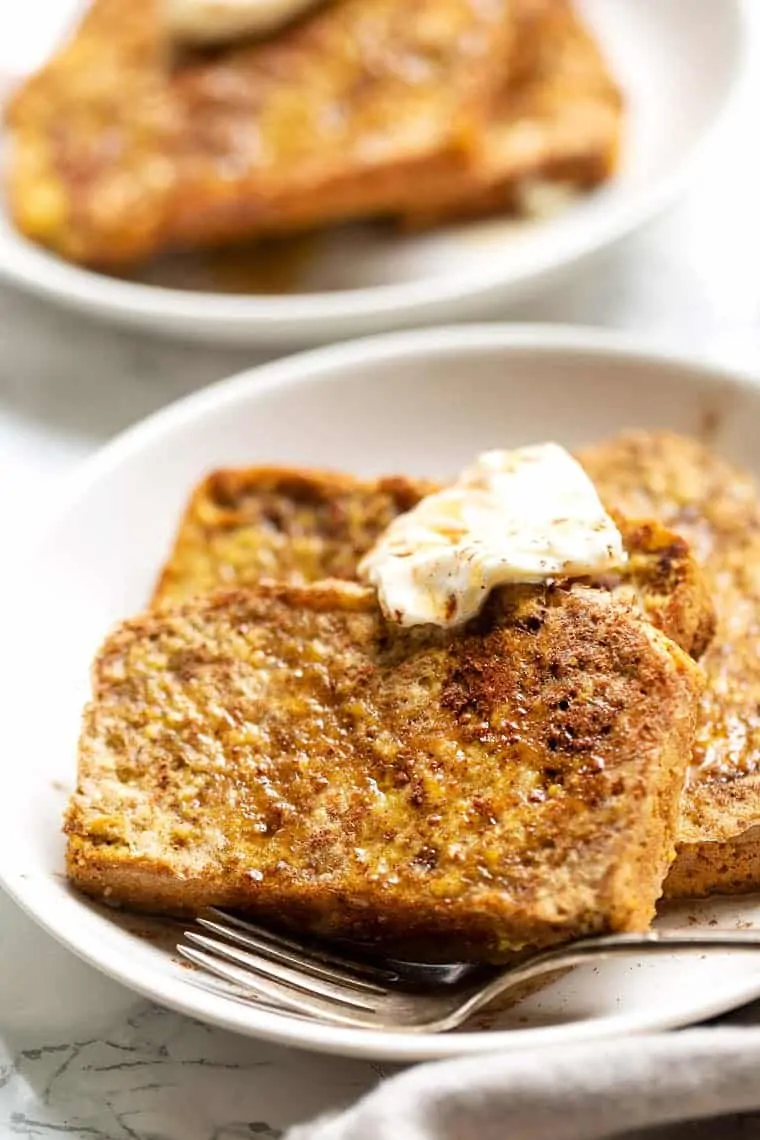 What to Serve With French Toast
Don't let french toast intimidate you because you can sere french toast with whatever you want!
I basically just think of it as a different form of pancake and usually add on some fresh berries, maybe some coconut yogurt, a little vegan butter, and syrup. Definitely syrup!
But since we've got the pumpkin thing going on with this recipe, we're skipping the berries and keeping it super simple. Just an extra sprinkle of pumpkin pie spice, some warm vegan butter, and pure maple syrup.
It honestly doesn't get any better than this!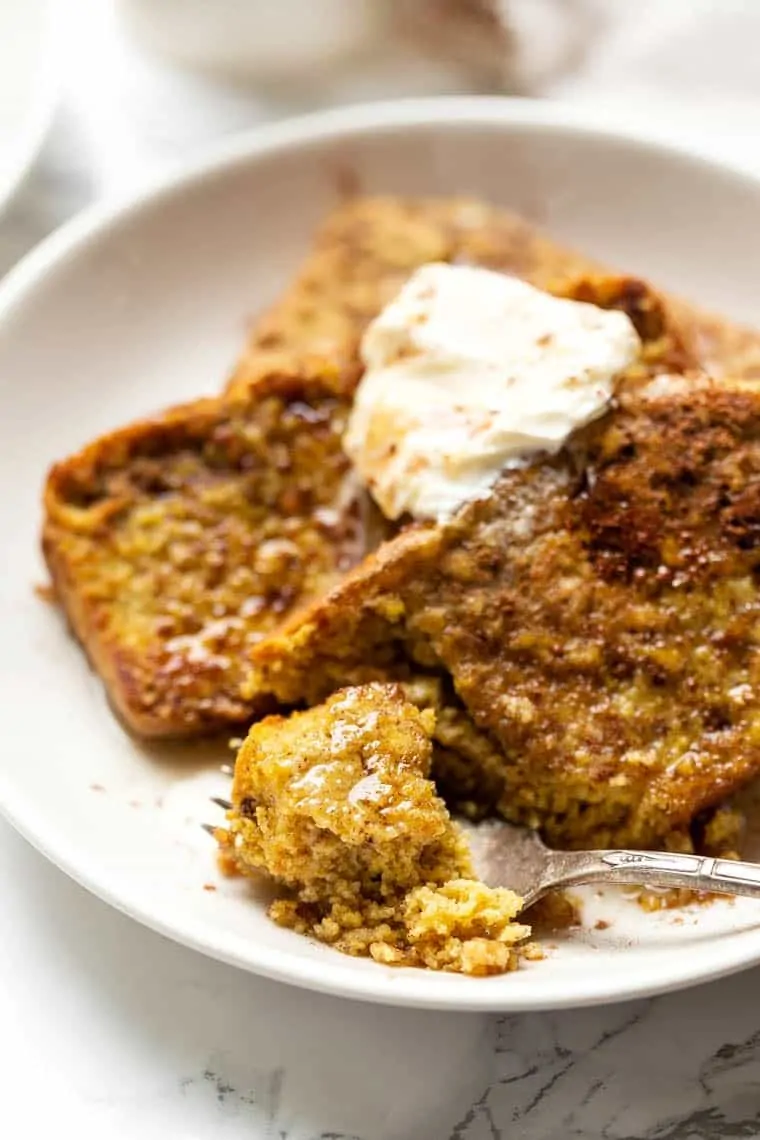 I'll be honest and tell you I was a bit wary of this being a dry, crumbly mess, but it was the exact opposite! To our surprise, it actually turned out to be heavenly. The egg batter made the inside of the french toast soft and almost gooey, while the outside perfectly was crisp and delicious. I was definitely having a pumpkin party in my mouth while enjoying this.
So next time you're looking for a fabulous weekend brunch but aren't feeling the mess that waffles or pancakes entail, you gotta try this pumpkin cornbread french toast. I mean really, what better way to use our leftover cornbread than soak it up in a pumpkiny egg batter and drizzling it with maple syrup?!

More Pumpkin Breakfast Recipes
Gluten-Free Pumpkin Cornbread French Toast
How to make Pumpkin Cornbread French Toast. This healthy fall breakfast recipe is naturally gluten-free, dairy-free and uses pumpkin cornbread for the base.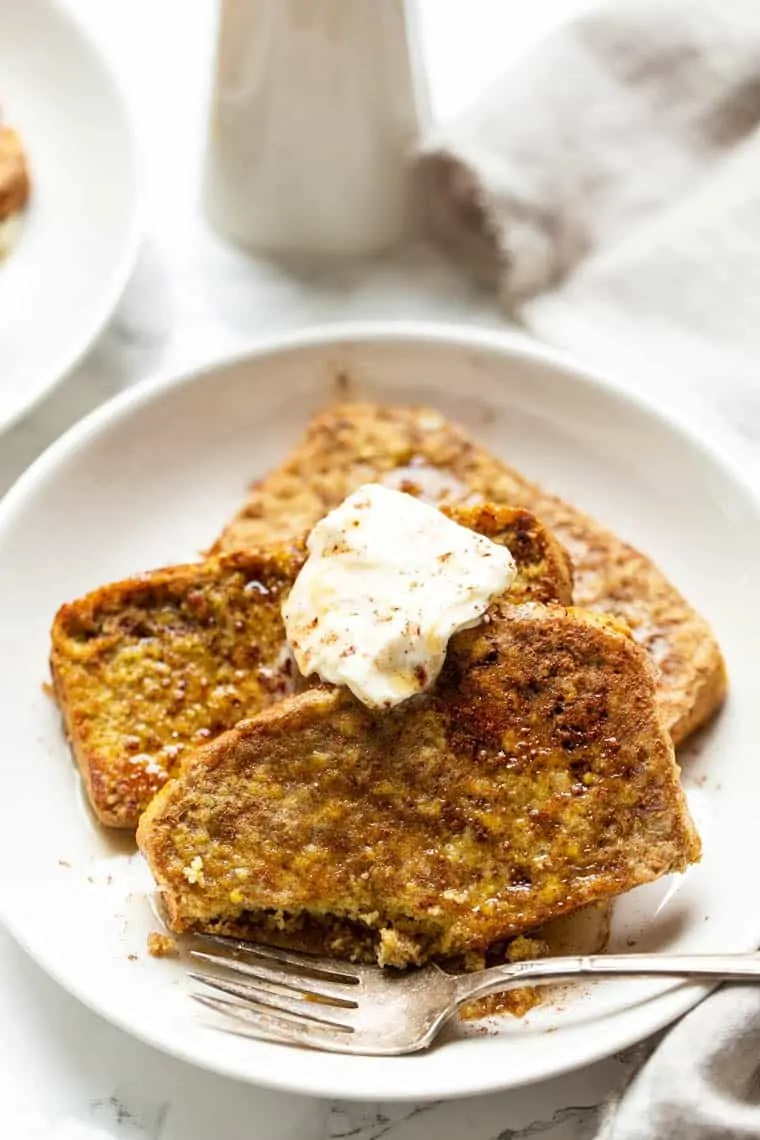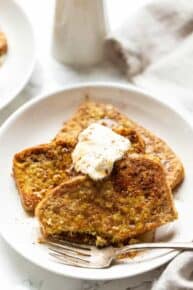 Instructions
Prepare the pumpkin cornbread recipe. This step can be done a day in advance to ensure proper cooling time. Once the loaf has been baked, slice into 1/2" thick slices.

To make the batter, whisk together the remaining ingredients (like scrambled eggs) in a cake or pie pan.

Heat a skillet or griddle pan over medium heat. When heated, drop a dash of vegan butter into the pan and swirl it around to coat the surface.

One at a time, coat the slices of cornbread in the egg batter. Place one side down, then flip it over and place in the skillet. Cook like you would a pancake, about 2 - 3 minutes per side.

Place your cooked French Toast slices in a warmed oven until the batch is done.

Serve with vegan butter, a sprinkle of cinnamon and warm Vermont Maple Syrup.
Nutrition
Serving:
1
slices
|
Calories:
126
kcal
|
Carbohydrates:
29
g
|
Protein:
1
g
|
Fat:
1
g
|
Saturated Fat:
1
g
|
Polyunsaturated Fat:
1
g
|
Monounsaturated Fat:
1
g
|
Trans Fat:
1
g
|
Cholesterol:
27
mg
|
Sodium:
449
mg
|
Potassium:
11
mg
|
Fiber:
1
g
|
Sugar:
1
g
|
Vitamin A:
40
IU
|
Vitamin C:
1
mg
|
Calcium:
103
mg
|
Iron:
2
mg
Filed Under: