Gluten-Free Quinoa Pizza with Cashew Ricotta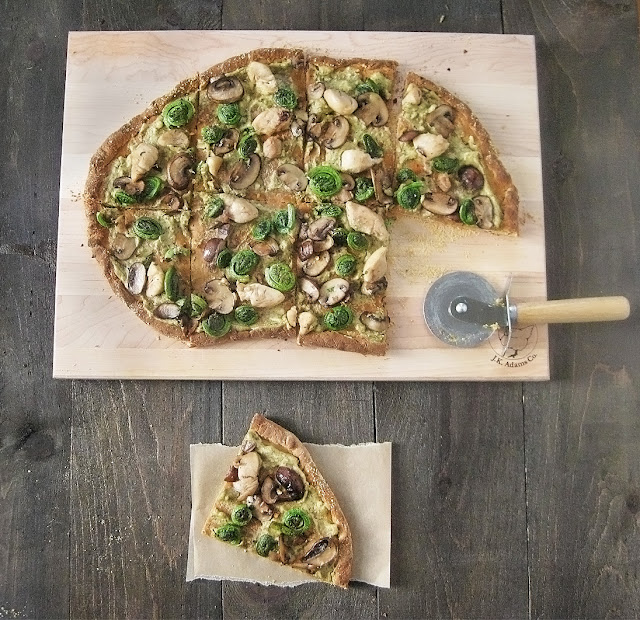 Thursdays are pizza nights for me and Mr. Henderson. Well, they have been historically at least.
As you already know, our diet has changed over the past few years, meaning our Thursdays are a bit different as well. They don't usually involve pizza and beer like they used to. For the past five years, Thursdays have always meant beer and pizza for Mr. Henderson. But now our life is different.
Now that we've graduated and are no longer college students (meaning we're getting older, yikes!!), his Thursday nights out have become less frequent. While we were in school, and just newly dating (still totally consumed by the honeymoon stage), Thursday nights always meant beer and pizza with the guys. Buffalo Chicken Pizza and Rolling Rock from Mr. Mike's Pizza. Something they all looked forward to each week. A night away from the girlfriend, where he could just sit back and relax.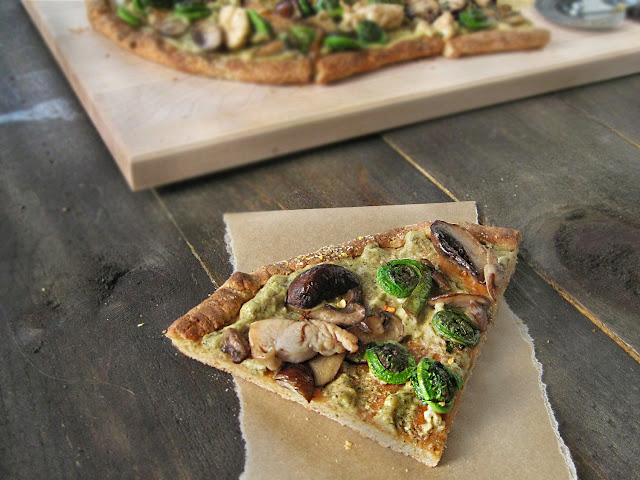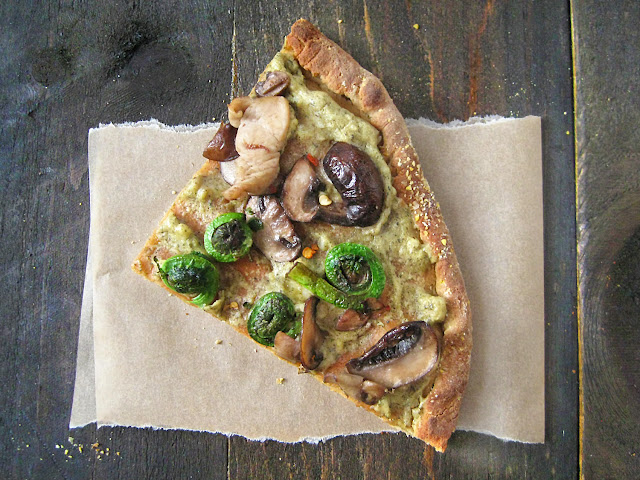 As you can imagine, gluten-free Alyssa means no more Mr. Mike's for me (well the pizza and beer part of it at least). We do still go there from time to time, but it's just not the same. I sit at the bar with a seltzer or water, and watch as he and his friends enjoy a steaming piece of pizza and an ice cold beer. It's torture and I know it's not much easier for him.
So I figured we would try to bring back the tradition. A Thursday evening full of pizza and beer (with a few tweaks of course). Instead of gluten filled, cheese smothered pizza, we enjoyed a thin, crispy gluten-free pizza crust topped with a vegan ricotta cheese. Plus a fabulous glass of white wine (no beer for me!). Both equally as delicious as their unhealthy counterparts.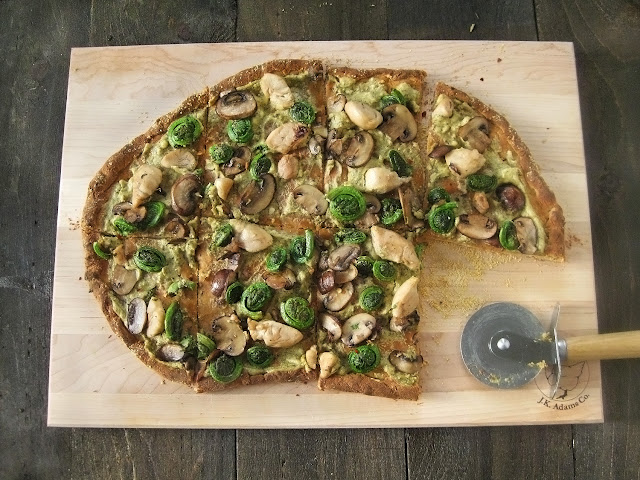 I've experimented with quinoa pizza crust before, and even though it was super tasty, it wasn't light and fluffy like your typical pizza dough. Lately, when we make pizza we've been lazy and just make my quinoa flatbreads. Delicious of course, but easy, thin and getting a bit boring. We needed a little revamp in the pizza department.
We decided in celebration of the traditional NY style pizza they serve down at Mr. Mikes, we were determined to try and recreate a gluten-free version, just for us. Dairy-free as well!
Well, I'm happy to report that we totally succeeded. This pizza is the bomb. It's thin, crispy, light and super flavorful. Yum, yum!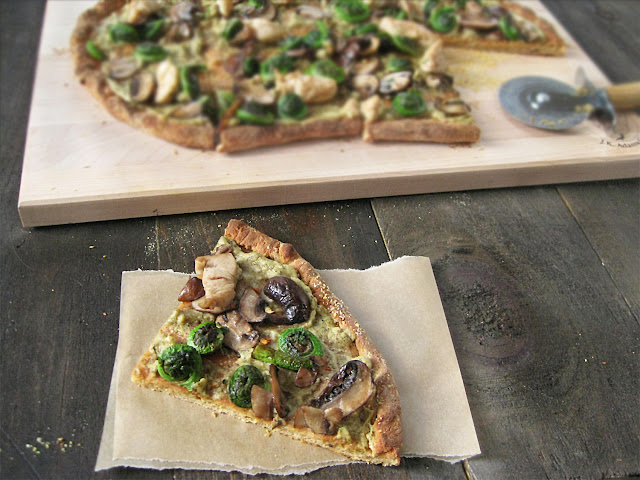 Gluten-Free Quinoa Pizza with Cashew Ricotta
I can proudly say that we've found our pizza groove. This will now be my go-to recipe when we're craving the real thing. It's just perfect. I even have a testimonial to prove it!
"This is gluten-free? Let's make this more often! Mmm." – Mr. Henderson (a sure sign that the recipe was a success!
Gluten-Free Quinoa Pizza with Cashew Ricotta
adapted from the Gluten-free Goddess
makes one 12″ pizza crust

ingredients:
3/4 cups tapioca / arrowroot starch
3/4 cups quinoa flour
1/2 cup sweet sorghum flour
1 tsp guar gum
1 1/2 teaspoons baking powder
1 tablespoon coconut sugar
1/2 teaspoon fine sea salt
1/2 packet active dry yeast (gluten-free)
3/4 cups warm water (110 – 115 degrees F)
1 tablespoon raw honey
1/8 cup olive oil
1 free range organic egg, beaten
1/8 teaspoon rice vinegar / apple cider vinegar
Gluten-free cornmeal, for sprinkling
Spray a 12″ pizza pan with olive oil and sprinkle with cornmeal. Set aside while you prepare the dough.
In a medium bowl, whisk together all the dry ingredients and set aside.
Proof the yeast by first combining the honey and warm water. Mix until the honey is fully dissolved. Add the yeast, give it a gentle mix, and let it rest for about 5 minutes in a nice warm spot. You'll know that the yeast is ready when it's all puffy and slightly bubbly.
Add the yeast and water, oil, egg and vinegar to the dry ingredients and mix together with a wooden spoon. The dough will be sticky and a bit more moist than typical pizza dough.
With wet hands, scoop the dough out of the bowl and roll it into a large bowl. Place it between two pieces of parchment paper and roll it to be 1/8″ thick. Carefully transfer the dough to the greased pan and fold the edges over to create a little edge.
Set the pizza shell in a warm place to rise for about 15 minutes.
While the crust is rising, preheat the oven to 400 degrees F. When the oven is warm, bake the pizza shell for about 20 minutes. After 10 minutes, take the crust out and brush with olive oil. Place back in the oven and bake for another 10 minutes, until it's slightly crispy and golden brown.
Cover with your toppings of choice and broil for 3 – 5 minutes.
Our toppings of choice were:
Crimini Mushrooms
Fiddleheads
Chicken
Cashew Ricotta Cheese
We definitely wanted a cheesy flavor with this pizza. We decided to go tomato sauce free, but didn't want to make a heavy alfredo or use dairy-free cheese either. We wanted something tasty and healthy, and so we landed on ricotta. Cashew ricotta cheese and it actually tasted like the real thing!


Cashew Ricotta Cheese
makes about 1 cup
ingredients:
1/2 cup cashews, soaked for 6 – 8 hours
1/3 cup almond milk
1 tablespoon nutritional yeast
1 teaspoon dried basil
1 teaspoon dried oregano
Salt & pepper to taste
In a high speed blender or food processor, combine the cashews and almond milk. Blend until fully combined and you have a creamy texture. Add the spices and nutritional yeast and pulse to mix.
This pizza was easy-peasy and super healthy. I will definitely be making it each Thursday that we decide to stay in. It has Mr. Henderson's stamp of approval, so we're all in the clear!
Happy Thursday. Go out and enjoy a quick slice. You totally deserve it.
Also, check out this week's Gluten-Free Wednesday for more inspiring gluten-free eats!
share what you make
Tag #simplyquinoa on Instagram with your creations! We love sharing what you make with the community. We can't wait to see!

follow on instagram