One of my favorite parts about Christmas has always been opening my stocking. I have this silly stocking that my great grandmother made when I was a baby that has this big, happy Santa on the front and lots of sequins. It's super childish, but so cute and fun. I'll never be able to give it up.
Our stockings are always filled with the best goodies! Everything from snacks, sweet treats, jewelry, kitchen tools and even books sometimes. It's all these little things, that you don't necessarily need but you're psyched when you open up and realize what it is. Putting a good stocking together is an art!
So this year, if you sometimes get a little stumped on what to get for stockings like I do, I wanted to give you a few of my favorite products you can add to the mix. These are my top recommended gluten-free + vegan stocking stuffers!
So you ready? Let's do this!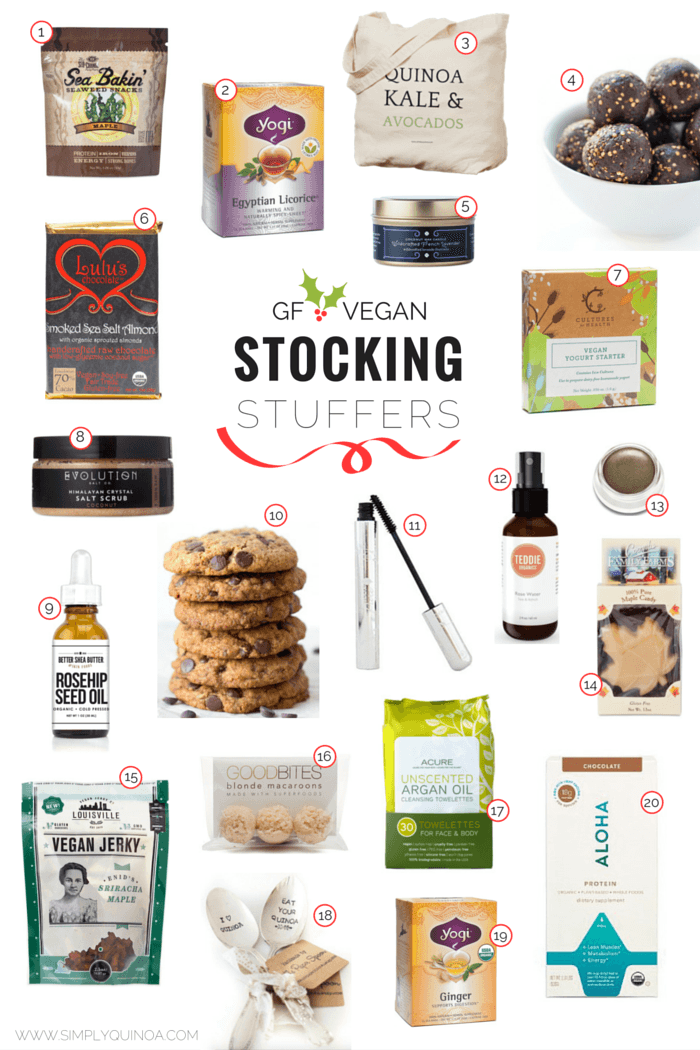 I've put together 20 of my favorite products that I know you are also going to love. And a lot of them you can find on Thrive Market for significant discounts – yay!
We've got everything from chocolate, to salty snacks, makeup, facial products and more. This is the perfect guide for anyone who has someone in their life who is gluten-free or vegan, but also someone that wants toxic-free products for their body. Enjoy!
1) Sea Bakin' Maple Seaweed Snacks. I just discovered these and am hooked! Clean ingredients, crunchy, salty and sweet all at the same time. They're the perfect snack! $3.75
2) Yogi Tea Egyptian Licorice Mint. My absolute favorite tea. Don't be put off by the licorice, it doesn't taste like licorice at all! It's sweet, a little spice and really helps with digestion. $5 (or $19 for pack of 6)
3) Quinoa Kale & Avocado Tote Bag. These are such a fun gift for the superfood lover in your life. The size is perfect for grocery shopping and I love the longer handles so that it makes carrying things much easier! $17.99
4) Chocolate + Tahini Energy Bites. Don't you love DIY gifts? These energy bites are so yummy, super easy to make in big batches and don't have to be refrigerated!
5) Wildcrafted French Lavender Coconut Wax Candle. I'm a sucker for lavender candles and these are made with high quality ingredients so they burn cleanly. $14
6) Smoked Sea Salt Almond Chocolate. Dark chocolate with smoked sea salt and almonds….not sure it gets any better than that! This bar is raw, vegan, gluten-free and sweetened with coconut sugar. $2.95
8) Vegan Yogurt Starter. If you've ever wanted to make your own coconut yogurt at home, this starter is awesome. It comes with full instructions too! $18
8) Evolution Coconut Himalayan Salt Scrub. Great for detoxifying and nourishing your skin! You can use this as an exfoliator when you're in the bath or shower. It also smells really nice! $18
9) Organic Rosehip Seed Oil. I'm totally in love with this oil! I just started using it at night and can already see results – I feel like I wake up and my skin is glowing! $14
10) Vegan Coconut Oil Chocolate Chip Cookies. Who wouldn't love unwrapping freshly baked chocolate chip cookies? These are MY ABSOLUTE FAVORITE RECIPE!
11) 100% Pure Mascara. The only mascara I use. It's made from only pure ingredients and is naturally pigmented by fruit! $22
12) Rose Water Toner. Adds hydration to your face, restores the skin's natural pH and makes your complexion more radiant. I use this twice a day — after I shower and after I wash my face at night! $19
13) RMS Beauty Cream Eye Shadow. Toxic-free and tons of pretty colors. This eye shadow is so great (as is the rest of this line!). $28
14) Maple Candy. From a small farm in Vermont, this maple candy is 100% pure and 100% delicious! $3.25
15) Vegan Sriracha Maple Jerky. Okay seriously, this is genius. My boyfriend is obsessed with beef jerky and this is such a better alternative! $5.45
16) Goodbites Blond Macaroons. Raw, vegan, healthy and YUMMY! $1.65
17) Unscented Argan Oil Facial Toilettes. Removes makeup, dirt, sweat, etc., in a clean and nourishing way. I personally love that it's unscented! $4.65
18) Hand Stamped Quinoa Spoons. Such a fun gift for the quinoa-lover in your life! $35
19) Yogi Tea Ginger. More tea  you might ask? YES! I'm a huge tea fan and ginger has become a new favorite — it soothes an upset tummy and helps keep your digestion normal. Great for the holidays! $5 (or $19 for a pack of 6)
20) ALOHA Superfood Chocolate Protein Powder. Chocolate for breakfast is always a good idea! This is one of my favorite protein powders – there's 18g per serving! $22
And now a gift from me to you!
I'm giving away a FREE membership to Thrive Market (obvi one of my fave places to shop for healthy goodies!). Enter with the widget below for your chance to win! xo
Want to join Thrive Market? Sign up here to get 2 months free PLUS 15% off your first order!
To get started, just visit the Simply Quinoa page, sign up for your free trial and start shopping! And I'd love for you to come back here and let us know what you picked up. I'm so excited for you!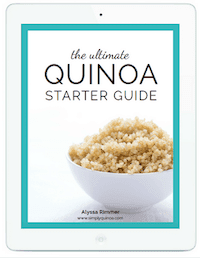 New to cooking quinoa? Grab your FREE Quinoa Starter Guide!
Become part of the Simply Quinoa community and receive weekly emails with exclusive content that I only share in email, as well as my in-depth guide to starting your quinoa journey.